[Eng/Esp] ❄️ Frosts and glitters ✨ My participation: customizing old disused shoes // ❄️ Escarchas y brillos ✨ Mi participación: poniéndole brillo a zapatos viejos en desuso // Tutorial
Greetings DIY friends I hope you are having a happy weekend, God bless your homes in abundance. Today I want to share with you my participation in the weekly contest of the DIY community #HIVEDIY, a contest that is moderated by @equipodelta, who on this occasion invites us to decorate objects using frosts and a lot of glitter, and although this material I do not frequent I use it a lot in my crafts, I started to give life to some old shoes that I had in disuse with a lot of frosts and the result has been some lovely flowers. I hope that my craft is very useful for you and before throwing or giving a pair of lifeless and gray shoes, be motivated to decorate them with frosts. Next, I show you how I made my simple craft so that you can also do it at home.
Saludos amigos bricolajeros espero estén pasando un feliz fin de semana, Dios bendiga sus hogares en abundancia. Hoy les quiero compartir mi participación en el concurso semanal de la comunidad del bricolaje #HIVEDIY, concurso que se encuentra bajo la moderación del @equipodelta, quien en esta ocasión nos invita a decorar objetos utilizando escarchas y mucho brillo, y aunque este material no frecuento mucho utilizarlo en mis manualidades, me dispuse a darle vida a unos zapatos viejos que tenía en desuso con muchísimas escarchas y el resultado ha sido unas encantadoras flores. Espero que mi manualidad sea de mucha utilidad para ustedes y antes de arrojar o regalar un par de zapatos sin vida y grises, se motiven a decorarlos con escarchas. A continuación, les muestro como realice mi sencilla manualidad para que ustedes también la puedan ejecutar en casa.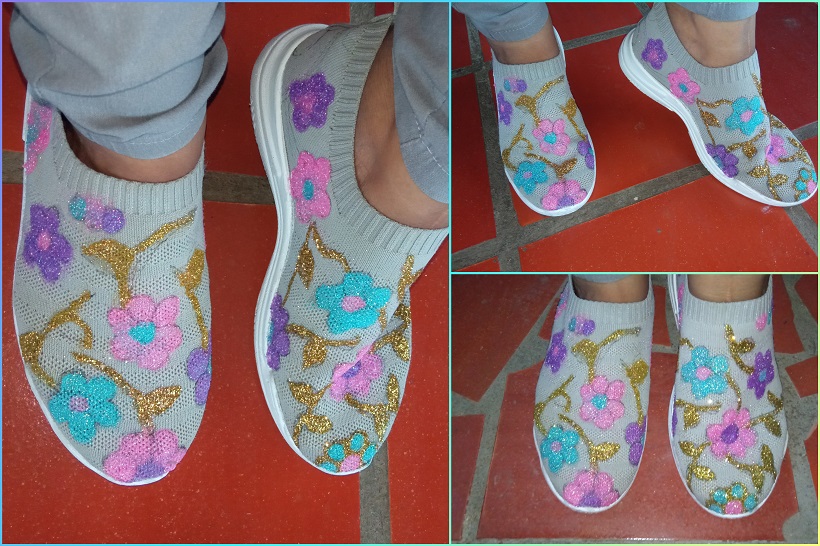 Used materials:
• Old pair of slippers in disuse.
• Frosts of different colors.
• White glue.
• Pencil or fine point marker.
• Height stick.
Materiales utilizados:
• Par de zapatillas viejas en desuso.
• Escarchas de diferentes colores.
• Pegamento blanco.
• Lápiz o marcador punta fina.
• Palillo de altura.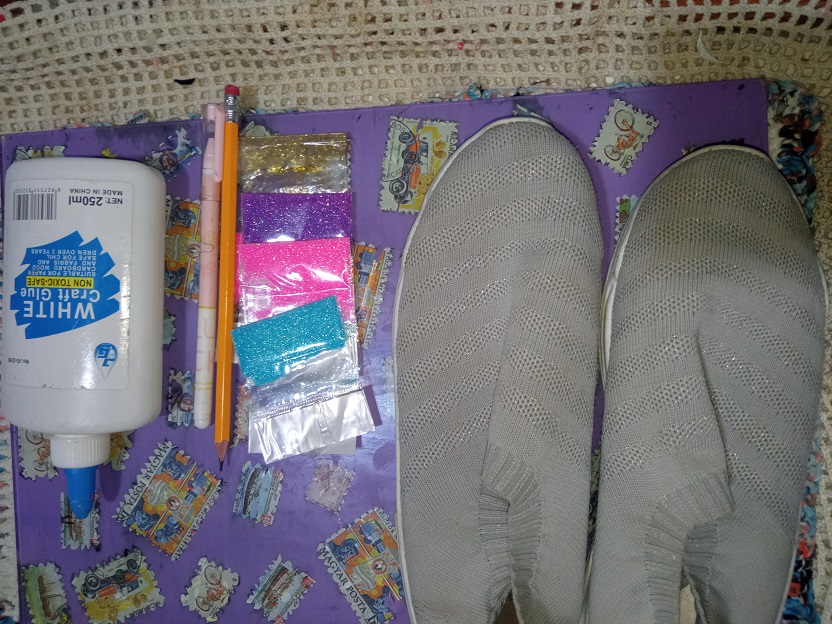 Start by painting with your marker the simple little flowers all over the shoe. Also paint some small wavy lines and add some leaves to form the branches.
Comienza pintando con tu marcador las sencillas florecitas por todo el zapato. También pinta unas pequeñas líneas hondeadas y agrega unas hojas para formar las ramas.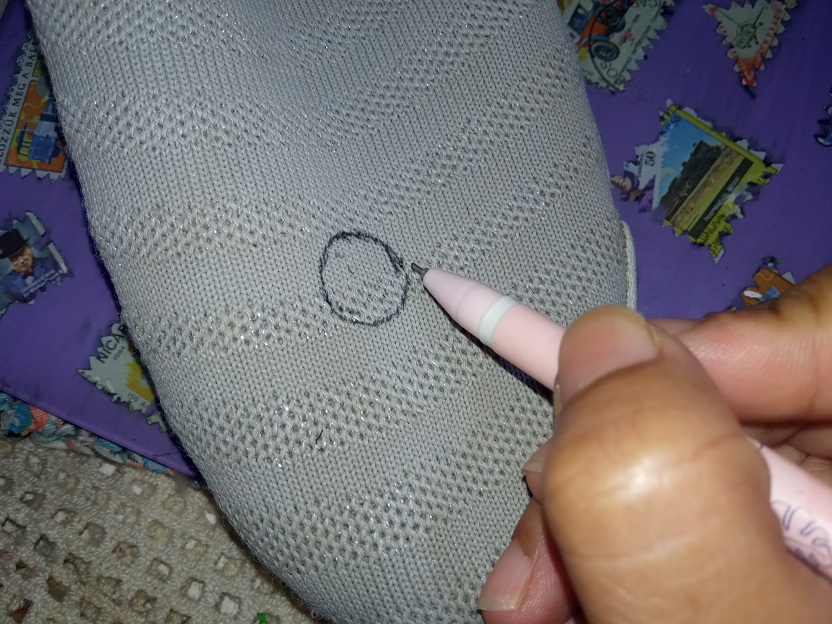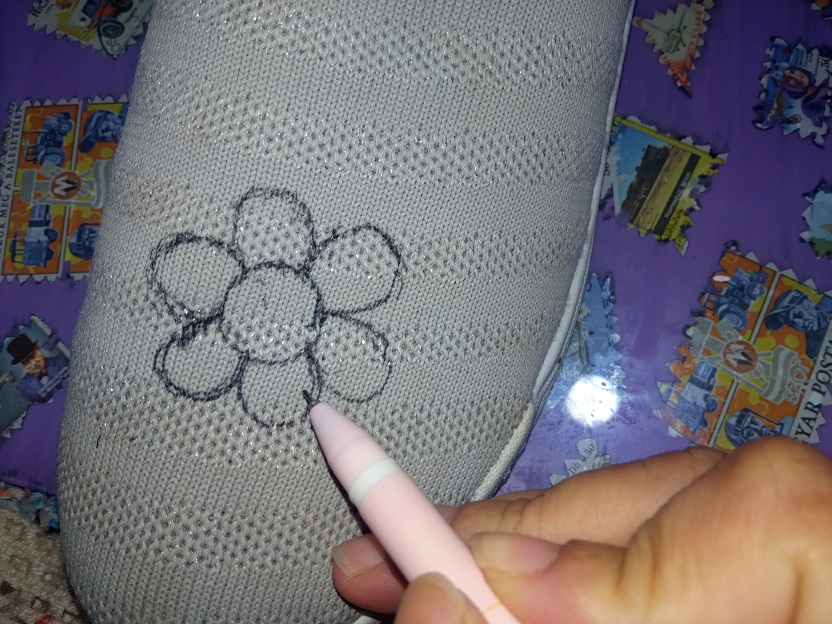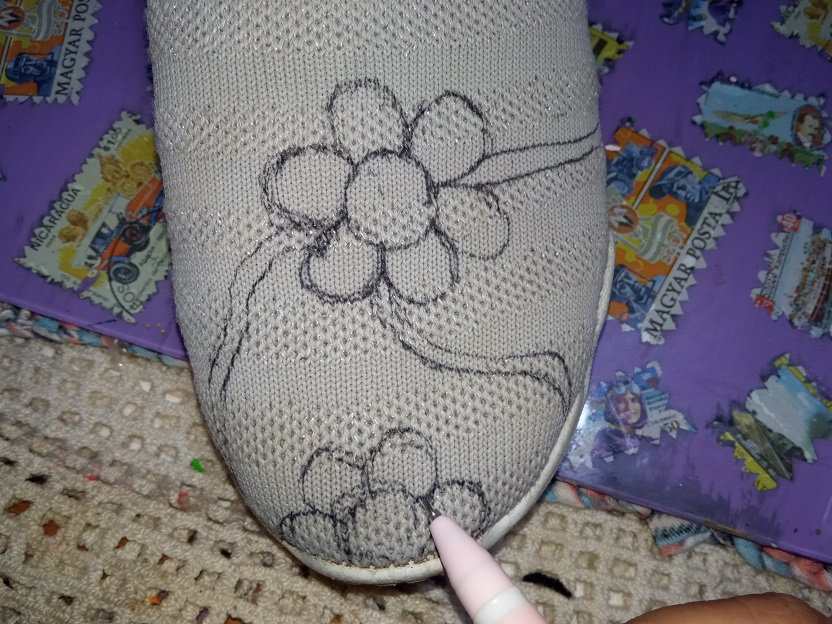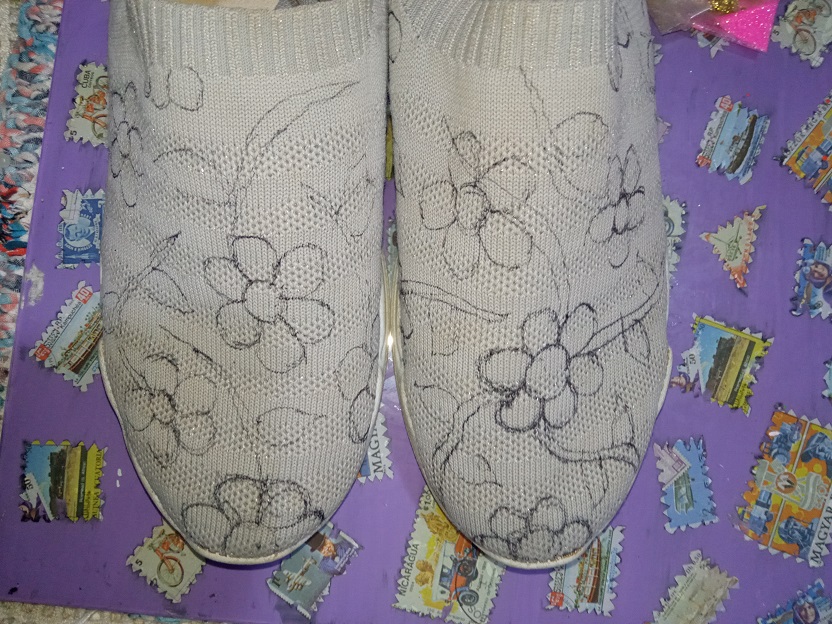 Carefully apply white glue to the painted branches and then apply the frosts over it, I chose golden frosts to give it a special touch, but you decide what color of frosts to place on your shoes. With the height stick, better define the lines of the branches and leaves.
Con mucho cuidado aplícale pegamento blanco por las ramas pintadas y luego sobre este aplica las escarchas, yo elegí escarchas color dorado para darle un toque especial, pero tú decide qué color de escarchas colocar a tus zapatillas. Con el palillo de altura define mejor las líneas de las ramas y las hojas.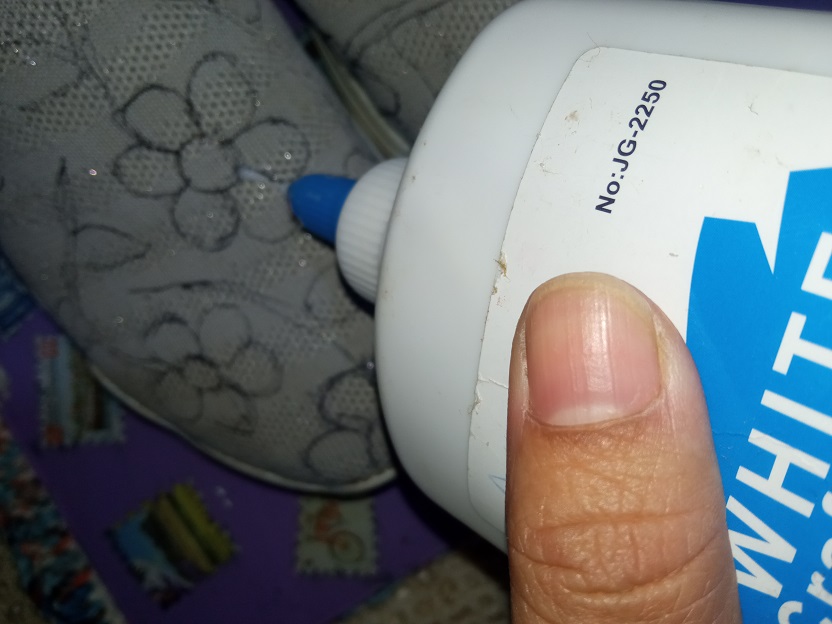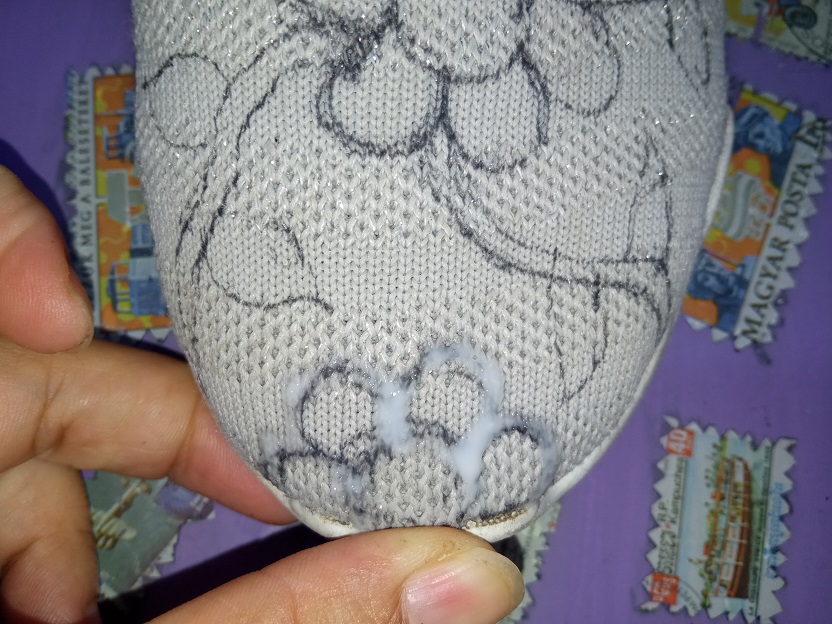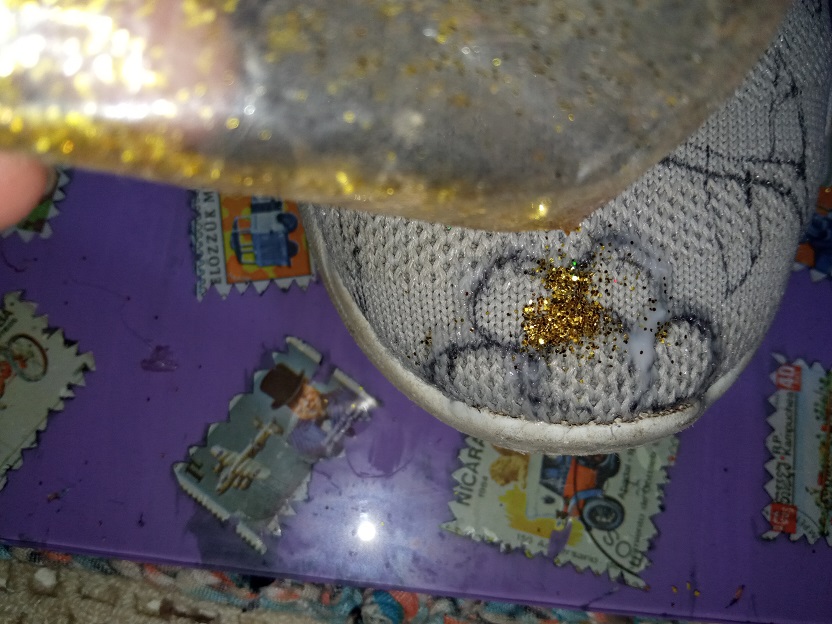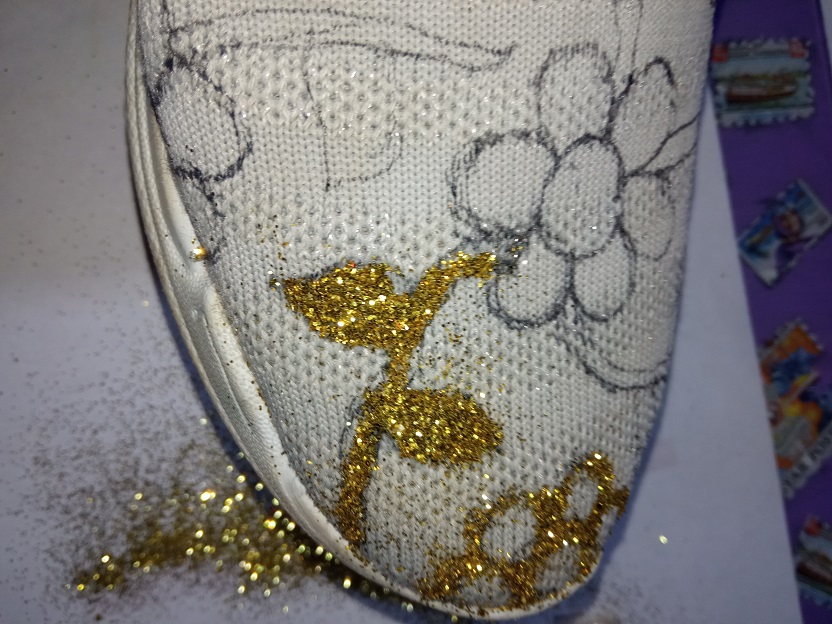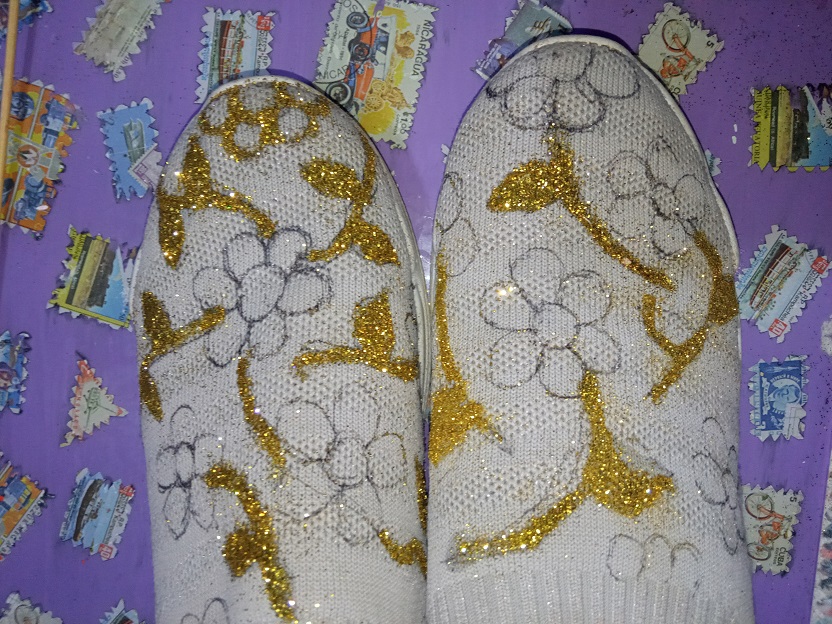 Begin to fill in the flower petals: apply the white glue first, then apply the desired color of glitter. In the center of the flowers, apply a different color of frost than the one you will use to fill the petals. Fill in all the flowers. Shake the shoe a little to eliminate excess frost and with the height stick better define the shape of the flowers.
Comienza a rellenar los pétalos de las flores: aplica primero el pegamento blanco y luego coloca el color de escarcha deseado. En el centro de las flores, aplica un color diferente de escarchas al que utilizaras para rellenar los pétalos. Rellena todas las flores. Sacude un poco la zapatilla para eliminar los excesos de escarchas y con el palillo de altura define mejor la forma de las flores.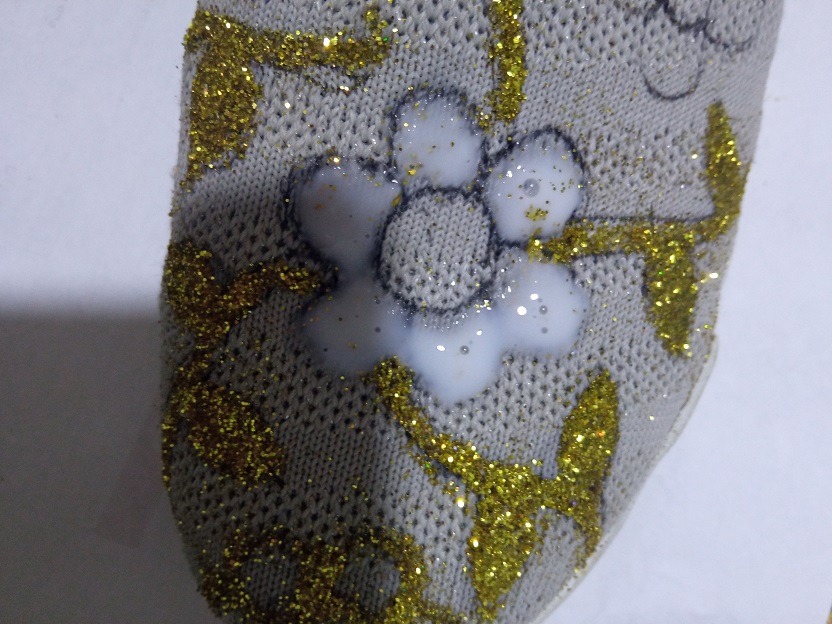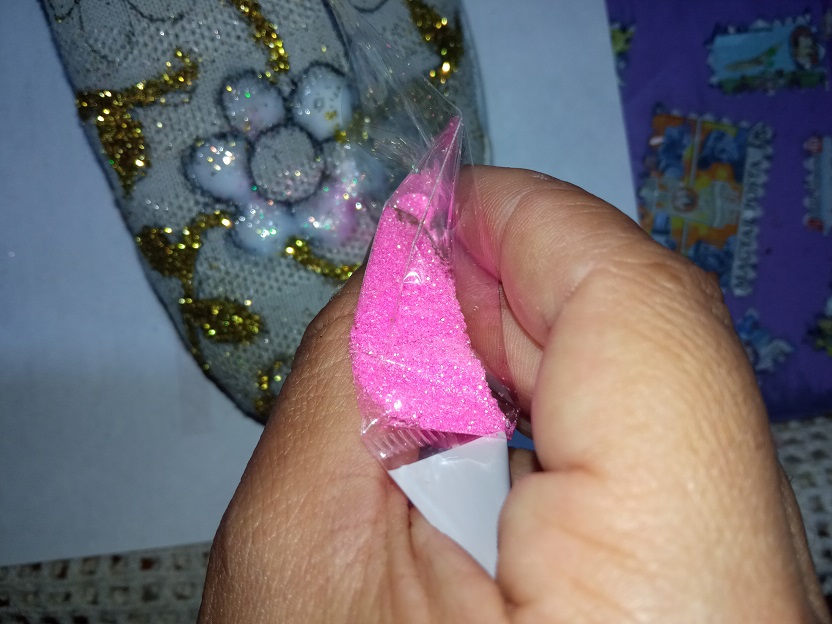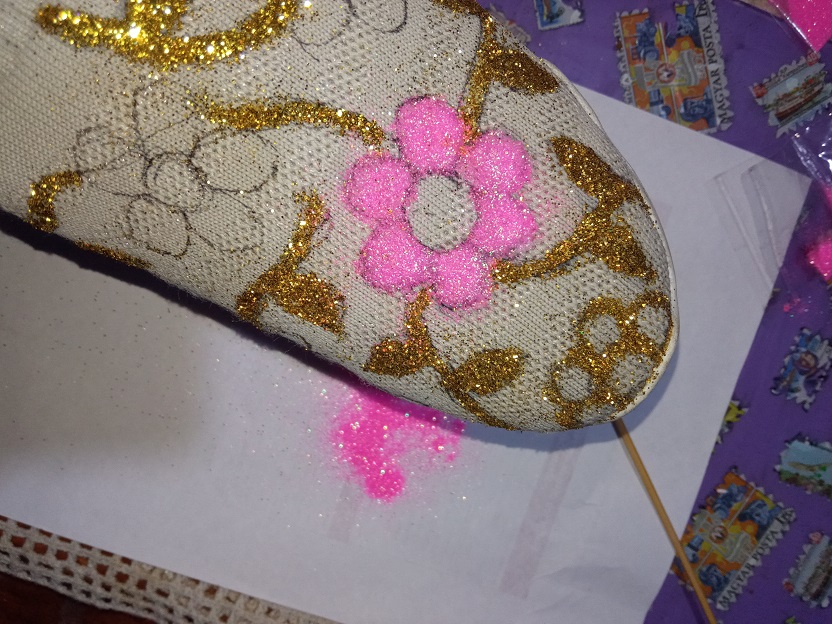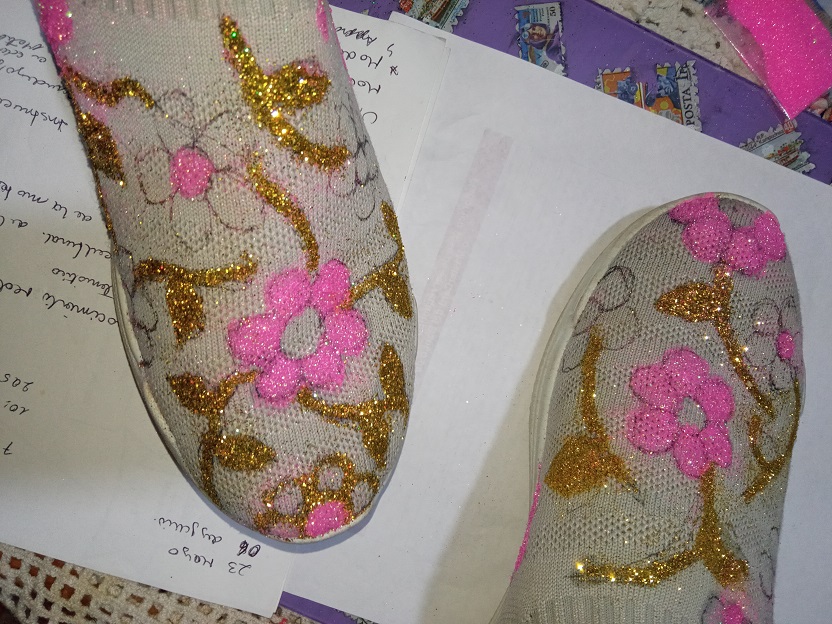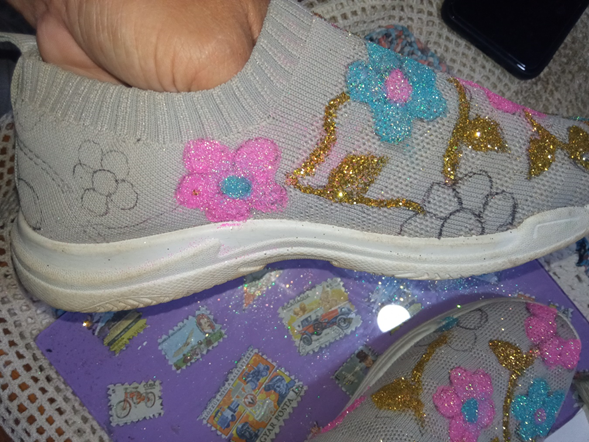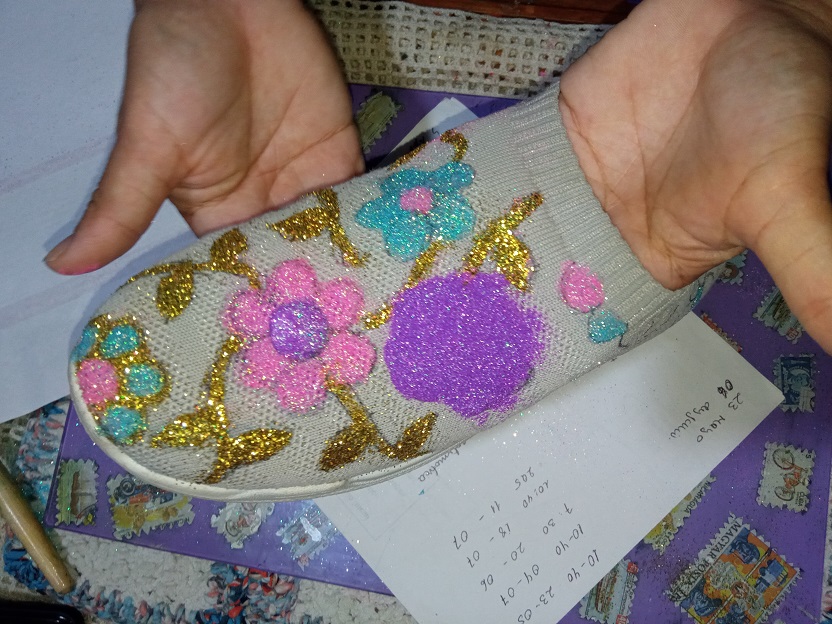 Finally, shake once more to remove excess frost, you can also clean the shoe with a brush or finite brush.
Para finalizar, sacude una vez más para eliminar los excesos de escarchas, también puedes limpiar el zapato con un cepillo o pincel finito.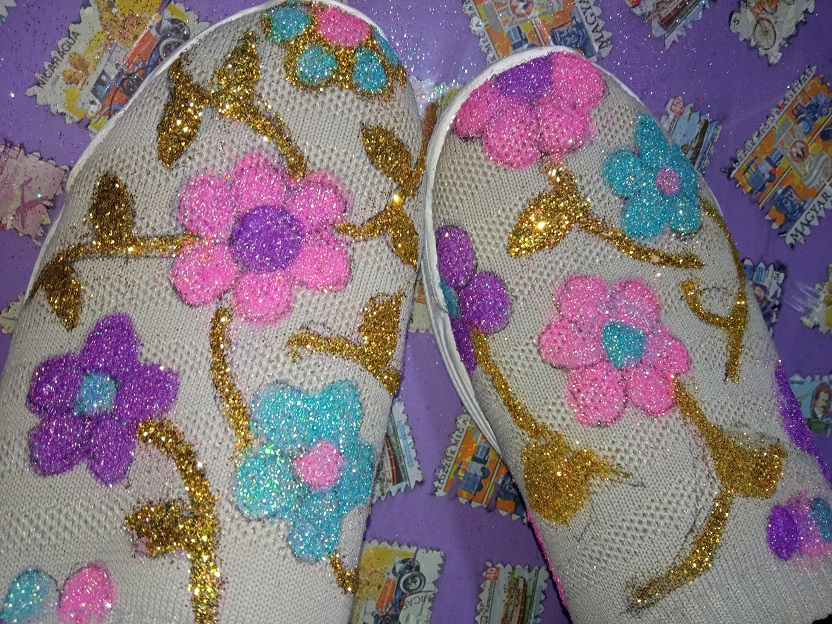 Final result of my new shoes:
Resultado final de mis nuevas zapatillas: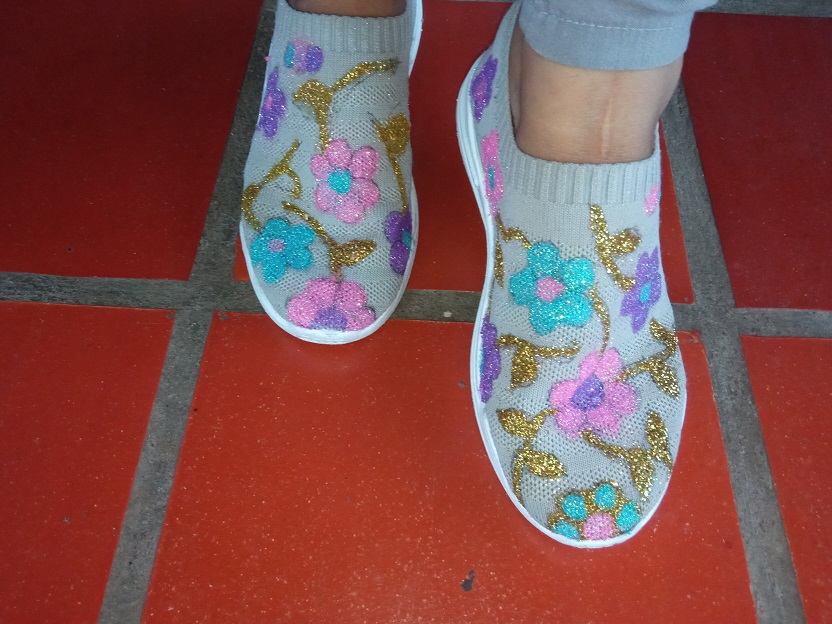 This has been my entry to the weekly contest "frost and shine" I hope the following tutorial has been very useful and I invite my friends to participate in the contest: @yeniriverabello and @katiuskamata. Until a new contest, God bless.
Esta ha sido mi entrada al concurso semanal "escarchas y brillos" espero que les haya sido de mucha utilidad el siguiente tutorial e invito a participar en el concurso a mis amigas: @yeniriverabello y @katiuskamata. Hasta un nuevo concurso, Dios los bendiga.
Thanks for dressing me up and reading me, until next time @aksurevm89.
Gracias por vístame y leerme, hasta una próxima ocasión @aksurevm89.
THANKS FOR READING ME // GRACIAS POR LEERME
Translated by: google translator // Traducido por: google traductor
All photos are my property // Todas las fotos son de mi propiedad.
The collage were made with the collage maker android app // Los collage fueron realizado con la app para android collage maker.
---
---