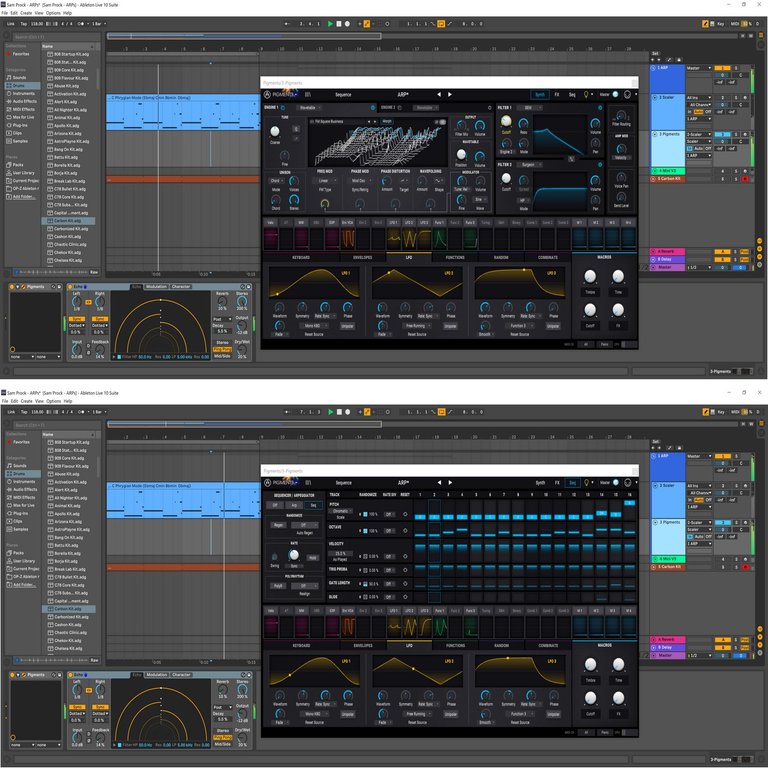 ---
Arping not a sin! :)
I love making jingles. If track comes down short naturally, I just keep it this way. Not making it "normal" long. It is s full track and more fun this way. Beating Prock conciseness records down to 18 sec :stuck_out_tongue_winking_eye:
The whole thing is designed with one instrument, recently released Arturia's creature called Pigments. In line with Serum and NI Massive monstas. Pigments is super fun if you know what you are doing and even more fun if you don't. Two Wavetable and/or Analogue engines, embedded sequencer and MultiFX. Main feature is you can get everything to move on a spot. Automation of any parameter to several LFOs, Envelops, Functions etc are VISUAL. So you can see and comprehend what's going on relatively easy. For ex., here I automate wavetable position, reverbs, filters cutoff, stereo pan and other things right in the tool.
Ableton Live 10 and just one synth - Arturia Pigments. Everything moving here is done within the tool.
---
Listen Prockjects everywhere and connect. Appreciate your support and playlisting too!

SoundCloud ~ Spotify ~ iTunes ~ YouTube ~ Dsound
---
► Listen on DSound
► Listen from source (IPFS)