[ESP-ENG] SEGUNDA PRÁCTICA DE PINTURA DE CALAVERA CON PROCESO. | SECOND SKULL PAINTING PRACTICE WITH PROGRESS.
¡Hola Hivers! Hoy les traigo la segunda parte de mi trilogía de pintura en calaveras, la primera que hice decidí ir con un diseño tradicional, en esta quise arriesgarme un poco más, les narraré el proceso y los pensamientos detrás de esta curiosa creación ¡espero les guste!
Hi, Hivers! Today I bring you the second part of my skull painting trilogy, the first one had more of a traditional design, in this one I wanted to explore new ways, I will narrate you the process and my thoughs behind this curious creation, I hope you like it!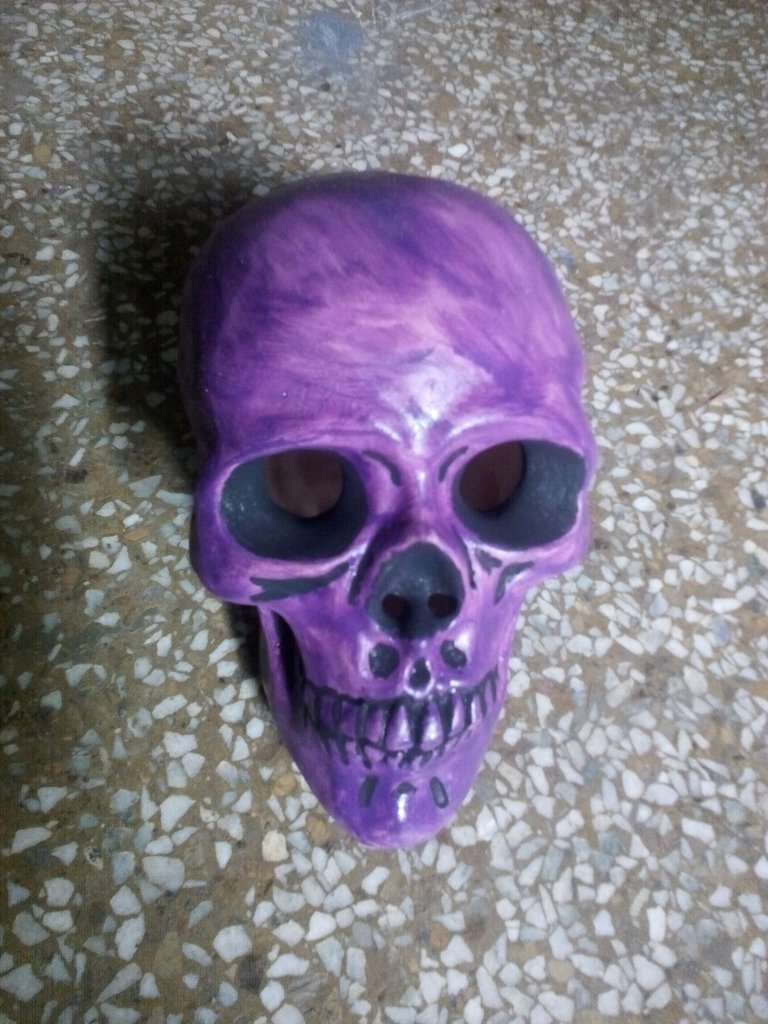 Primera parte 🎨 First part
Decidí irme por una temática espacial, como ya he comentado varias veces soy un aficionado de la astronomía y de las ciencias en general, me gusta hacer referencias a ellas de vez en cuando en mi obras, pero siempre dándoles mi propio estilo.
I decided to make a space theme, I really love astronomy and science in general, I like to make reference to this things in my work, but giving them my own style.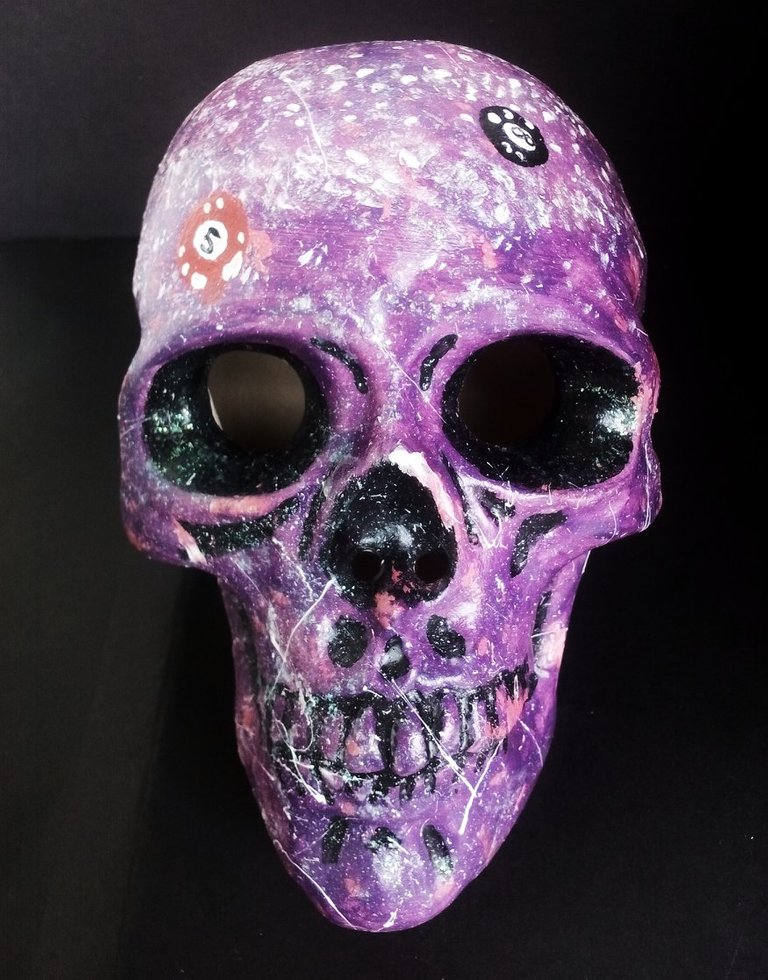 Vista frontal 🎨 Front view
Usé un molde de arcilla en forma de cráneo ya prefabricado, y para pintarlo usé pinturas al frío, la paleta de colores que elegí es diferentes tonos morado, simulando el color de una galaxia, mezclé blanco y negro para crear distintos matices.
I used a skull clay mold I bought, and for the painting I used acrylic paint, the color palette that I choose was different shades of purple to create a galaxy illusion, I mixed white and black to create various hues.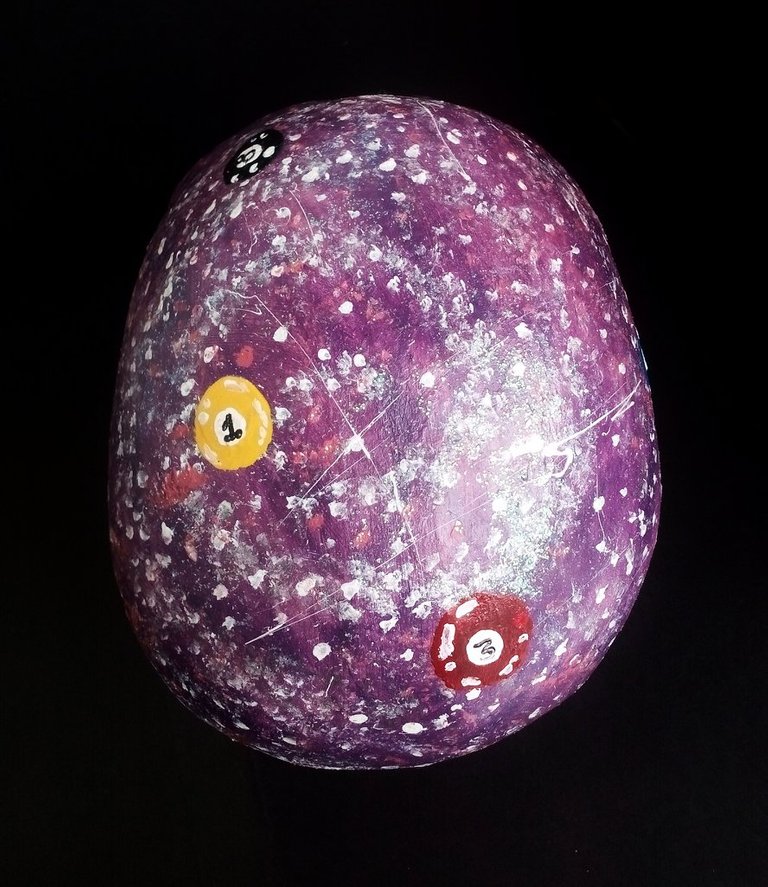 Vista desde arriba 🎨 Above view
Reemplacé los planetas por bolas de billar, y le agregué destellos en blanco. La base del cráneo tiene un efecto, y los acabados quedaron opacos, dándole un contraste interesante
I replaced the planets with pool balls, and I added white gleams. The base of the skull have a shiny effect, and the details are matt, giving it an interesting constrat,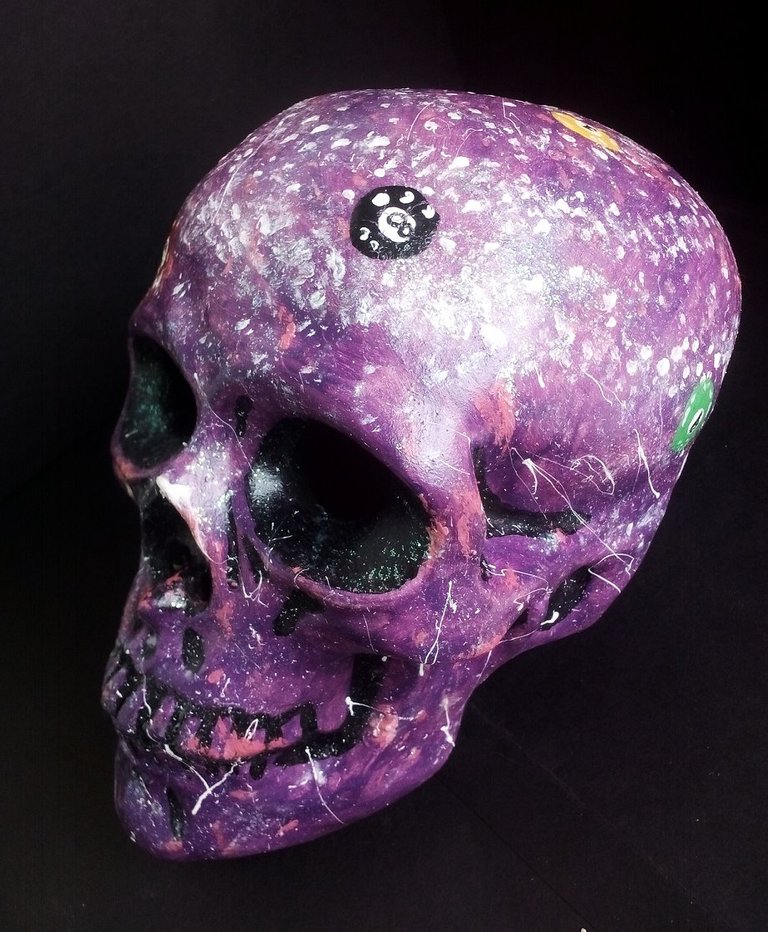 detalles del lado derecho 🎨 right side details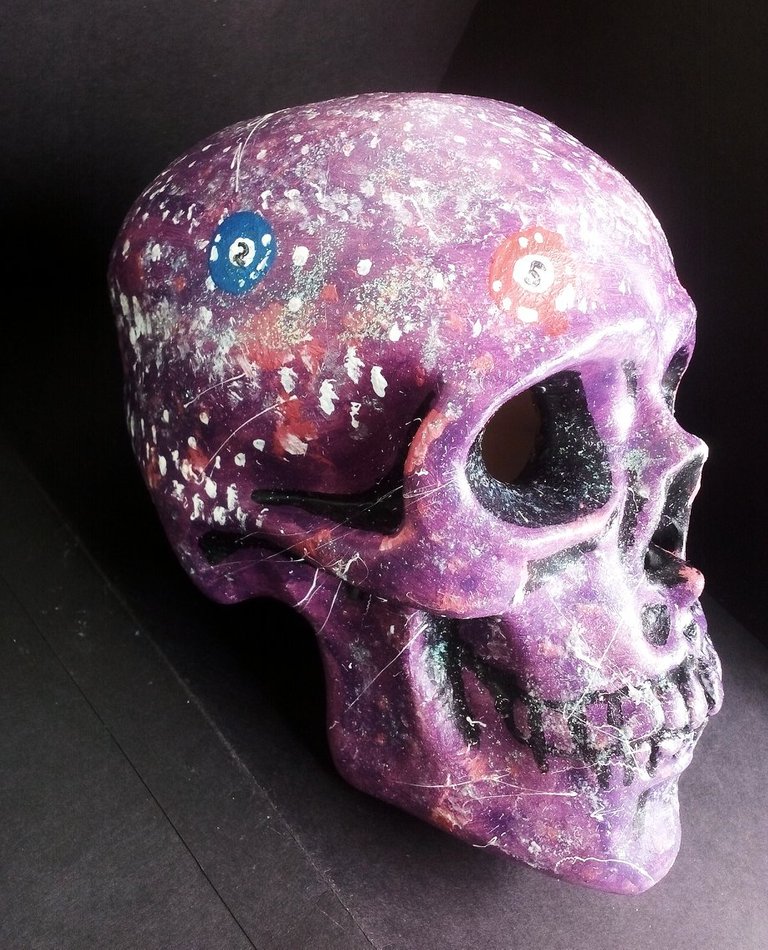 detalles del lado izquierdo 🎨 leftt side details
Esto es todo, se titula: Nuestro planeta es tan sólo una bola más en la mesa de billar que es nuestra galaxia. Espero les haya gustado el resultado. Como siempre, cualquier tipo de retroalimentación o preguntas serán gratamente recibidas, deseo poder tener más interacciones sociales aquí pronto. ¡Los espero con ansias! Puedes encontrarme a mí y mi portafolio en:
This is all, it's title is: Our planet is only another ball in the pool table that is our galaxy. I hope you like the result. As always, any feedback and questions are gladly received, i wish to make some real human contact in this social media space! if you are insterested in seeing more of my art work, you cand find me and my portafolio in: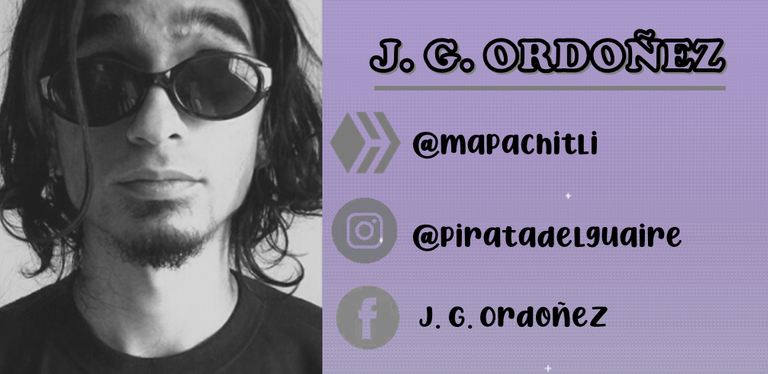 Instagram: https://instagram.com/piratadelguaire
Ko-fi: https://ko-fi.com/mapachitli
and Facebook: https://www.facebook.com/J-G-Ordo%C3%B1ez-101051944720252
---
---