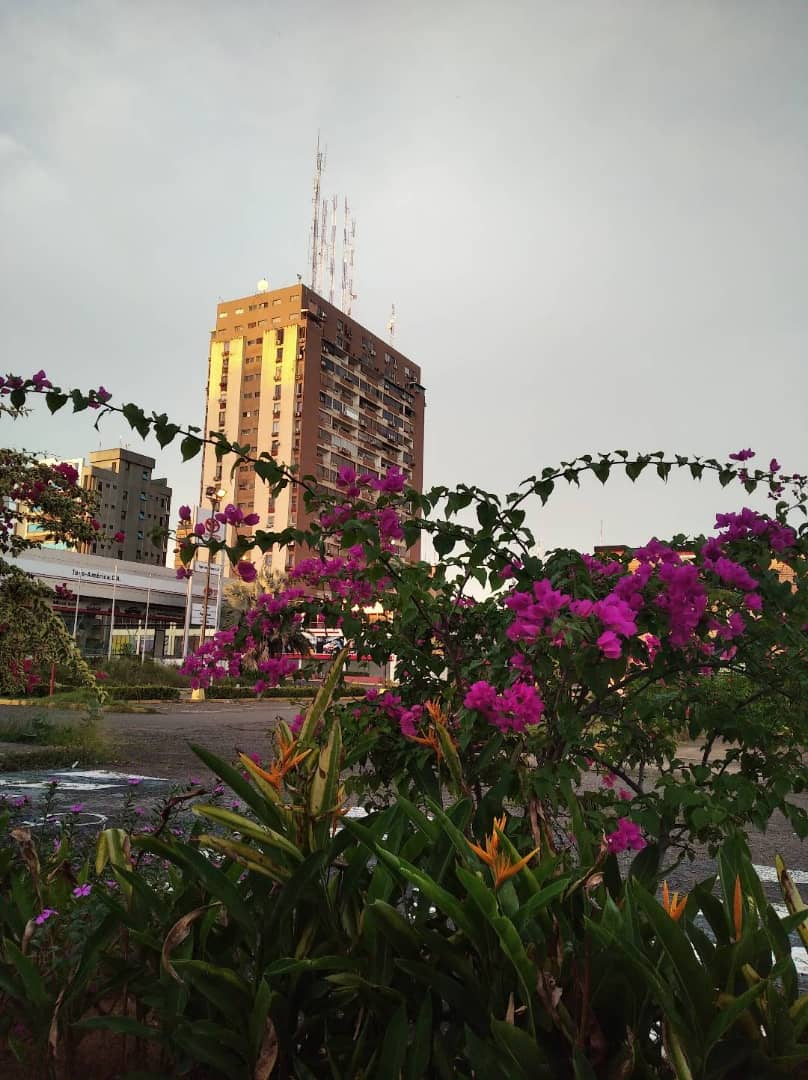 Altavista
I recently watched a documentary about Venezuela, by the Mexican youtuber Alex Tienda, which inspired me a lot and encouraged me to see the positive side of my country and look for those hidden treasures that are here despite the difficulties and the history that we already know about what happens. After eleven episodes of pure love and beautiful history, the idea to start traveling and allow me to also get to know my country was growing in me.
Recientemente vi un documental sobre Venezuela, del youtuber mexicano Alex Tienda, el cual me inspiró muchísimo y me alentó a ver el lado positivo de mi país y buscar esos tesoros escondidos que se encuentran aquí a pesar de las dificultades y la historia que ya conocemos sobre lo que acontece. Luego de once episodios de puro amor e historia bonita, fue creciendo en mi la idea de empezar a viajar y darme la oportunidad de conocer también mi tierra.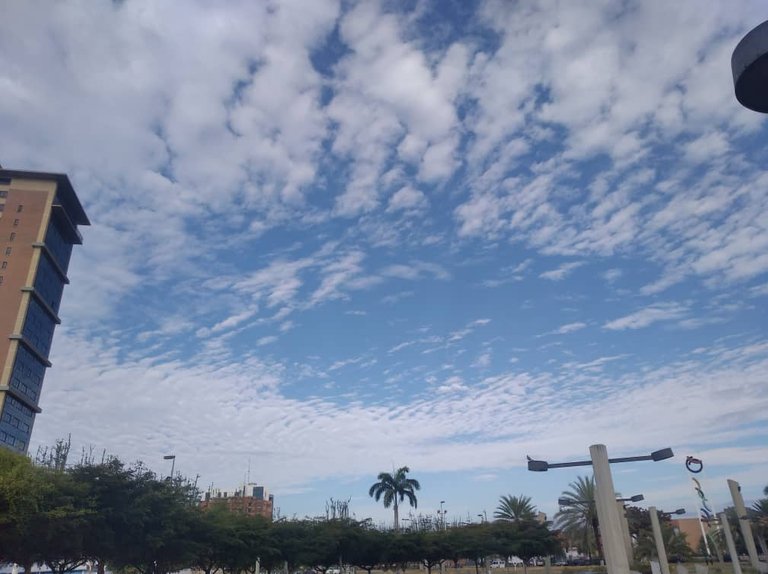 Plaza Monumental
So, one day, a friend of mine organized a walk through an iconic park in my city, called "La Llovizna", which despite being close by, many times those of us who live here, rarely visit it, for silly excuses, yes, today I realized that they were just cheap excuses because we could even walk to the park, literally.
Así pues, un día, una amiga organizó un paseo por un parque icono de mi ciudad, llamado "La Llovizna", que a pesar de tenerlo cerquita, muchas veces los que vivimos aquí, muy poco lo visitamos, por excusas tontas, si, hoy me di cuenta que solo fueron excusas baratas porque incluso podíamos llegar caminando al parque, literal.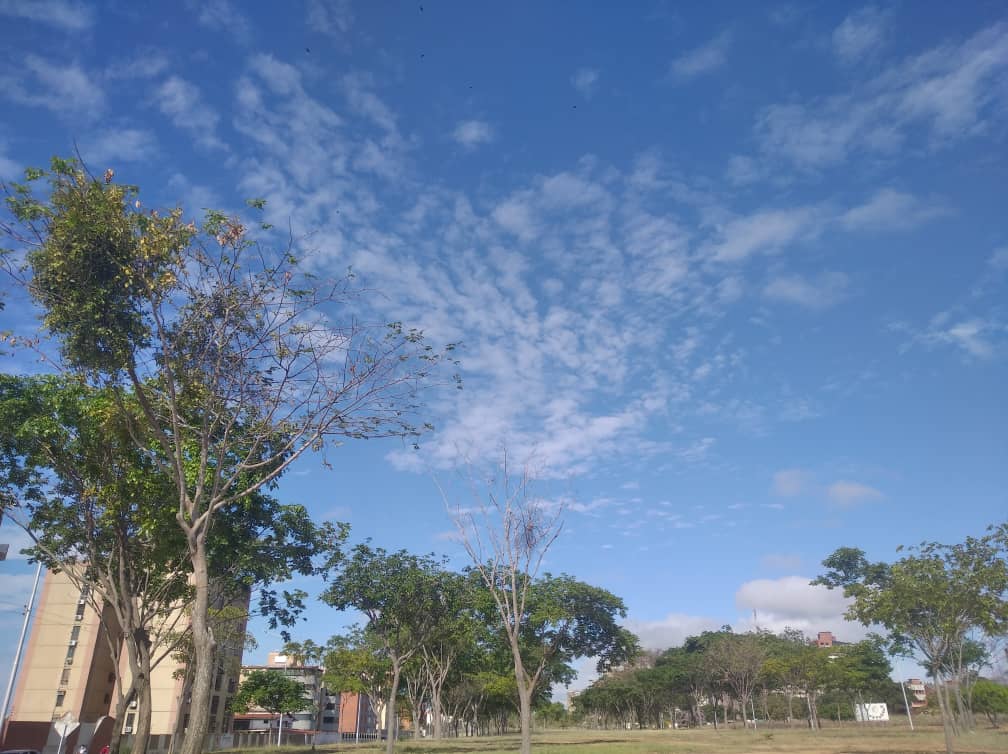 Camino al parque
So, I took my camera, water, and some snacks, and we started our trip walking from the meeting point that we set, and which was the monumental square of the CVG. Speaking about this square, several protests were held there years ago, due to the situation in the country, and it is emblematic of the persecution of the national guard against the students. A very difficult situation was experienced during those marches. And it led many young people to emigrate from the country because there were no guarantees and their rights were not respected.
Entonces, tomé mi cámara, agua y unos bocadillos, y emprendimos nuestro viaje caminando desde el punto de encuentro que pautamos, y ese era la plaza monumental de la CVG. Hablando de esta plaza, en ella se realizaron varias protestas hace años atrás, por la situación país, y es emblemática de la persecución de la guardia nacional contra los estudiantes. Una situación bastante difícil se vivió en esas marchas. Y dio paso a que muchos jóvenes emigraran del país por que no había garantías ni se respetaban sus derechos.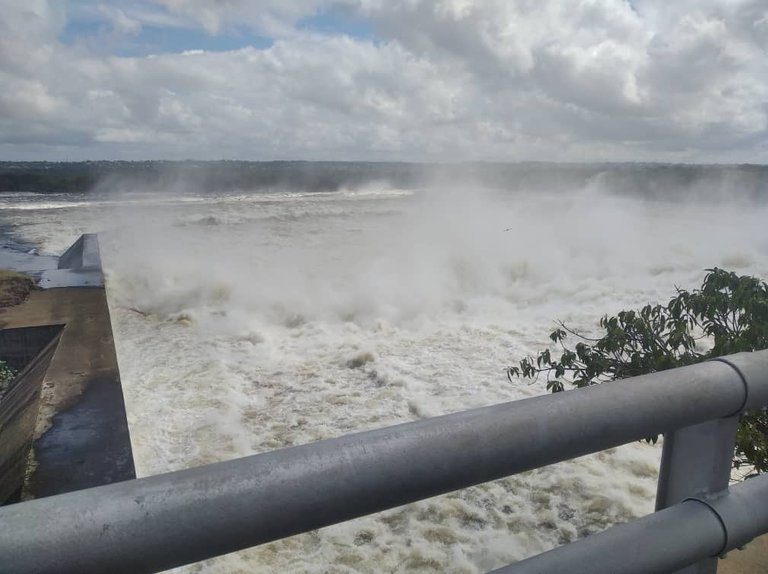 Cascada en la represa Macagua
Now the square is a little neglected, however, we decided to see with joy that day, when we would walk to the park and enjoy the beautiful walk in the middle of a scenario, well let's say quite neglected. Our city is beautiful, it is just very neglected, and although there are initiatives to do something from civil society, sometimes it is a little difficult to raise the spirits in the face of adversity.
Ahora está un poco descuidada la plaza, sin embargo, decidimos ver con alegría ese día, en que iríamos caminando al parque y disfrutar de la bella caminata en medio de un escenario, pues digamos bastante descuidado. Nuestra ciudad, es bonita solo está muy descuidada, y aunque hay iniciativas para hacer algo desde la sociedad civil, a veces es un poco difícil levantar el ánimo frente a las adversidades.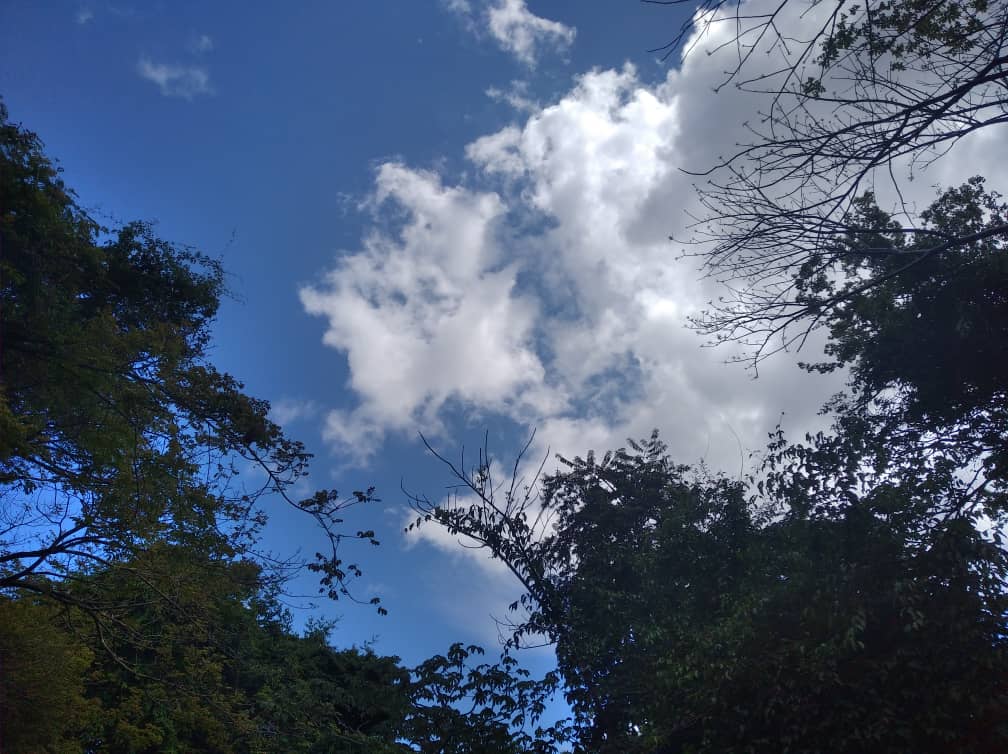 Llegamos al parque
And so, we left walking, at 8 am with the sun high and radiant and some clouds that embellished the blue sky. It took us about an hour and thirty minutes to get there, and what can we say, it was a long way to get there. We went over the Macagua Bridge, where the floodgates were half open and it was a spectacle to watch the flow of water that formed a beautiful waterfall.
Y así, nos fuimos caminando, a las 8 am con el sol alto y radiante y unas nubes que embellecían el cielo azul. Nos tardamos aproximadamente una hora y treinta minutos en llegar, y que decir, se nos hizo largo el trayecto hasta llegar. Pasamos por el puente Macagua, donde las compuertas estaban semi abiertas y era todo un espectáculo mirar el caudal de agua que formaba una linda cascada.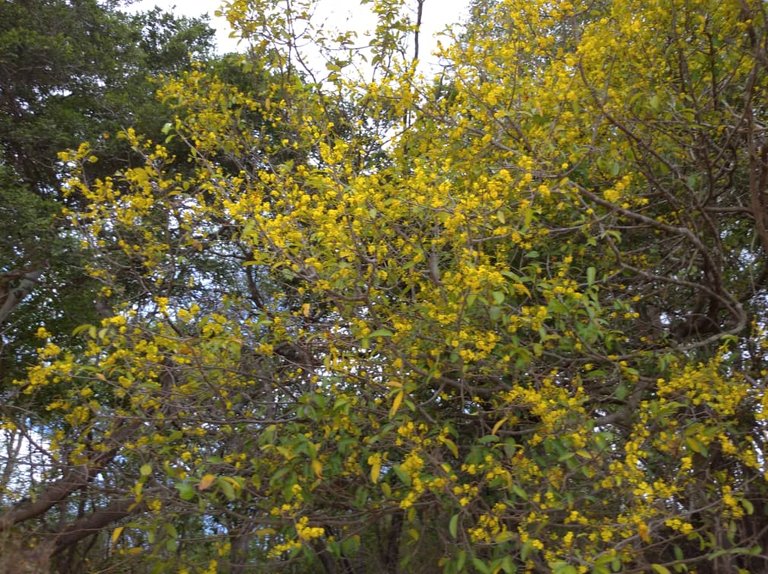 Parte de la Vegetacion
When we arrived it was like seeing heaven, wow I had not visited the park for years, and yes, although it was beautiful before compared to today, it still has that magic and soothing energy, the park within the city. The imparques man welcomed us, made sure we complied with the biosecurity rules and with a smile he told us that he hoped we would enjoy our stay in the park.
Cuando llegamos fue como ver el cielo, wow tenía años sin visitar el parque, y si, aunque antes era hermoso a comparación de la actualidad, igual no deja de tener esa magia y esa energía tranquilizante, el parque dentro de la ciudad. El señor de imparques nos dio la bienvenida, se aseguró que cumpliéramos con las normas de bioseguridad y con una sonrisa nos dijo que esperaba disfrutáramos nuestra estancia en el parque.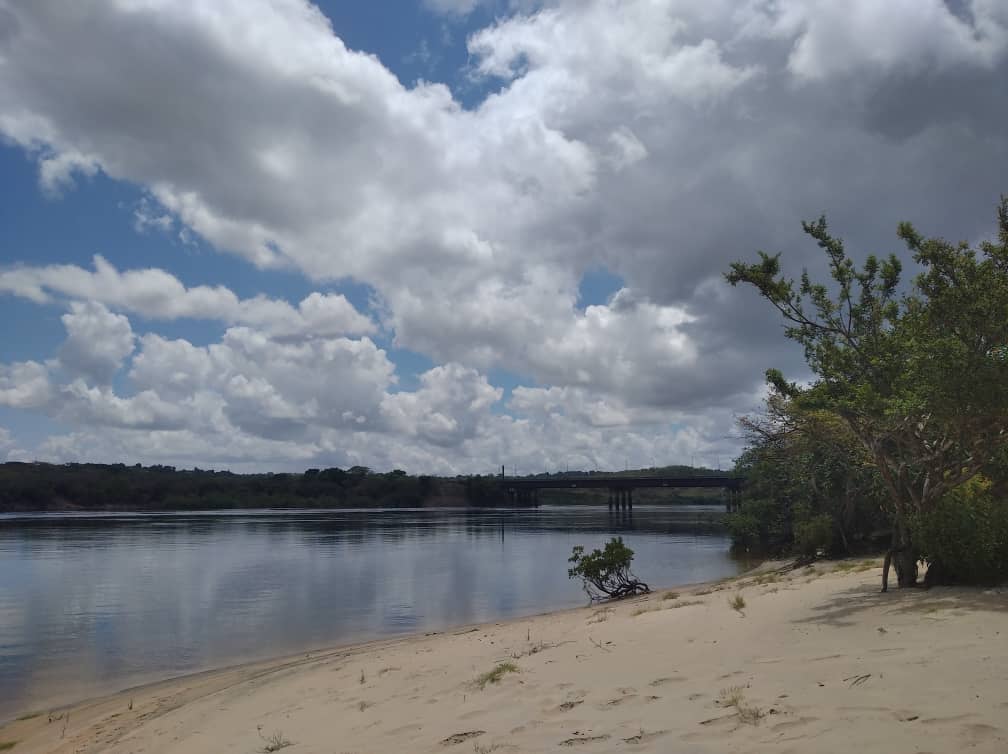 Llegamos a la playita
We were tired from the long walk, and one of our friends suggested going to the sandy beach, it is inside the park, which gives us an amazing view of the river and we could dip our feet in the water to relax from the walk. But there was a detail, we had to walk about a kilometer, and uff one of our friends was tired, so we decided to sit down for a moment, take some snacks and water and go to the beach.
Estábamos cansados por la larga caminata, y uno de nuestros amigos sugirió ir a la playa de arenas, está dentro del parque, que nos da una vista al rio impresionante y podíamos sumergir nuestros pies en el agua para relajarnos de la caminata. Pero había un detalle, teníamos que caminar como un kilómetro aproximadamente, y uff una de nuestras amigas estaba cansada, así que decidimos sentarnos un momento, tomar unos bocadillos y agua y partir a la playita.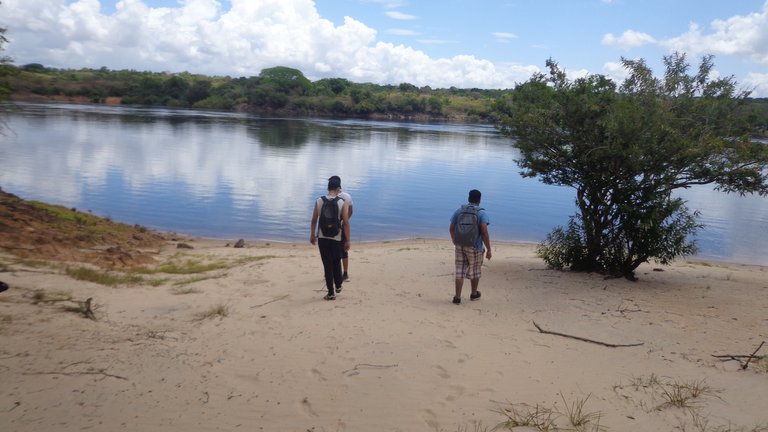 Llegando a playa las arenas
We had to convince our friend because she was very tired, in fact she is not very athletic and it was taking its toll on her sedentary life, we encouraged her a little and we went to the beach. I must confess that we got lost and walked more than two kilometers haha and our friend wanted to kill us, but we insisted and insisted and we made it and wow it was wonderful.
Tuvimos que convencer a nuestra amiga porque ella estaba muy cansada, de hecho no es muy atlética y le estaba pasando facturar su vida sedentaria, la animamos un poco y nos fuimos a la playa. Debo confesar que nos perdimos y caminamos más de dos kilómetros jaja y nuestra amiga nos quería matar, pero insistimos e insistimos y logramos llegar y wow fue maravilloso.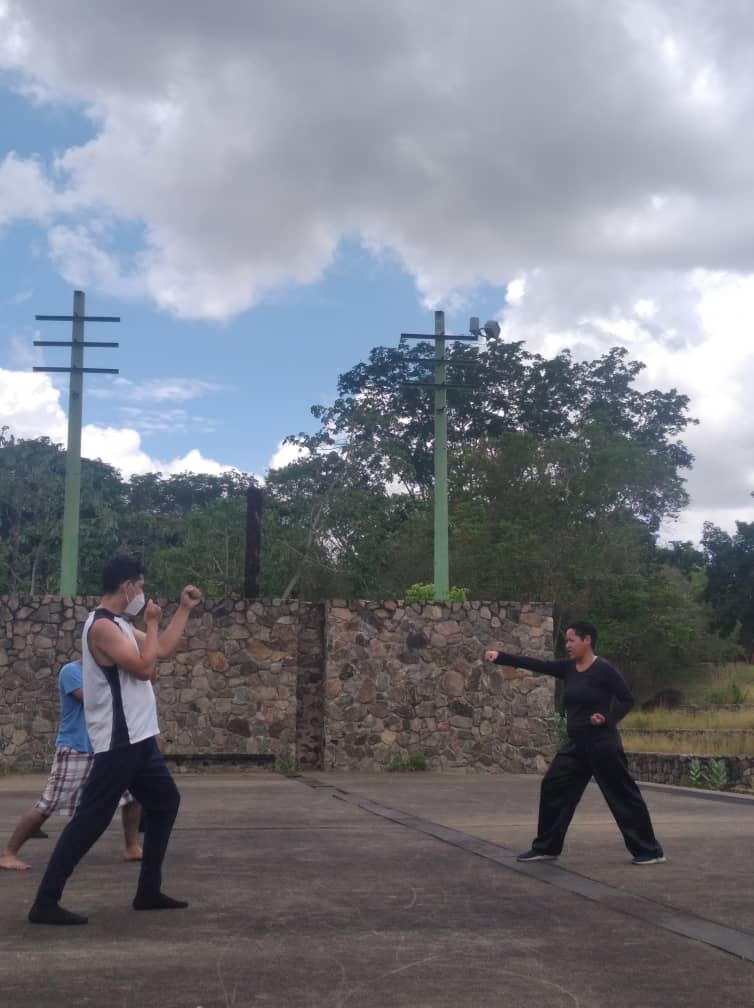 Practicando un poco de kung fu
I had years without seeing beach sand haha so it was even more amazing, playing with it, dipping our feet in the water, relaxing for a while, however we had to be aware of the canoes because, well, we talked about there being insecurity and we didn't want to get robbed, so we were somewhere between relaxed and aware. We stayed about forty minutes and then we went to see the rest of the park.
Tenía años sin ver arena de playa jaja así que fue aún más asombroso, jugar con ella, sumergir los pies en el agua, relajarnos un rato, sin embargo había que estar pendientes de las canoas porque, bueno, hablamos de que hay inseguridad y no queríamos sufrir un robo, así que estábamos entre relajados y pendientes. Estuvimos cerca de cuarenta minutos y luego nos fuimos a ver el resto del parque.
So, we spent an entertaining day and then we had to leave, and as the tiredness was already taking its toll, the friend who suggested going to the little beach, told us, "now we are going to ask for a ride until we get to a public transportation stop" and so it was. We went to the avenue and it took us about thirty minutes until a truck stopped and left us near our meeting point. Uff it was great.
Así, pasamos un día entretenido y luego teníamos que partir, y como el cansancio ya estaba pasando factura, el amigo que sugirió ir a la playita, nos dijo, "ahora vamos a pedir un aventón hasta llegar a una parada de transporte Público" y así fue. Nos fuimos hasta la avenida y tardamos cerca de treinta minutos hasta que un camión se detuvo y nos dejó cerca de nuestro punto de encuentro. Uff fue genial.
That day I understood that I had a lot to learn and adventures to live, that life is about flowing, taking the necessary precautions but we must live, be happy with what we have and go for more always from gratitude. Do the best we can with what we have. Young people have a beautiful spirit of search, and we must cultivate it, nurture it with the most beautiful things in life and see adversities as springboards to achieve our goals. I will continue to tour my city and visit its most iconic places and talk about it. I hope to make friends along the way and continue to build the foundation for a new country. I don't know what the results will be like but I know I want to create beautiful memories and forge beautiful friendships.
Ese día entendí que tenía mucho por aprender y aventuras que vivir, que la vida se trata de fluir, de tomar las precauciones necesarias pero hay que vivir, ser felices con lo que tenemos e ir por más siempre desde el agradecimiento. Hacer lo mejor que podemos con lo que tenemos. Los jóvenes tienen un espíritu de búsqueda hermoso, y hay que cultivarlo, nutrirlo con las cosas más bonitas de la vida y ver las adversidades como trampolines para lograr nuestras metas. Voy a seguir recorriendo mi ciudad y visitando sus lugares más icónicos y hablar sobre ello. Espero hacer amigos en el camino y seguir construyendo las bases para un nuevo país. No sé cómo serán los resultados pero sé que quiero crear bonitos recuerdos y forjar lindas amistades.
De regreso a casa