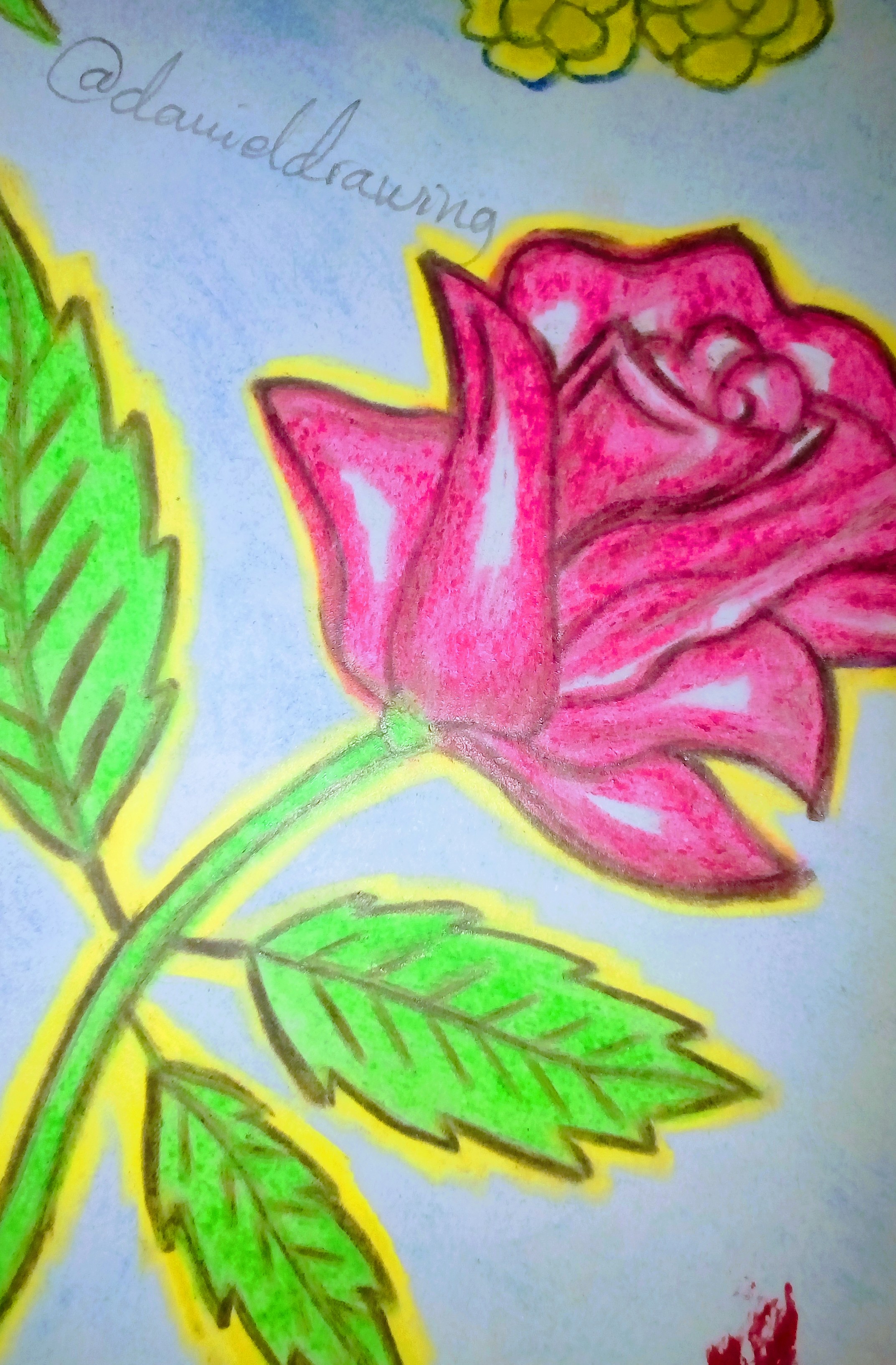 English
Hello dear friends, this time I will talk to you about this beautiful drawing inspired by a rose, painted with colored pencil, it is very feasible also you have a good time especially in these moments of pandemic where you can not go anywhere, since we must protect ourselves from this dangerous virus.
I made a rose and added little by little colors such as fuchsia, white, green, yellow among others that will make it stand out very well.
We must always make the base with the crayon pencil for after coloring, the material where the work is going to be cut can be a white letter-type sheet and with the help of scissors they cut it to a passable size.
Spanish
Hola apreciados amigos, en esta ocasion les hablare sobre este bello dibujo inspirado en una rosa, pintada con lapiz de colores, es muy factible ademas pasas un buen rato sobre todo en estos momentos de pandemia donde no se puede salir a ningun lado, ya que debemos protegernos de este peligroso virus.
Hice una rosa y le agregue poco a pocos los colores como el fucsia, blanco, verde, amarillo entre otros que la haran destacar muy bien.
Siempre debemos hacer la base con el lapiz de creyon para despues colorear, el material donde se va a trzar la obra puede ser una hoja blanca tipo carta y con la ayuda de una tijera la cortan hasta hacer un tamaño pasable.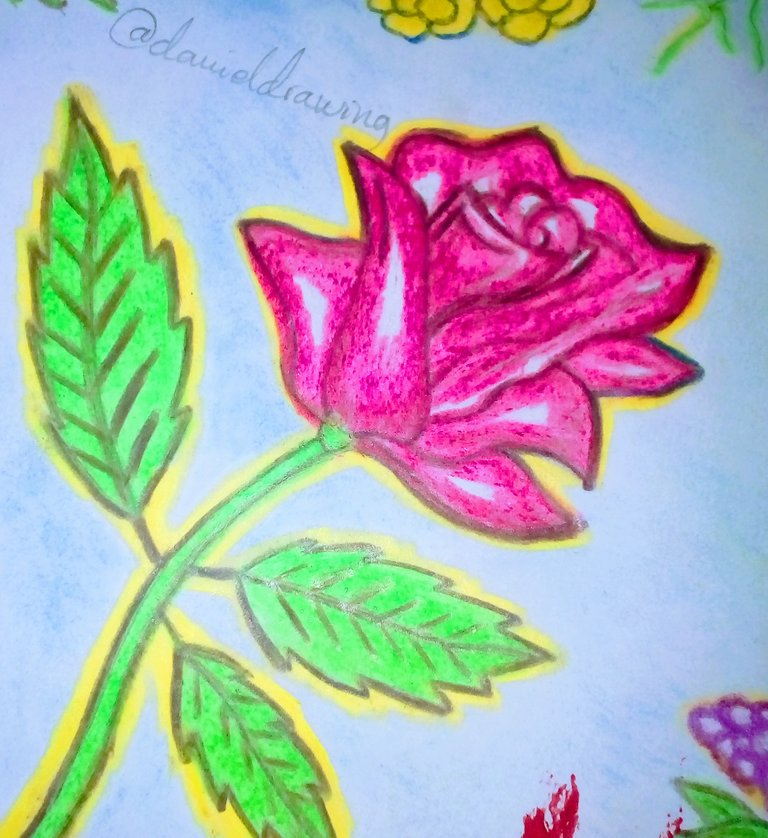 English
We always start by adding the light colors, this gives us the idea of ​​how we will combine the rest of the colors, which in this case would be the darkest.
The rose is the most beautiful flower, it also has a delicious aroma that spreads everywhere, they are very delicate and that is why we must take good care of them and try not to flood the place where it is planted.
Spanish
Siempre empezamos agregando los colores claros, esto nos va dando la idea de como iremos combinando el resto de colores que en este caso serian los mas oscuros.
La rosa es la flor mas hermosa, ademas posee un delicioso aroma que se esparce por todos lados, son muy delicdas y es por ello que debemos cuidarlas muy bien y tratar de no encharcar el lugar donde esta plantada.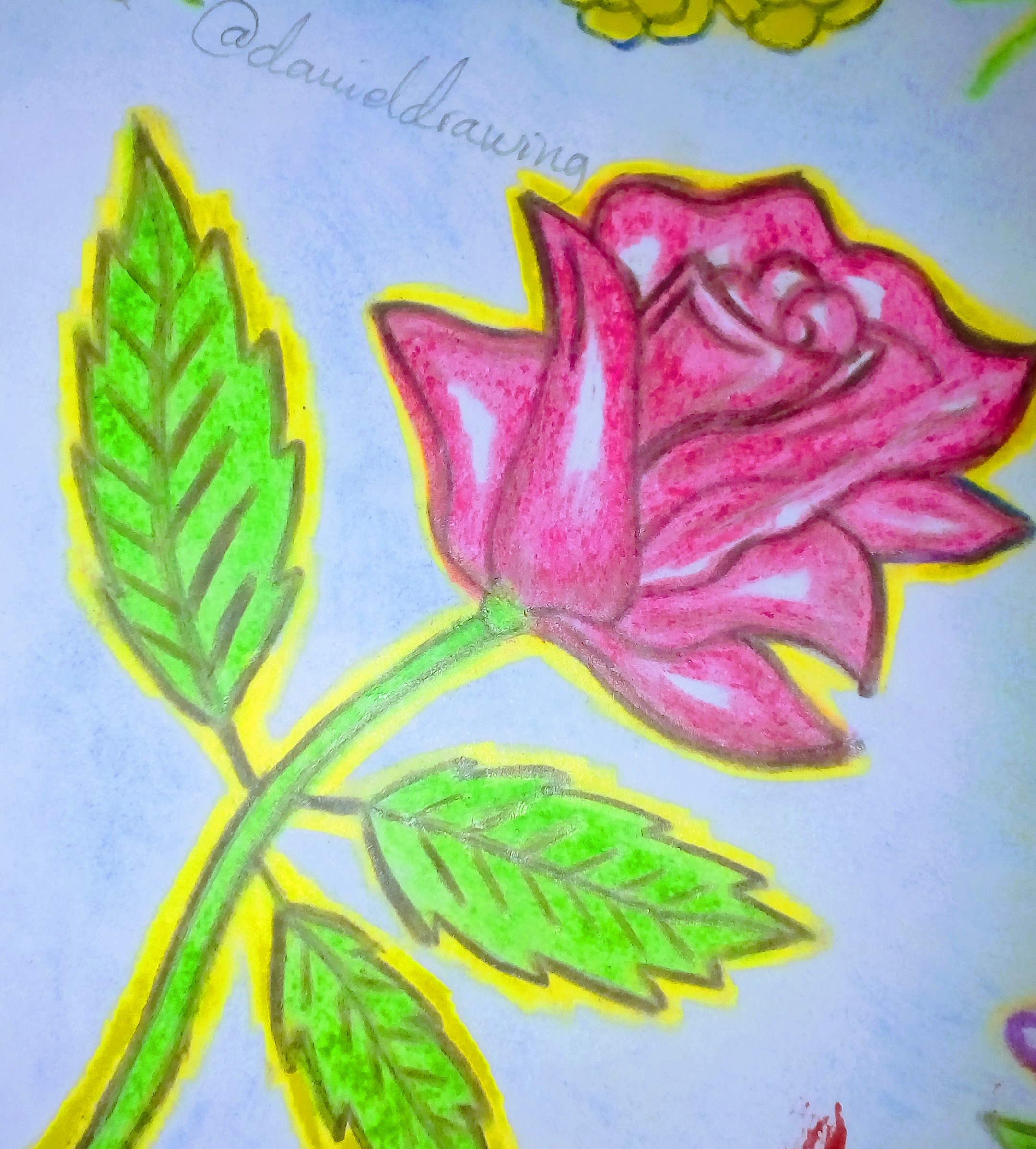 English
Around it add other beautiful colors such as yellow, this represents other flowers that are very well maintained in the garden, but the rose will always stand out in my opinion.
Grateful with my final drawing, always improving little by little, this technique with colored pencil is not so easy, since it requires time and we must always take care not to get out of line, because any mistake can no longer be corrected if it is not be careful.
I hope you like it, friends. @danieldrawing.
Spanish
A su alrededor agregue otros bellos colores como el amarillo, esto representa otras flores que se mantienen muy bien en el jardin, pero siempre destacara la rosa a mi parecer.
Agradecido con mi dibujo final, siempre mejorando poco a poco, esta tecnica con lapiz de colores no es tan facil, ya que requiere de tiempo y siempre debemos cuidar de no salirnos de la linea, porque cualquier error ya no se podra enmendar si no se tiene cuidado.
Espero les guste, amigos. @danieldrawing.