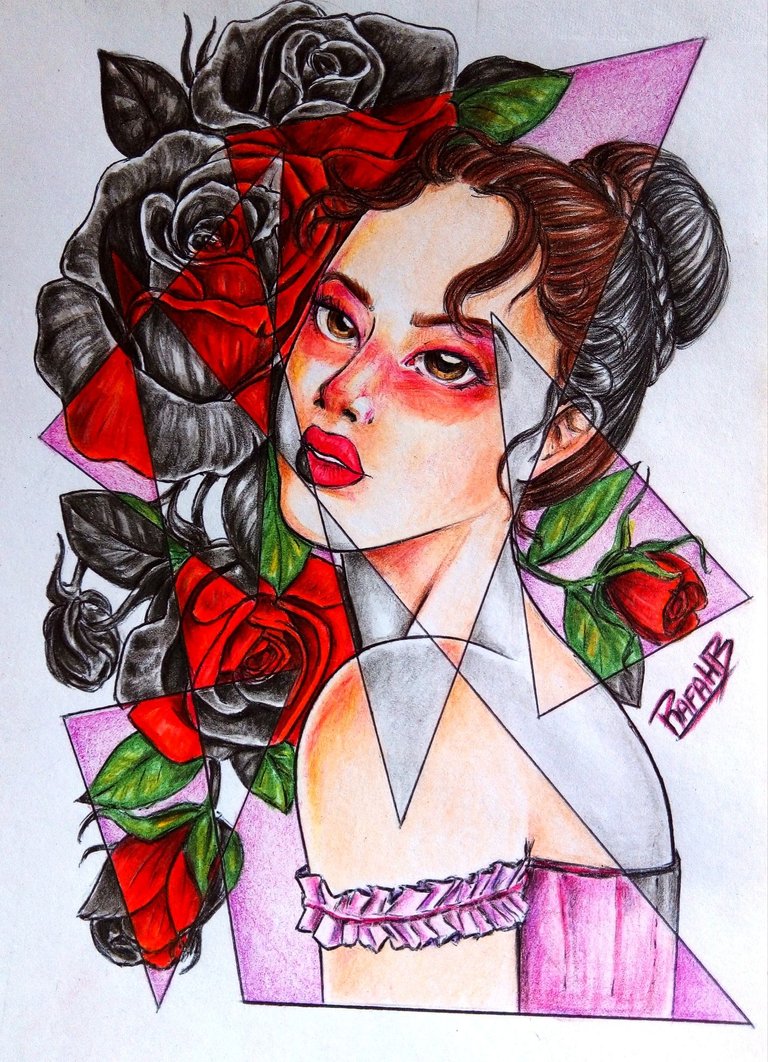 🌹Rupture 🌹When the soul is fractured🌹
🌹
¡Saludos! amigos de #hive🙋🏽‍♂️👋🏼, espero hayan tenido un día maravilloso y una semana productiva✨. El día de hoy comparto con ustedes mi más reciente creación, en la cual decidí practicar un nuevo estilo, por el cual incorporé los triángulos que observan en el dibujo.
Greetings¡ #hive friends🙋🏽‍♂️👋🏼, I hope you had a wonderful day and a productive week✨. Today I share with you my most recent creation, in which I decided to practice a new style, by which I incorporated the triangles you see in the drawing.
Utilicé los triángulos como divisores (de una forma poco usual) entre las zonas que están a color y las zonas que estan en blanco y negro. Agregar los triángulos como elementos para este diseño hace que el dibujo tenga un toque distinto a lo que usualmente realizó.
I used the triangles as dividers (in an unusual way) between the areas that are in color and the areas that are in black and white. Adding the triangles as elements for this design makes the drawing have a different touch than what I usually do.
---
Materiales Utilizados✂️
Materials Used✂️
•Block de dibujo marca Caribe.
•Lápiz 2h.
•Bolígrafo.
•Caja de colores de acuarelas marca kores.
•Caja de colores marca kores.
-Caribe drawing block.
-2h pencil.
-Ballpoint pen.
-Box of watercolors colors kores brand.
-Box of kores brand colors.
Procedimiento🖌️
Procedure🖌️
Empecé realizando el boceto en el block de dibujo con mi lápiz 2h, realizando primero a la mujer y luego las rosas que se encuentran en el fondo.
I started making the sketch on the drawing pad with my 2h pencil, making first the woman and then the roses that are in the background.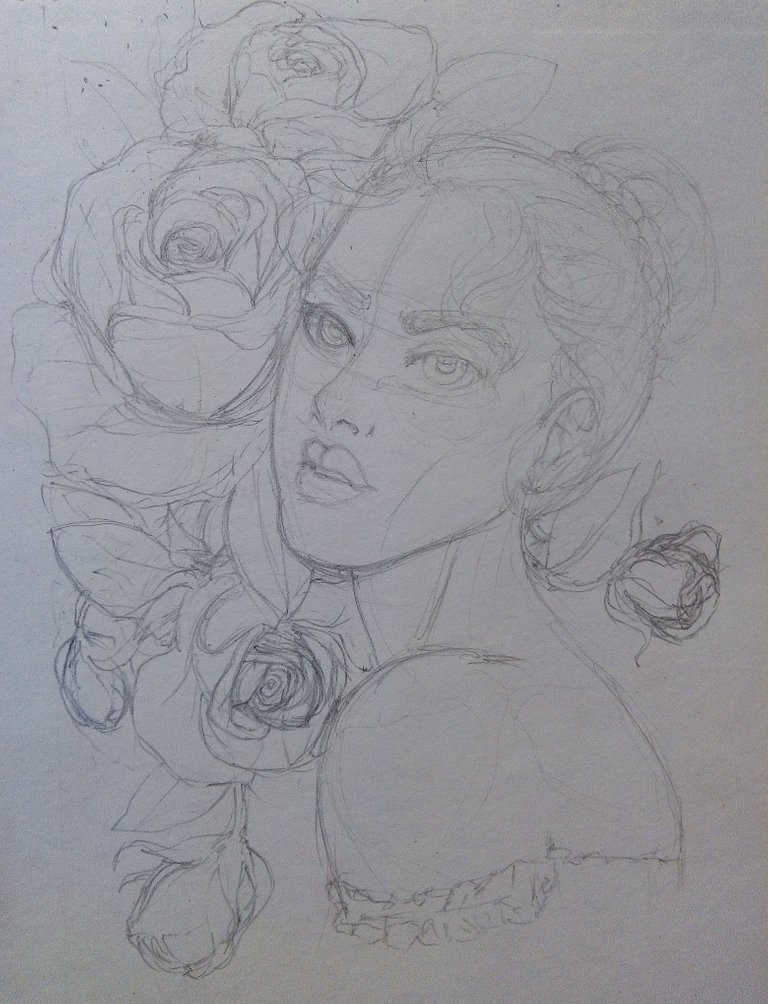 Una vez conforme con el diseño procedí a delinear todo el dibujo, empezando por la mujer y terminando con las rosas. Una vez que culminé el delineado procedí a realizar los 4 triángulos, los cuales serán los divisores entre las zonas a color de las de blanco y negro.
Once I was satisfied with the design I proceeded to outline the whole drawing, starting with the woman and ending with the roses. Once I finished the outline I proceeded to make the 4 triangles, which will be the dividers between the colored areas and the black and white ones.
Empecé a realizar trazos con los colores de acuarelas en sus respectivas zonas, utilizando rojo en las rosas, carne en la piel, verde en las hojas, marrón en el cabello y rosado en la ropa. Utilicé el pincel para dar el acabado en acuarela en todas las zonas donde realicé previamente los trazos.
I started to make strokes with the watercolor colors in their respective areas, using red in the roses, flesh in the skin, green in the leaves, brown in the hair and pink in the clothes. I used the brush to give the watercolor finish in all the areas where I previously made the strokes.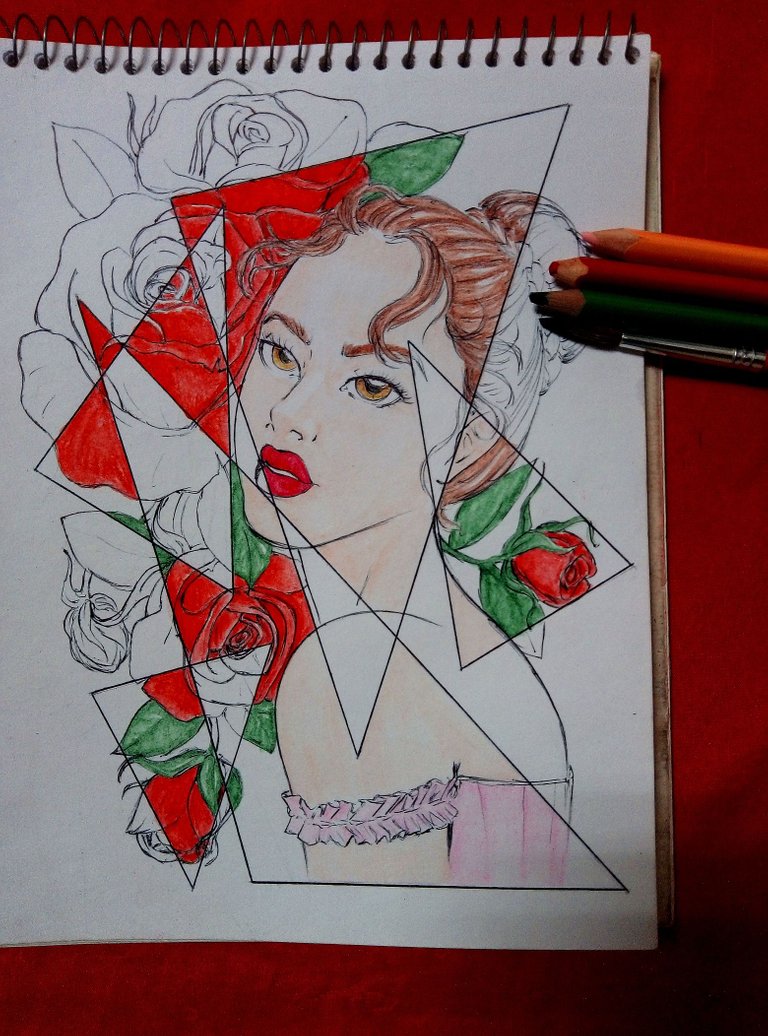 Para la zonas que estarán en blanco y negro utilicé el color negro, con el cual realicé trazos en todas las zonas, luego procedí a utilizar nuevamente el pincel para dar el acabado en acuarela.
For the areas that will be in black and white I used the black color, with which I made strokes in all the areas, then I proceeded to use the brush again to give the watercolor finish.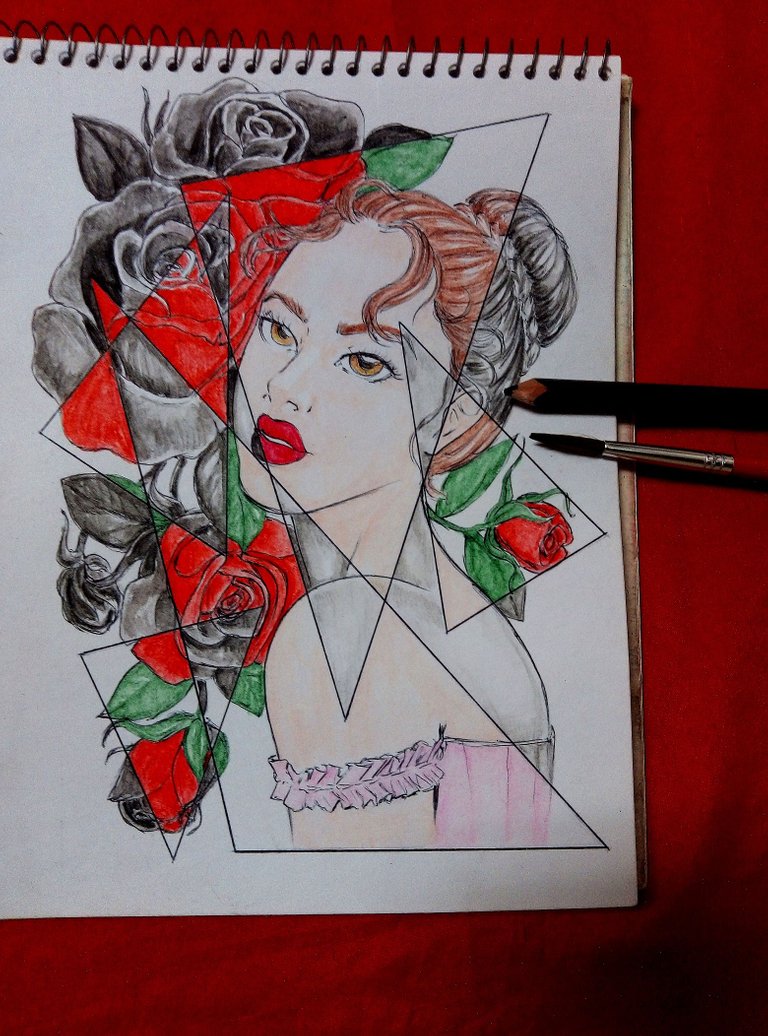 Esperé unos minutos a que el dibujo secara, para empezar a detallar con los colores, empecé por los tonos piel, luego procedí a detallar la cabellera y la ropa, dejando de último las rosas.
I waited a few minutes for the drawing to dry, to start detailing with the colors, I started with the skin tones, then I proceeded to detail the hair and clothes, leaving the roses last.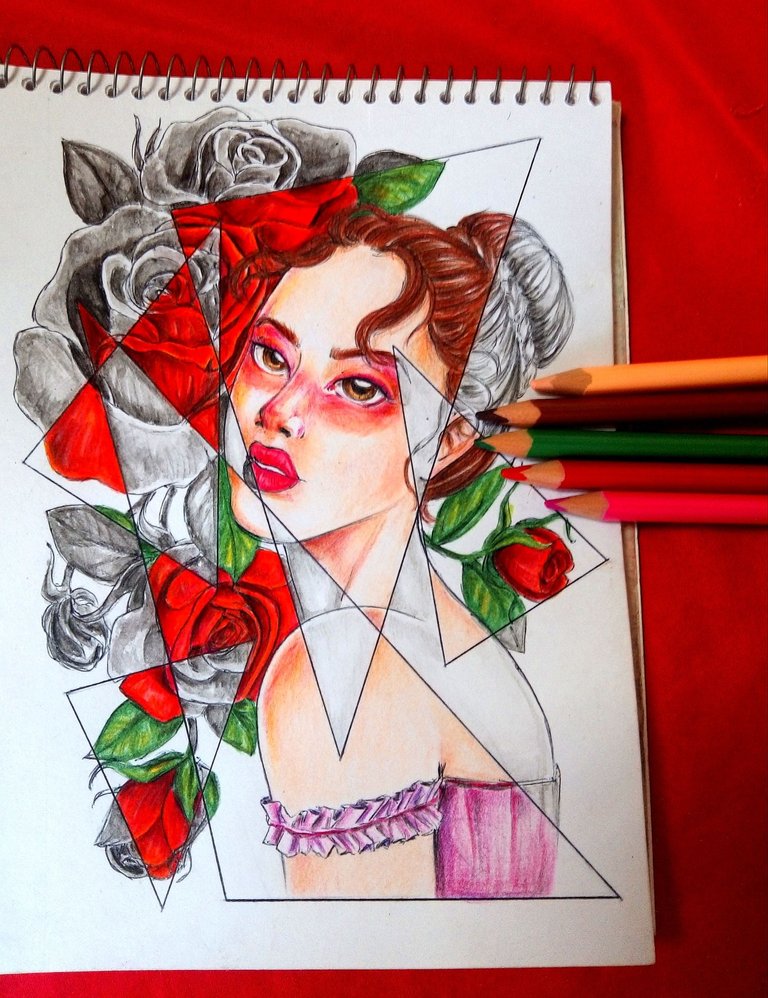 Utilicé el color negro de la caja de colores marca kores para realizar los detalles en las zonas de blanco y negro, realizando trazos suaves o puros dependiendo el caso. Opté por utilizar el negro en vez del lápiz, ya que este daría un mejor resultado al momento de tomarle una foto.
I used the black color of the kores color box to make the details in the black and white areas, making soft or pure strokes depending on the case. I chose to use black instead of pencil, as this would give a better result when taking a picture.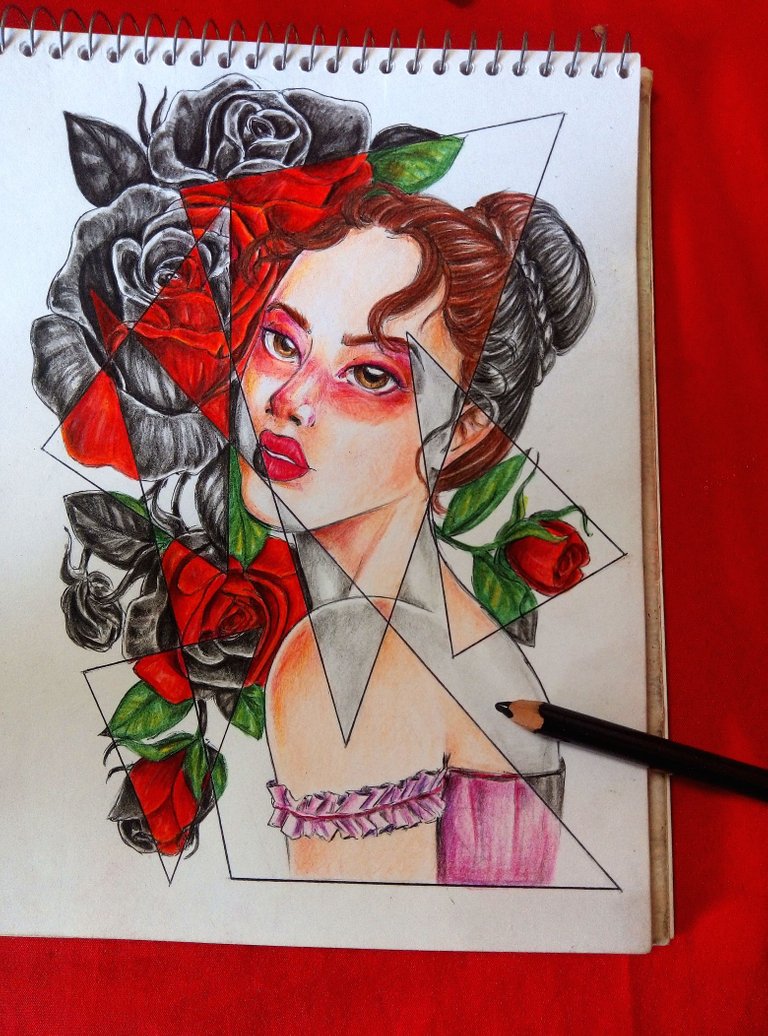 Para finalizar volví a delinear todo el dibujo para resaltar nuevamente las líneas y agregar nuevas líneas como mini detalles. Decidí rellenar las zonas en los triángulos de color rosado para dar un toqué más delicado al dibujo y de esta forma culminar con el procedimiento.
Finally, I outlined the whole drawing again to highlight the lines and add new lines as mini details. I decided to fill the areas in the triangles with pink to give a more delicate touch to the drawing and in this way finish the procedure.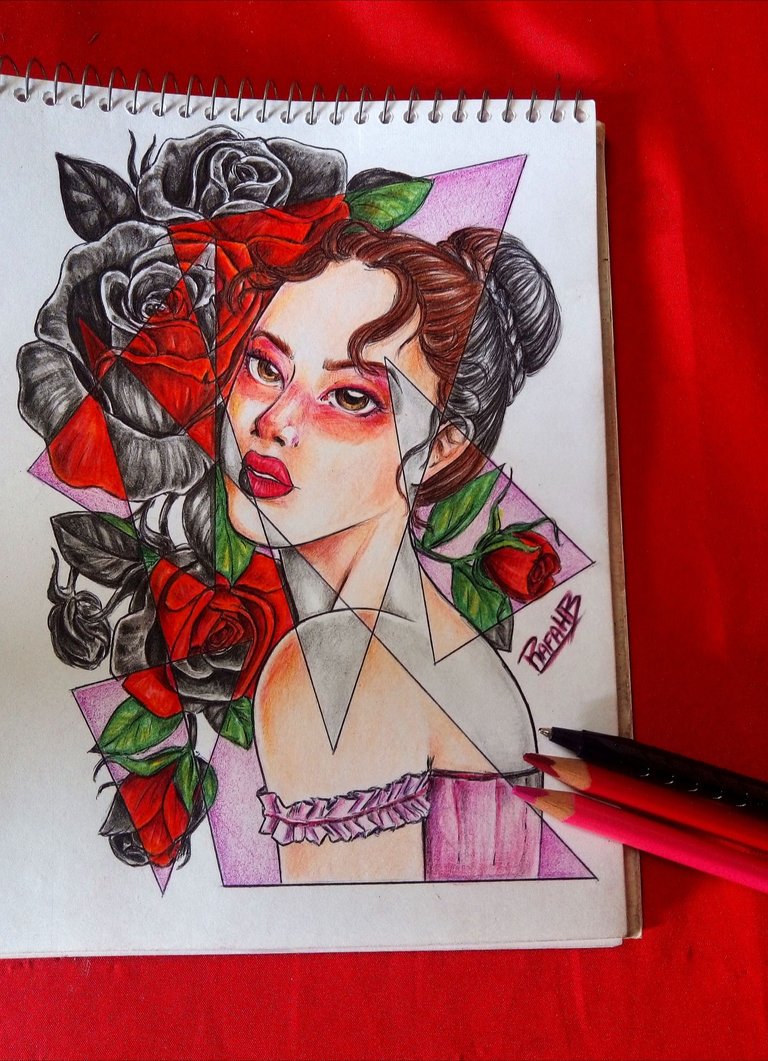 ---
Para realizar este dibujo me inspiré en el sentimiento que tenemos de ruptura en algún momento, que nos hace olvidar quienes somos y de lo que somos capaces, olvidando nuestra esencia y entrando en un mundo gris sin sentido.
To make this drawing I was inspired by the feeling that we have of rupture at some point, which makes us forget who we are and what we are capable of, forgetting our essence and entering a meaningless gray world.
Siempre debemos aprender a mantener un balance entre lo que fuimos y lo que somos ahora, solo nosotros somos capaces de mantener nuestro mundo de color, y recordar esos momentos que nos llenan de alegria y que le dan sentido a la vida.
We must always learn to keep a balance between what we were and what we are now, only we are able to keep our world of color, and remember those moments that fill us with joy and give meaning to life.
Espero les haya gustado este nuevo dibujo, el cual realicé con técnica mixta entre acuarelas y colores. Los invito a seguirme en 👉🏼@afa.hb03 para ver más de mis dibujos y manualidades, siempre buscando compartir contenido creativo con ustedes✨.
I hope you liked this new drawing, which I made with mixed technique between watercolors and colors. I invite you to follow me 👉🏼@afa.hb03 to see more of my drawings and crafts, always looking to share creative content with you✨.
🌟🌟🌟🌟🌟🌟🌟🌟🌟🌟🌟🌟🌟🌟🌟🌟
Todas las imágenes fueron tomadas por mi persona @afa.hb03, con mi teléfono celular.
All the images were taken by me @afa.hb03, with my cell phone.
🌟
✨¡Gracias por leer, espero les guste y hasta una próxima publicación!✨👋🏼👋🏼👋🏼
🌟
✨Thanks for reading, I hope you like it and see you next time!✨👋🏼👋🏼👋🏼