[Esp-Eng] ⚜️Melancholy⚜️/🎨WatercolorsAndColors🎨/By @afa.hb03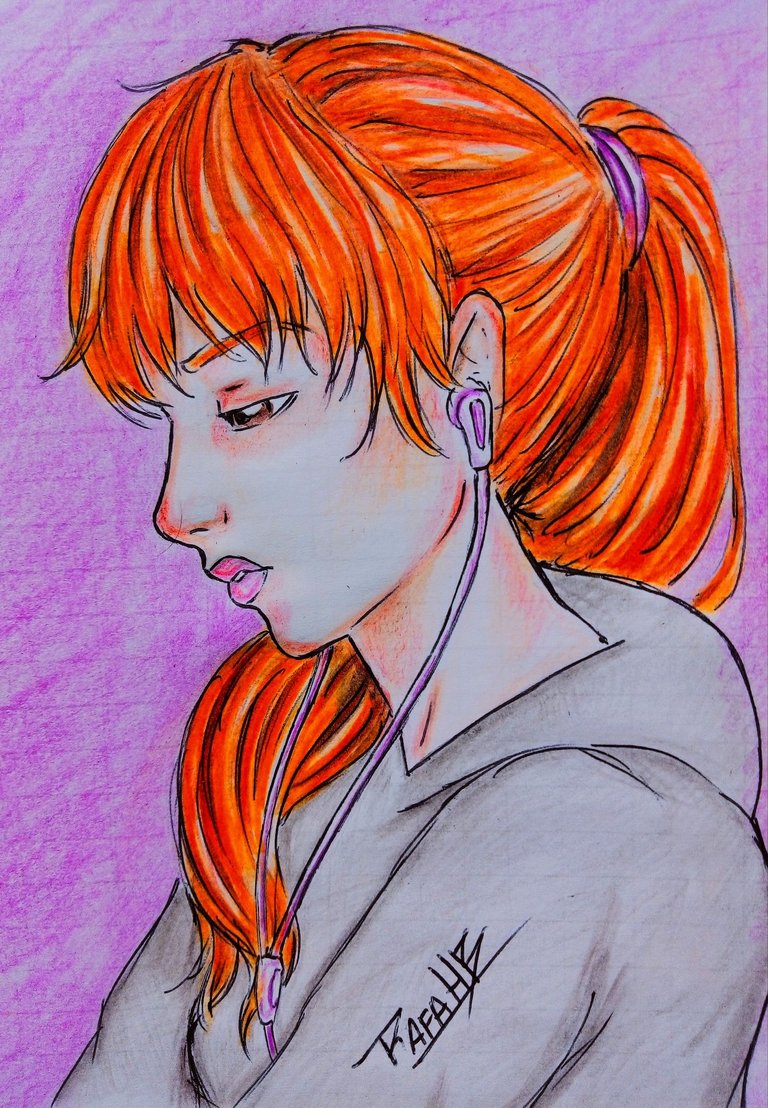 🎨Melancholy🎨
🌟Saludos amigos🌟 de #hive y #nerday, espero hayan tenido un maravilloso día, nuevamente estoy feliz de compartir con ustedes un nuevo dibujo, el cual a mi parecer transmite un sentimiento de tristeza y melancolía.
🌟Greetings friends🌟 of #hive and #nerday, I hope you had a wonderful day, again I am happy to share with you a new drawing, which in my opinion conveys a feeling of sadness and melancholy.
Claramente podemos ver a una hermosa chica sumergida en sus canciones con una clara expresión en el rostro que nos hace sentir que revive recuerdos que para ella han sido un gran golpe. La verdad hasta yo me pregunto ¿Qué estará pensando? ¿Será un amor fallido? ¿Quién sabe?
Clearly we can see a beautiful girl immersed in her songs with a clear expression on her face that makes us feel that she is reliving memories that for her have been a big blow. The truth is that even I wonder what she is thinking, is it a failed love, who knows?
Simplemente no me lo pregunté más y deje que el sentimiento fluyera a través de mí, y así revivir de igual forma mis recuerdos personales o momentos en los que también he estado en una ocasión similar a lo que me inspira el dibujo.
I simply didn't ask myself anymore and let the feeling flow through me, and thus relive my personal memories or moments in which I have also been in a similar occasion to what the drawing inspires me.
---
✂️Materiales utilizados✂️
✂️Materials used✂️
•Mini libreta.
•Lápiz HB.
•Bolígrafo.
•Caja de colores de acuarelas marca kores.
•Caja de colores marca kores.
-Mini notebook.
-HB pencil.
-Ballpoint pen.
-Box of watercolor colors kores brand.
-Box of kores brand colors.
🖌️Procedimiento🖌️
🖌️Procedure🖌️
Nuevamente realizó un dibujo con técnica mixta entre colores y acuarelas, en el cual como siempre aplico la base en acuarelas y los detalles los realizó a color, dando un mejor acabado al dibujo.
Once again he made a drawing with a mixed technique between colors and watercolors, in which as always I apply the base in watercolors and the details are made in color, giving a better finish to the drawing.
🎨Paso a paso🎨
🎨Step by step🎨
Realicé el boceto con el lápiz HB en mi mini libreta, realizando la silueta y luego los detalles.
I made the sketch with the HB pencil in my mini notebook, making the silhouette and then the details.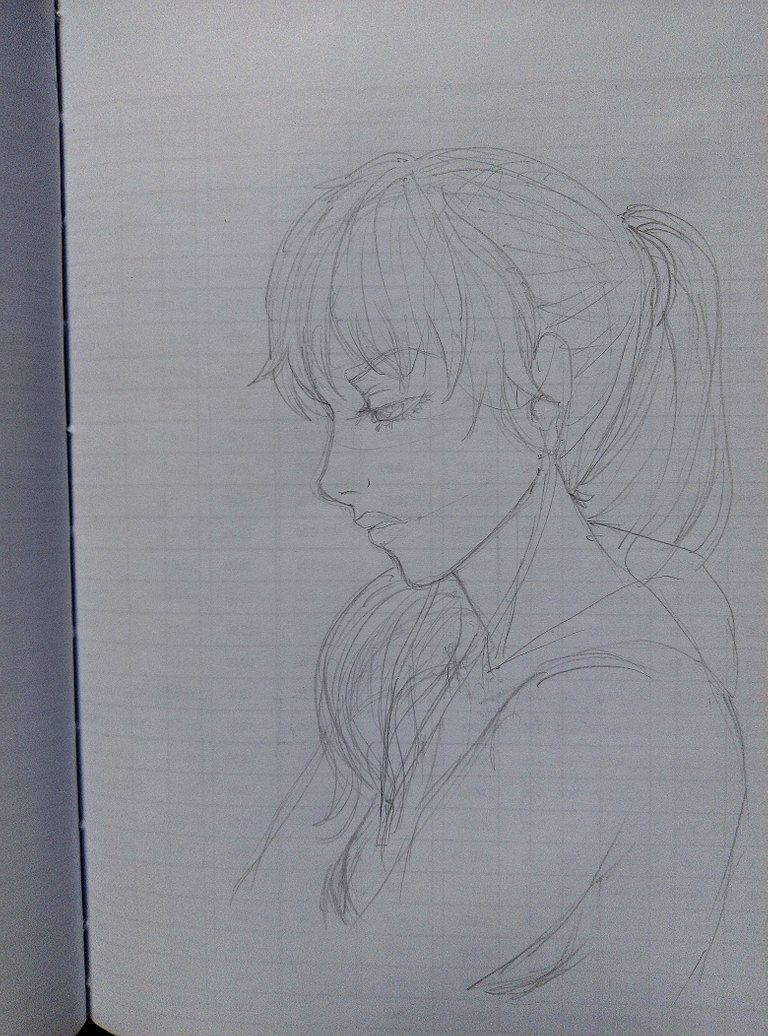 boceto a lápiz por @afa.hb03
---
Delineé el dibujo con el bolígrafo con mucho cuidado, resaltando las líneas principales del dibujo.
I outlined the drawing with the pen very carefully, highlighting the main lines of the drawing.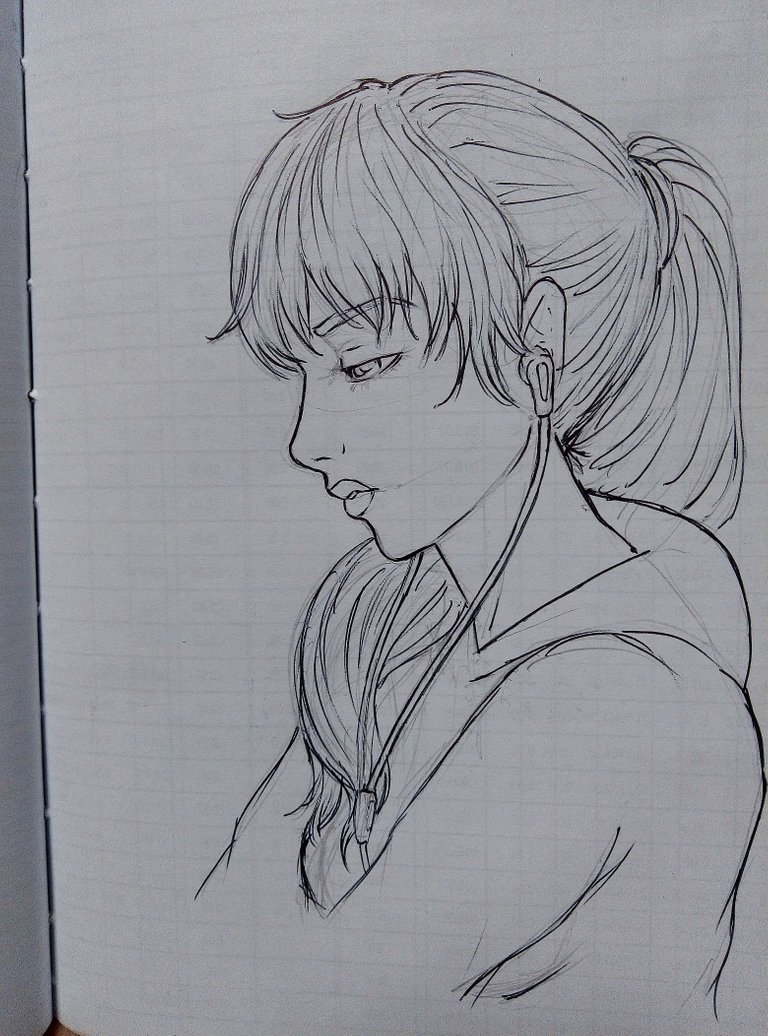 delineado con bolígrafo por @afa.hb03
---
Apliqué la base con los colores de acuarela, realizando primero los trazos y luego di el acabado en acuarelas con el pincel.
I applied the base with the watercolor colors, making the strokes first and then gave the watercolor finish with the brush.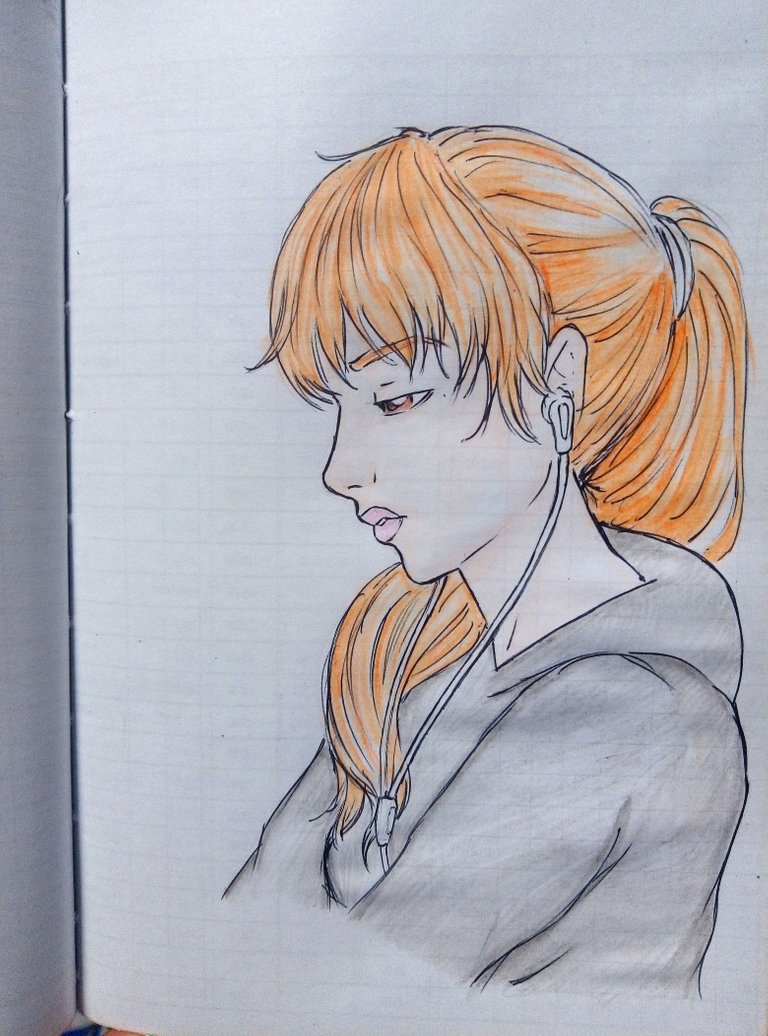 base con acuarelas por @afa.hb03
---
Detalle todo el dibujo con los colores, resaltando primero el cabello, luego el suéter y por último el rostro.
I detailed the whole drawing with the colors, highlighting first the hair, then the sweater and finally the face.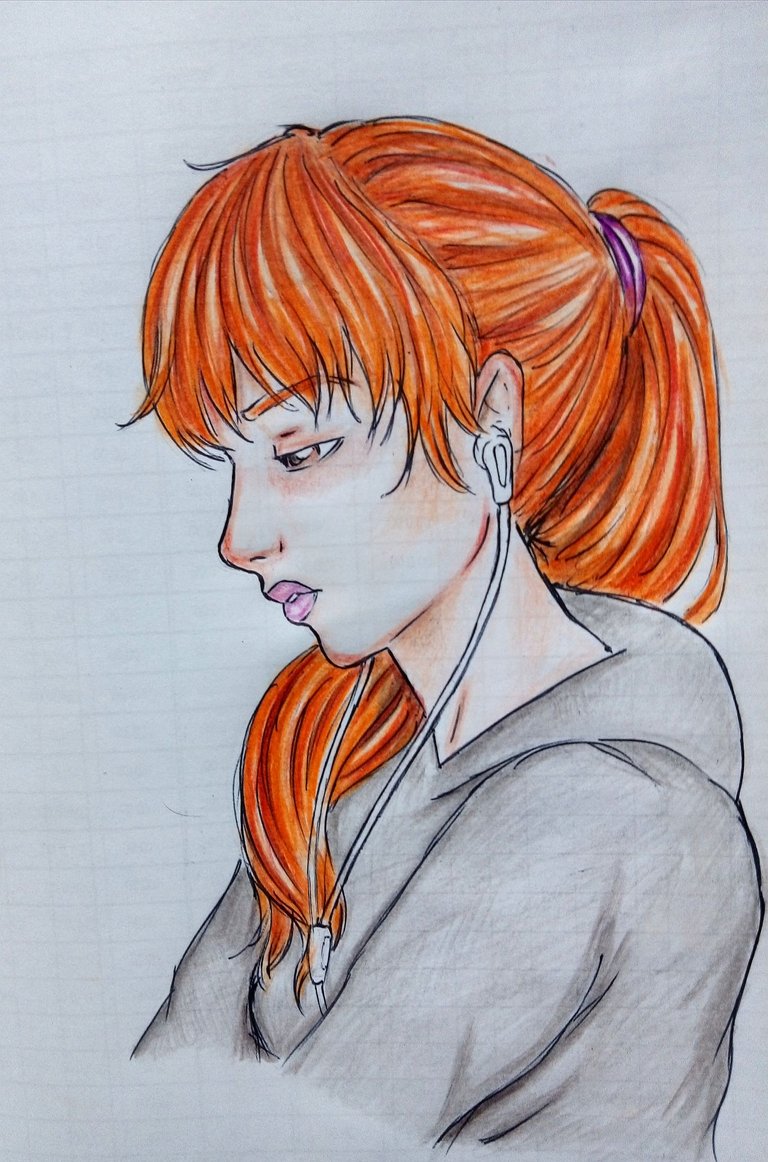 dibujo detallado con colores por @afa.hb03
---
Para finalizar realicé un fondo unicolor de color violeta, el cual le dio un toque más nostálgico al dibujo en general.
Finally I made a purple unicolor background, which gave a more nostalgic touch to the drawing in general.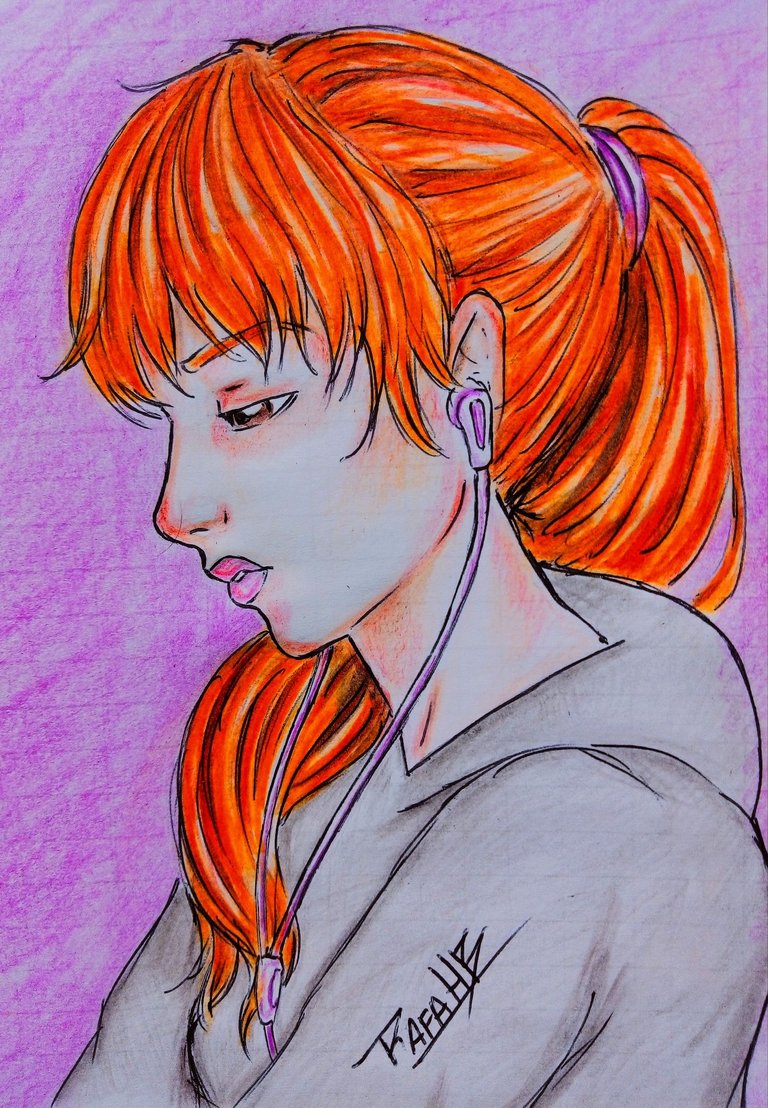 fondo realizado con colores por @afa.hb03
---
Espero les haya gustado este nuevo mini dibujo, el cual forma parte de los dibujos realizados en mi mini libreta. Recuerden seguirme y ver más de mis dibujos en 👉🏼@afa.hb03, donde cada semana busco compartir con ustedes contenido creativo en mi blog.
I hope you liked this new mini drawing, which is part of the drawings made in my mini notebook. Remember to follow me and see more of my drawings at 👉🏼@afa.hb03, where every week I seek to share with you creative content on my blog.
✨🌟✨
✨🌟Gracias por leer, espero les guste y hasta una próxima publicación🌟✨
✨🌟Thanks for reading, I hope you like it and see you next time🌟✨
---
---