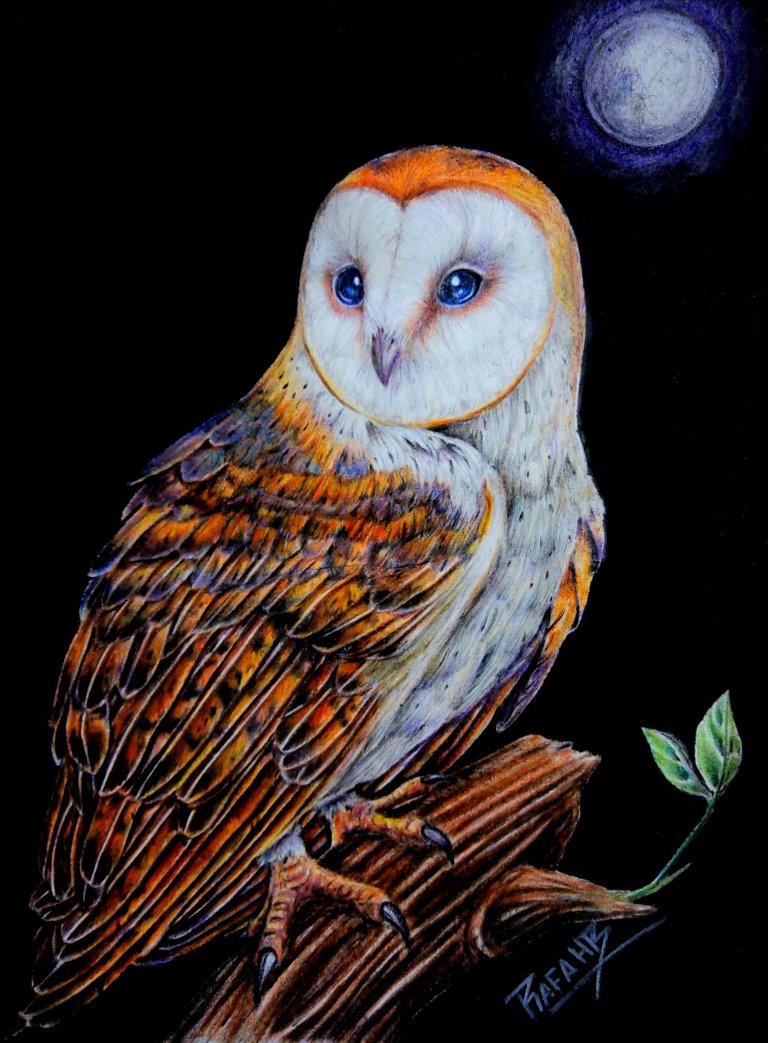 🌖Lechuza🌕 New Drawing🌔
🌟Saludos amigos🌟 de #hive y #nerday, espero hayan tenido un gran inicio de semana, y que esta semana esté llena de creatividad para que sigamos creando publicaciones increíbles en nuestros blogs.
🌟Greetings friends🌟 of #hive and #nerday, I hope you have had a great start of the week, and that this week is full of creativity so we can continue creating amazing posts in our blogs.
El día de hoy comparto con ustedes un dibujo en el que vengo trabajando desde hace tiempo, debido a que dure unas cuantas semanas sin trabajar en él, hasta hace unos días que decidí terminarlo.
Today I share with you a drawing that I've been working on for a while, because I lasted a few weeks without working on it, until a few days ago I decided to finish it.
Este dibujo es de una hermosa lechuza de ojos azules, un ave hermosa y majestuosa a mi parecer, su plumaje blanco tan glamuroso, las hace simplemente únicas. No se si hayan visto la película "Ga'Hoole:La leyenda de los guardianes", en la cual todos los personajes son búhos y lechuzas, y se ven estas hermosas aves desplegando sus alas y realizando grandes hazañas.
This drawing is of a beautiful blue-eyed owl, a beautiful and majestic bird in my opinion, its white plumage so glamorous, makes it simply unique. I don't know if you have seen the movie "Legend of the guardians:The owls of Ga'hoole", in which all the characters are owls and owls, and you see these beautiful birds spreading their wings and performing great feats.
Por eso y mucho más me inspire en realizar una, además tenía tiempo sin dibujar un ave, lo que es algo que me encanta y es una gran práctica de textura, como lo son las plumas y la madera.
For that and much more I was inspired to make one, besides I had a long time without drawing a bird, which is something I love and is a great practice of texture, such as feathers and wood.
---
✂️Materiales utilizados✂️
✂️Materials used✂️
•Block de dibujo de hojas blancas.
•Lápiz 2h.
•Caja de colores marca kores.
•Caja de colores marca prismacolors.
•Caja de tizas pastel.
-Drawing block of white sheets.
-Pencil 2h.
-Kores color box.
-Box of prismacolors colors.
-Box of pastel chalks.
🖌️Procedimiento🖌️
🖌️Procedure🖌️
Este dibujo lo realicé en dos periodos de tiempo, realizando la primera parte del dibujo con colores kores y la segunda con los prismacolors y las tizas pastel para el fondo. Este dibujo no tiene trabajo de delineado como en mis antiguos dibujos, lo que hace que el proceso de detalle sea más largo y que las capas en cada área sean de 3 a 5 capas de color.
I made this drawing in two periods of time, making the first part of the drawing with kores colors and the second one with the prismacolors and the pastel chalks for the background. This drawing has no outlining work as in my old drawings, which makes the detailing process longer and the layers in each area are 3 to 5 layers of color.
🎨Paso a paso🎨
🎨Step by step🎨
Realicé el boceto en mi block de hojas blancas con el lápiz 2h.
I made the sketch on my white sheet pad with the 2h pencil.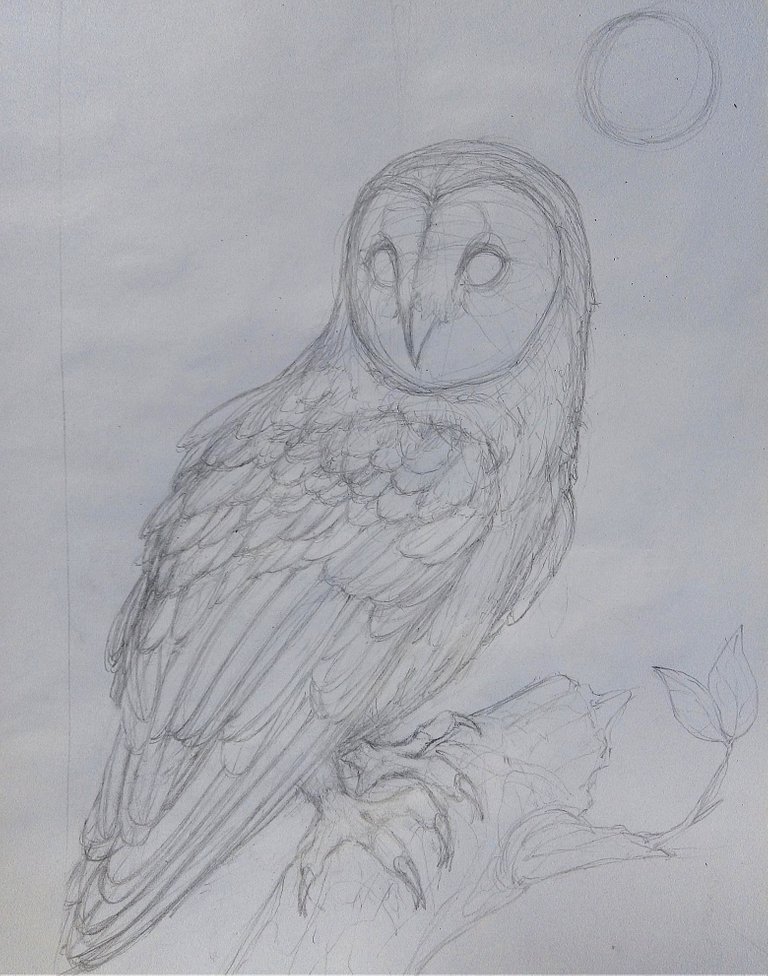 boceto hecho por @afa.hb03
---
Empecé detallando la cabeza de la lechuza con los colores marca kores obviando los ojos.
I started detailing the owl's head with the kores colors, leaving out the eyes.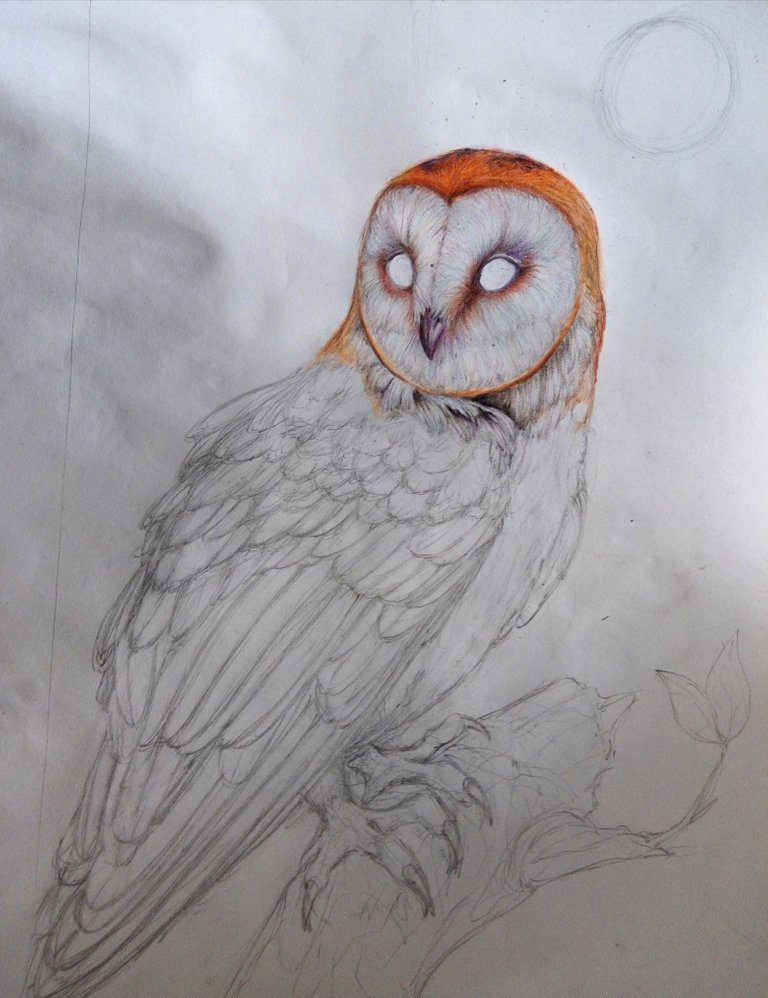 único de detalles con color por @afa.hb03
---
De igual forma detallé parte del pecho y el ala con los colores marca kores.
In the same way I detailed part of the chest and the wing with the kores colors.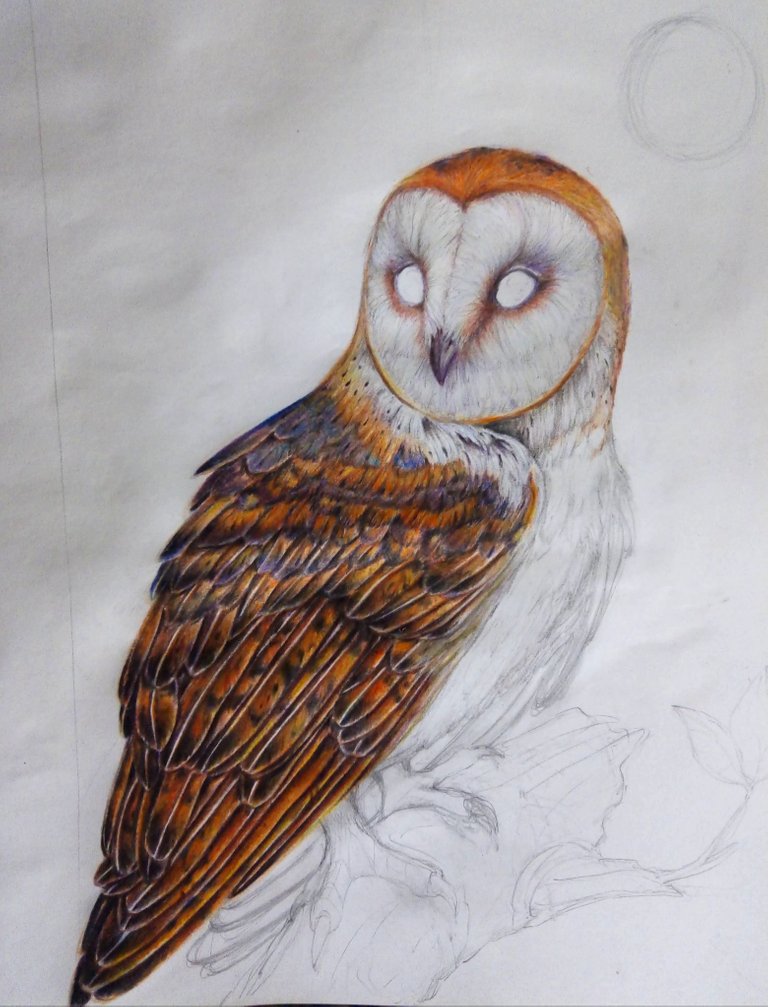 detallado de pecho y ala por @afa.hb03
---
Detalle el resto de la lechuza con los kores y el tronco lo detallé con los prismacolors, al igual que las hojas en el.
I detailed the rest of the owl with the kores and the trunk I detailed it with the prismacolors, as well as the leaves on it.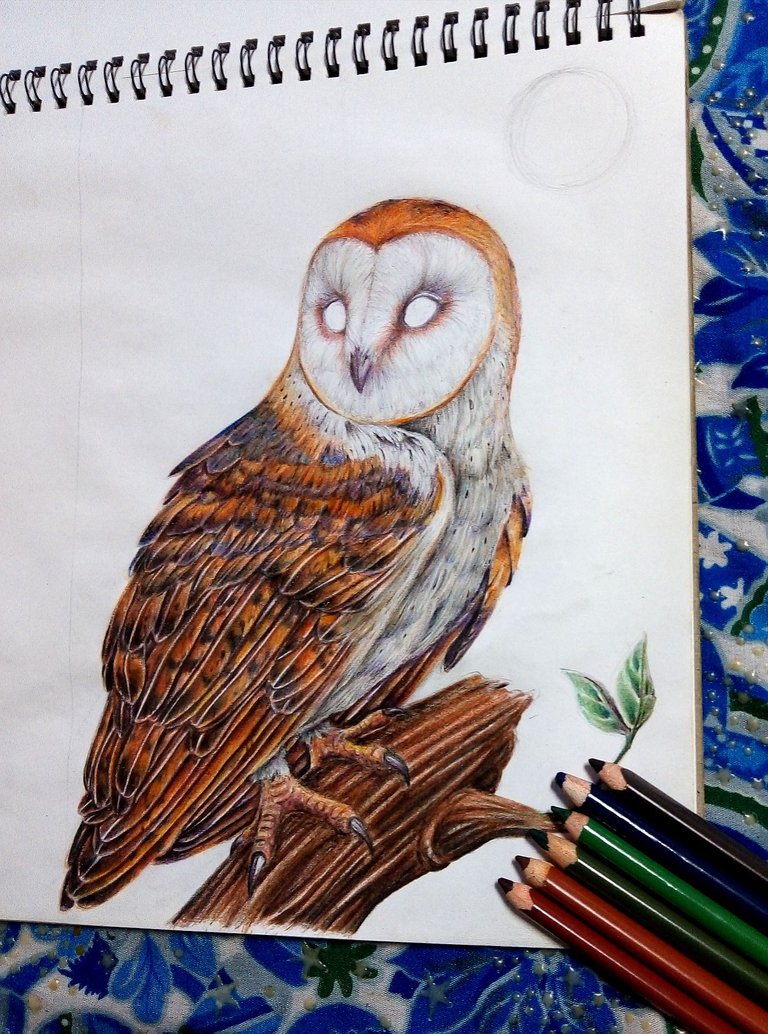 culminación del plumaje y detallado del tronco por @afa.hb03
---
Para el fondo aplique una gran base en tiza pastel, sin tocar los bordes del dibujo, pero tapando el lienzo casi por completo.
For the background I applied a large base in pastel chalk, without touching the edges of the drawing, but covering the canvas almost completely.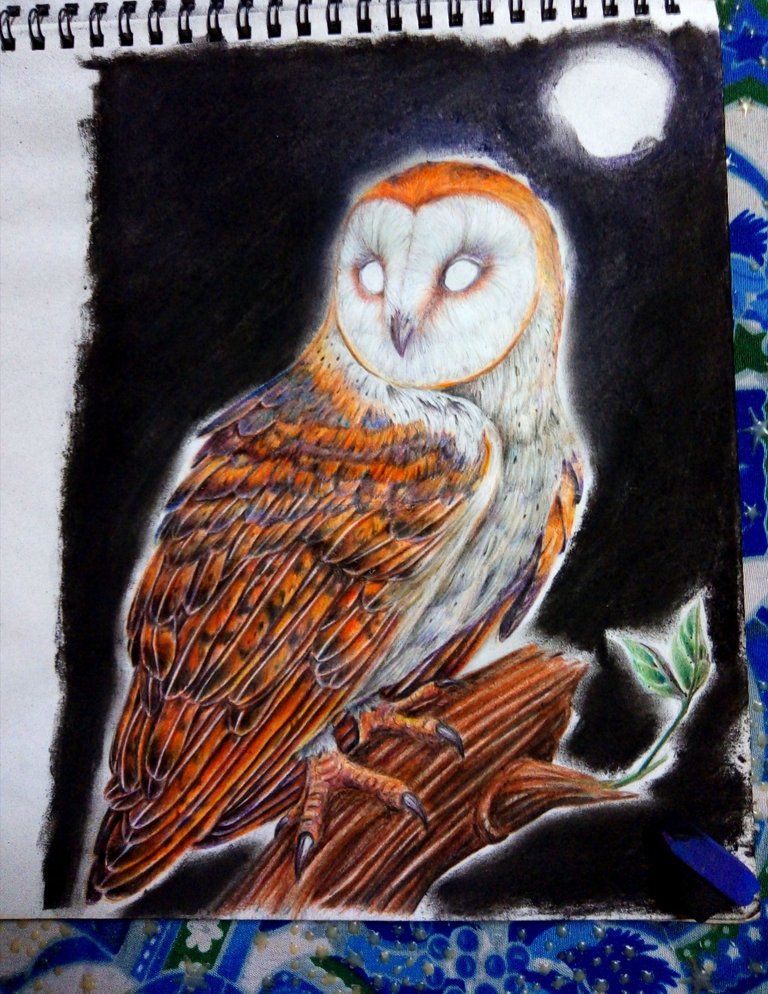 fondo semi terminado por @afa.hb03
---
Con el color negro y la tiza logre rellenar los espacios faltantes, para la luna utilicé el color blanco y las tizas morada y blanca para realizar su mini brillo. Para los ojos utilicé tonos azules y blanco.
With the black color and the chalk I managed to fill the missing spaces, for the moon I used the white color and the purple and white chalks to make its mini glow. For the eyes I used blue and white tones.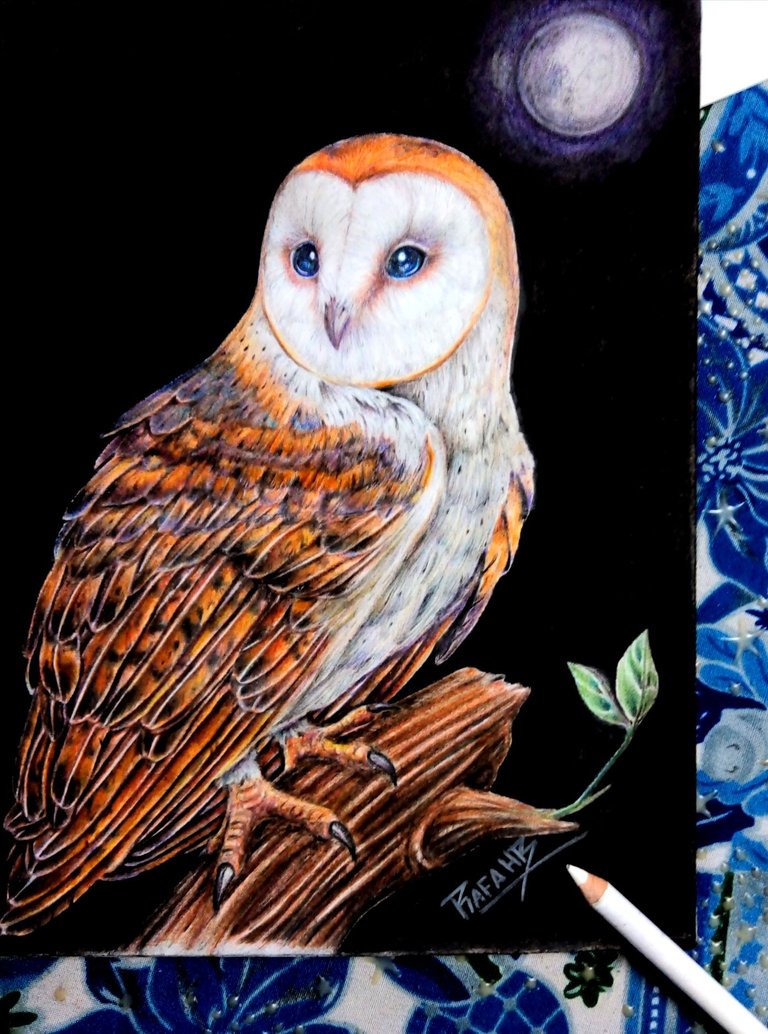 fondo terminado con colores por @afa.hb03
---
🌖🌕🌔
Este dibujo se ha vuelto uno de mis favoritos, a pesar de medir 24x17cm, siendo pequeño en comparación con otros trabajos con esta cantidad de detalles. A mi parecer es hermosamente majestuosa, a pesar de que temía que la hoja se rompiera por la cantidad de color que apliqué en ella.
This drawing has become one of my favorites, in spite of measuring 24x17cm, being small in comparison with other works with this amount of details. In my opinion it is beautifully majestic, even though I was afraid that the sheet would break because of the amount of color I applied on it.
Estoy muy feliz de haberla terminado y en serio espero que les guste, los invito a seguirme en mi perfil y ver más de mi contenido en 👉🏼@afa.hb03, donde cada semana busco compartir contenido creativo con ustedes.
I am very happy to have finished it and I seriously hope you like it, I invite you to follow me on my profile and see more of my content at 👉🏼@afa.hb03, where every week I seek to share creative content with you.
✨🌟✨
✨🌟Gracias por leer, espero les guste y hasta una próxima publicación🌟✨
✨🌟Thanks for reading, I hope you like it and see you next time🌟✨