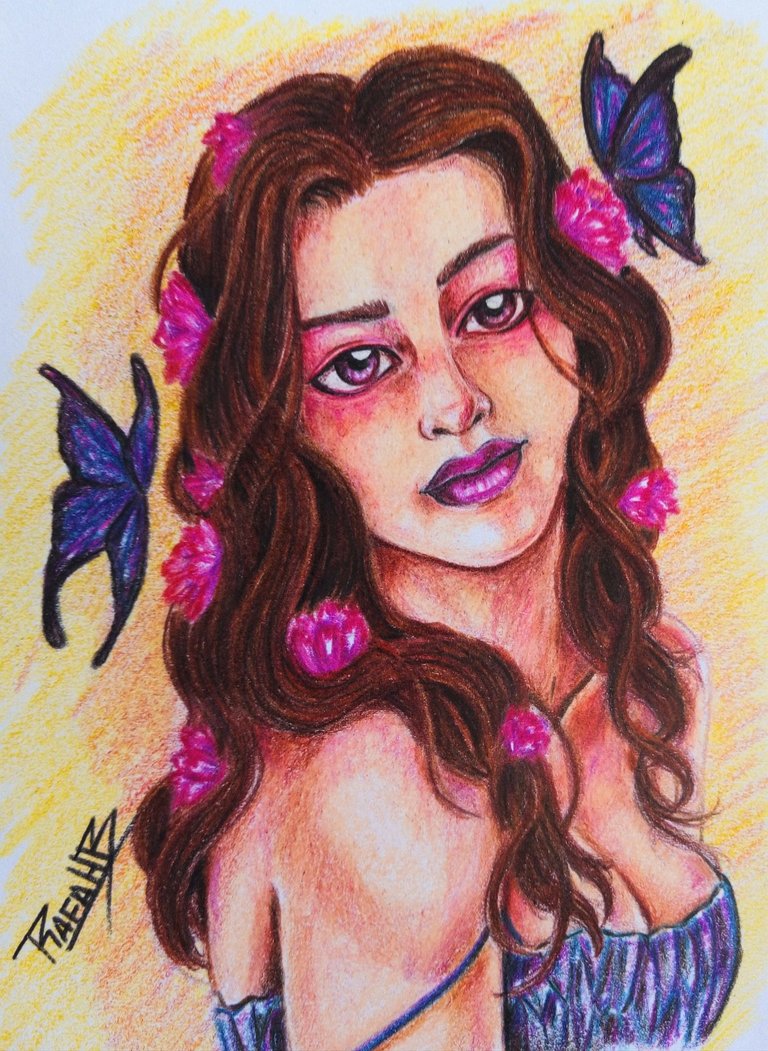 🎨New Drawing/ Beautiful woman🎨
🌟Saludos amigos🌟 de #hive y #nerday, el día de hoy les muestro una practica con colores, la cual hice la mañana de hoy, practicando tonos piel con mis nuevos colores.
🌟Greetings friends🌟 of #hive and #nerday, today I show you a practice with colors, which I did this morning, practicing skin tones with my new colors.
La verdad los tonos piel es algo que se me ha dificultado mucho y por eso he empezado a practicar, para así algun día lograr el resultado que deseo.
The truth is that skin tones is something that has been very difficult for me and that's why I have started to practice, so someday I can achieve the result I want.
---
✂️Materiales✂️
✂️Materials✂️
•Block de dibujo marca Caribe.
•Lápiz HB.
•Caja de colores marca kores.
•Caja de colores marca prismacolors.
-Caribe drawing block.
-HB pencil.
-Kores color box.
-Box of prismacolors colors.
🖌️Procedimiento🖌️
🖌️Procedure🖌️
Realicé el diseño en mi block de dibujo con el lápiz HB, buscando posicionar y dar forma a los elementos incorporados.
I made the design in my drawing block with the HB pencil, trying to position and give shape to the incorporated elements.
---
Empecé detallando el rostro, donde utilicé varios colores como carne, durazno, rosado y rojo.
I started detailing the face, where I used various colors such as flesh, peach, pink and red.
---
Detalle el cabello con distintos tonos de marrón y café. Para las flores use rosado y fucsia.
I detailed the hair with different shades of brown and brown. For the flowers I used pink and fuchsia.
---
Detalle el resto del dibujo con los mismos colores del rostro, y para su vestimenta utilicé azul, rosado y morado, los cuales son los colores de las mariposas. Realicé un fondo anaranjado para concluir el procedimiento.
I detailed the rest of the drawing with the same colors of the face, and for her clothes I used blue, pink and purple, which are the colors of the butterflies. I made an orange background to conclude the procedure.
---
Espero les haya gustado esta práctica con tonos piel, espero lograr la textura que deseo pronto, por eso seguiré practicando y mostrándoles nuevas creaciones.
I hope you liked this practice with skin tones, I hope to achieve the texture I want soon, so I will continue practicing and showing you new creations.
Los invito a ver más en mi perfil 👉🏼@afa.hb03, donde cada semana espero mostrar nuevas ideas creativas.
I invite you to see more of me on my profile 👉🏼@afa.hb03, where every week I hope to show you new creative ideas.
🌟
✨🌟Gracias por leer, espero les guste y hasta una próxima publicación🌟✨
---
✨🌟Thank you for reading, I hope you like it and see you soon🌟✨