Ever since we completed our reciprocal roof structure last year, people have been coming to marvel at this weird looking roof. "It doesn't have a central column!" everyone keeps wondering, especially when they see us climbing around on it, without a worry that it'll collapse on itself. Of course we never tire explaining how it works, and why it is so stable, and people keep coming to look and ask questions. So understandably, the notion has come up of charging them a few pesos for a tour.
Doing it Properly: Organizing a Workshop
Instead of asking random visitors for contributions, we have decided to properly organize a workshop on reciprocal roofs, where we could address all the usual questions, add a bunch of additional information, arrange it all in a neat presentation with spectacular photography, and hopefully generate even further questions to answer, putting our knowledge and preparedness to the test.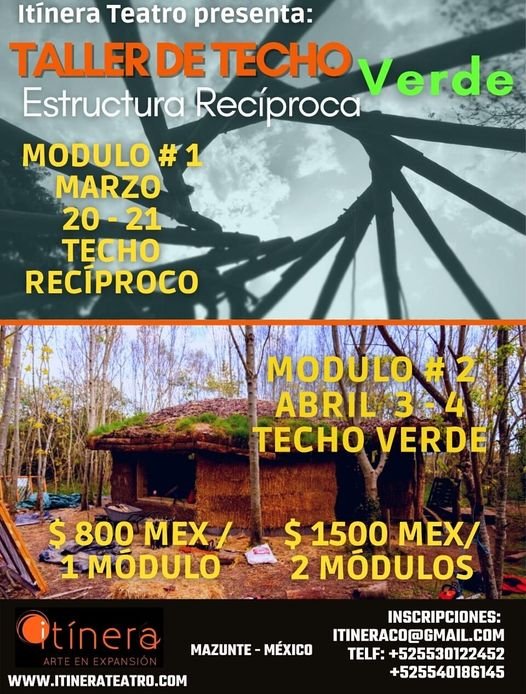 Too much theory can be boring, and since our roof beams are in place already, and we weren't going to remove them, we had to come up with other hands-on practice activities. Fortunately we still had lots of sticks of various sizes lying around, to illustrate the theoretical concept of reciprocal structures. Some of them were short bamboo sticks of about 50 cm, and long Ocotillo rods of maybe 5-6 meters. This would fill up one day with fun learning exercises.
For the second day we planned to do some "actual, real work," involving our students in the process of covering the roof. Attaching the intermediary beam, and covering the triangles with boards seemed to be diverse enough, while being directly related to out construction project.
Of course we included a plentiful meal for the early afternoon, followed by a bit of siesta, random chat, and music during the hottest part of the day. For the evening, after we were done with work, we even thought about selling some beers, but in the end everything happened differently. We just never ended up making the big run to the next bigger town to get a bulk load of cheap beer. Oh well, maybe some other time.
Full On Success in the End
The morning of the workshop started out much more relaxed than we thought. Over a long breakfast and plenty of coffee we made some last minute changes to our lesson plan, while we were waiting for folks to show up... in the typical Mexican time fashion. There were five participants in total.
They all arrived around 10 a.m. and we took our time introducing ourselves and giving them the grand tour of the site. A bit of history and background, then on to the details. Since most of them were architects, or at least builders, we didn't have to explain why there is no central column. But they did seem to interested in our ingenious convection cooling system.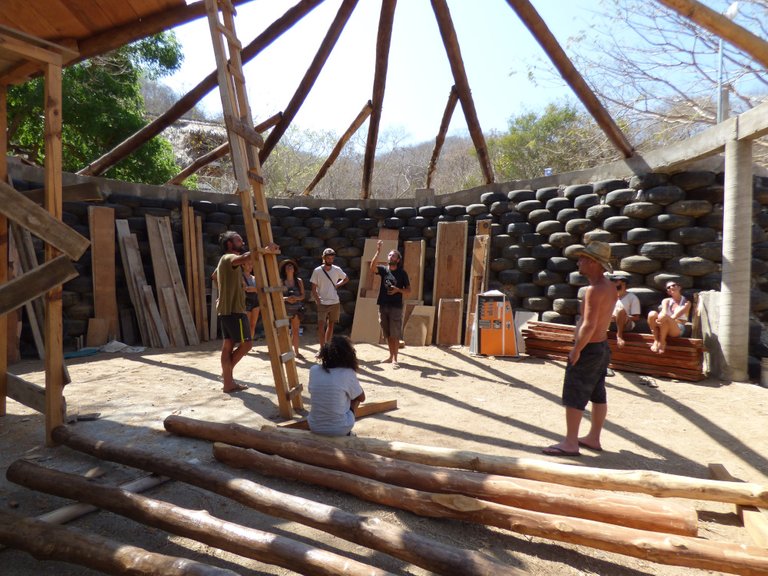 Next we showed them our Powerpoint slideshow, explaining reciprocal building theory, with examples of various styles. Our preparatory research has also revealed a neat Excel sheet, helping with the math behind calculating the roof pitch and the size of the central hole. It posed a slight challenge setting up the computer screen in a way that it could be seen, with all the daytime glare, but in the end we managed, and the resonance was quite positive.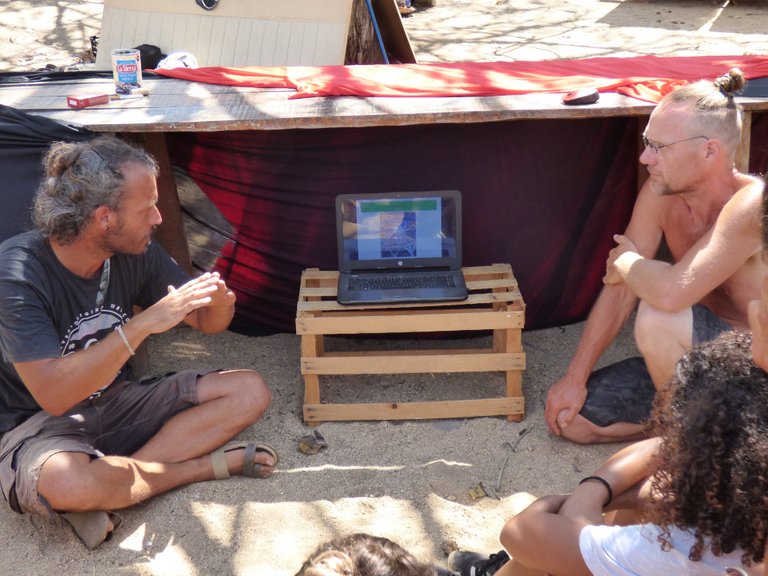 Various Kinds of Practice
After so much bla-bla-blah it was time to get up and try out the concept in practice, so we got out the bamboo sticks, and arranged them in various ways, as we had just discussed. Our participants seemed to have a lot of fun, so before moving on to the big sticks, we decided to raise the fun factor a bit further: illustrating reciprocity with human bodies.
Have you ever tried standing around in a tight circle, all facing one way, and then sitting down on the knees of the person behind you? This exercise is popular at team-building events, as it shows you how the combined weight of the group is distributed on everyone by everyone, and in the end you can sit quite comfortably, while holding the person in front of you on your knees.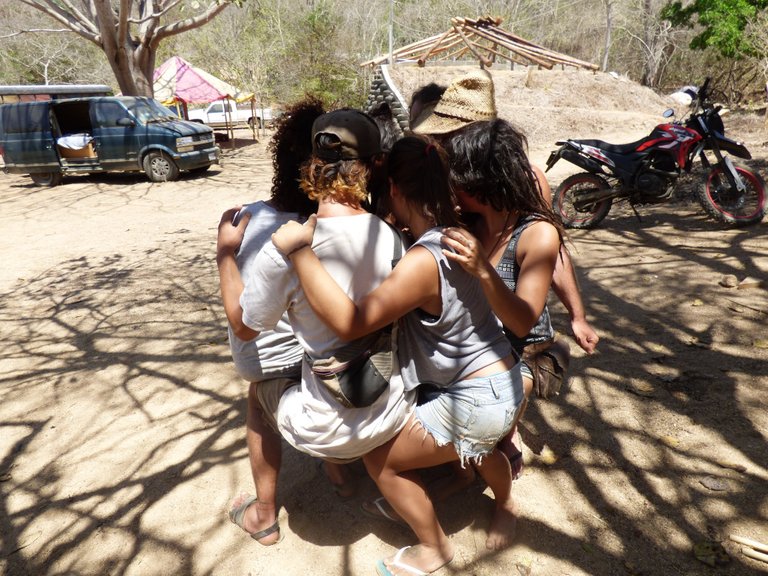 Finally, before settling down for our afternoon meal, we had to try building an actual reciprocal roof. The ocotillo poles were heavy, but still possible to be managed by one person without too much trouble. This way we assembled a nice flat roof that could potentially cover a round building of eight meters in diameter. Exciting stuff!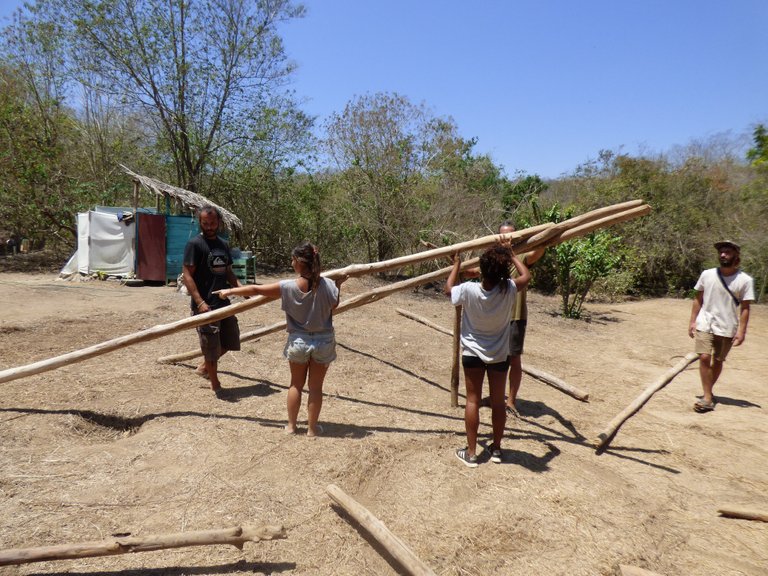 Finally we gathered around our big table under the kitchen tree, enjoyed a wonderful meal that couldn't be beat, and spent a good hour or two just chatting about various things, construction related, as well as many other things. This is the best part about these workshops, getting to know people, and making connections. Almost all of them were South Americans, but many had been living in Mexico for quite a while, or were connected here in one way or another.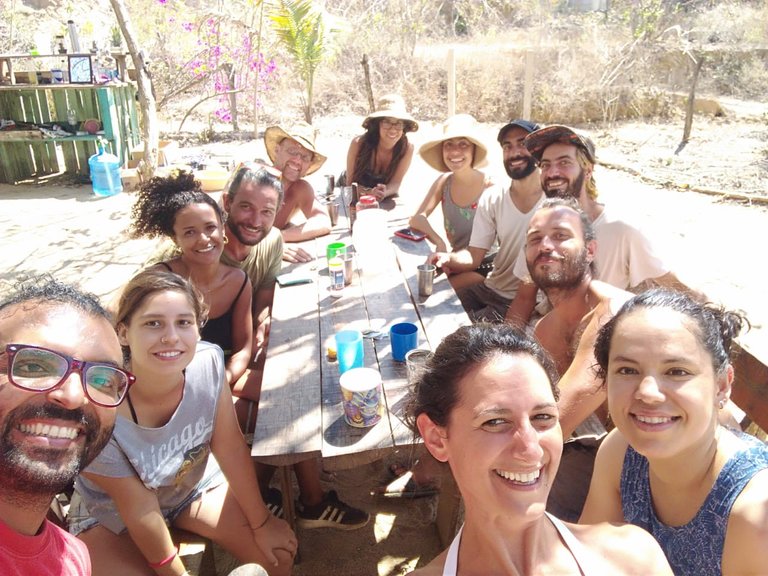 Finally, all of us left with a very positive sensation of having learned quite a bit. Our participants about reciprocal structures, and us presenters about teaching a natural building workshop. Now we feel more than ready to jump into the next one, scheduled for the first weekend in April, about building a Green Roof! Let's hope that by that time our structure will be more than ready too.
If you made it this far, why don't you venture on to a more conventional social media site, to see the corresponding post of Itínera Theater.

Take a Look at my Previous Posts on this Exciting Construction Project:
Lost and Found: The Promotional Video for the Theater on the Beach
Back in the Circus of Mazunte
Up on the Roof Again
Previous Series on Construction Projects in Mazunte: