Our construction project in Mazunte has been a raging success. Since then we closed up the property for the season and our little group of seven have dispersed into all directions. Before I leave, though, I think I should mention the other project in the nearby vicinity, happening at the same time, since the two are not entirely unrelated.
Creative Workspace and Artists' Residence
So the property in Mazunte is supposed to become a theater. The main theater building will of course be an auditorium, seating about 250 people. The one we built this year is supposed to be a garage mainly, though with the option of using it as a classroom, or for other purposes. All in all, the idea is to use the place in Mazunte as a place to work.
Since visiting artists would also enjoy a beautiful place to stay and relax, Julia has thought up building a residence on her property in La Boquilla, located by a small bay, just a bit down the coast. It is here that I started building a retaining wall of tires two years ago, and this is also where I held my week-long fast before starting the build in January.
Unlike the property in Mazunte, which belongs to the theater company, this land is entirely Julia's, so she set about creating a house for herself at first. After years of camping one just needs a place with a roof, some shade, and a smooth, flat floor, where you can turn around without falling off the steep hill, which most of her property is. Though I have only observed this building project from the outside, it was exciting to watch it take shape.
Conventional Ecological
Admittedly, Julia's house is no Earthship. Nor is it straw-bale, cob, superadobe, or any other trendy technique of eco-building. However, it's roof is a palapa, meaning palm-thatched roof, which in this region is quite common, traditional, and made of renewable resources. Also, it offers a pleasant shade, protection from the rain, and looks just fabulous. It was put up last year, on top of two stories of concrete floors, held up by concrete stilts (no need for foundations).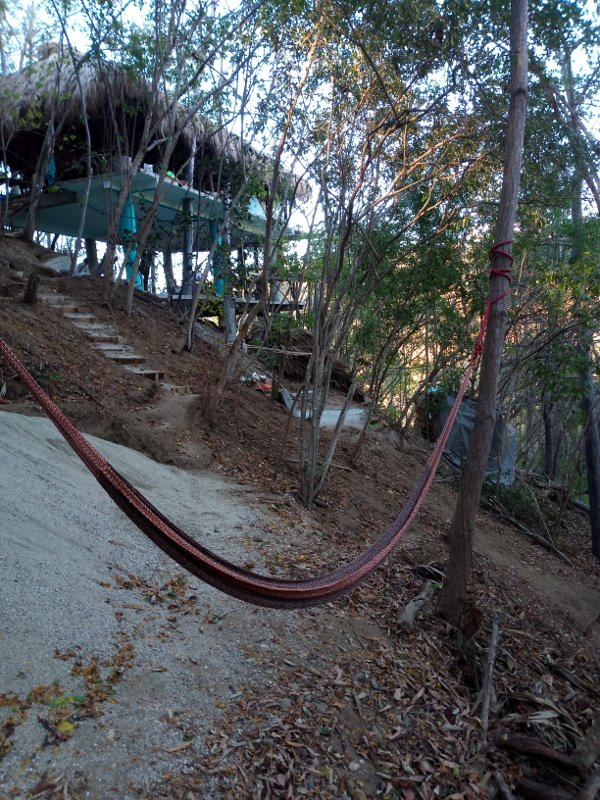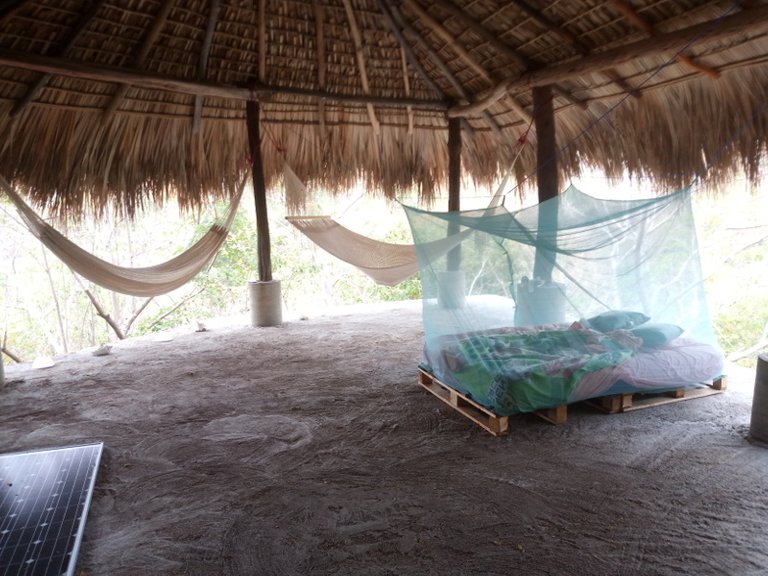 The lack of walls upstairs provide a lot of ventilation, which is very welcome in the local heat. Once the wind gets too strong, one may seek the shelter of the downstairs floor. This is where the kitchen and a living / dining area are going to be. The downstairs part is enclosed around one corner, carved into the hillside, and supported by tires (a bit of Earthship technique after all).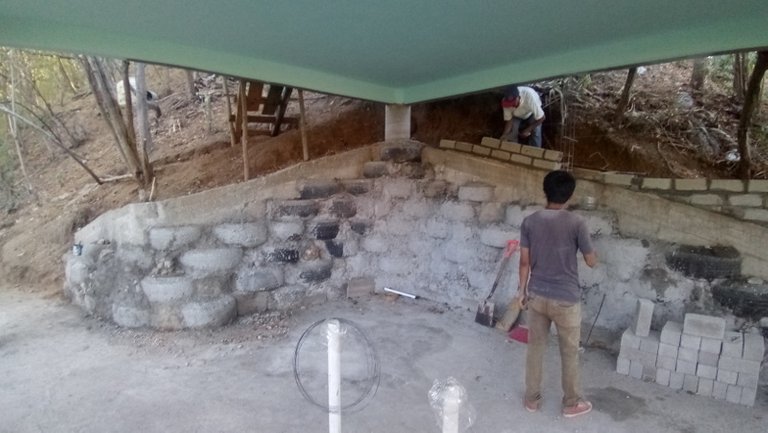 The stairs leading up to the top floor are made with compacted earth-bags, known as superadobe, or rather hyperadobe in this case. It was built by local workers hired by Julia, though for the introduction session our group of volunteers from the Mazunte build came over to see and learn. This same technique of compacted earth-bags was also used to build the shower area, as well as the top section of the retaining walls, to continue where we ran out of tires.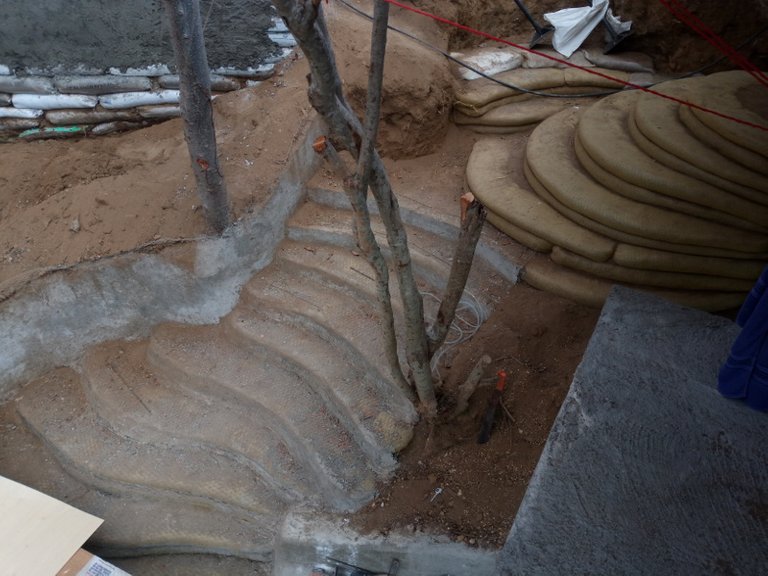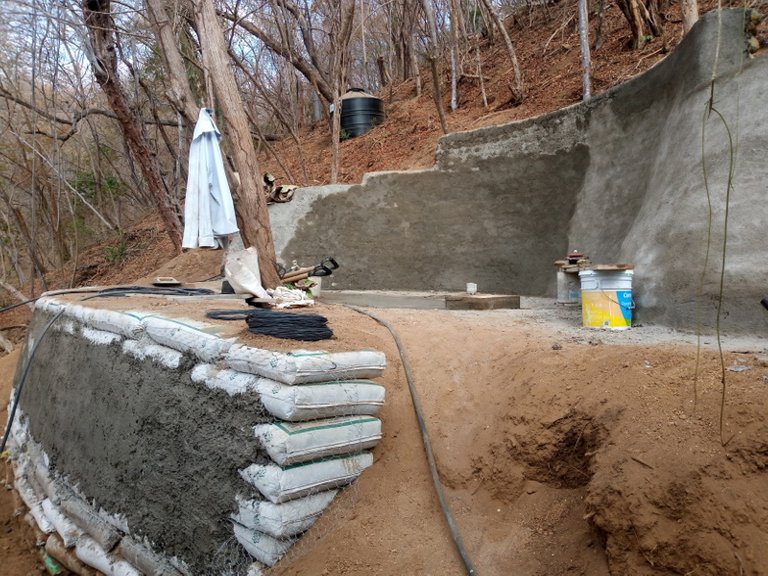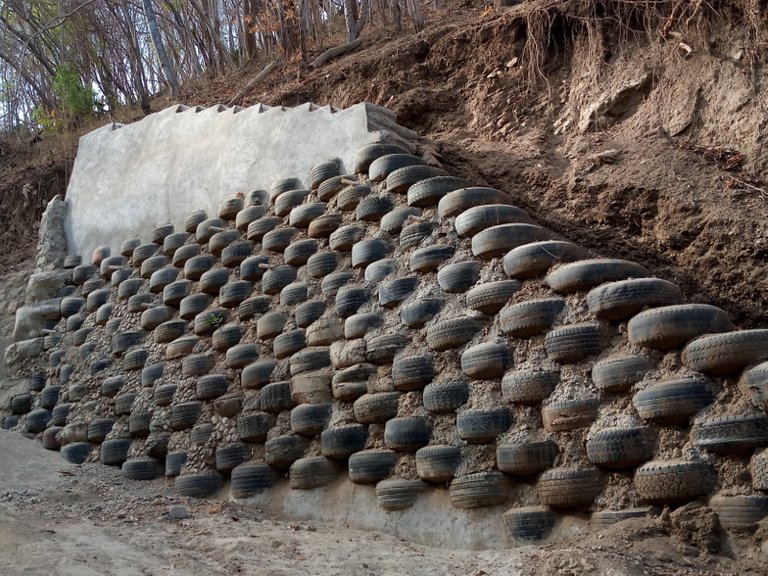 Colorful Floors
Finally, the last and most impressive feature of the house is the upstairs floor. Once again, it is a simple concrete floor, but one with a creative touch. With the help of friends, neighbors, and family, Julia came up with a colorful design suggesting a sunburst, some random geometry, as well as a bit of sacred geometry, featuring the golden ratio.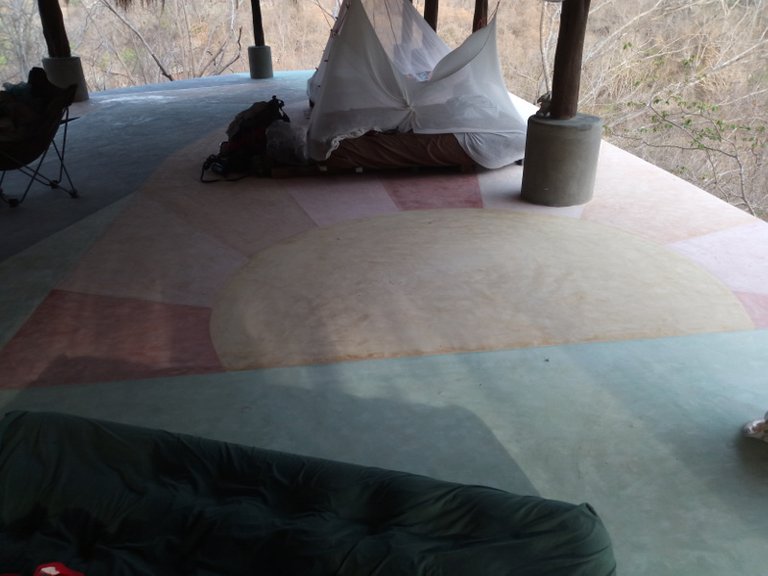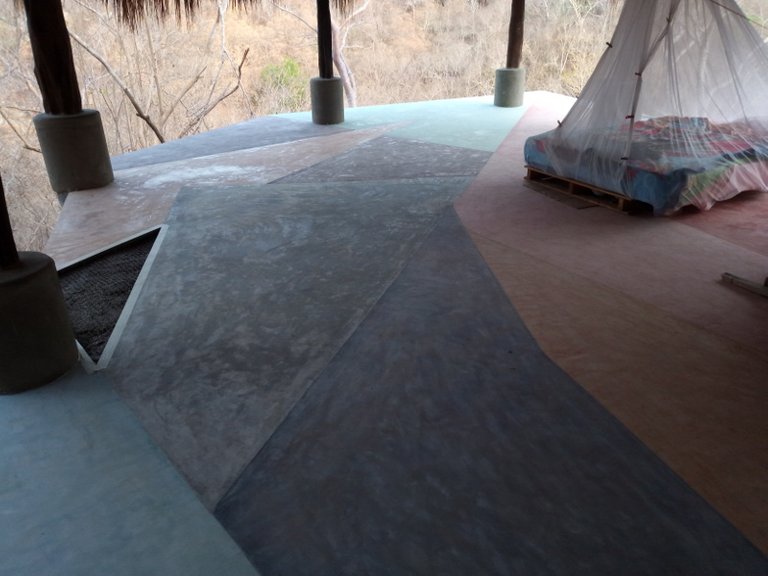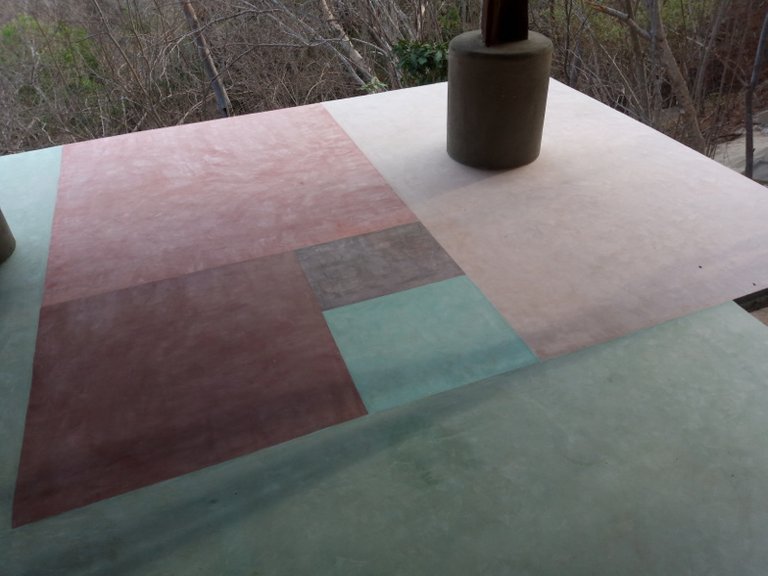 A Work in Progress
Just like the build in Mazunte, this house in La Boquilla is also far from being finished. Within the next month Julia wants to have doors put in downstairs, as well as an accordion wall, so she could completely close of at least a section of the house for the time she is not there. Next year the plan is to finish this building, and probably start the next one. After all, she's dreaming of a number of small cabañas where people could stay, work, relax, or exchange ideas, and try out some things in the vast practice area in the upstairs section.
Follow our Construction Adventure in This Series:
Epilogue
A View From A Bird's Eye
Mission Accomplished!
Moving Logs Around in Practice
Talking About Logs
Visual Concrete Pour by @redhawkrising
Pouring the Bond Beam
The Circle is Complete, We're Pouring Tomorrow
Starting The Long Finish
Concrete Plans and Concrete Actions
Earthship Build in the Time of Hive and Coronavirus
Machines Taking Over Work: The Day Everything Changed
Zome Building Workshop in Mazunte
The Ceremony of a Minka
Hay Pase, Got the Permit!
The Diverse Cars at Itínera
Waiting for the Man
An Impression of Hyperadobe in La Boquilla
Bending Rebar Like a Mexican
Working at Night for the Perfect Level
The Challenge of Scoring Tires
Creating Conditions to Work and Live
Previous series: A Theater on the Beach