Making a mini sculpture of the Pokémon Togepi in plasticine.
Haciendo una mini escultura del Pokémon Togepi en plastilina.
Greetings my dear reader friends, today while surfing twitter I came across a very nice memory, the image of one of my favorite Pokémon when I was younger, I'm talking about Togepi, a cute Pokémon extremely tender, so I wanted to remember a little my childhood and decided to make a small sculpture of this adorable Pokémon .
Saludos mis queridos amigos lectores, hoy mientras navegaba por el twitter me encontré con un recuerdo muy lindo, la imagen de uno de mis Pokémon favoritos cuando era más pequeña, les hablo de Togepi, un lindo Pokémon extremadamente tierno, así que quise recordar un poco mi infancia y decidí hacer una pequeña escultura de este adorable Pokémon .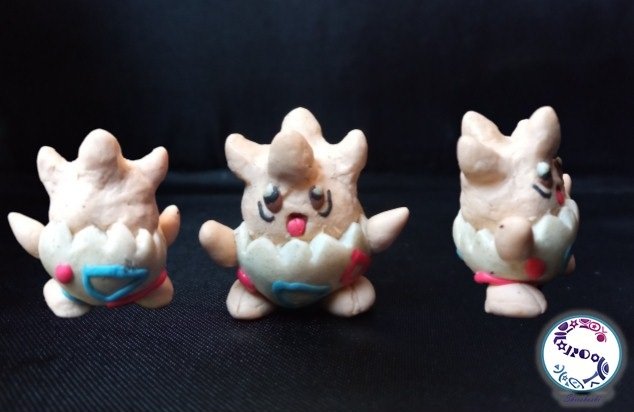 As you saw Togepi is very cute and in this plasticine version I tried to capture the smallest aspects of his physical characteristics, such as the small circles under his eyes and the order of the colors in his shell.
Como vieron Togepi es muy lindo y en esta versión de plastilina trate de captar los aspectos más pequeños de sus características físicas, como fueron las pequeñas ojeras y el orden de los colores en su cascaron.
This small sculpture is only 2.5 cm high and I really like to make small sculptures because I can keep them for a long time and they won't take up too much space.
Esta pequeña escultura posee apenas 2.5 cm de alto y es que realmente me agrada hacer esculturas pequeñas ya que puedo tenerlas por mucho tiempo y no me ocuparían demasiado espacio.
To make it I used common plasticine and to model my fingers as well as the needle of a compass and a small knife. I will leave you in the step by step evolution of this curious and tender Pokémon sculpture.
Para realizarla utilice plastilina común y para modelar mis dedos además de la aguja de un compás y una pequeña navaja. Les dejare en el paso a paso la evolución de esta curiosa y tierna escultura de Pokémon .

The first thing I did was to form the shell, using the white color and cutting small peaks to make it look broken.
Lo primero que hice fue formar el cascaron, utilizando el color blanco y cortando pequeños picos para que pareciera quebrado.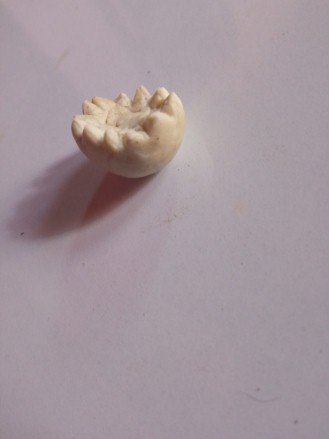 With some soft melon-colored play dough, make the character's head, adding the little horns it has.
Con un poco de plastilina color melón suave, realice la cabeza del personaje, agregando los cuernitos que este posee.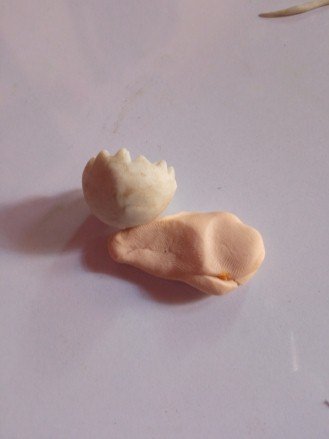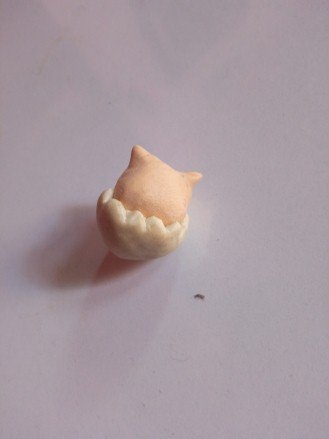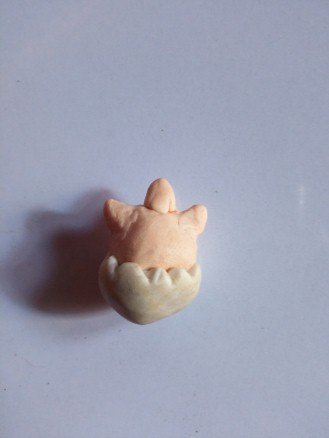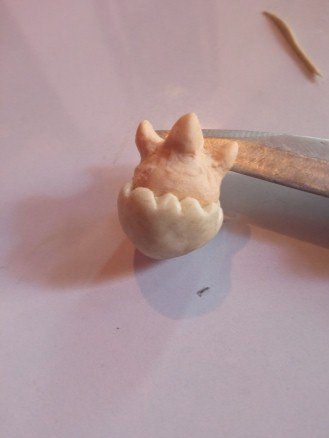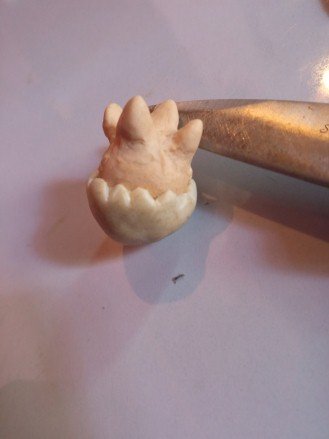 The most difficult thing was to make the eyes since they were very small and have three colors, brown, black and white. Here I used a little black to make the dark circles under the eyes of this character.
Lo mas difícil fue realizar los ojos ya que fueron muy pequeños y tienen tres colores, marrón, negro y blanco. Acá aproveche con un poco de negro de realizar las ojeras de este personaje.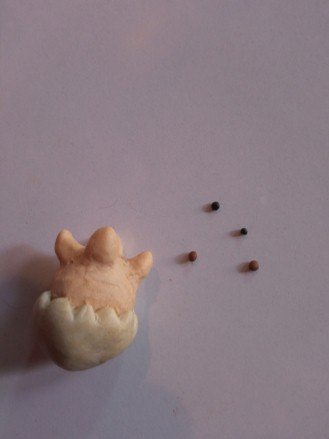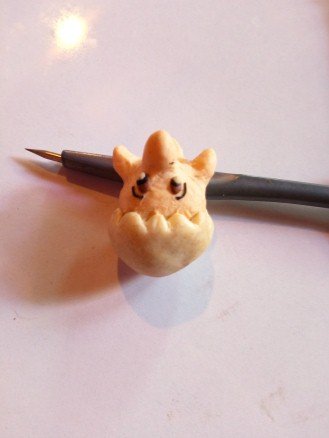 The mouth was made by sinking the plasticine where it belonged and adding some brown and red for her tender tongue.
La boca la realice hundiendo la plastilina donde correspondía y agregando algo de color marrón y rojo para su tierna lengua.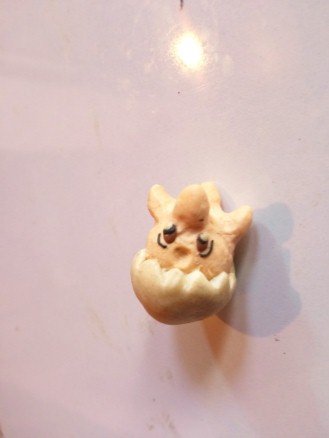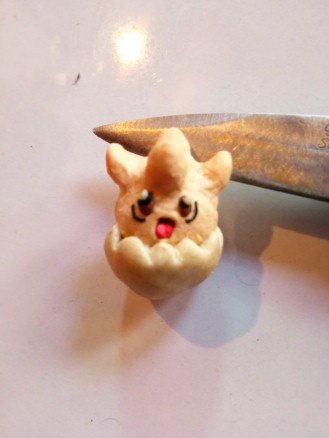 For the shell I used a beautiful blue and red color which are the colors that set the Togepi pattern and incorporated a very simple little hands (like cylinders) and a pair of little feet.
Para el cascaron use un precioso color azul y rojo que son los colores que fijan el patrón de Togepi e incorpore una manitas muy simples (como cilindros) y un par de piececitos.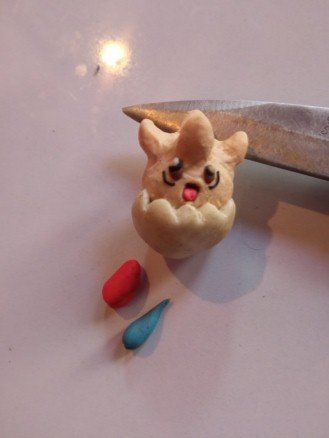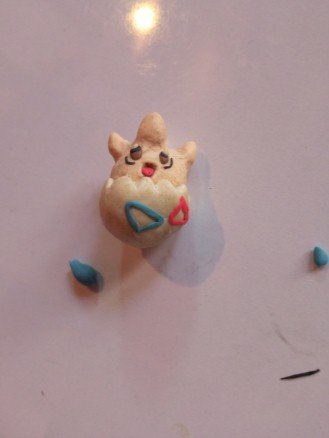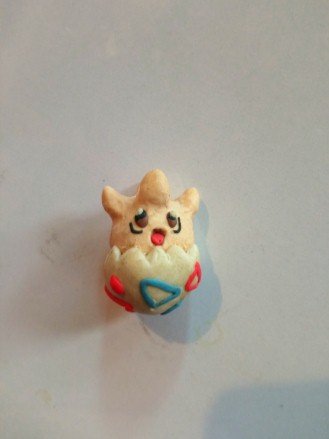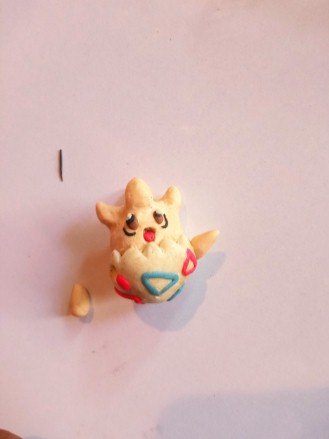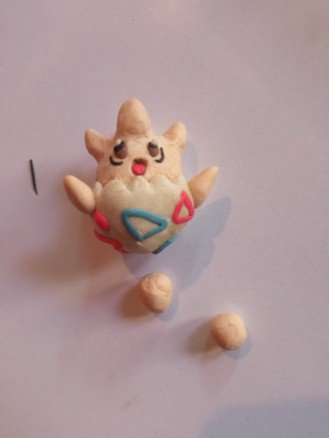 As I always try to do, here are some nice pictures of this precious little friend from different angles.
Como siempre procuro, les dejo unas lindas fotos de este precioso amiguito desde diferentes ángulos.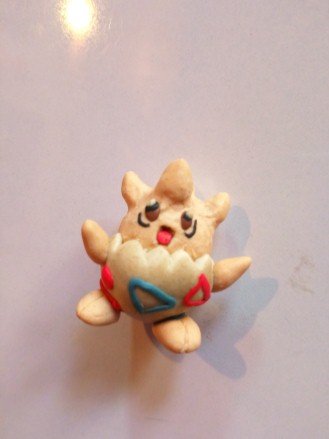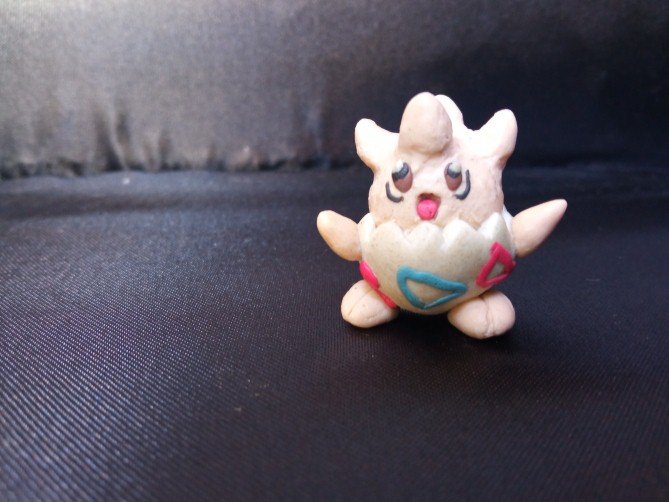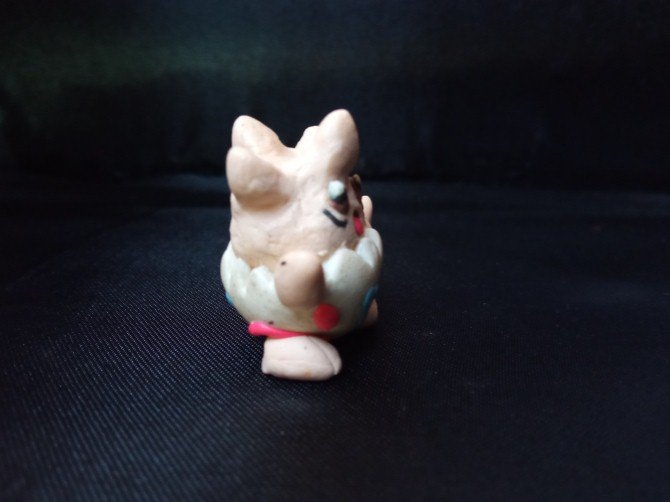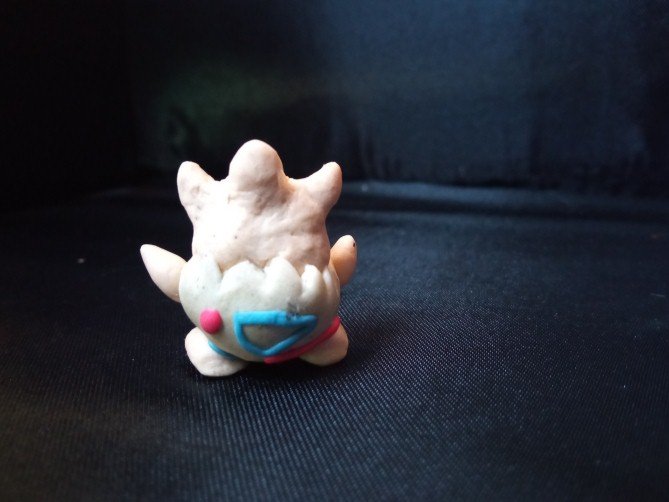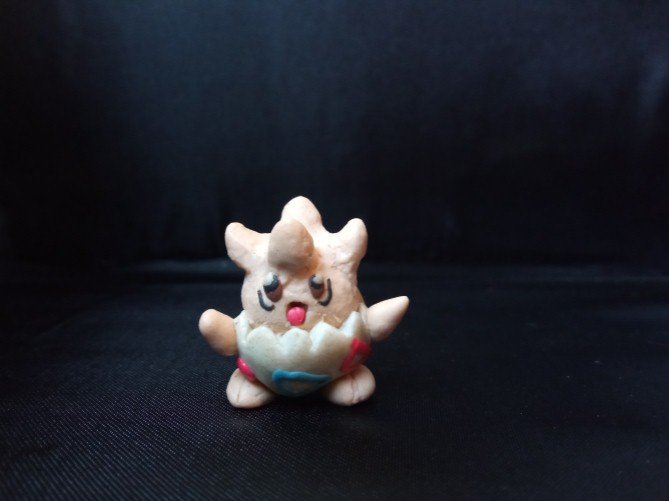 I hope this mini sculpture was to your liking, I really enjoyed making it, I say goodbye wishing you with a big hug, love @shirahoshi and I hope to see you in a next post.
Espero que esta mini escultura fuera de su agrado, realmente disfrute mucho haciéndola, me despido deseándoles con un fuerte abrazo, los quiere @shirahoshi y los espero en un próximo post.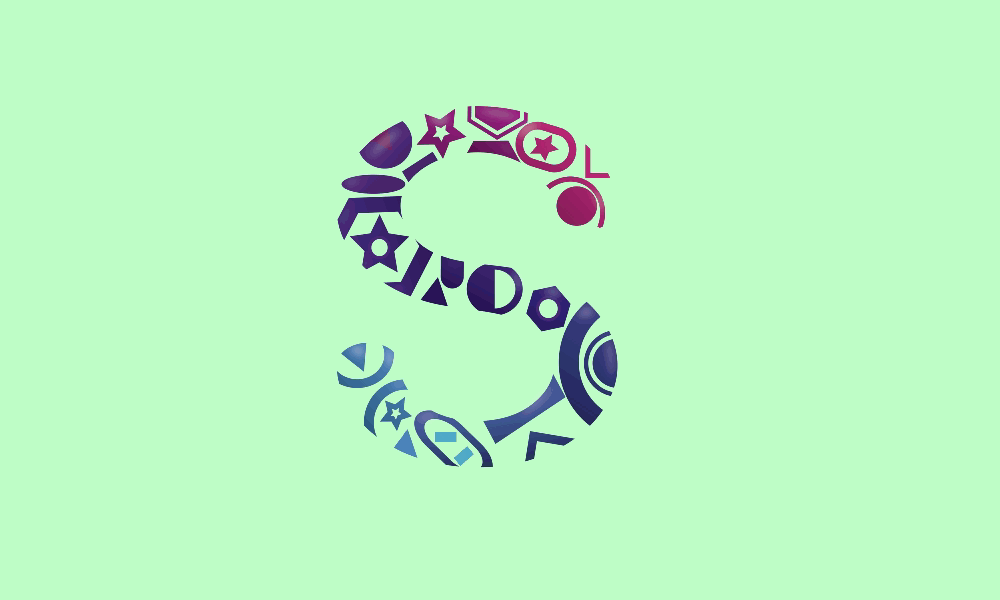 The photographs are my own and were taken by me with a Redmi 9 and were edited in powerpoint.
Las fotografías son de mi autoría y fueron tomadas por mí con un Redmi 9 y se editaron en powerpoint.

The Step by Step Gif was made by me in AdobePhotoshop CC2014.
El Gif de Paso a Paso fue realizado por mi en AdobePhotoshop CC2014.

The logo was designed by me in Adobe Illustrator CC 2015 and its animated version was made in After Effects CC 2017.
El logo fue diseñado por mí en Adobe Illustrator CC 2015 y su versión animada la realice en After Effects CC 2017.

Language corrector used Deepl.

The image of reference to make Togepi was taken from Here
La imagen de referencia para hacer Togepi fue sacada de Acá