Reciclaje creativo challenge #4 Soporte de teléfono en forma de cámara.📷 (Telephone support in the form of a camera).♻️🌏
Hola comunidad Hive
(Hello Hive community).
---
Saludos comunidad Hive en esta ocasión hice una manualidad con materiales reciclables ya que decidí participar y apoyar a mi hermana @jennyzer en Reciclaje creativo challenge#4 que ella impone una vez al mes para que las personas se unan y demuestren su creatividad transformando materiales que son desechables y convertirlas en algo hermoso y útil, personalmente elabore un soporte para celular con forma de cámara dicha manualidad la elabore simplemente con un tubo de cartón y hojas reciclable y algo de pintura fue sencillo y rápido espero que les guste; comencemos....
---
Greetings community Hive on this occasion I made a craft with recyclable materials because I decided to participate and support my sister @jennyzer in Reciclajecreativo challenge#4 that she imposes once a month for people to join and demonstrate their creativity by transforming materials that are disposable and turn them into something beautiful and useful, personally I made a cell phone holder in the form of camera that craft simply made with a tube of cardboard and recyclable sheets and some paint was simple and fast I hope you like it, let's start. ...
---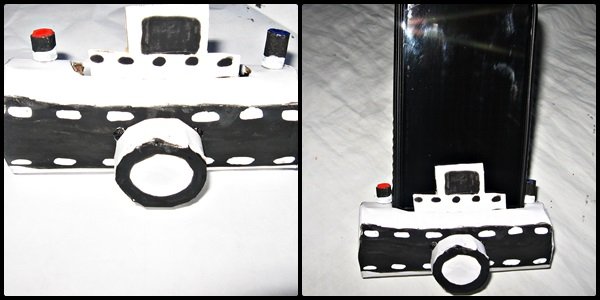 ---
Materiales:
Materials:
---
2 hojas reciclables.
2 cyclable sheets.
---
1 tubo de cartón (puede ser de papel sanitario).
1 cardboard tube (can be made of toilet paper).
---
pinturas color negro, rojo, azul y blanco.
Black, red, blue and white colored paints.
---
Tijeras.
Scissors.
---
Silicon frio.
Cold silicon.
---
Silicon caliente.
Hot silicon.
---
Regla, Pincel, Lápiz y un exacto (yo utilice un bisturí).
Ruler, Brush, Pencil and an exact ( I used a scalpel).
---
1 tapa de refresco y un gancho o lo que usted pueda tener para formar una base detrás del soporte.
1 soda cap and a hook or whatever you may have to form a base behind the stand.
---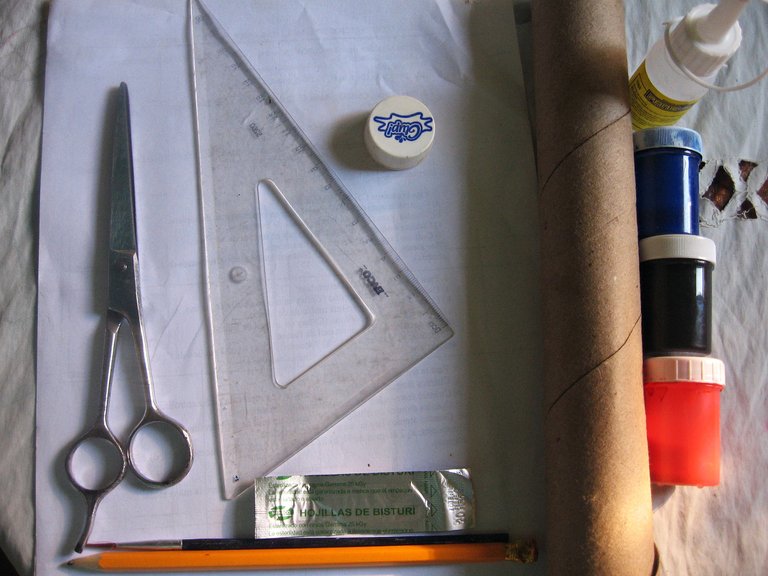 ---

Elaboración:
Elaboration:
---
1. Primero marque el tamaño del celular en el tubo de cartón para saber el tamaño del orificio que voy abrir.
1. First mark the size of the cell phone on the cardboard tube to find out the size of the hole I am going to open.
---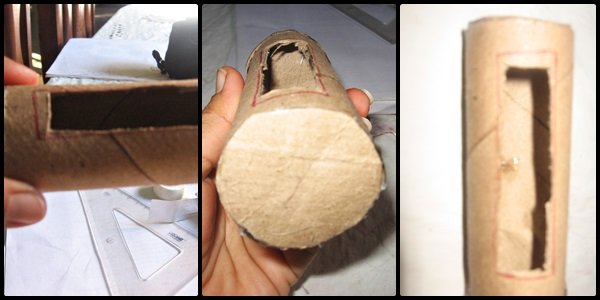 2. Con el bisturí saque el orificio donde se va a ubicar el celular, y recorte con el mismo cartón del tubo dos círculos para tapar los laterales del tubo.
2. Use the scalpel to remove the hole where the cell will be placed, and cut out two circles with the same cardboard tube to cover the sides of the tube.
---
3.Luego tome una hoja reciclable y forre el tubo dejando su orifico expuesto para el celular.
3.Then take a recyclable sheet of paper and line the tube, leaving the hole exposed for the cell phone.
---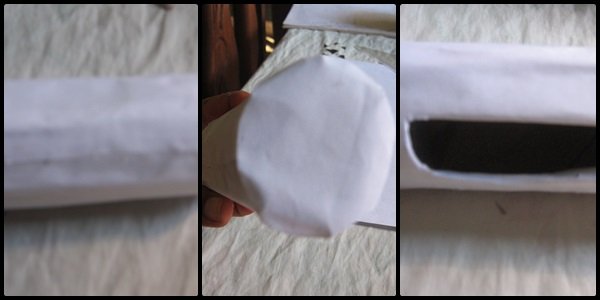 ---
4. Con un lápiz y la regla marque 2 rayas de un grosor de 3 centímetros en el medio del tubo.
4. Using a pencil and ruler, mark two lines 3 cm thick in the middle of the tube.
---
5. Luego pinte de color negro la franja ya marcada.
5. Then paint the already marked stripes in black.
---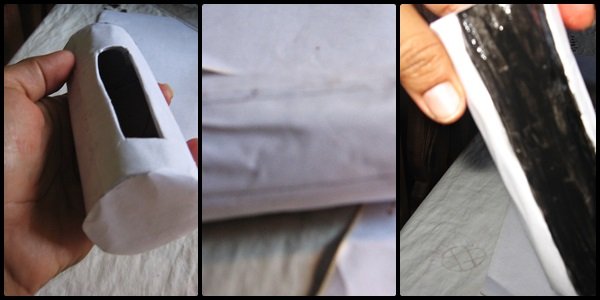 ---
6. Con el sobrante del cartón hice figuras para la cámara como los botones de prender y apagar y un reflector de flash.
6. With the remaining cardboard I made figures for the camera like the on/off buttons and a flash reflector.
---

---
7. Luego los forre con hoja reciclable y pinte en tonalidades negro, blanco el reflector y los botones en rojo y azul.
7. Then I covered them with recyclable sheet and painted in black, white reflector and red and blue buttons.
---
---
8. Después de ya estar cortados, forrados y pintados todos los fragmentos de mi soporte de celular pase a pegar con silicón caliente cada figura hasta obtener un soporte en forma de cámara.
8. After being cut, lined and painted all the fragments of my cell phone support I went on to glue with hot silicone each figure until obtaining a camera shaped support.
---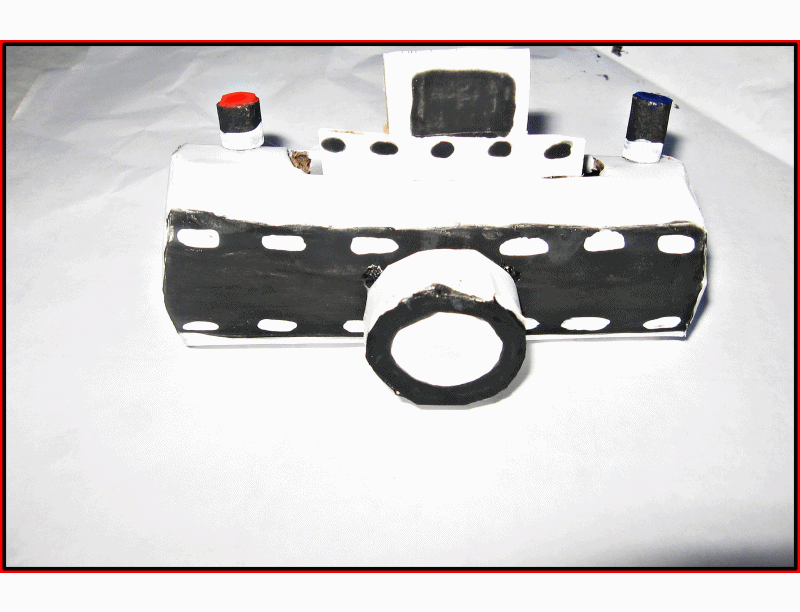 ---

---
Fotos tomadas desde mi cámara canon.
Photos taken from my canon camera.
---
Gifs realizados en PhotoScape.
Gifs made in PhotoScape.
---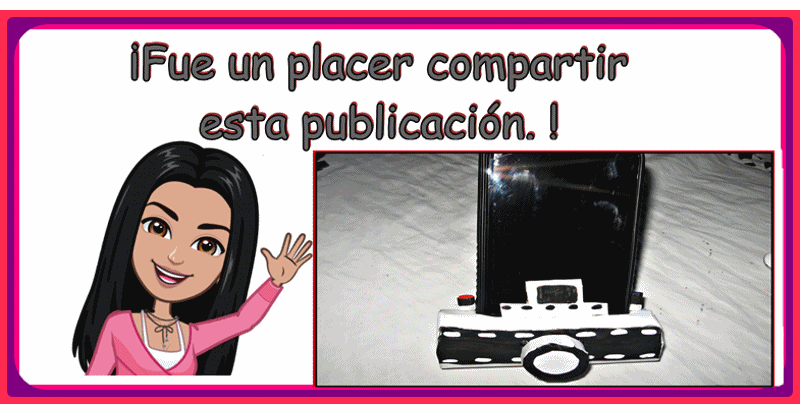 ---
---