Preserved plant Wall - workshop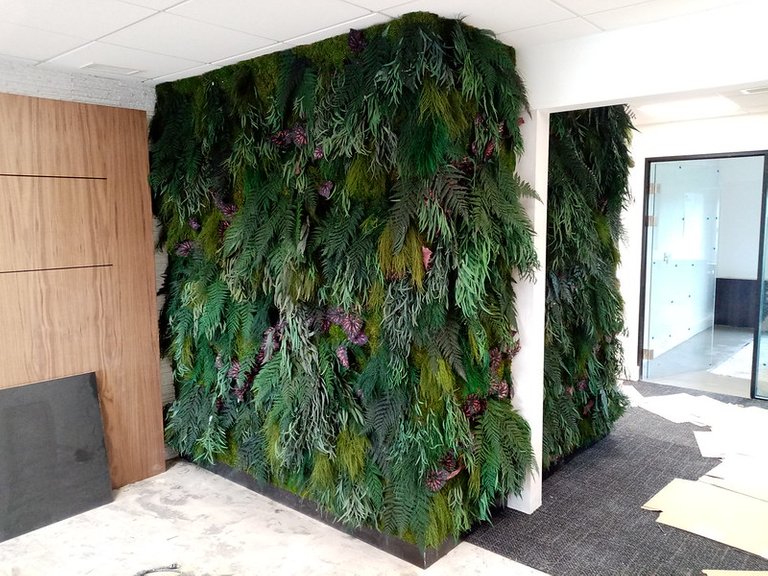 Another busy week, trying to hit a deadline. A client wanted a wall in their office decorated with plant matter and evidently, since Covid happen and my sculpture work has had to take a back seat, I was roped in to do it.
I have never made anything like this before and had no idea how exactly to do it. But I was happy to exercise some of my gray matter with a great learning experience.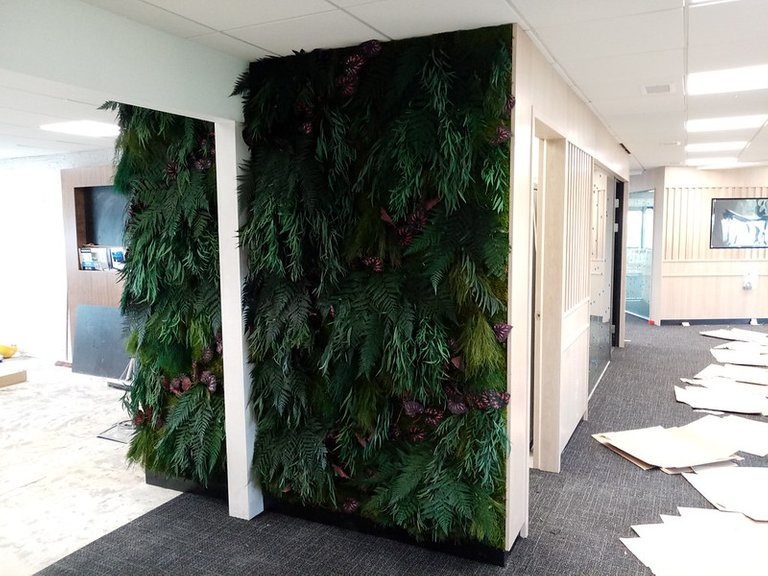 The plants I had to use are preserved plants. So, even though they are dead they are mummified to make them last without any watering or maintenance. It seems that this is the fashion at the moment in office design, giving the appearance they like nature but making sure it is all dead and doesn't need someone to take care of it. I don't know how I feel about that. On the one hand, it can look quite interesting and soften the cold lines of a man-made structure but on the other hand, it is more theatre and does nothing for the air quality of the space nor the envoronment but, what would I know, I'm a sculpture.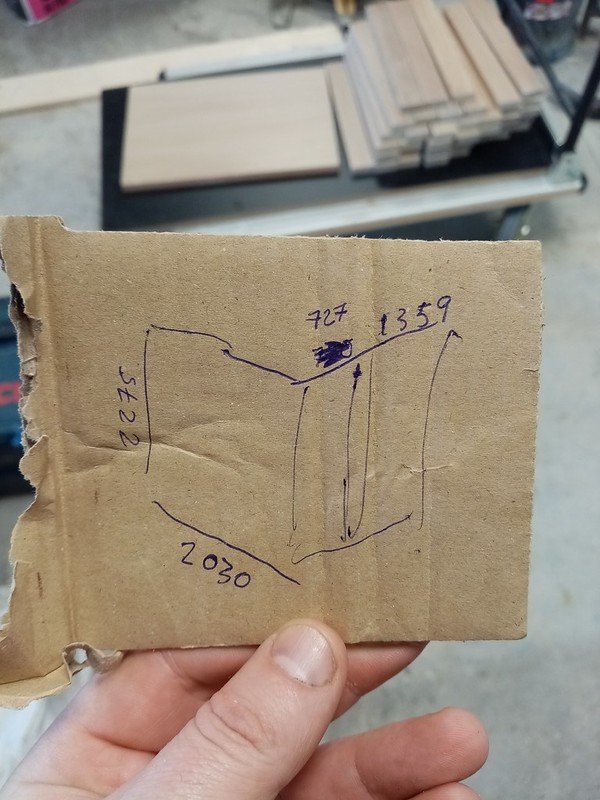 The Master plan
I decided to do the main body of the work off-site. I like privacy as I make my mistakes and since this was a first I figured there would be a few. I didn't want an audience and also the building site had lots of dust and noise which would not be conducive to my creativity.
I took some measurement and then retired to the relative comfort of a warehouse. You can see where my 5 years of Art and Design college paid off in my great sketching ability.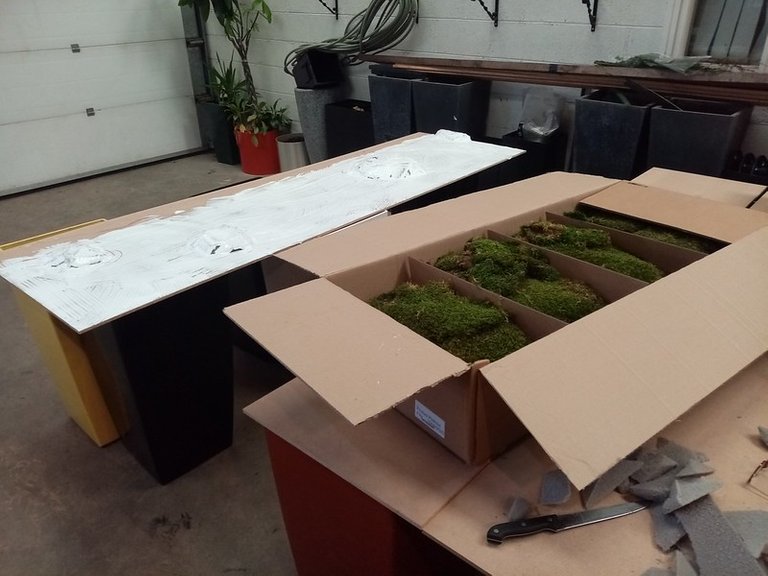 Modus operandi
I devised to make the whole thing on panels of MDF/ wood and then do the final finessing on location. So I cut the pieces to size making sure they would fix through doors and stairwell at the office.
As a ground plain, I used preserved moss. This comes in a big box which covers around 3 meters when you take away all the bad bits. I would stick this down with lashings and lashings of glue.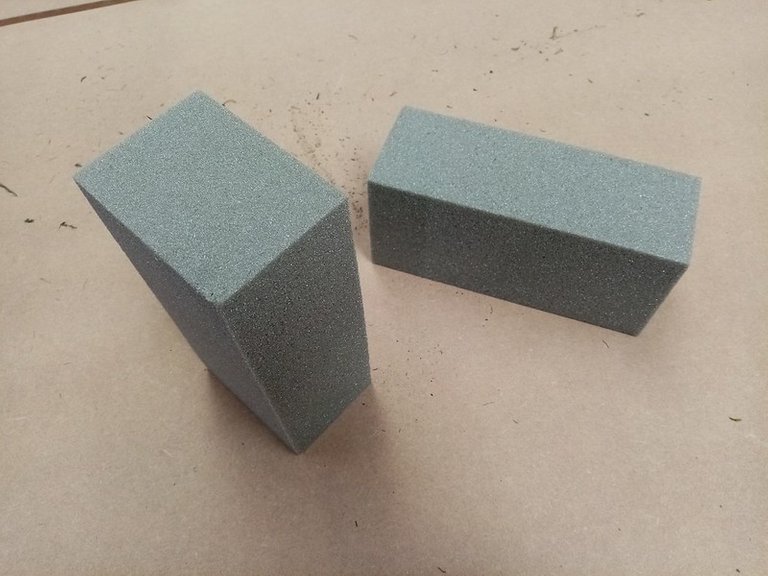 Here and there I stuck some mounds of oasis to break up the surface a bit. This is a great material usually used for flower arranging, easy to form and nice and light. It also made a great place to anchor the plants when placing them through the moss.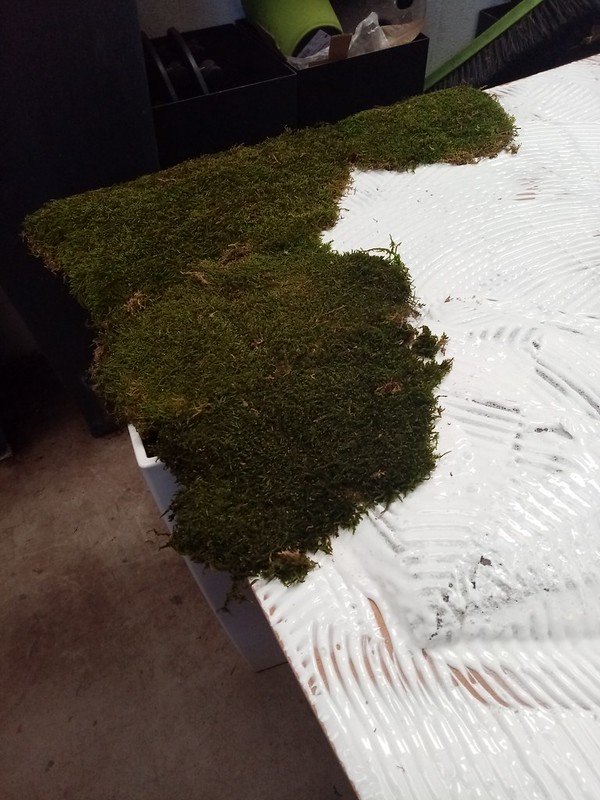 Implanting
I wasn't sure exactly how I was going to add the plants yet but then it dawned on me that if the glue was still wet under the moss it would also hold onto the stems of the plants when I pushed them through. I would just have to work quickly and with this job, it was a necessity as I had just five days from start to finish.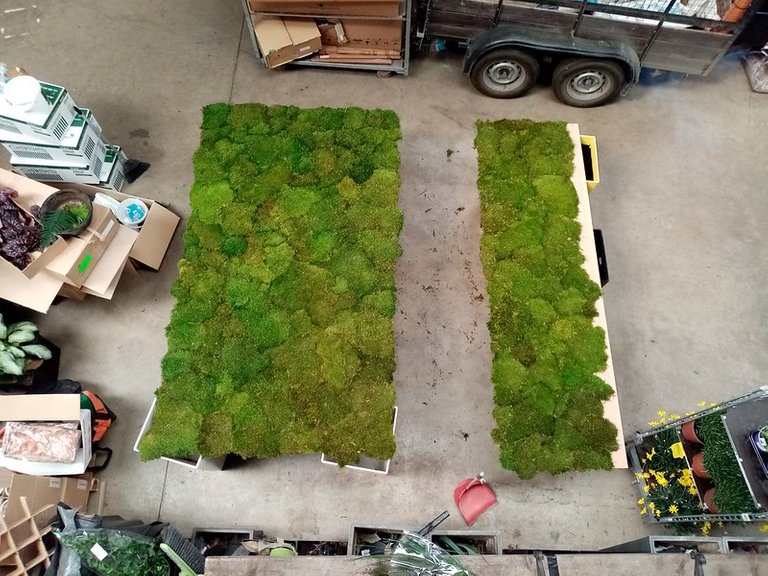 I did think about doing the whole thing standing up against a wall like it would finally stand but gravity might have become an issue until the glue set.
With all the moss on I was lucky that the warehouse had a mezzanine where I could get a birds-eye view. Working with the moss is like a big crazy jigsaw with every piece a different shade of green.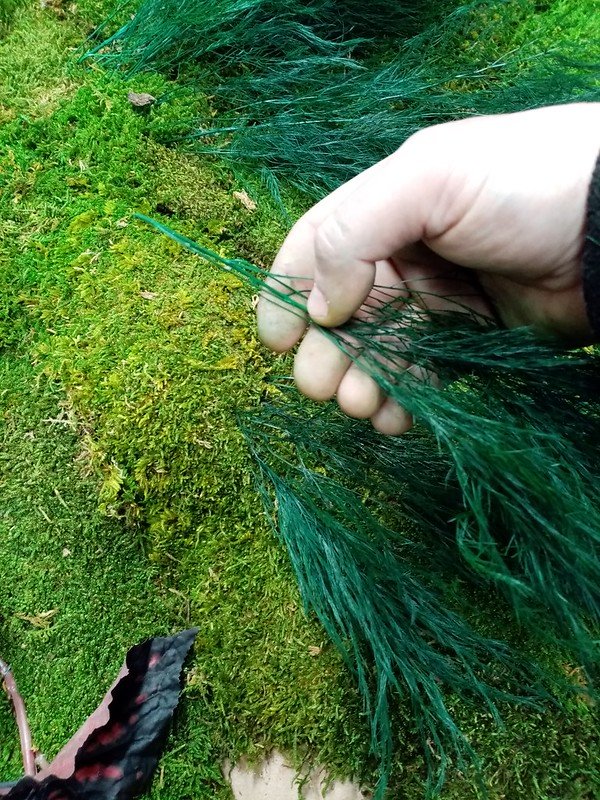 Then on to the plants. I used four different types of preserved plants and one artificial Begonia as it added a splash of purple colour in a sea of green. The stems were just strong enough to push through the moss and stick to the wood and oasis below.
It felt a bit like the way they add hair implants to a bald head. Slowly but surely I built up the layers working as quickly and loosely as I could while the glue was still wet.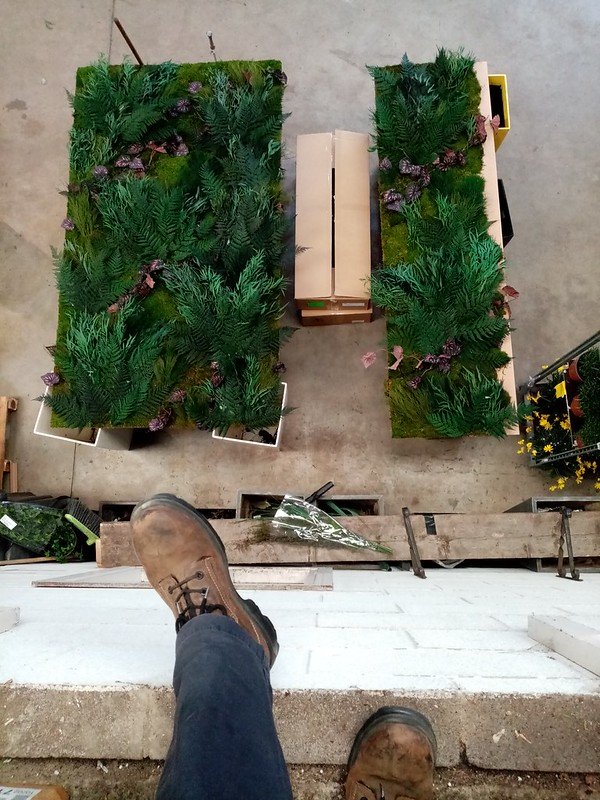 Biomimicry
I was up and down like Billyo to my vantage point to see how it looked. Trying to make it look natural should have been easy but I was running out of time and needed to get everything on site. I knew there would be some patching needed but I really needed to see everything together to get it balanced so I brought it to this stage in the warehouse.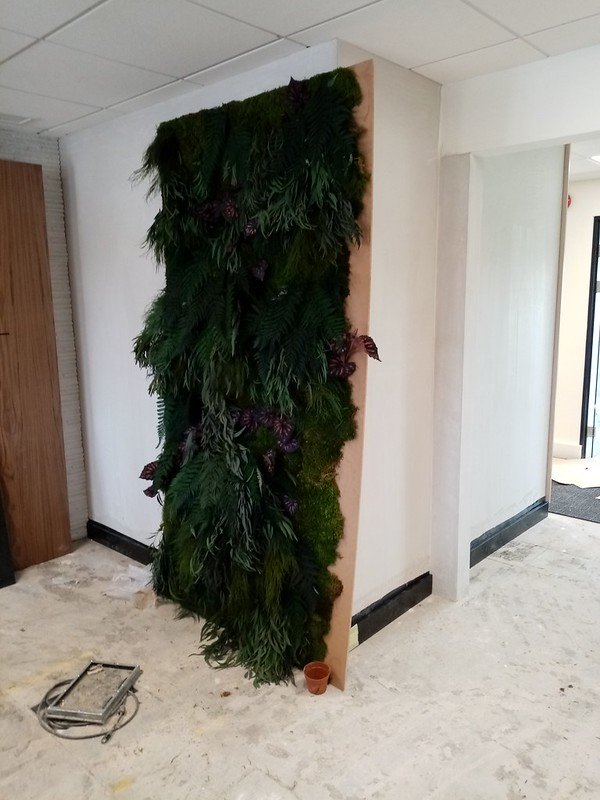 On-site I needed to trim the panels a bit to make them fit. Every wall in the place was a parallelogram and they had made a few changes since I last visited. I just screwed through into the wall and then patched the corner with more glue and moss. Then added more plants all over to fill it in and make it look like it had just grown there.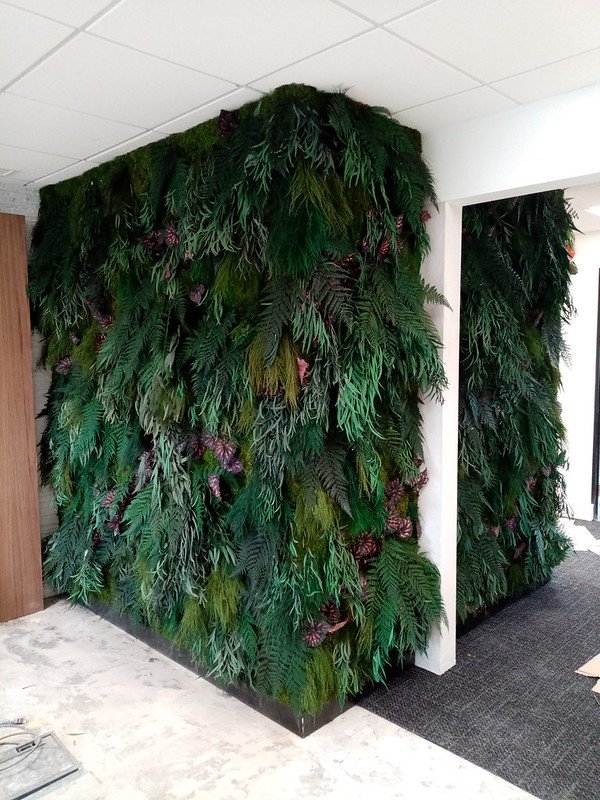 I was quite happy with how the whole thing worked out, and so were the people I did it for. I was the last to leave the site on Friday evening and didn't get any feedback from the client just yet. I hope they like it. If they don't, they can just use a hedge cutter.
I hope we all learned something from this, I know I have and I predict it won't be the last one I am called on to do. With my lack of sculpture action at the moment, I am just glad I am getting to do something creative and working with my hands.
---
---