Americký volby jsem sledoval asi jako vy všichni. Byli všude , v rádiu i televizi i na internetu. Já teda moc netuším který kandidát je lepší. Demokrati jsou vlastně levičáci a Biden a hlavně jeho viceprezidentka jsou prý skoro až komunisti. Trump je zase Trump. Toho lidi buďto milujou nebo nenáviděj a jinak to asi nejde. Asi před dvěma hodinama přišla zaručená zpráva že vyhrál Biden.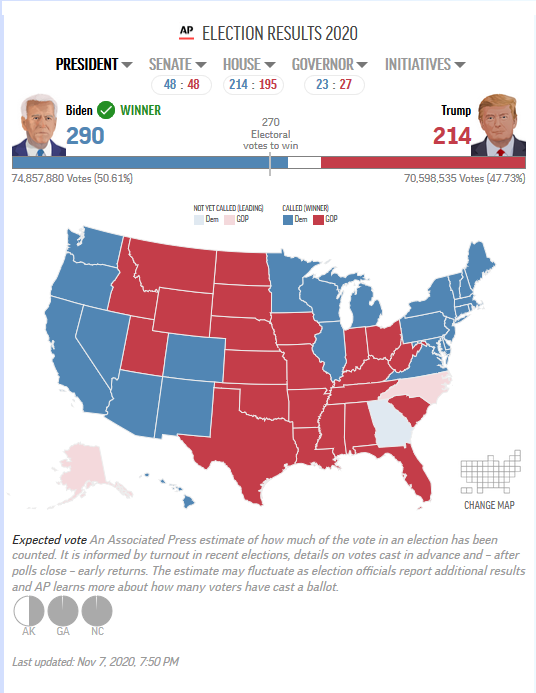 Agentura AP
Mě to moc hlava nebere. Je tam spousta nesrovnalostí.
všechny státy ještě nejsou sečtený a dlouho nebudou
poslední jedno procento trvalo skoro všude podezřele dlouho a bylo v něm o dost víc než procento hlasů
lidé na webu píšou že chodily falešné korespondenční hlasy pro Bidena od lidí co hlasovaly dvakrát
zajímalo by mě jak vědí pro koho ty falešné hlasy jsou když se hlasuje anonymně
Nevada sčítala celou věčnost a na Aljašce snad komise zamrzla což ale moc nevadí protože tam by měl být vítěz tak jakotak jistý
Na internetu se objevil vtip který to hezky vystihuje: "Dokud Americké volby řídil Putin, mělo to aspoň hlavu a patu. Teď si je řídí Američani sami a jak to dopadlo..."