Hello hivers good afternoon, i was currently working, so i thought of sharing with you guys what i was working on like i promised in my last post that i would keep exploring my newest designs here, my main aim is to be like #NATURE where everyone draws there Inspiration from make there own creativity, trust me you'll enjoy today's ride just fasten your sit belt and let @smilestitches take you on a long interesting adventure 😊 that would sweep you off your feet 😁.
This afternoon, i'll be using 4 different material.
*Plain black,
*sea green,
*Gold,
but all related to sew a short sleeve shirt.
those of us who are expecting me at some point to show pictures of an online cloth design before i start sewing am so sorry i rarely do that not that its bad tho but i prefer to create my own designs originally hope you guy will understand. okay like i said 👆 will be combing 4 different material to Beautify this ankara. 👇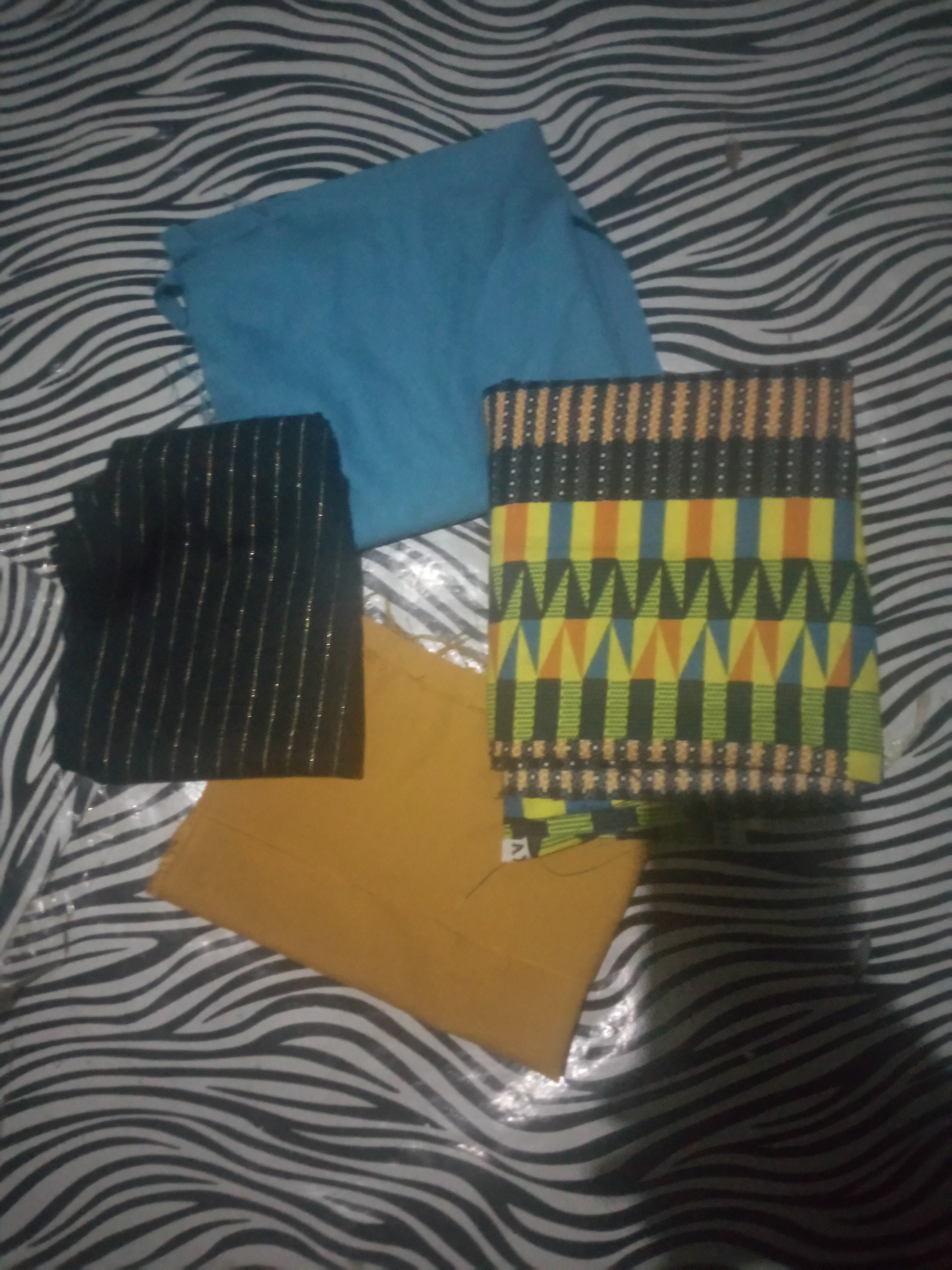 Having seen my collections let proceed, i took my client measurement, fold the cloth into two equal parts then since its a shirt note!! Very important, after folding the cloth into two equal part you first measure 2inch out from the body for the button and it's hole also "note" if it's a male's shirt then the button hole will be on the lift side while the button side will be on right hand side but if it's a female, the button hole will be on the right while the button will go to the lift always be conscious of that, then after you've skipped 2inch for the button and the hole then you start from that 2inch to take the body measurement and cut.
But me i had to cut mine single, because am using black on the lift side of the front.
After the cutting i first bend that 2inch i kept for button hole, i bend the button side at 1.7inch while the button hole side which is the lift side at 1inch and i sewed them, then the front was ready for exploring, i then move to the preparation.👇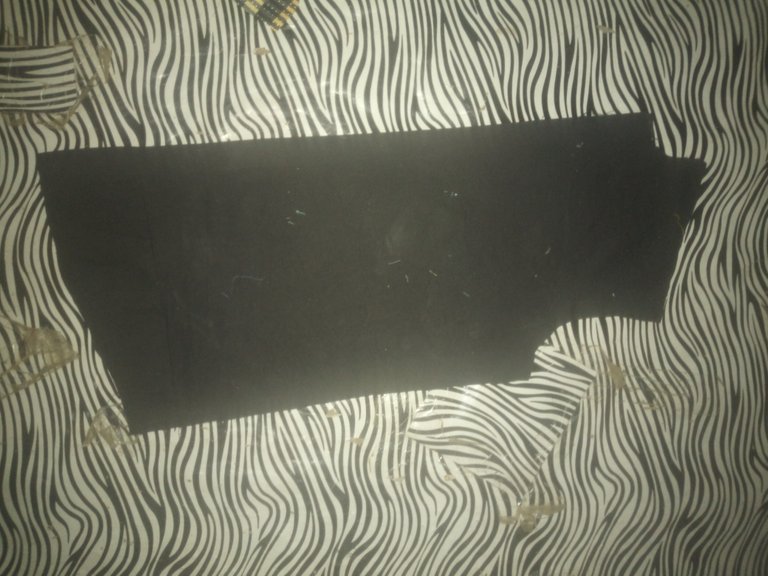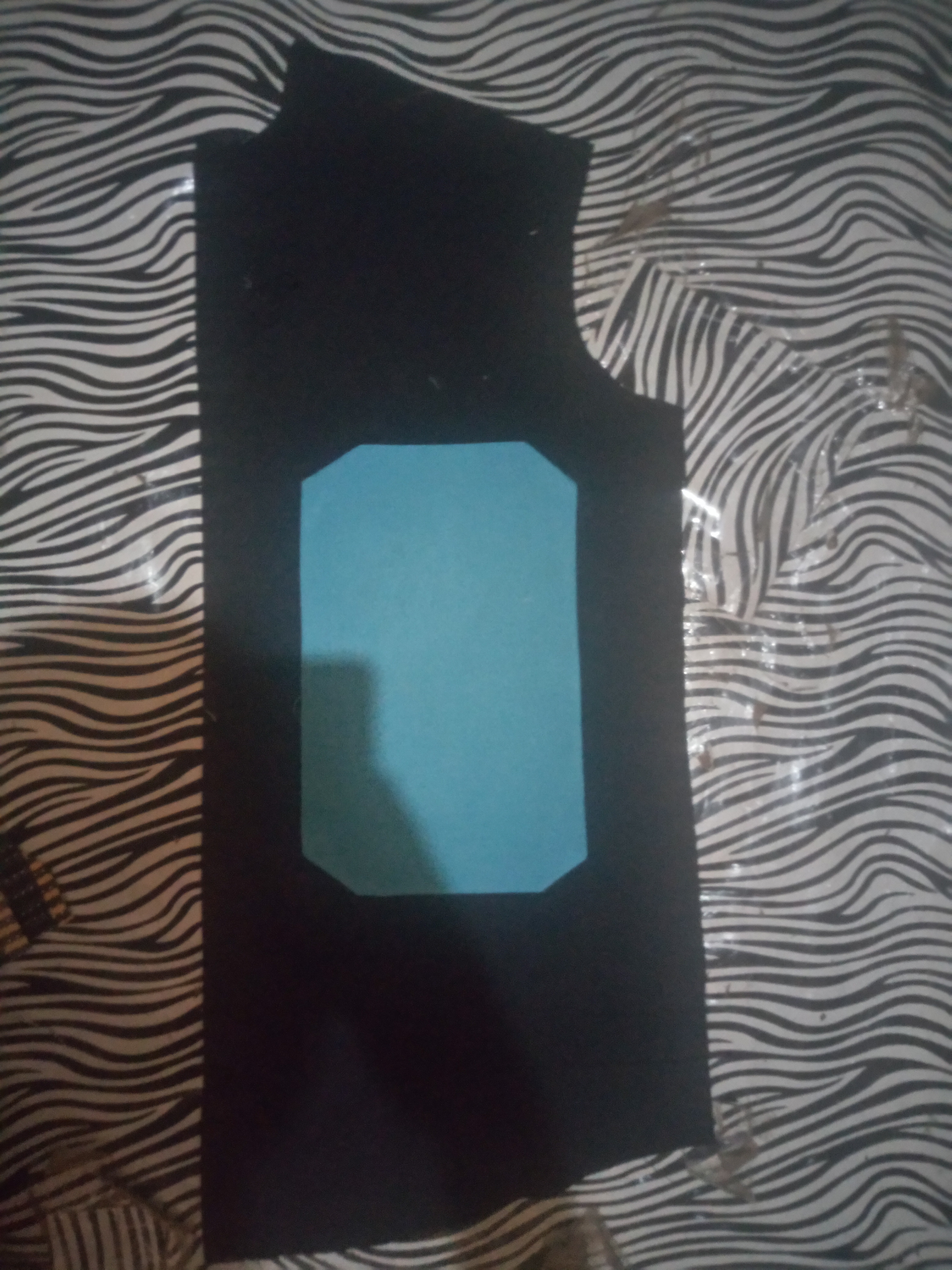 *STEP ONE
I started with my sea green, i cut it about 10inch size, length of 12inch then i folded it into size of 8inch, length of 10inch, then after the normal folding i bend the 4 edges about 1inch each inside then i used a marching thread to stitch it together with the black. 👇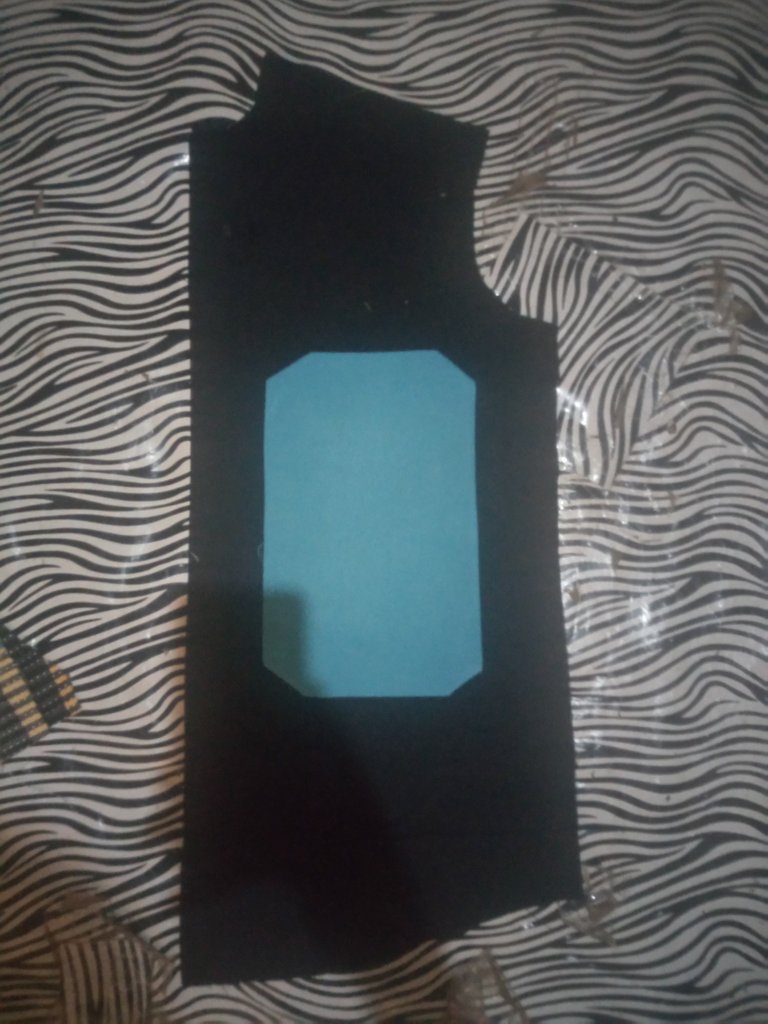 *STEP TWO
I cut the gold material and bend it in for about 7inch size and 9.5inch length ***remember the first one's measurement was 10inchs by 12inches after the bending it reduced to 8inch by 10inchs so now the second one would be 7inch by 9.5inch, so its won't be like the first one, but don't forget that you have to give a little spacing to Beautify your creativity 👇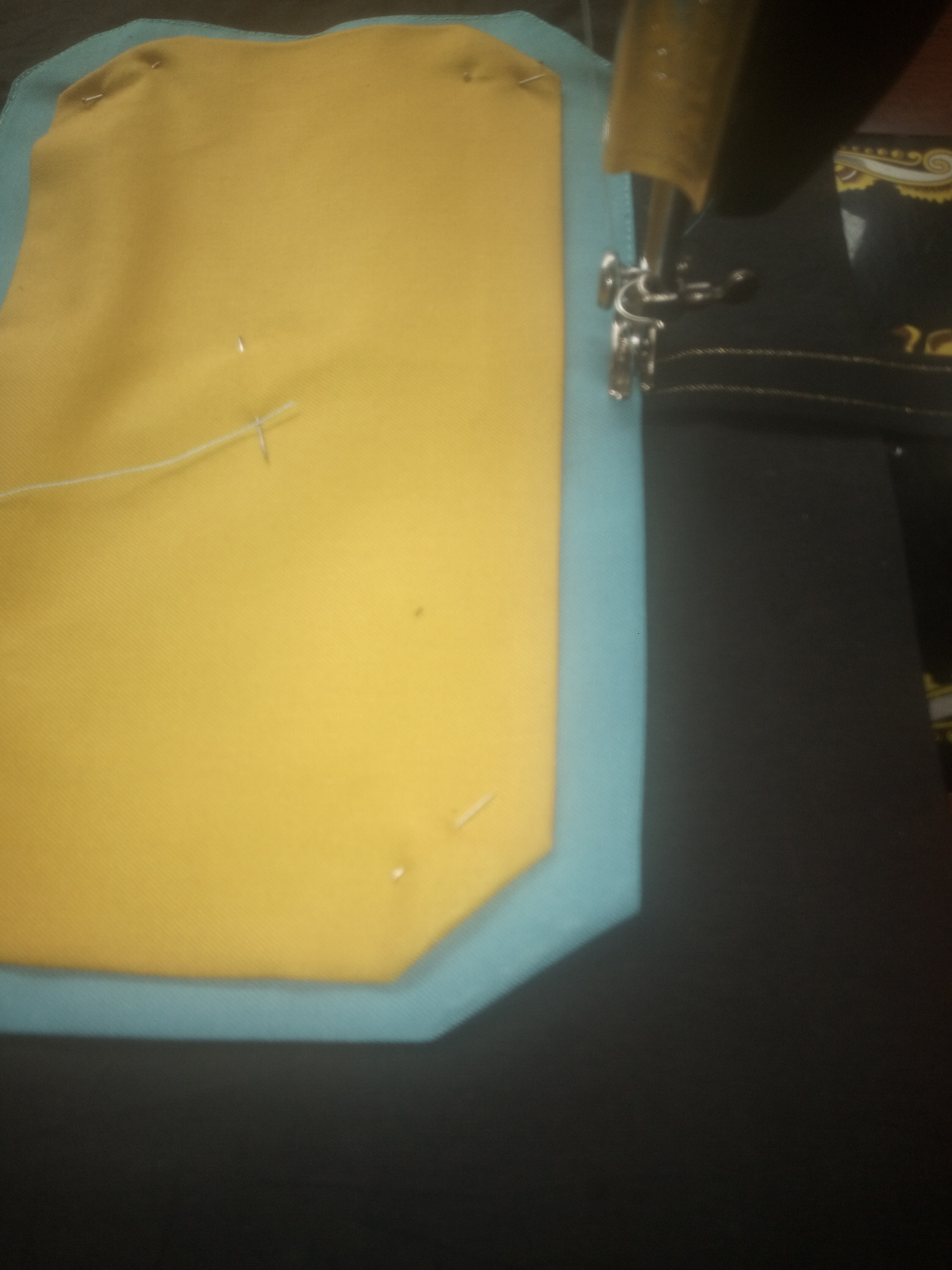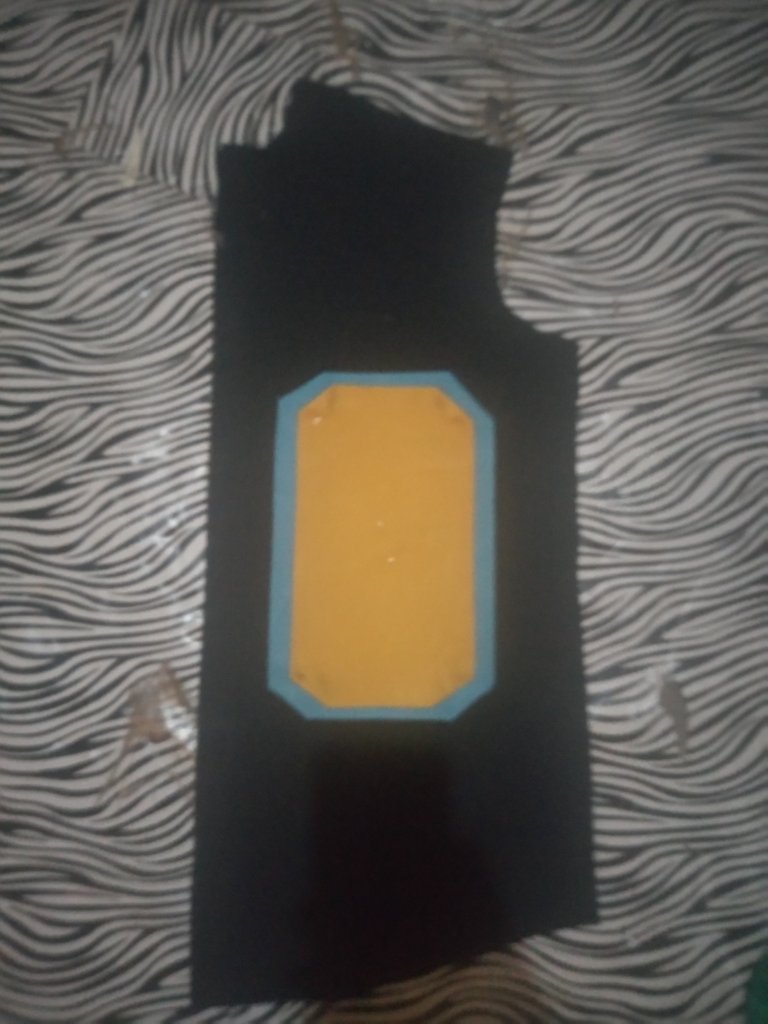 STEP THREE
I brought out my waistcoat back clip, i mean this👇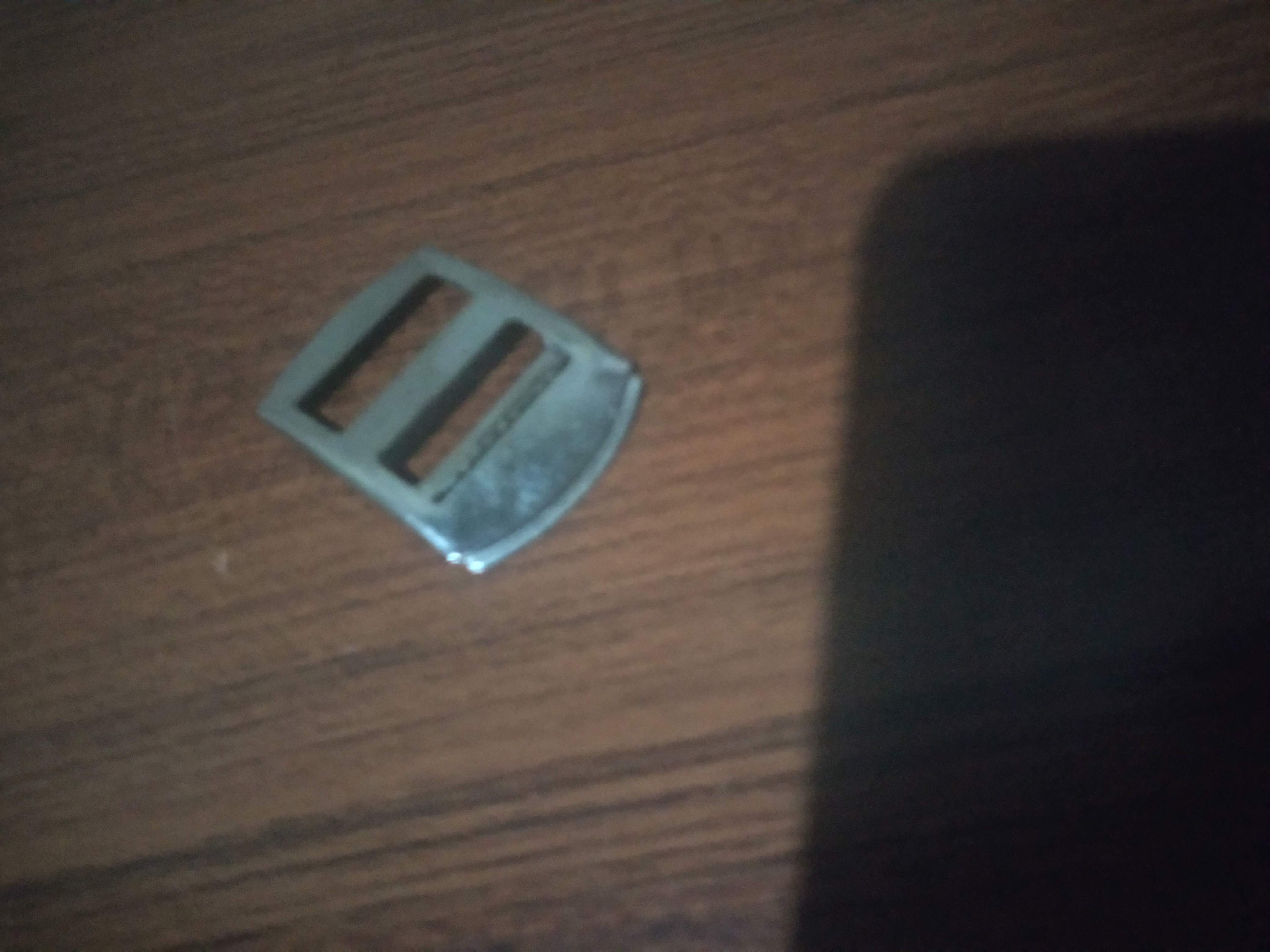 And i first measured the clip's size to know how many inch of the gold stripped black am supposed to sew so it could fit into the holes of the clips perfectly, i measured and it was half inch so i bend the material and sewed half inch and turned it out, fixed it on to the clip (very easy to fix) 👇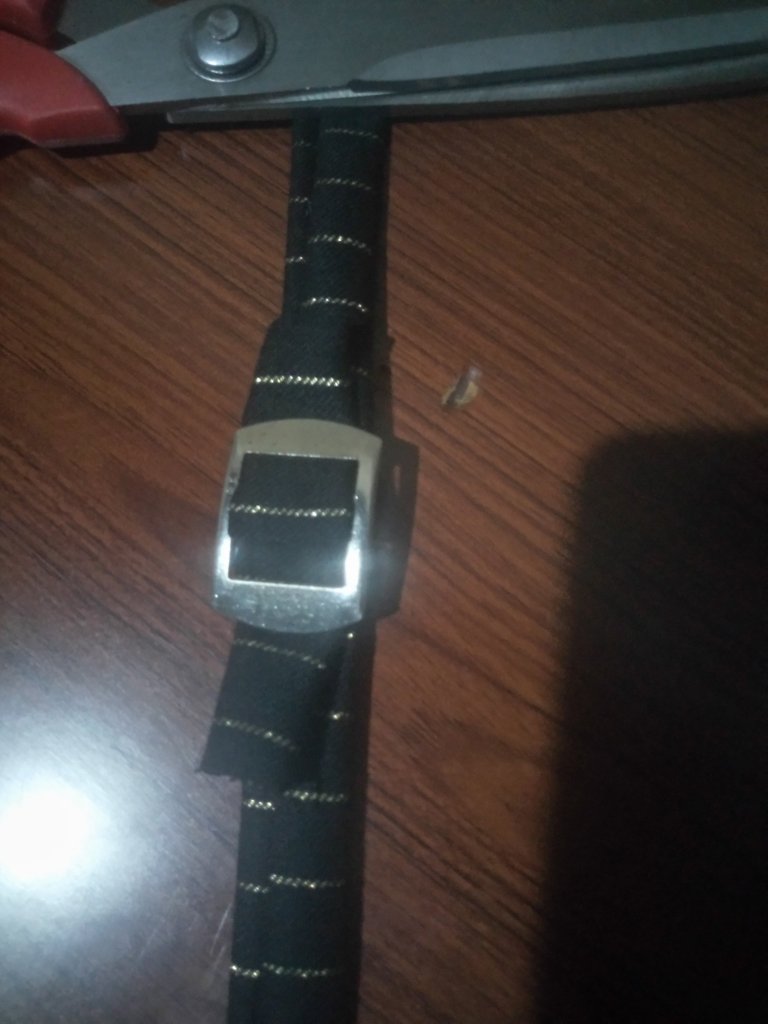 its just like a watch the only deference is that its doesn't tell the time but has the structure of a watch, have just got an idea let me try wearing it on my wrist and see how its look 😁👇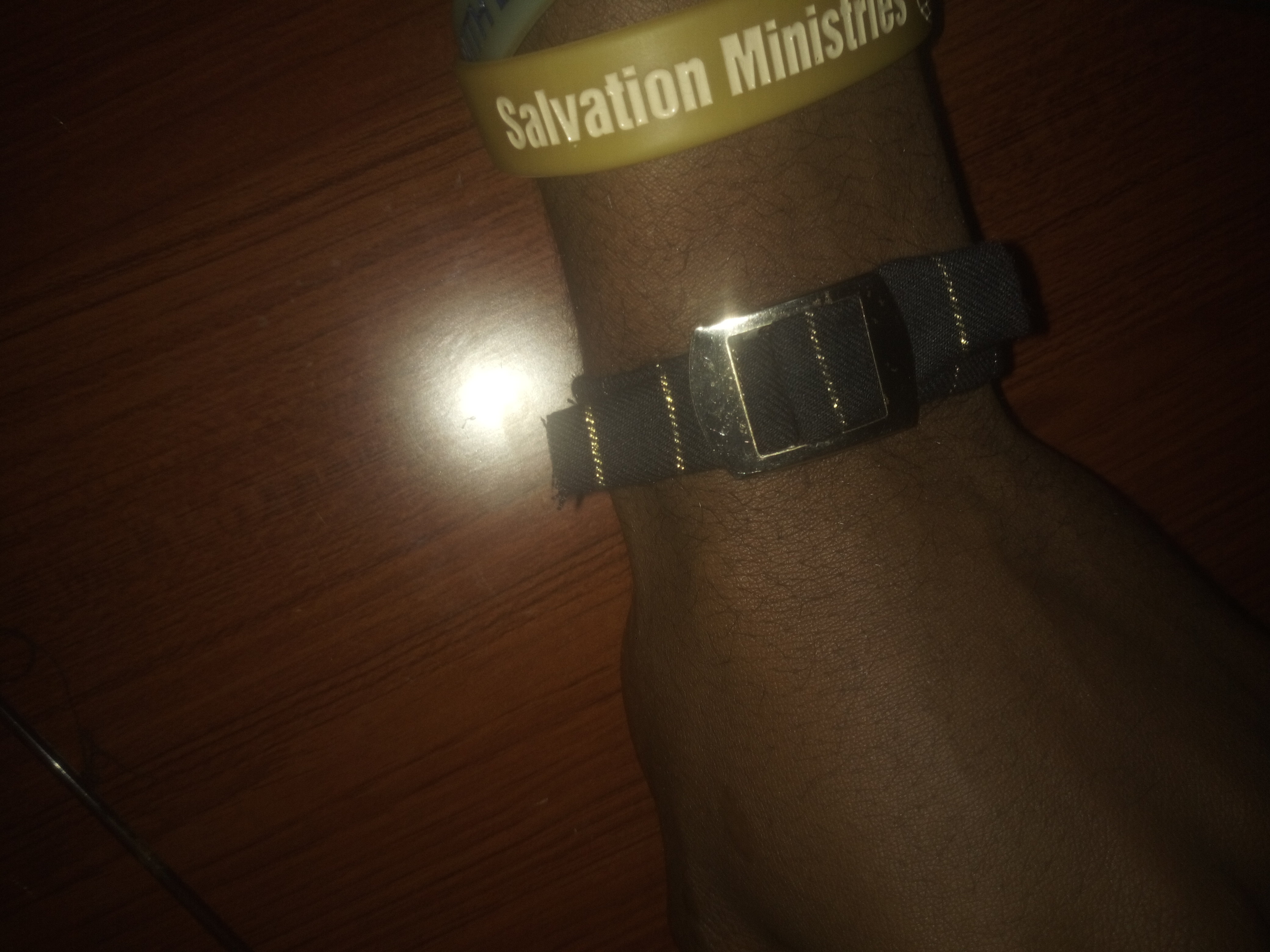 Wow you see that 👆 i won't be surprise if this should come into fashion as a Bangle 😁😁 let go back to where we were at fixing the pieces to the clip now after that you take it and sew it to the cloth in which ever way you may see fits 😁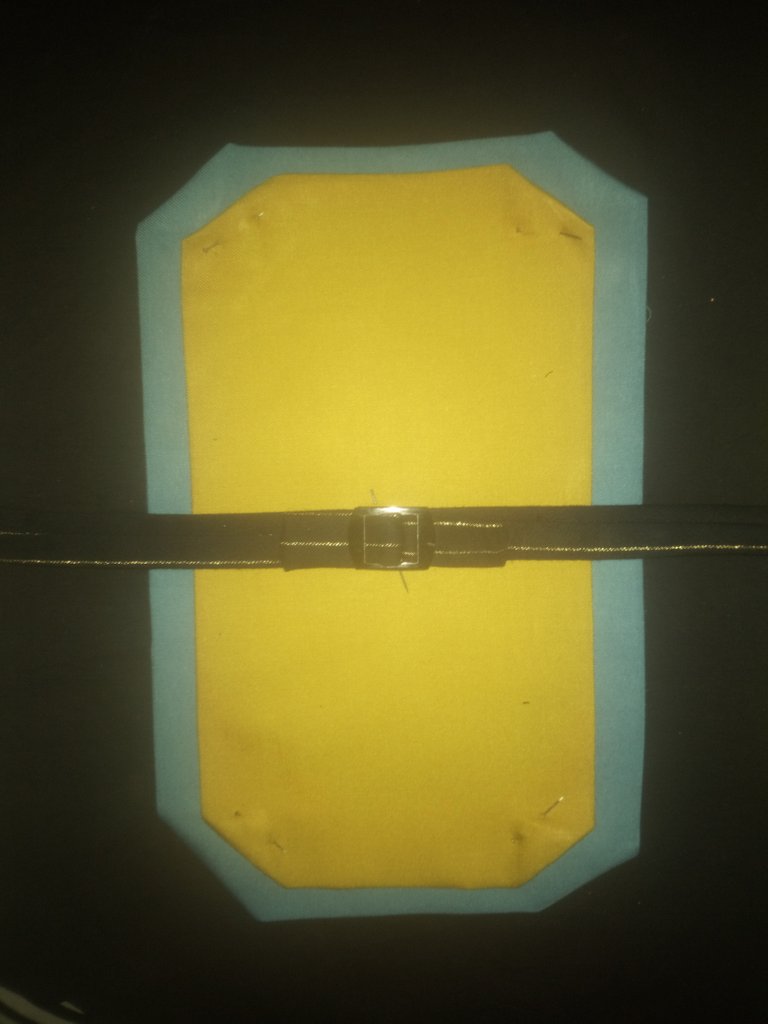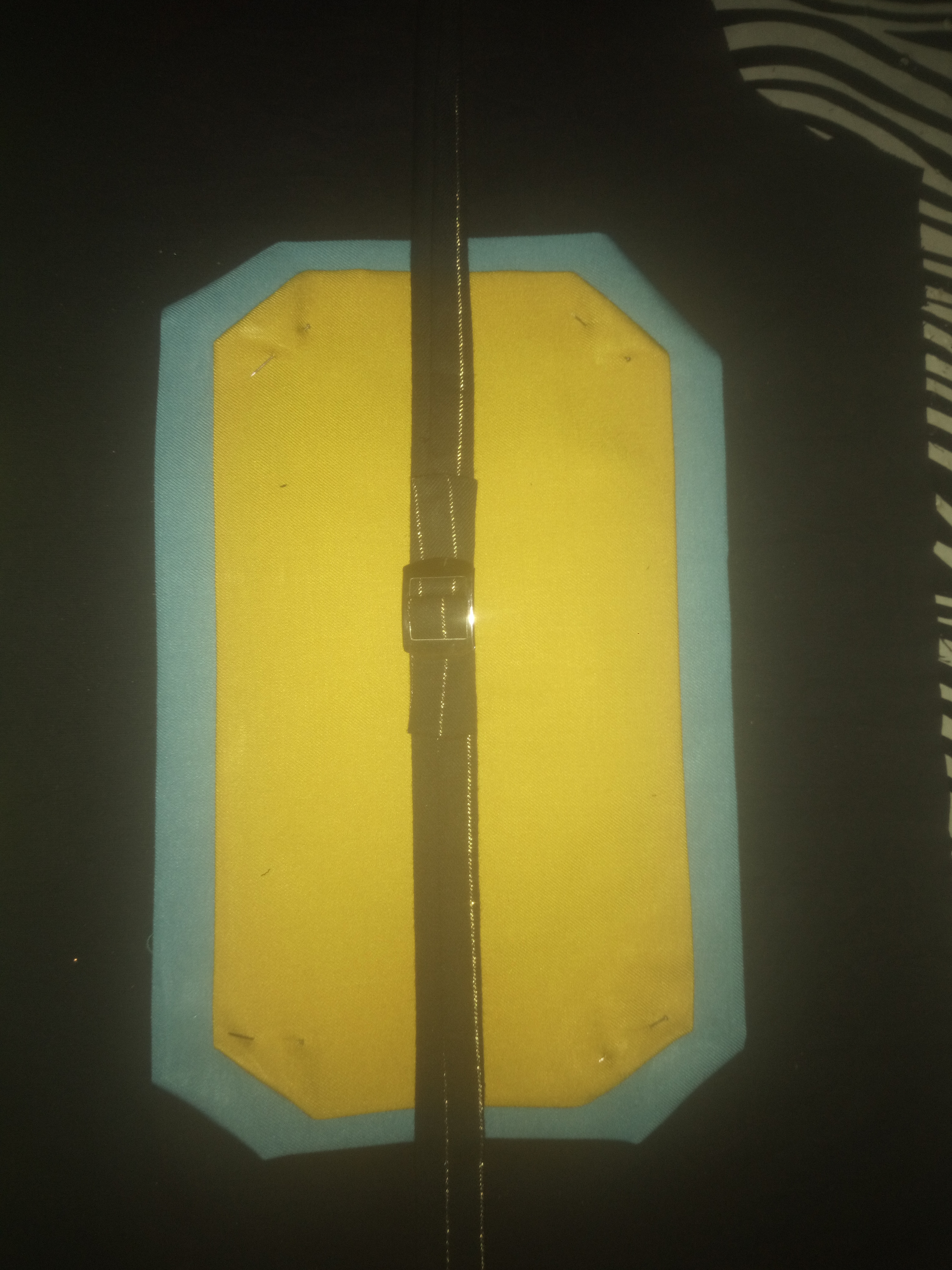 After that you join them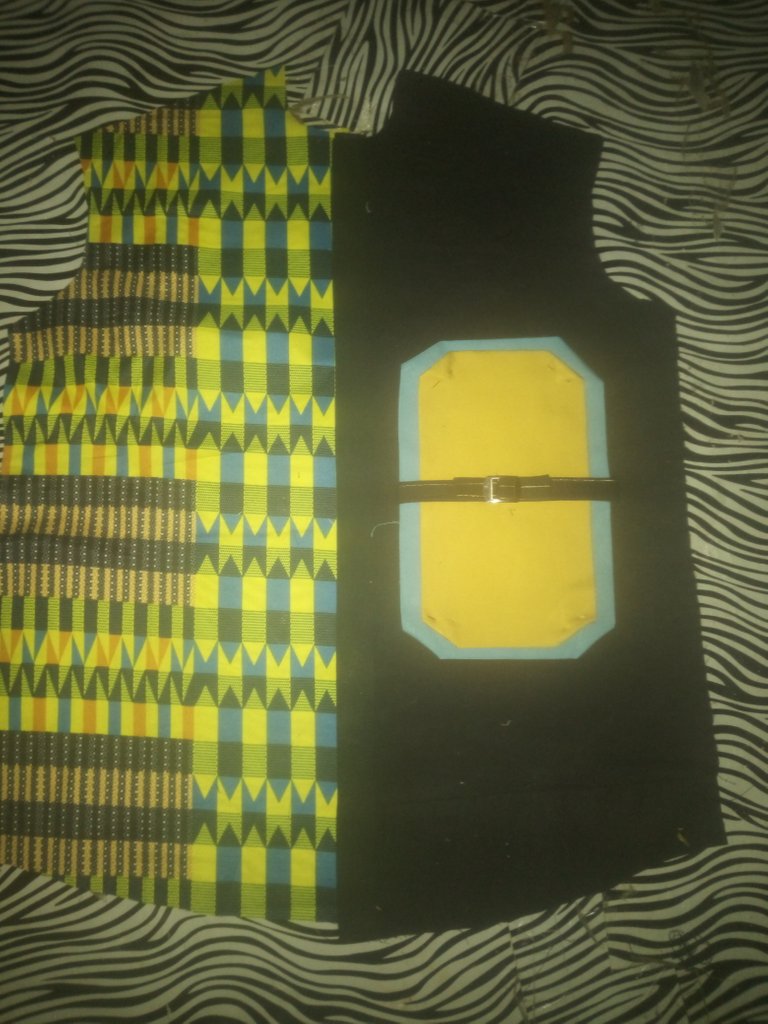 After the back and front joining , you trim the shoulder to the measurement of the person and you then join the sleeve to the body and close both sides to the person's measurement and your shirt is ready!! 😊
Lastly, the neck i wanted it to be a stiffed neck, not a double shirt collar, i wanted it to be a single one. Actually There's a special gum used in preparing shirt collars I had it so i too my gum, the person's neck measurement i took was 14inch, just like the body of the cloth that 2inch was added for the button hole and button, i will be adding 2inch also to the neck for the button & holes as well. Now (14 + 2= 16) so am now cutting 16inch length from my gum, since i don't want it too wild am using 1inch for the size then i cut it out and place it on the pieces and gum with a hot iron 👇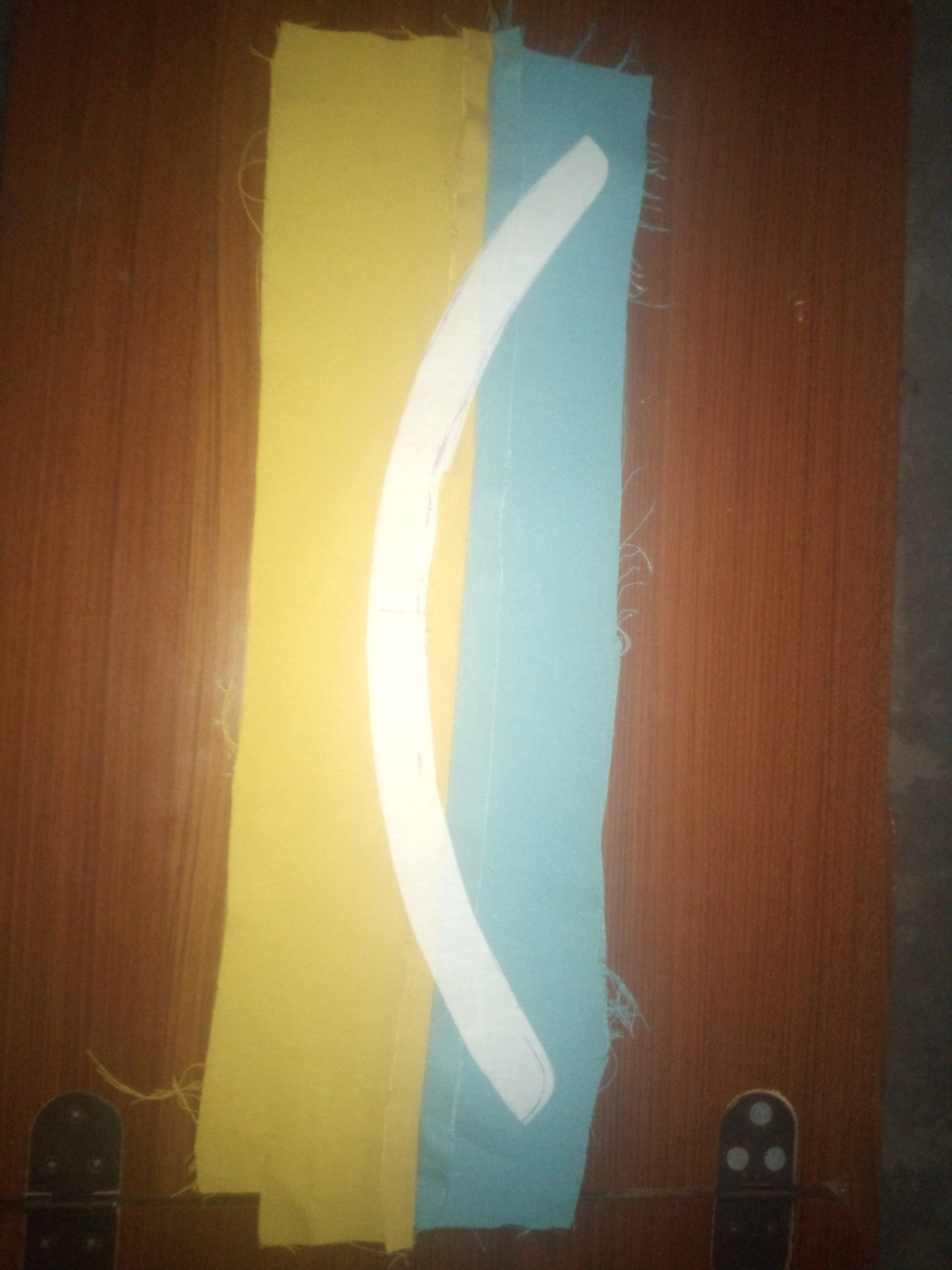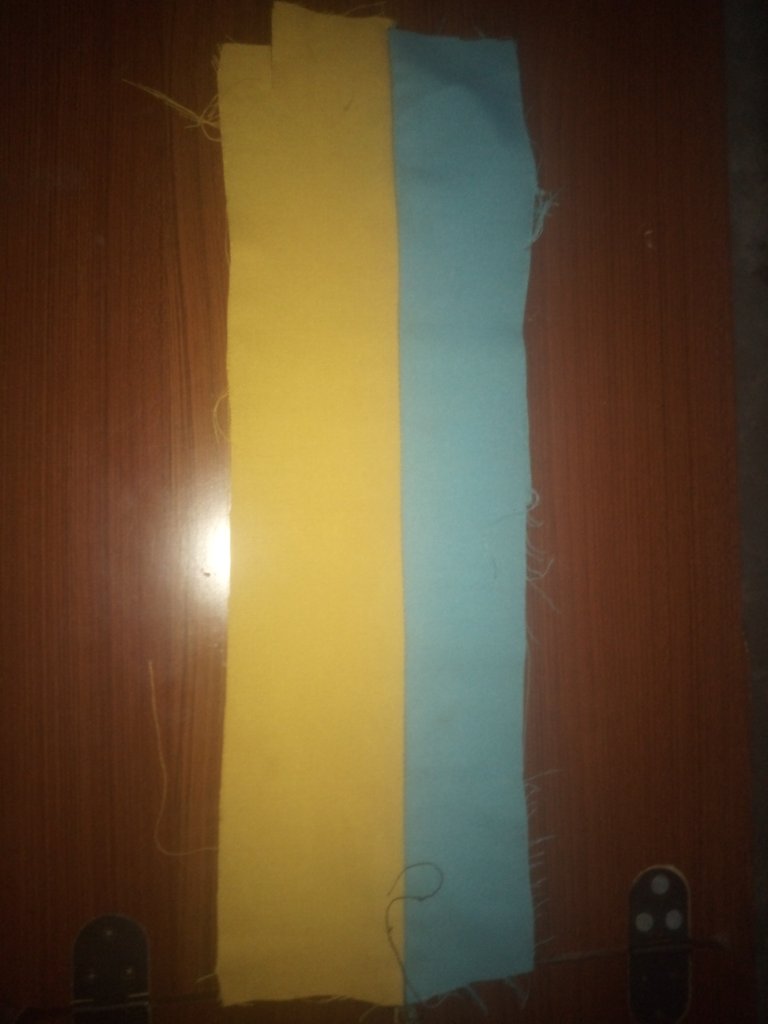 as you can see am using the two material in front to do the neck collar, you can choose to do yours anyhow u see fits. 😁 so now that have finish gumming it, I'll use another pieces to lay under and turn it, iron it for stability and fix it to the shirt neck from inside and turn it to the front, top stitch it and your shirt is super ready for you to rock!! 😊
With those few steps👆 have successfully showed you how this shirt was made👇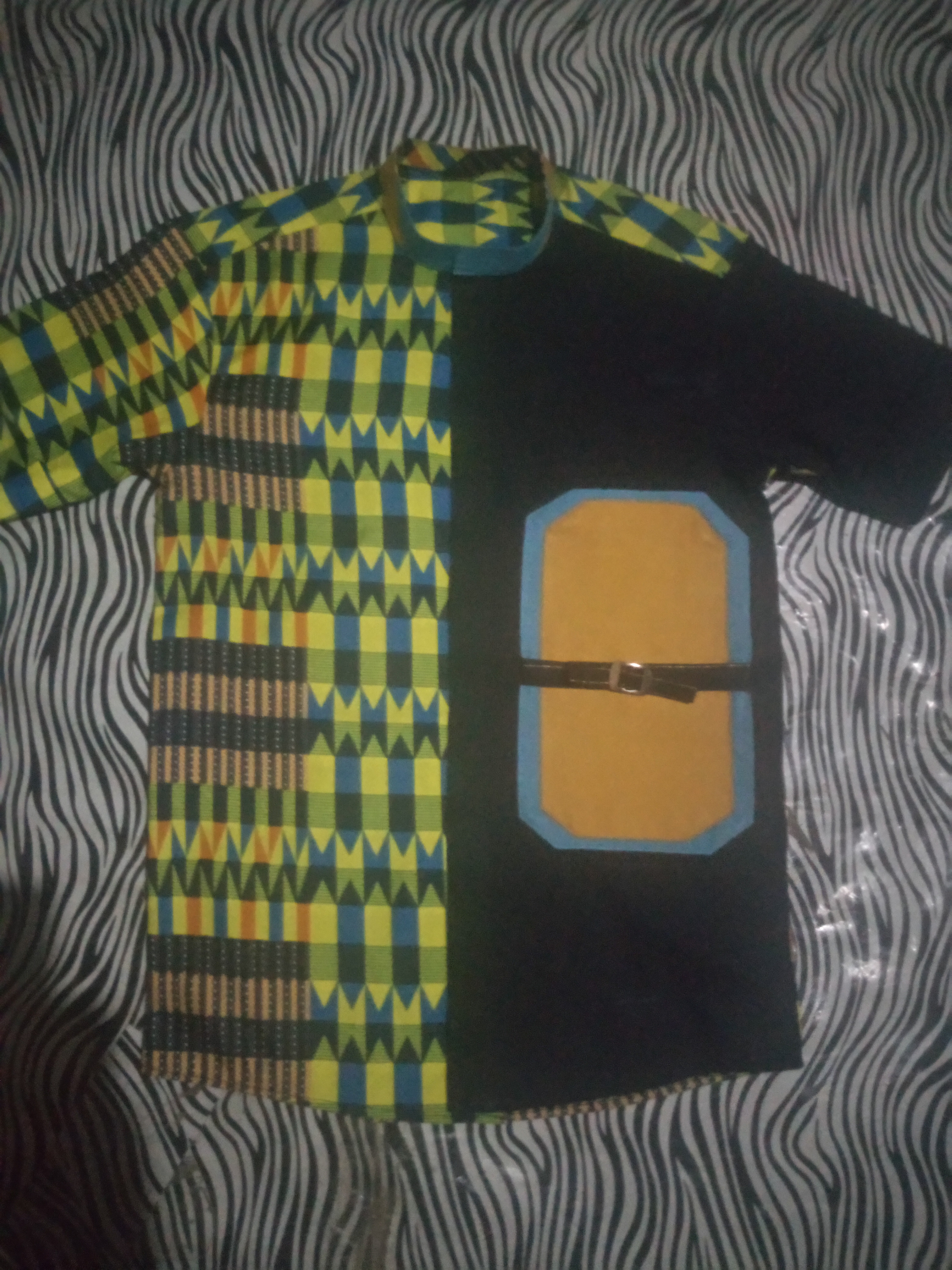 Like i said in my last post there lots of things am going to be sharing, by God's grace am fully loaded to exhale, i only need you guys to walk with me so we can "explore the world" its takes two and more tangle, i believe we can succeed!!! wishing you guys a prosperous day ahead, #keep exploring 😊
Bye for now see you guys in my next post soon.