Hello!! Good evening My Beautiful people,trust we're doing perfectly well? Am not doing bad either 🤗infact am so very happy 😀 from yesterday's event something happened, yesterday was one of the best and memorable day of my life I would never forget, I know someone is already wondering 🤷 what happens yesterday that am so excited about😁. Yesterday I was at home when my phone rang and I picked, actually I didn't know who it was because it wasn't stored in my phone, like I said I picked, the person introduced himself and said he's calling from @merchant collections, that I should come over to there office when I went there, to confirm my suspicions they bagged a massive deal with my brand @Smilestitches😊 and I was like 😱 really? Because this fashion house is one of the best outstanding fashion house here, they deal on men wears like, *Senior wears.
*Shirts.
*Suits.
*Men accessories like wrist watches, rings, wrist bands.
*Traditional attires with full accessories.
Now this @merchants collection they partner with fashion designers, get there least designs showcase it as well selling it at a very high standard prize, for example you might design a very lovely cloth that's worth $20,000 just because you don't have a brand to market it on a high standard for you, your regular customer might just come for that same design at the rate of $4, 000 how cheap , but if you have a brand like @merchant collections to market your designs, a design worth $20,000 they would showcase it on a very high standard level and sell it for $30,000 and give you $20,000 while they take the rest depending on your agreements, so its a win win to the both sides and I was very happy for there offer and I accepted it. Funny enough they don't partner forever, they might just partner with you for a period of 6months or a year depending on how enticing your designs are. So here is my first design i made for them, using there industrial machine it was fun tho😁👇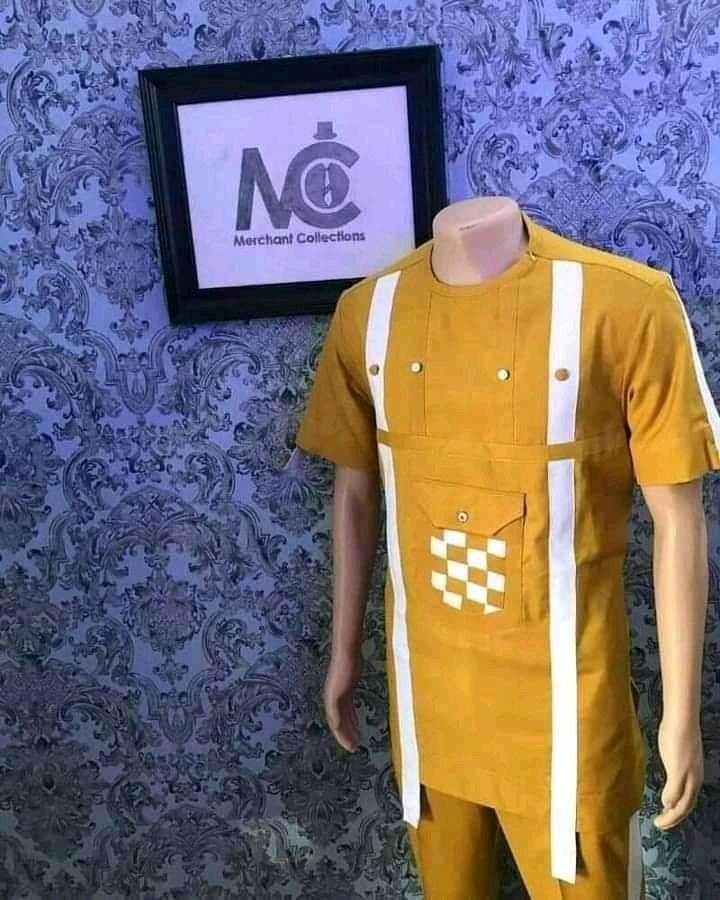 I made this using there industrial machine, I would be sharing how I got this done, tho dew to the limited time I had to deliver the cloth to them I couldn't take much pictures but with the little I took I would make full explanation to everyone's understand that I promise.
FIRSTLY:
         I sorted it two matching colors which is the Gold and the plain white material, after  sorting them out, I proceed to the cutting of the gold to the measurement I had with me, after my cutting, like I always say in my post that before starting any design after  cutting the  front out, you bend it together, iron out a straight line in the middle to help centralized any design your putting on the front. 

SECONDLY:
I took the gold material i bend it into two i cut out 2inches size and 15inches length, for the neck piping and after that i took the white material i cut out 2inches sizes and 37inches length because the white will be longer then the normal length of the cloth, I cut out 2, I took it to the iron, I bend both sides by half inches inside now am left with 1inches just the size I needed for my design because it shouldn't be too big but that's just my choice and you might choose for yours to be much bold it's your choice just how you'll end up loving it. So after ironing out the sizes i wanted, i placed them on the front of the cloth and sewed them using a white thread very important, then i cut out the gold too and did the same thing too👇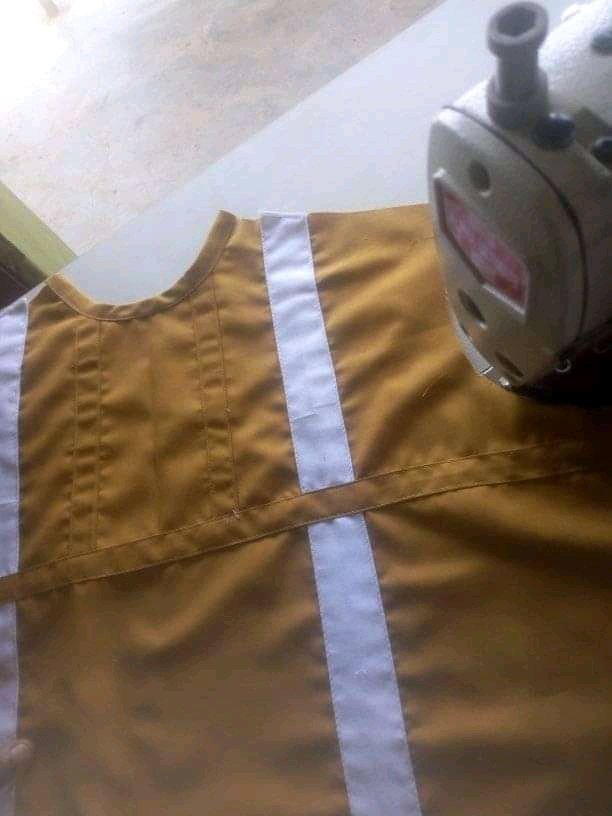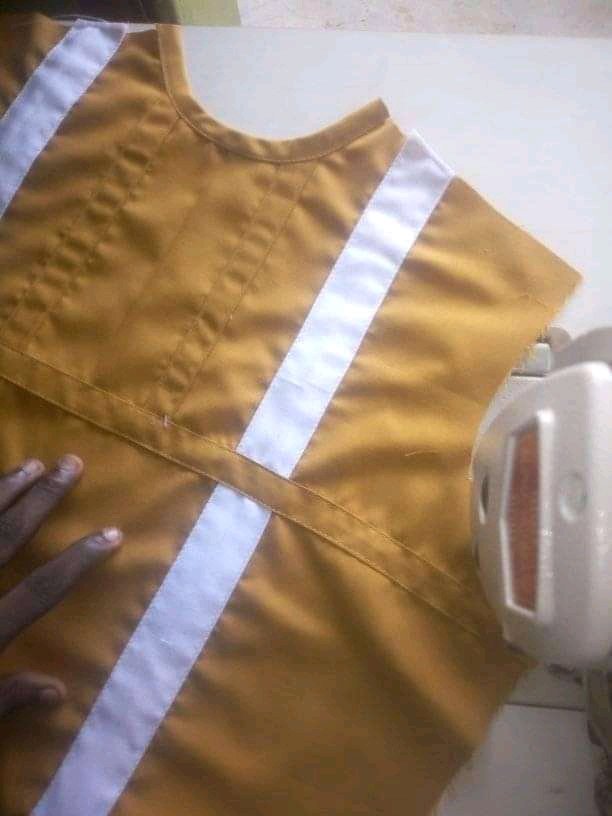 THRIDLY:
i cut the gold material size of 6inches,length of I turned the back view and i use my pencil to sketch out the pocket size and I drew a line and place a small piece in front of it I sew it following the size of the line I drew at the back while the pieces was at the same spot in the front after I finish sewing I turn it to the front and cut it out, I used my iron to iron the pieces to the back view giving me a loving space for my pocket fixing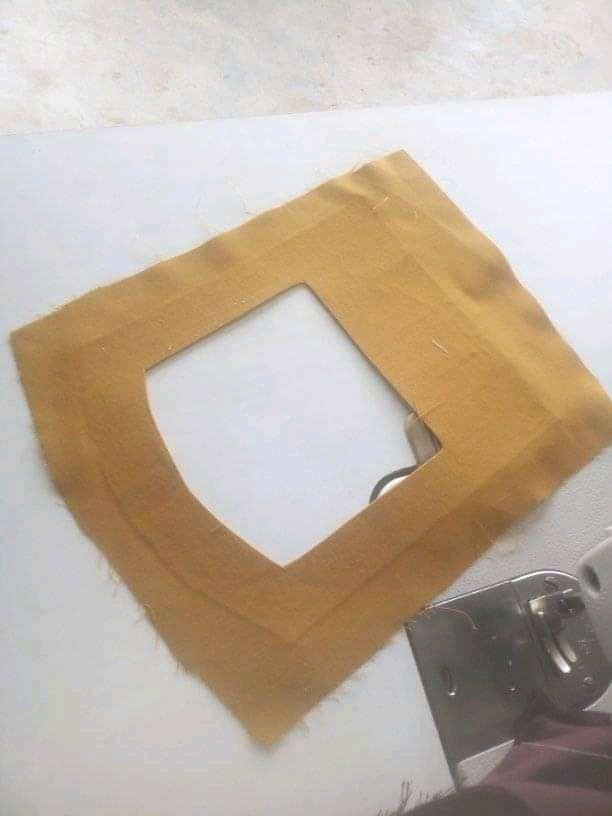 Then I cut out the white material 1inches size, length of 40inches, I use same measurements to cut the gold too, then I bend the white to the back and sew it and pull it out to the front and I did same for the gold. After that I cut them 8inches each and its much then I place it and Crafted it like a mat, I still remember my minor days in school, I was once given an assignment to craft a mat use in sleeping that where I got the inspiration to craft this mat👇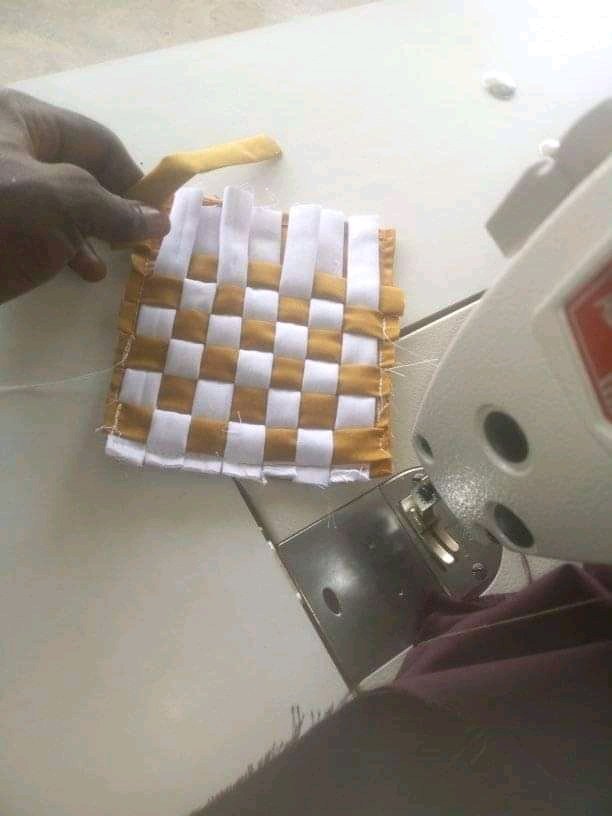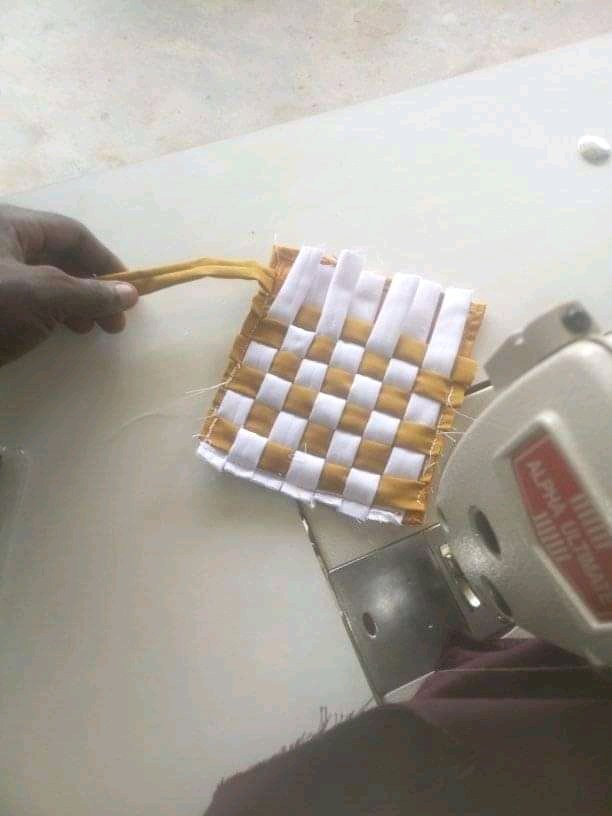 STEP FOUR:
   After the mat had been crafted I then fix it to the opening I made and I sewed it together 👇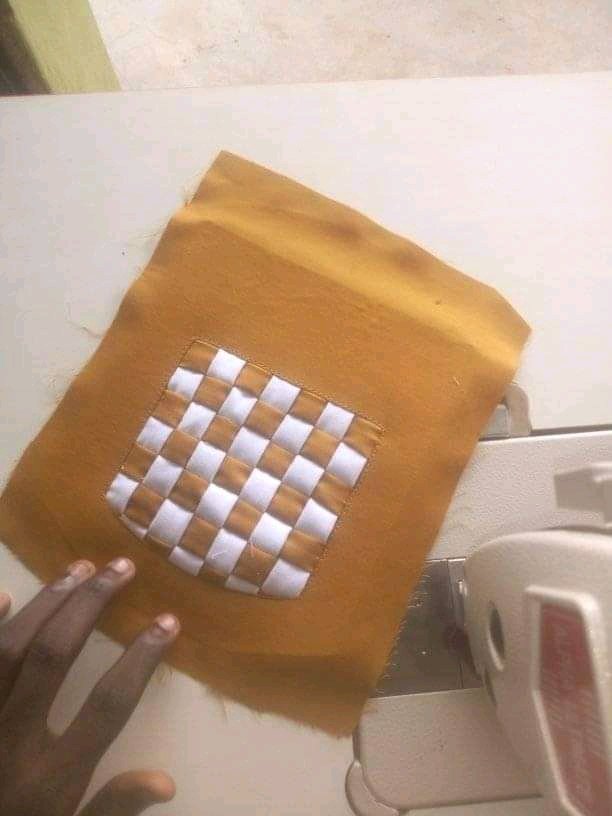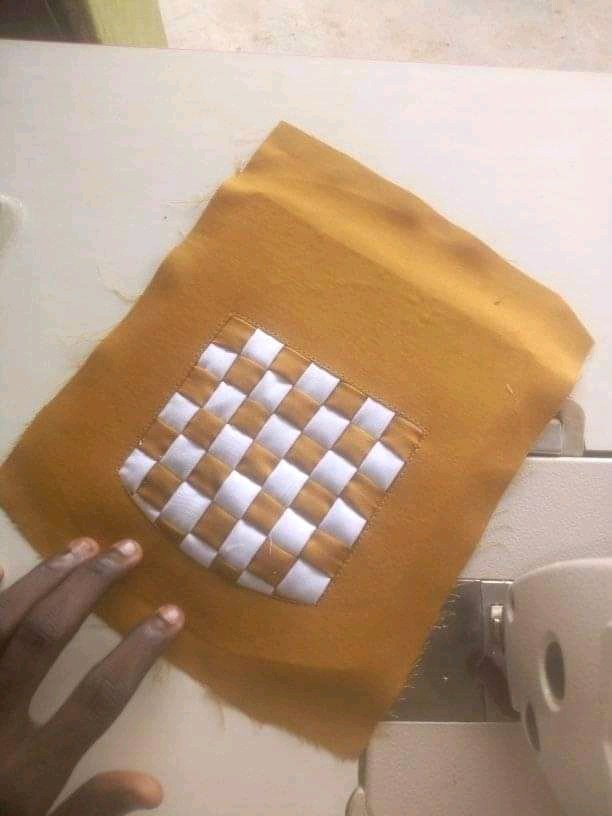 FINAL STEP:
  I placed the finished mat to the front and then boom!, just like that my design was completed. I then join the back to the front, I put a readymade zip in the left shoulder and I trim it, I fix the sleeve and join the both sides, I bend the length along with the dangling whites and with those five(5) steps my design was a success.

Thanks for reading, i love you all keep exploring my amazing designs😊