One of my favourite pairs of jeans I've had for 14 or 15 years. When they first started to develop holes in the knees, you can bet I was going to look at repairing them before that hole turned into a split which ran all the way across the front panel, as they do if you continue to wear them without repairing. I didn't want to just sew an unappealing patch there, so I decided to try and design something that would tie in with the patterns and embroidery which already existed on the back and around the pockets.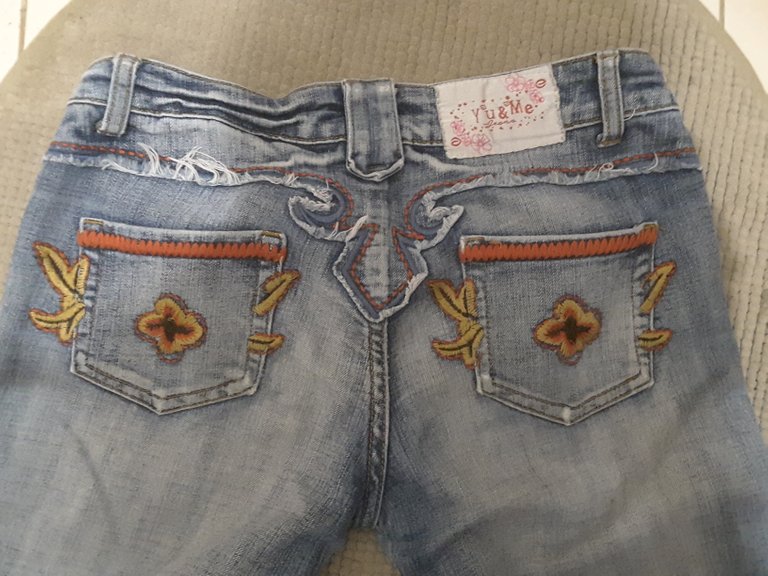 The original patterning
I decided to cut the patches into a pattern similar to the shape in the middle of the back waistband, with a little creative license in order to get a bit more width. I had some cheap, foam children's sandals at the time which were falling apart sooner than I'd have liked, so I tried to salvage what I could from them and the unpicked thread was what I used to attach one of the patches, the pinkish edged one. I don't recall what I dug out for the other one.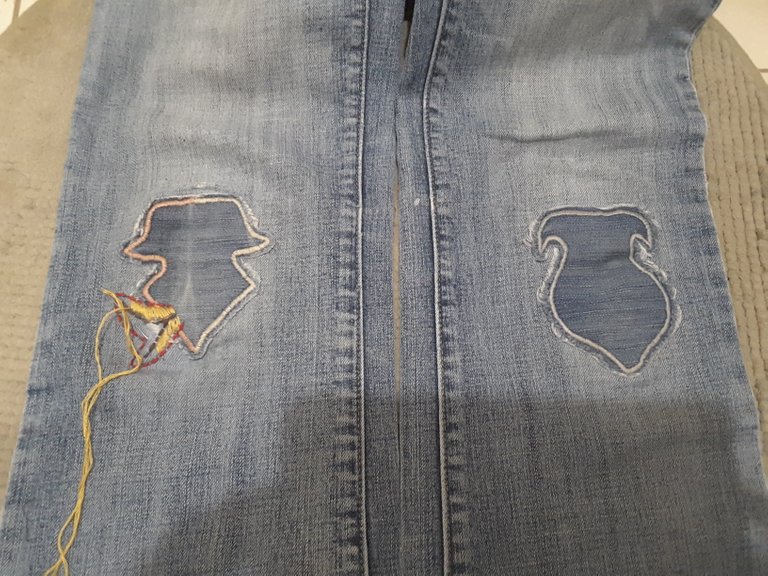 I forgot to take a photo before my recent mending, but they were originally just plain patches.
I got a couple more years of wear out of them before they started to thin and threaten holes around the edges of these patches. Holes also developed at the top of the thighs.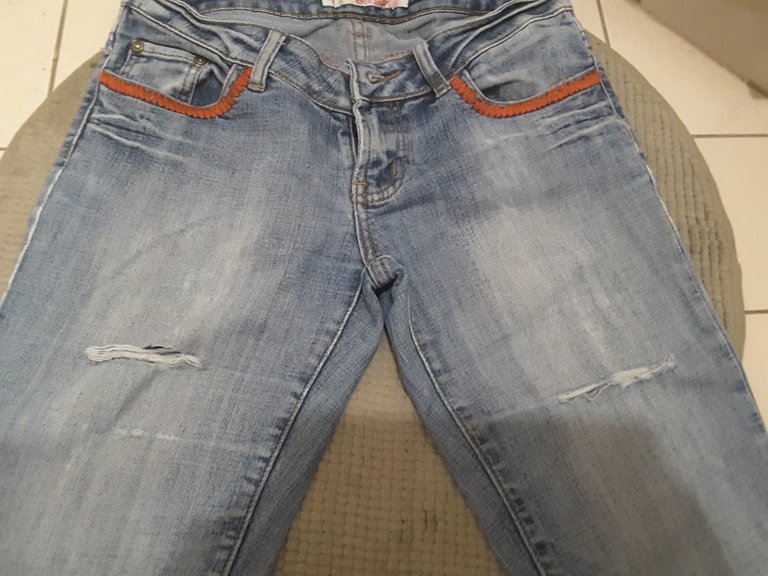 They were put aside for scrap until recently, when I decided it was worth trying further repair. I was hoping for a quick fix by expanding via embroidery around the current patches to match the original embroidery on the back pockets and using this to attach reinforcing patching from the back. I then added some more shaped patches over the holes developing at the thighs.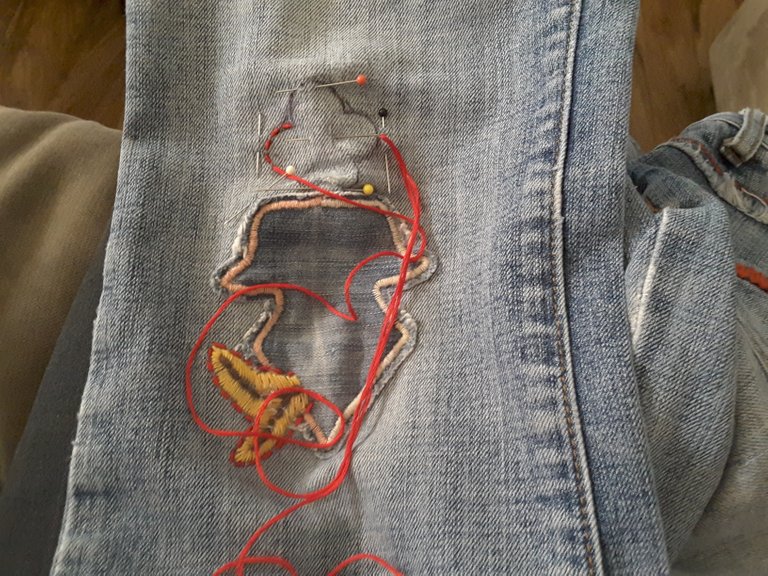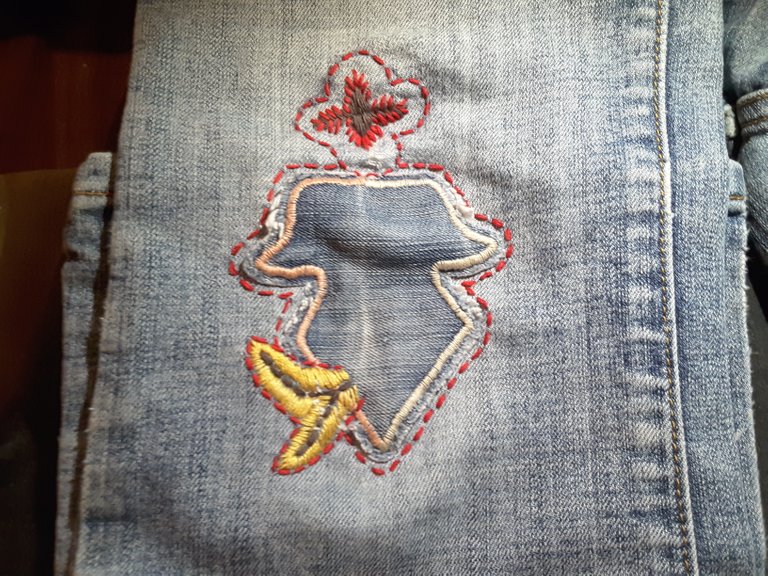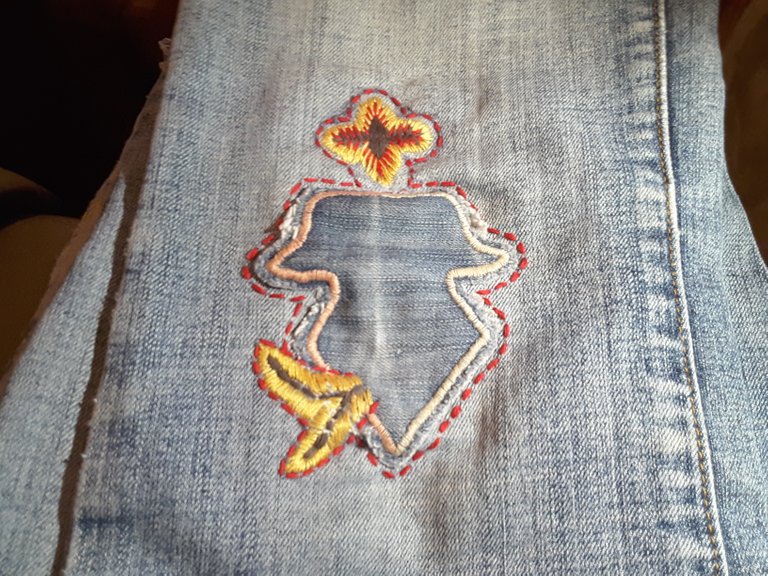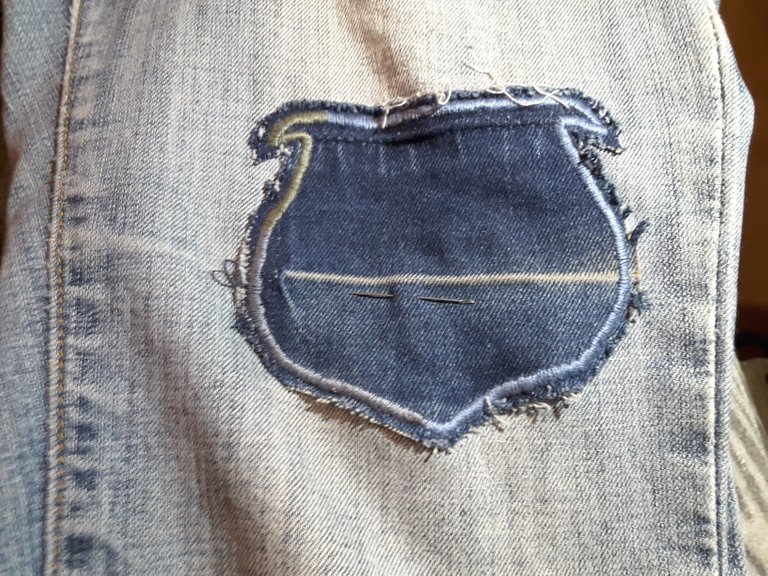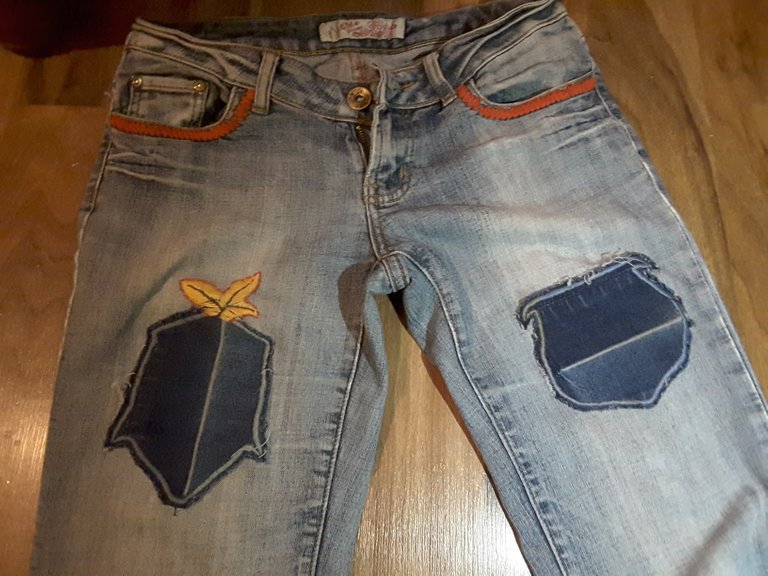 These patches were taken from the bottom hem of some old jeans. I like to try and utilise as much of the old fabric as possible and I thought the worn fold line make an interesting feature.
Unfortunately, the jeans were reaching that stage of wearing where they were starting to give in multiple places, so I only wore them a few more times before they were in need of further repair. By this point it was going to start looking messy if I carried on trying to patch and embroider in the way I had been doing up until now. I realised that the sashiko mending style was really the only way to continue and keep it from looking like I was walking around in a patchwork quilt (not really my style).
I wanted a pattern to cover a large area quickly and look like it was in the background of the work already done. I searched for leaf patterns and came across some swirls which looked a little like wind patterns. It was easy enough to improvise a bit and tailor to suit, plus I could draw the pattern freehand as I went. I decided on white embroidery, so it wouldn't take over and would support rather than clash with the current work. I also had plenty of it in the form the threads used for sealing chicken feed bags, in addition to a huge spool of embroidery thread that had been given away in the local Buy Nothing Group.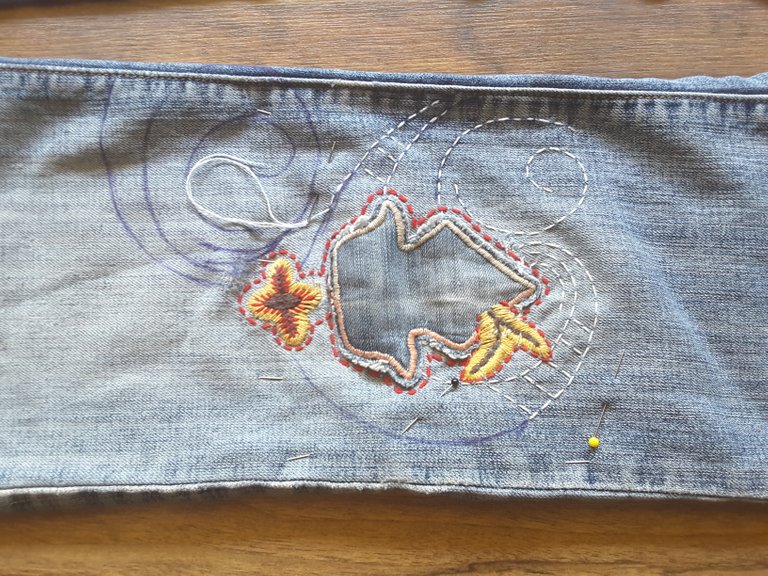 I had some large patches of denim from some jeans where the zipper had broken and were a little on the small side anyway. Okay, I admit it, I put on weight and bust the zip trying to squeeze into them. This was easier in one way to work with than multiple smaller patches, but I had to be extra careful to pin it in place well before hand, or it would move while I was sewing and get scrunched up and denim ridges aren't comfortable to wear. On the plus side, I didn't have to worry too much about having enough stitching close together to keep all the edges in place, like I would have if using multiple smaller patches. So I could cover a large area faster.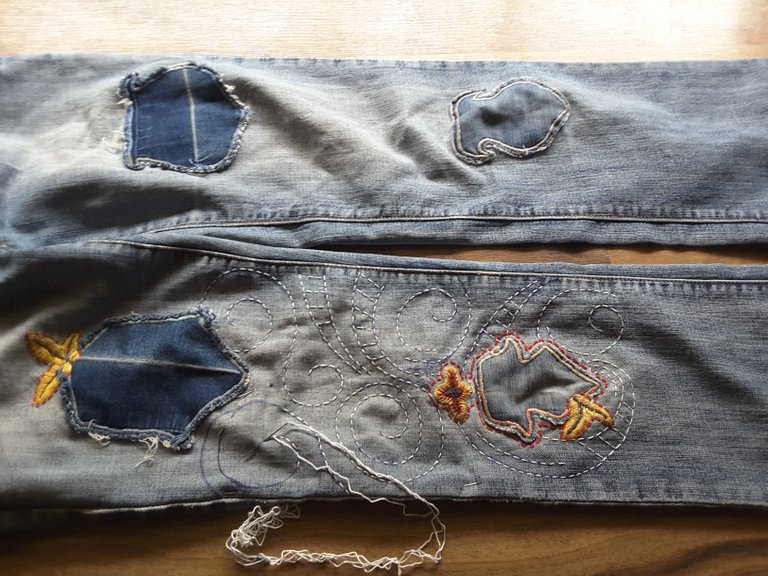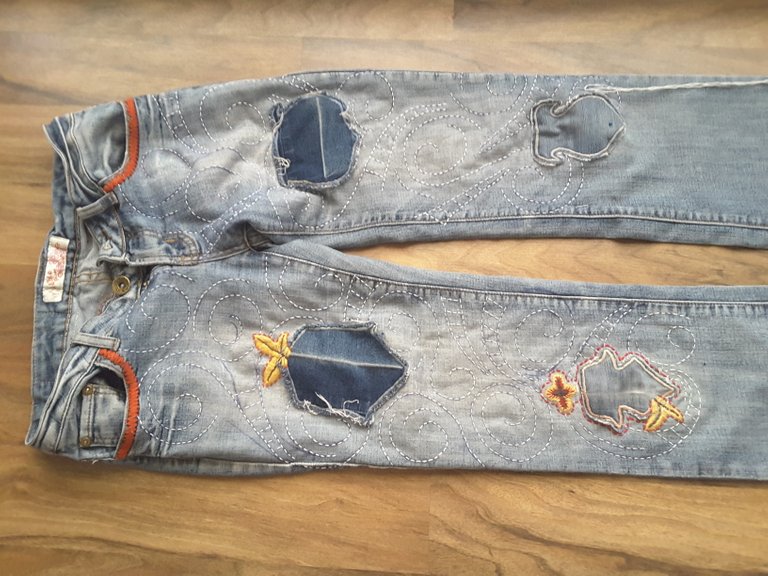 It was so much quicker that I forgot to taste more progress shots.
As always, I used a biro for marking out the pattern. It usually washes out after a couple of washes, although it's still looking fairly strong after the first one, this time. I wanted to add a bit more of the yellow and red flowers and leaves, but I ran out of yellow. Something to add at a later point, maybe, if I come into possession of any more.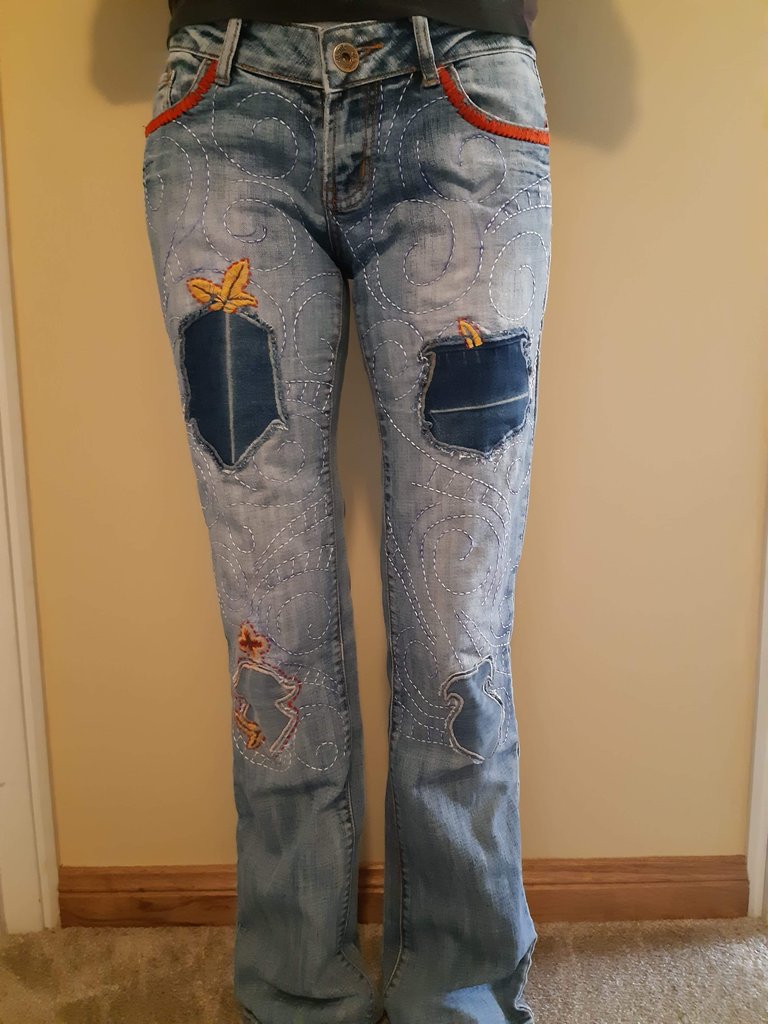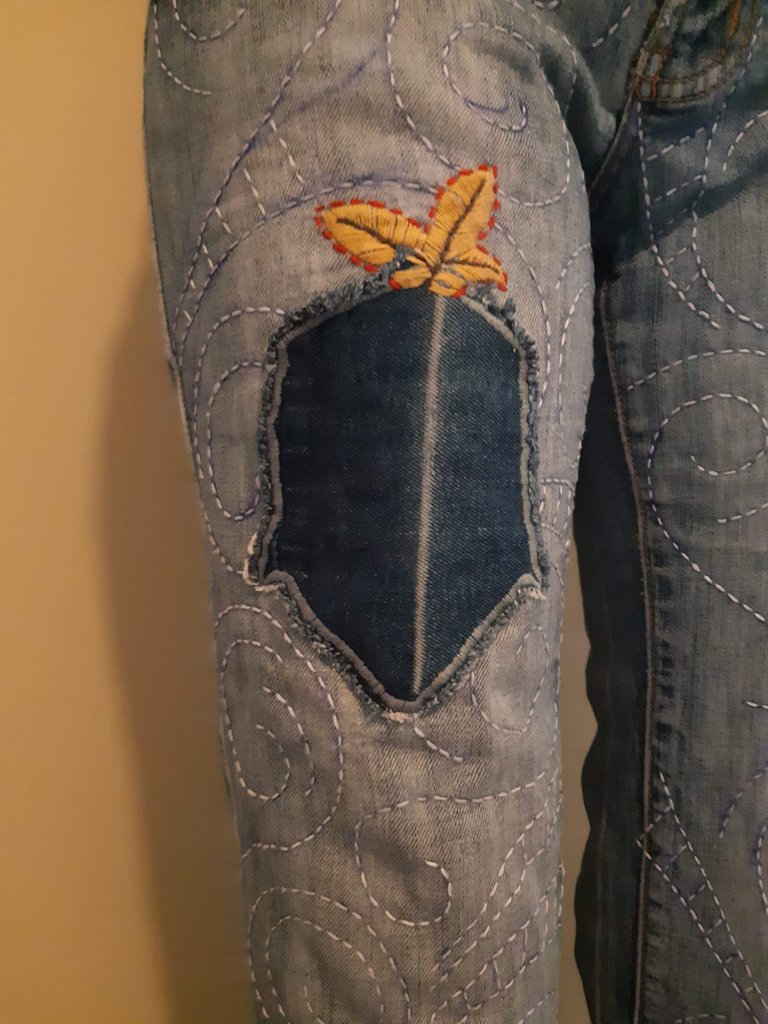 ~○♧◇♡♤♡◇♧○~
---
You can also find The Miniature Smallholding on:

Many thanks to @izzydawn for the last three photos.