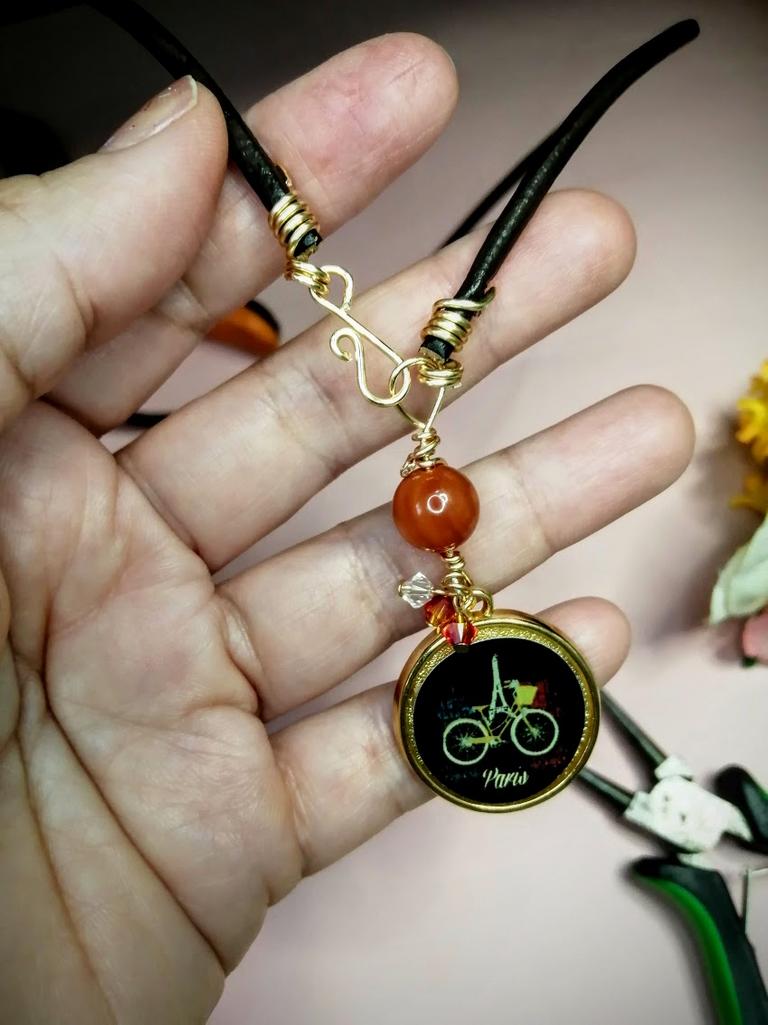 ---
Se acerca un día muy especial para todas las madres, en Venezuela, se celebra el segundo domingo del mes de mayo (este año corresponde justo un día después de mi cumpleaños), y es por ello, que debido a la doble celebración, quiero presentarles a todos ustedes la elaboración de una prenda sencilla y delicada para realizar y obsequiar al ser que más amamos. Acompáñenme en este bonito tutorial, hecho en Venezuela con amor..!
---
A very special day is approaching for all mothers, in Venezuela, it is celebrated on the second Sunday of May (this year it corresponds just one day after my birthday), and that is why, because of the double celebration, I want to present to all of you the elaboration of a simple and delicate piece of jewelry to make and give as a gift to the one we love the most. Join me in this beautiful tutorial, made in Venezuela with love!
---

---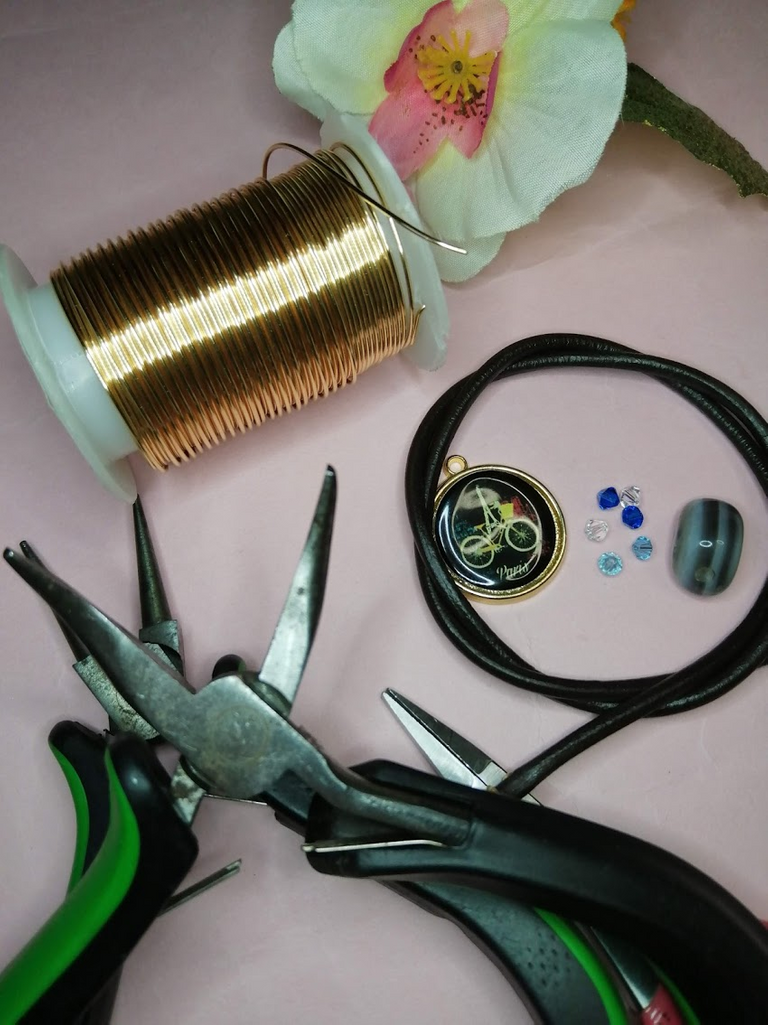 Materiales a Utilizar:
50 cm de Cuero de 0.5mm
Hilo de bisutería calibre 18 y 20 (cantidad necesaria)
Un dije
Un Cuarzo u otra piedra natural
Cristales de Swarovsky
Alfileres de bisutería
Herramientas de bisutería: Pinzas plana, punta redonda, corte, silicón.
Cariño y paciencia..
---
Materials to be used:
50 cm of 0.5mm leather.
18 and 20 gauge jewelry thread (quantity needed)
A pendant
One Quartz or other natural stone
Swarovsky crystals
Fashion jewelry pins
Jewelry tools: flat tweezers, round tip, cutter, silicone.
Love and patience...
---

Procedimiento a seguir:
Terminales del Cordón
Con la pinza redonda, realizamos 3 vueltas en el extremo del carrete de nuestro hilo de bisutería nro. 18, luego procedemos a cortar aproximadamente 10 cm, tal como se muestra en la fotografía.
---
Procedure to follow:
Cord terminals
With the round pliers, we make 3 turns at the end of the spool of our costume jewelry thread no. 18, then we proceed to cut approximately 10 cm, as shown in the picture.
---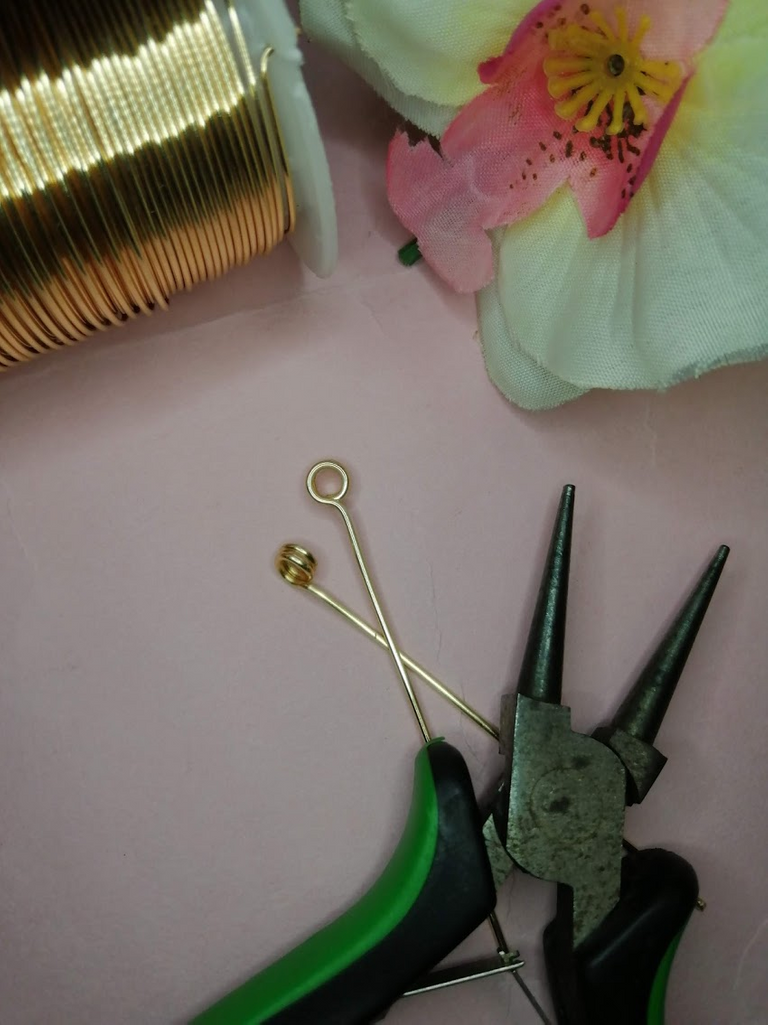 ---
---

---
---
Ahora, tomamos el extremo de nuestro cordón de cuero y suave pero firmemente abrazamos el alambre en el cordón.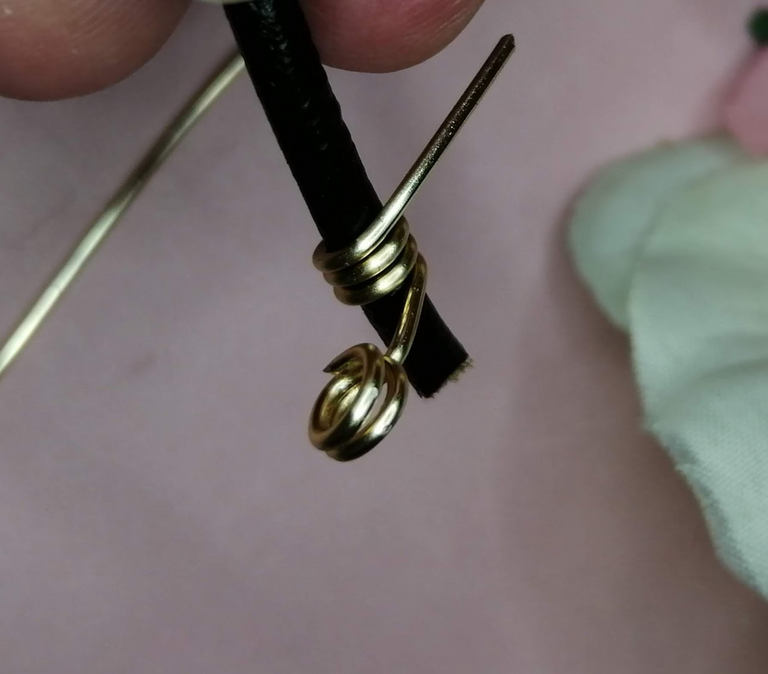 Now, we take the end of our leather cord and gently but firmly wrap the wire around the cord.
---

---
Con el extremo del hilo de bisutería, realizamos un pequeño bucle o aro, a fin de ajustar muy bien las terminaciones.
---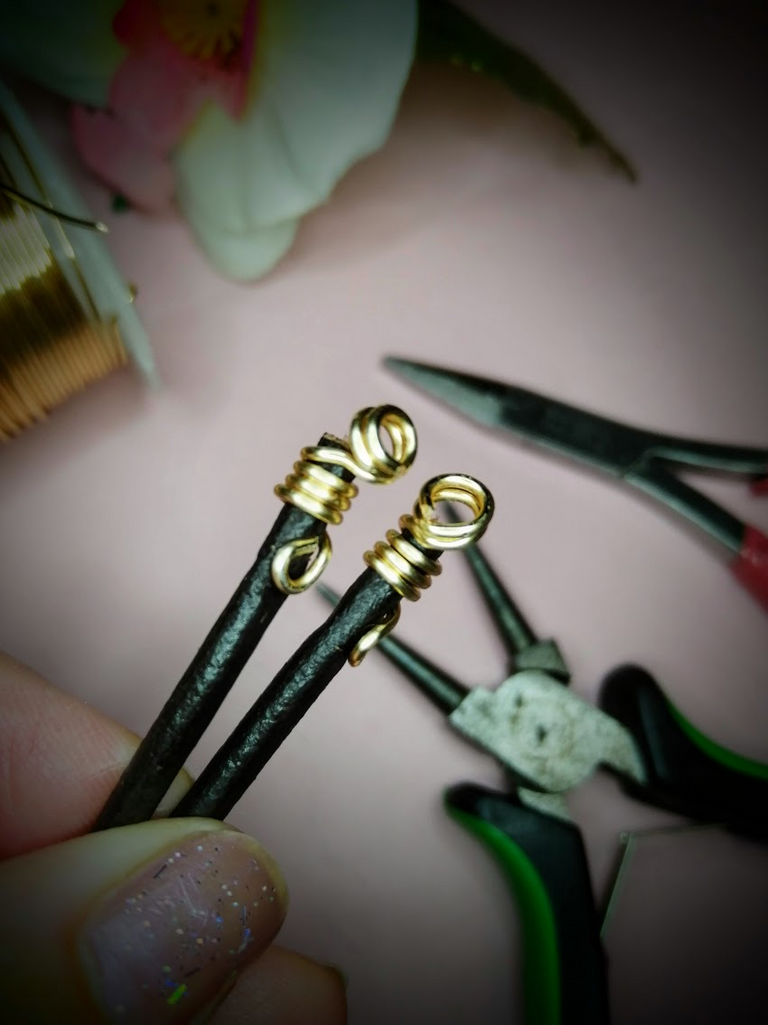 ---
With the end of the bijouterie thread, we make a small loop or ring, in order to adjust the ends very well.
---

---
Motivo Central
Una vez que realizamos los terminales del cordón de cuero, vamos a proceder a realizar el motivo central de la pieza. Tomamos nuestro dije y colocamos en el hilo de bisutería nro. 20 (puede ser nro. 22 también), formamos un aro sin terminar y agregamos el cristal de roca que hayamos elegido.
---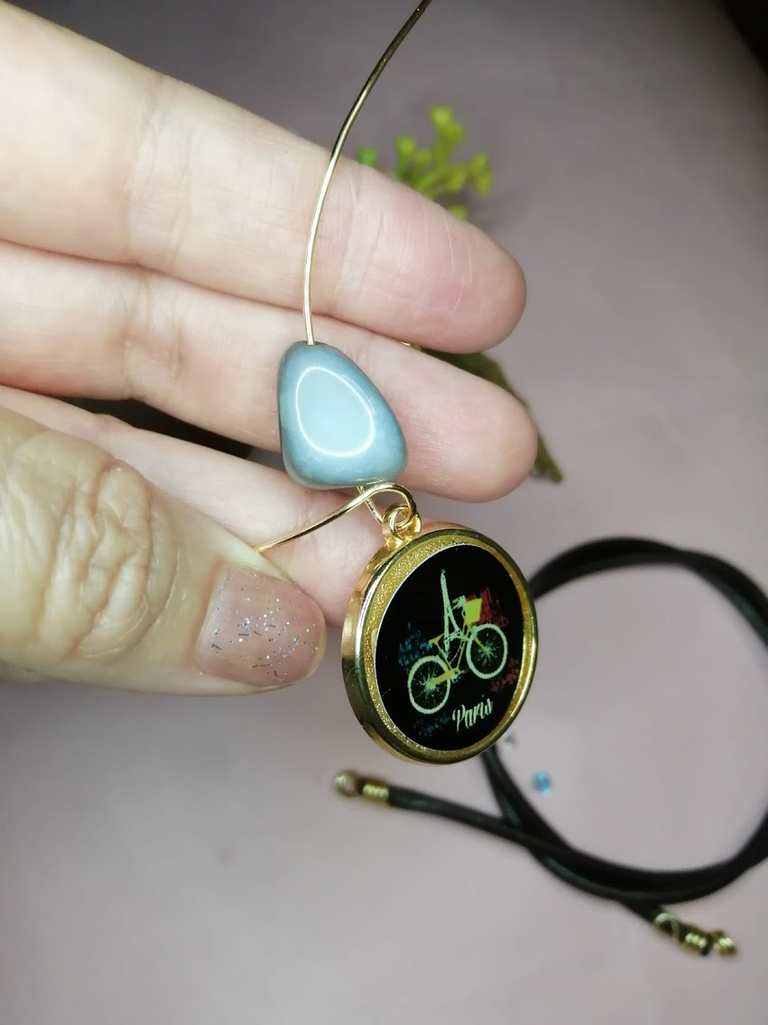 ---
Central Design
Once we have made the leather cord terminals, we will proceed to make the central motif of the piece. We take our pendant and place it on the jewelry thread no. 20 (it can also be no. 22), form an unfinished ring and add the rock crystal we have chosen.
---

---
Con mucho cuidado vamos a ir envolviendo nuestro motivo, asimismo, realizamos los ajustes en el hilo de bisutería y unimos nuestro motivo principal al cordón que hemos realizado previamente. Debemos realizar un aro lo suficientemente amplio para que podamos engarzar el terminal de cierre.
---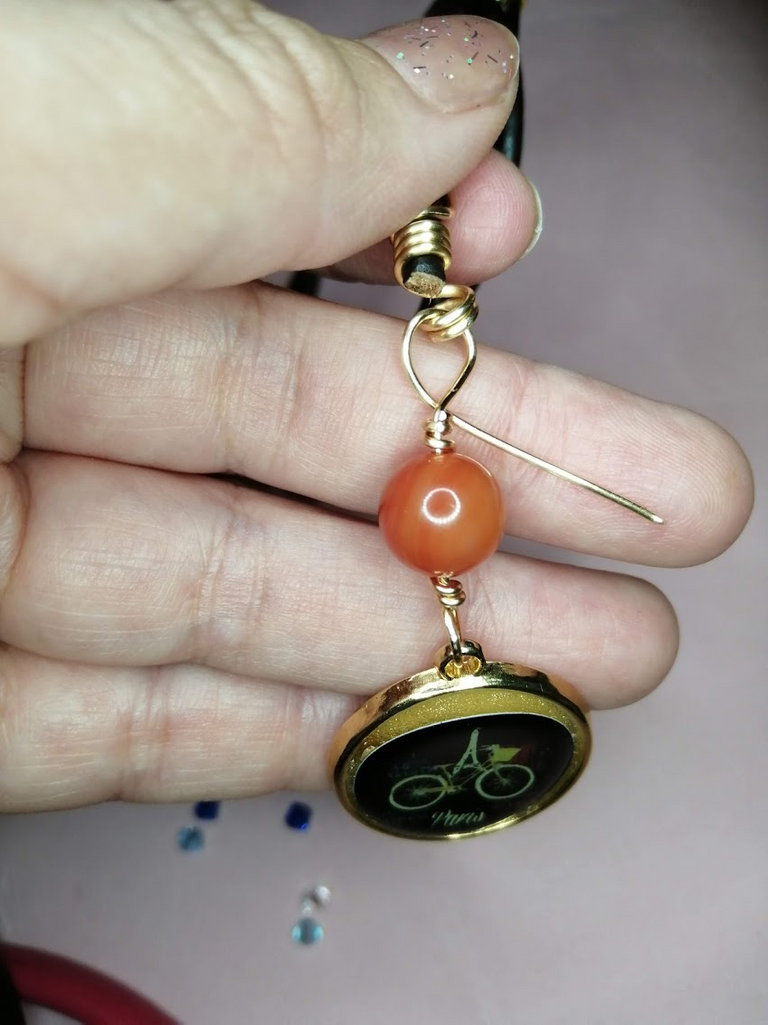 ---
We are going to wrap our motif very carefully, and we also make the adjustments to the costume jewelry thread and attach our main motif to the cord that we have previously made. We must make a ring wide enough so that we can crimp the closing terminal.
---

---
Terminal de cierre
Con ayuda de nuestra pinza de punta redonda, realizamos un delicado terminal con hilo de bisutería nro. 18, a fin de poder cerrar nuestro collar.
---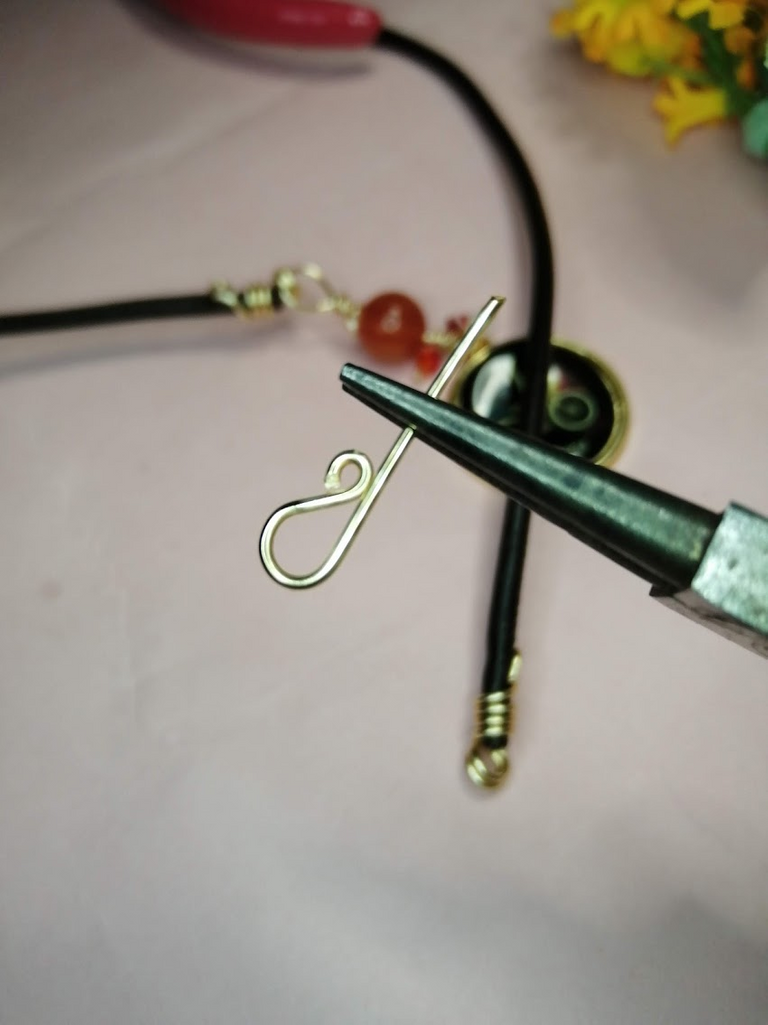 ---
Clamping terminal
With the help of our round nose pliers, we make a delicate terminal with costume jewelry thread no. 18, in order to be able to close our necklace.
---

---
Detalles Brillantes
Seleccionamos cristales de Swarovsky y con los alfileres de bisutería, realizamos unos topitos, para colocar en nuestro motivo principal.
---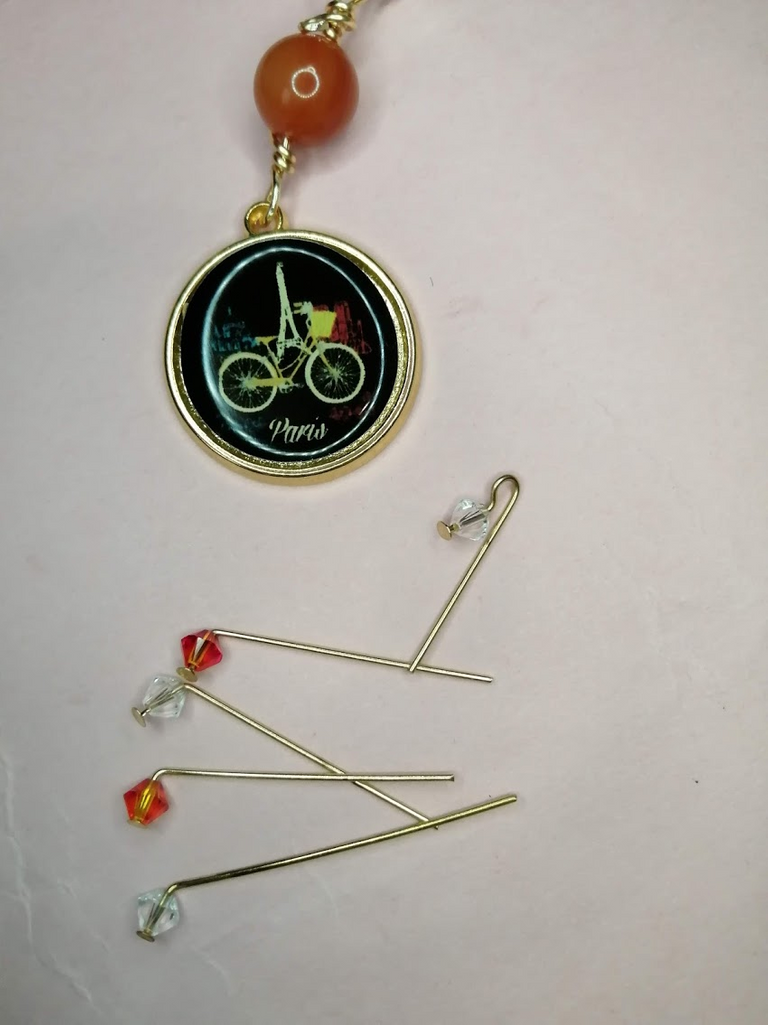 ---
Shiny Details
We selected Swarovsky crystals and with the jewelry pins, we made some polka dots, to place on our main motif.
---

---
Ensamblaje final
Ya lo que resta, es colocar todas las terminaciones y detalles en su lugar y ya hemos terminado nuestro bonito collar para las madres en su día.
---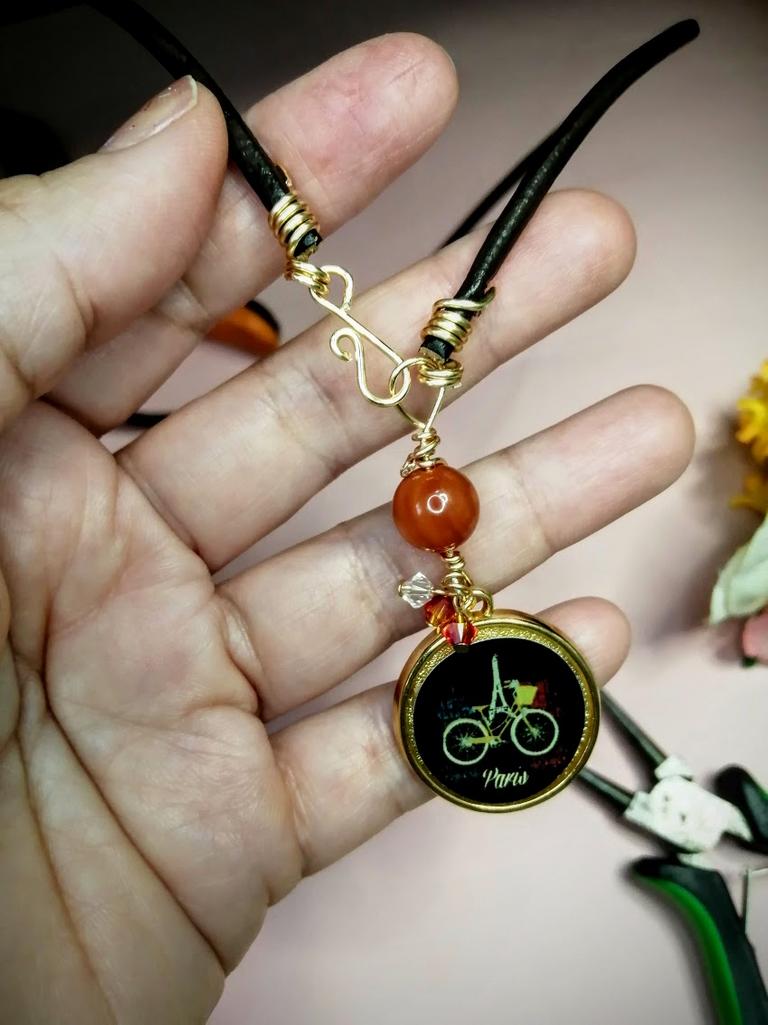 ---
Final assembly
Now all that is left is to put all the finishing touches and details in place and we have finished our beautiful necklace for mothers on her day
---

---
De esta manera, hemos finalizado un tutorial lleno de cariño para todas las madres de HIVE, deseando que tengan un fin de semana lleno de amor junto a sus hijos; soy @leticiapereira y quiero desearles muchas bendiciones y sobre todo salud; cuídense mucho y nunca dejen de sonreír..!!
In this way, we have finished a tutorial full of love for all HIVE mothers, wishing you a weekend full of love with your children; I am @leticiapereira and I want to wish you many blessings and above all health; take care of yourselves and never stop smiling...!!!!

@leticiapereira
Camera: HuaweiY9
Location: Edo. Miranda, Venezuela