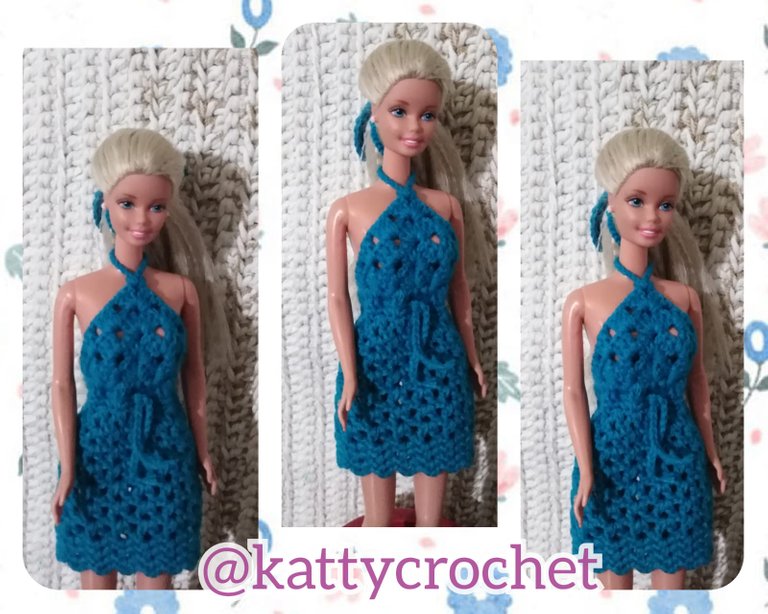 ---
Hola mis queridos needleworkers, estoy feliz de volver a compartir otro lunes de agujas con ustedes, ya que he estado un poco ausente. Sin embargo, he estado muy activa tejiendo nuevos proyectos que espero pronto poder compartir en mi blog.
Por ahora les traigo un nuevo vestido que he tejido el día de hoy para mi muñeca kalany, es un vestido ideal para los días calurosos propios del verano, pero en esta ocasión es un diseño propio algo improvisado que fue surgiendo a medida que iba tejiendo, el resultado me encantó y como pueden ver, Kalany también esta muy feliz con su nuevo outfit.
Hello my dear needleworkers, I am happy to return to share another needle Monday with you, as I have been a little absent. However, I have been very active weaving new projects that I hope to be able to share on my blog soon.

For now I bring you a new dress that I have knitted today for my kalany doll, it is an ideal dress for the hot days of summer, but this time it is a somewhat improvised own design that emerged as I was weaving, I loved the result and as you can see, Kalany is also very happy with her new outfit.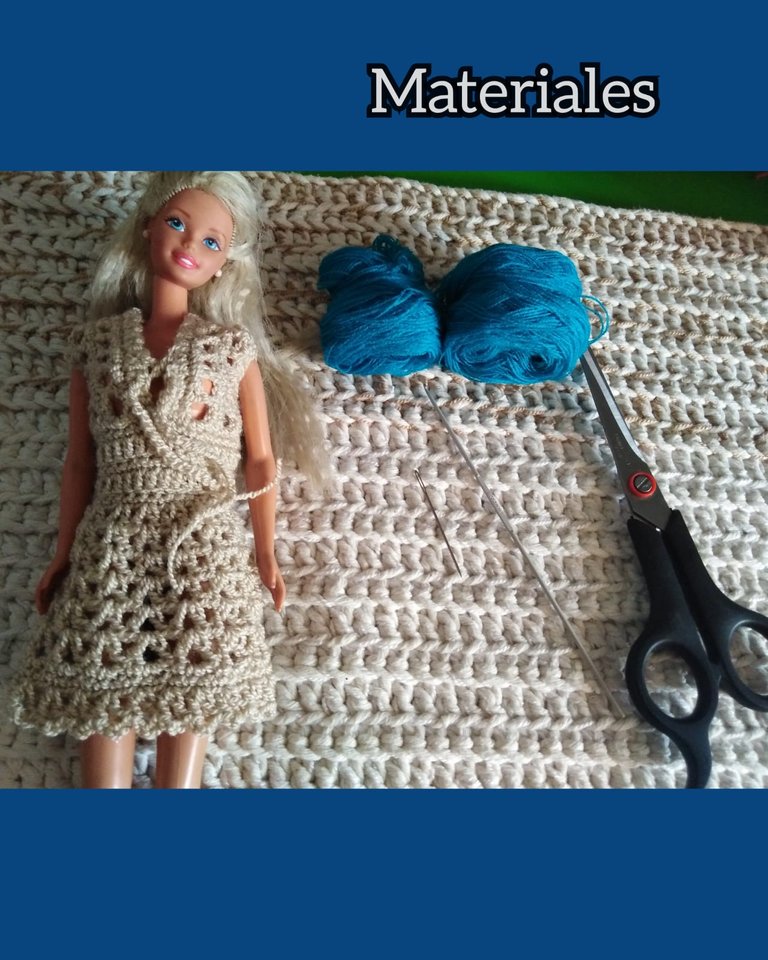 | Materiales | Materials |
| --- | --- |
| Hilo acrílico | Acrylic yarn |
| Tijeras | Scissors |
| Agujas para crochet | Crochet hooks |
| Aguja Lanera | Wool needle |

---
PASO A PASO / STEP BY STEP
La primera parte de este vestido es un top elaborado en forma de triángulo, que se realiza muy fácil siguiendo el diagrama que les muestro en la imagen a continuación.
The first part of this dress is a top made in the shape of a triangle, which is done very easily by following the diagram that I show you in the image below.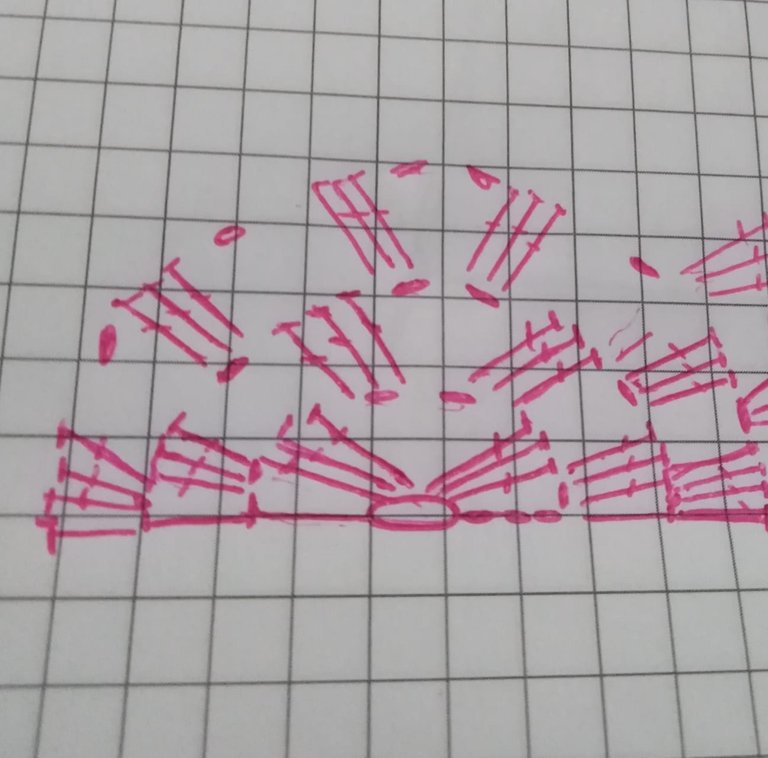 Tejiendo como lo indica el patrón, vamos a completar 4 vueltas que es el tamaño adecuado para el busto de la Barbie.
Knitting as indicated by the pattern, we are going to complete 4 rounds which is the right size for Barbie's bust.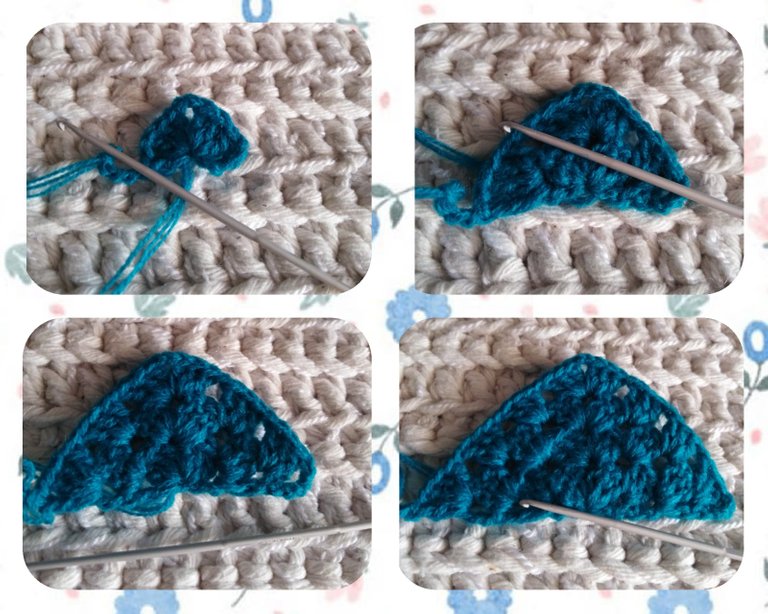 Luego tejemos una cadeneta en uno de los extremos del triangulo y la unimos al otro extremo de manera que rodee el torso de la muñeca, se tejen 2 vueltas de puntos bajos para comenzar a tejer la falda.
Then we knit a chain at one end of the triangle and join it to the other end so that it surrounds the torso of the doll, 2 rounds of single crochets are knitted to start knitting the skirt.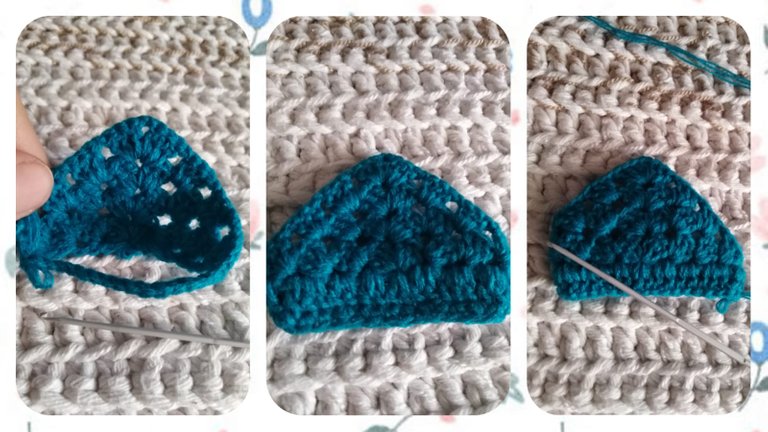 Para tejer la falda un poco holgada, hacemos puntos "V" formados por 2 puntos altos separados por 2 cadenetas, en todas las vueltas hasta lograr el largo deseado.
To knit the skirt a bit loose, we make "V" stitches in all the rounds until we achieve the desired length.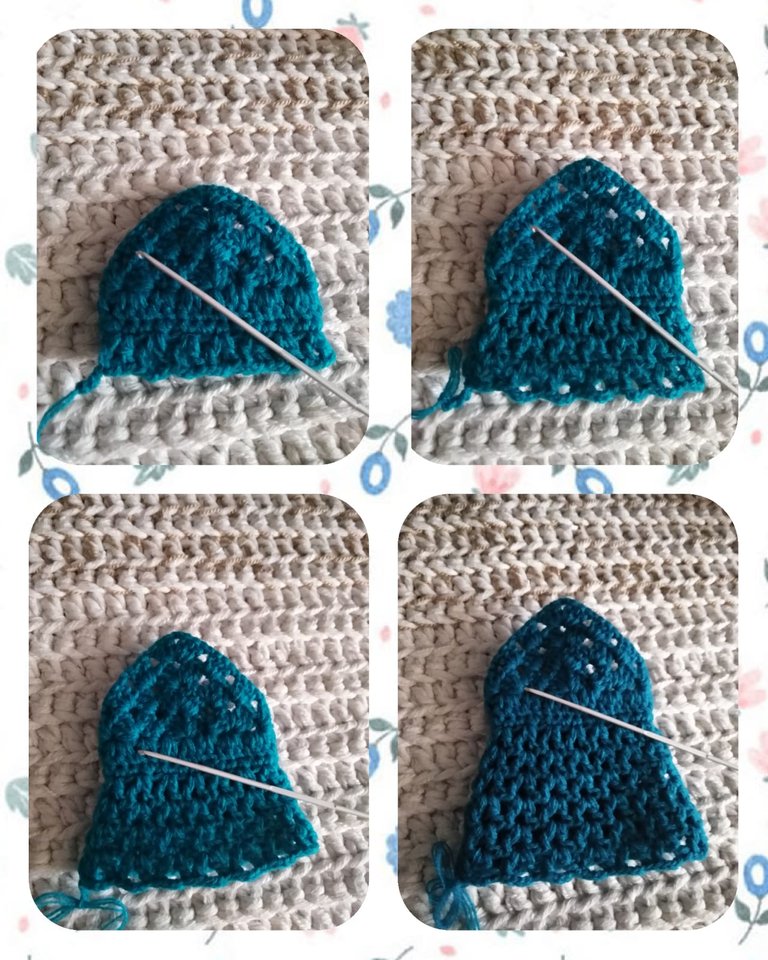 Para el borde de la falda se tejen tres vueltas de puntos "v" esta vez con 2 puntos bajos separados por 3 cadenetas. Esto le da un acabado tipo zig zag que me gusto mucho.
For the edge of the skirt, work three rounds of "v" stitches this time with 2 single crochets separated by chain 3. This gives it a zig zag finish that I really liked.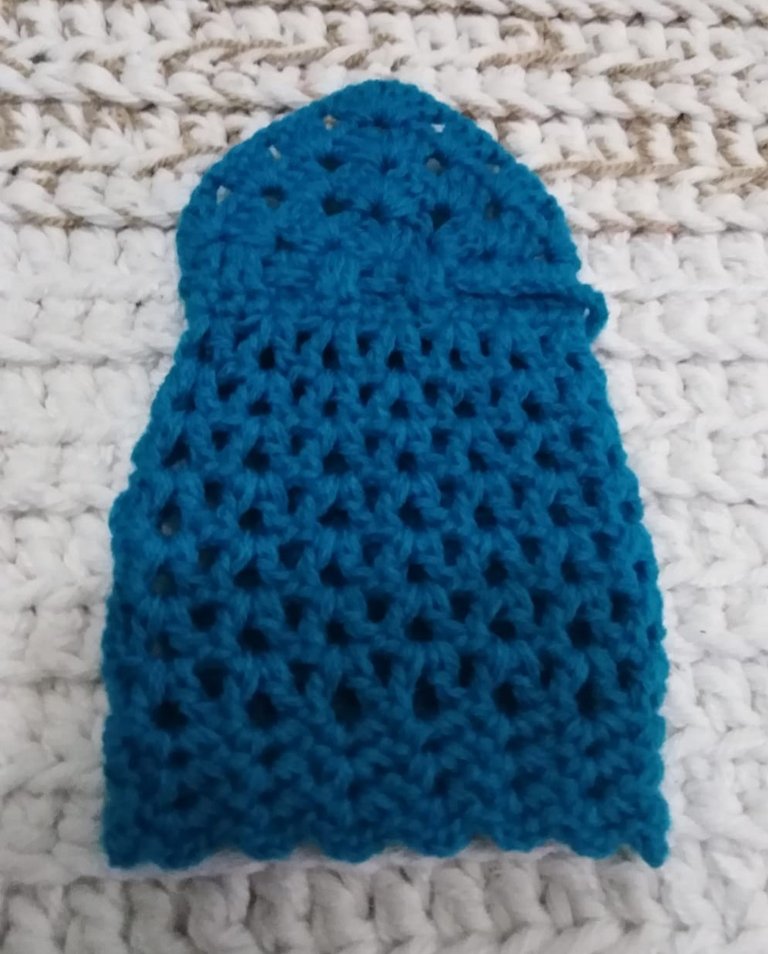 Para finalizar tejemos 2 pequeños cordones de puntos cadenas, uno para el cuello y otro para la cintura.
To finish we knit 2 small cords of chain stitches, one for the neck and the other for the waist.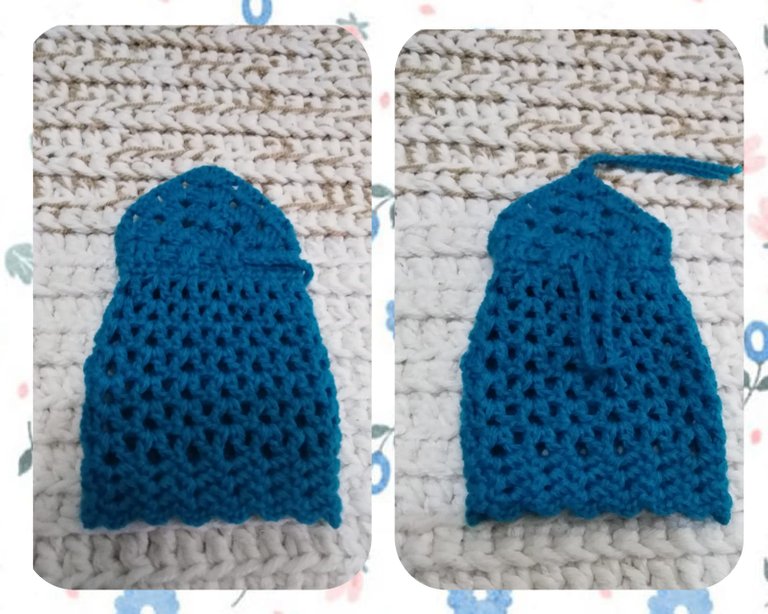 El resultado es un vestido muy fresco, con un escote muy bonito. Espero que les guste tanto como a mí. Gracias por leer y hasta un próximo post.
The result is a very fresh dress, with a very nice neckline. I hope they like it as much as I do. Thanks for reading and until a next post.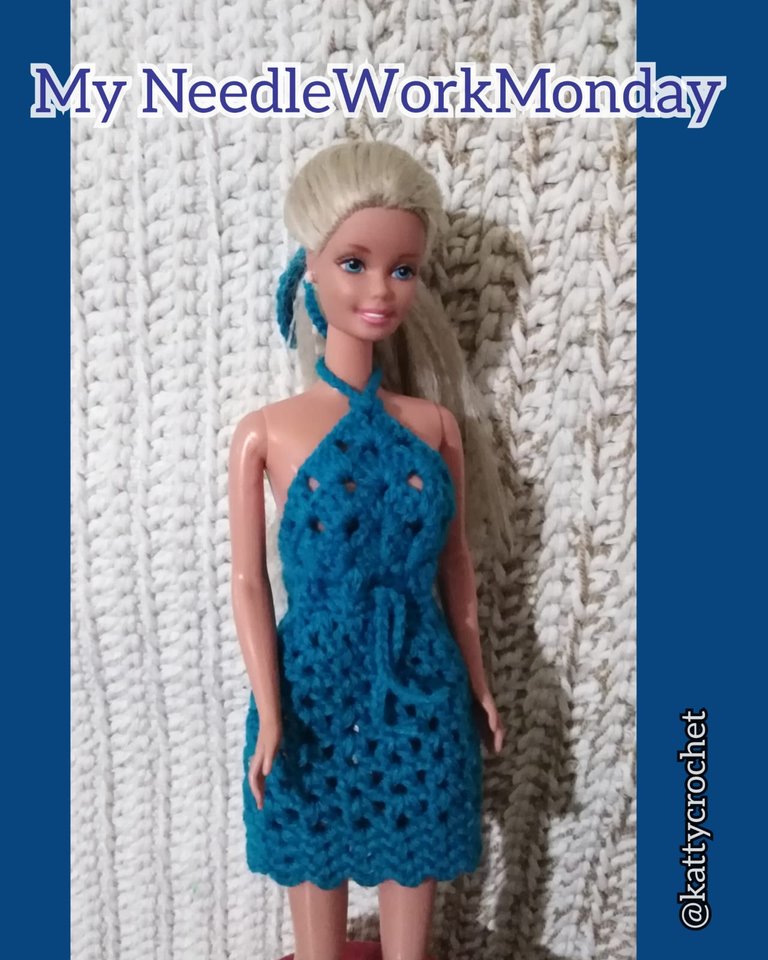 ---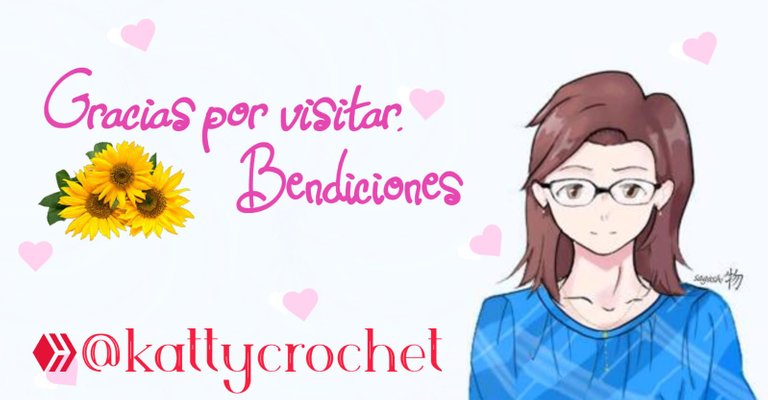 Todas las fotos fueron tomadas con mi teléfono celular, editadas con Photo Collage. / All potos were taken with my cellular phone and edited with Photo Collage.

Credits to: @eve66 to create the text dividers