I'm making a sweater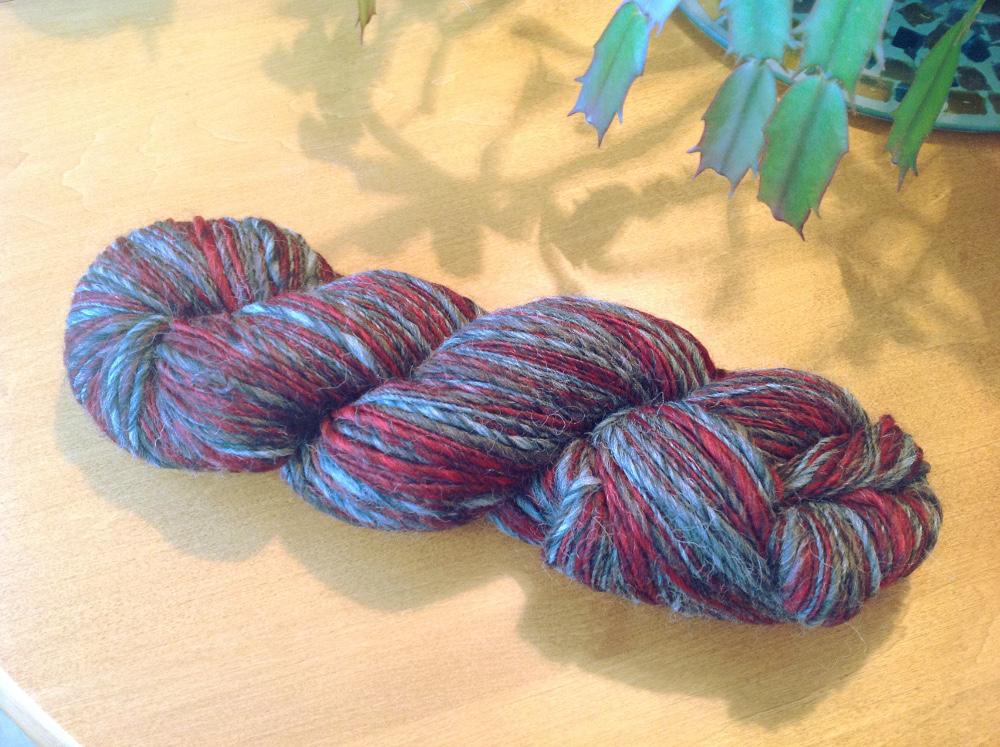 This is the first time I have posted in
#NeedleWorkMonday
and, yeah, I know I'm early.
With our Covid lockdown, I have been looking for things to do at home and after knitting myself a few dishcloths, it wetted my appetite for more. I started knitting in my early teens but it's something I don't do often. Anyway, a new yarn company called Darn Yarn opened up in Eastern Canada and the Facebook ad for this beautiful wool caught my eye and I was smitten! I purchased 3 hanks of Sugarbush Motley in Speckled Scarlet before I even had a pattern in mind. And, by the way, my photos do not do it justice.
Maybe this one shows off the colour better.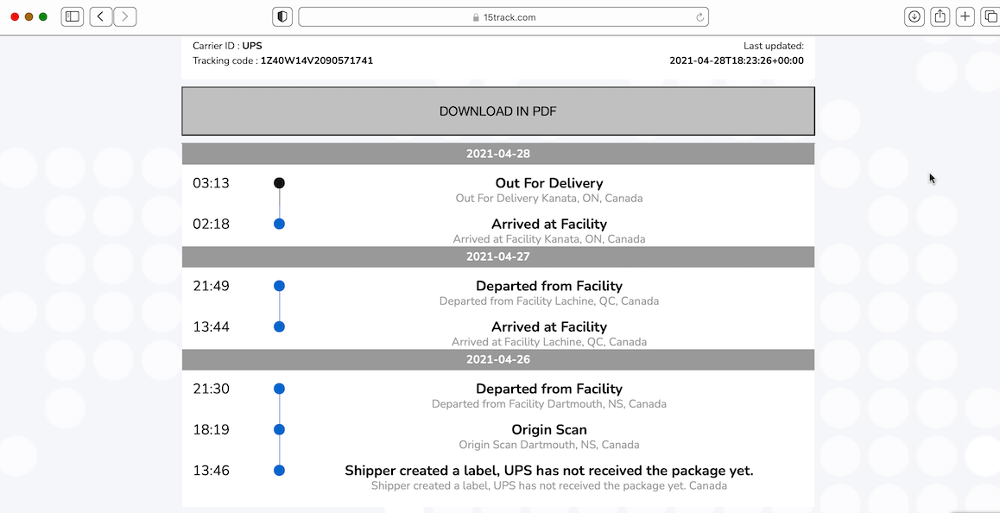 Now I have to laugh. Above, is a screen shot of my wool travelling from Dartmouth, Nova Scotia to my home. I have been getting a kick out of watching things I order, get here. Am I living vicariously through its travel?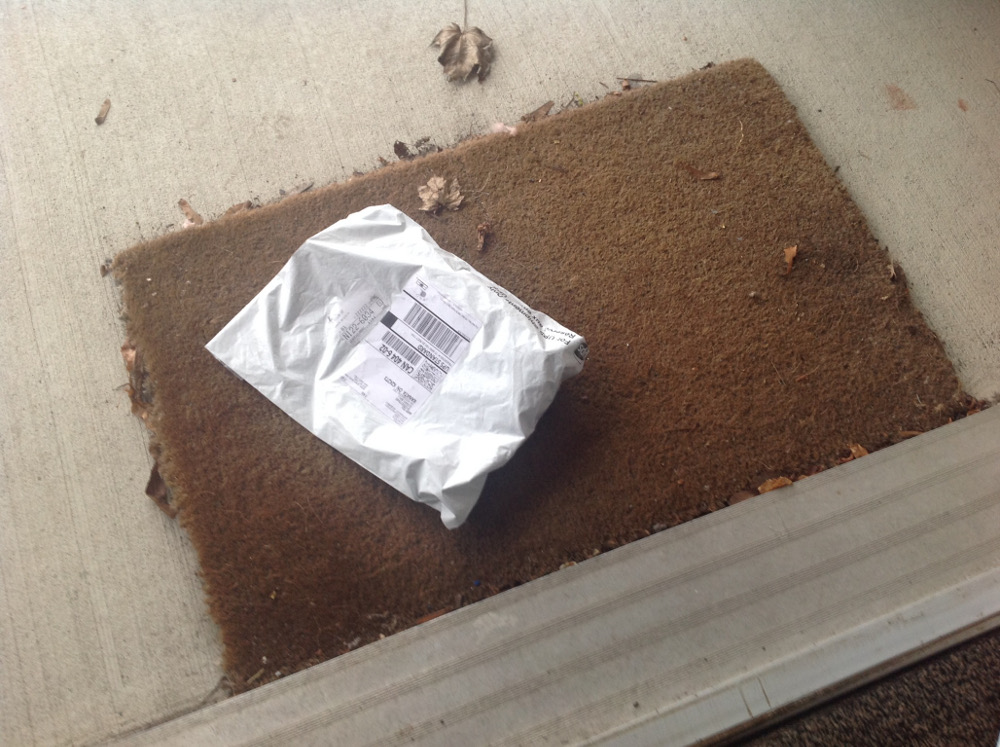 The doorbell rang, and there it was.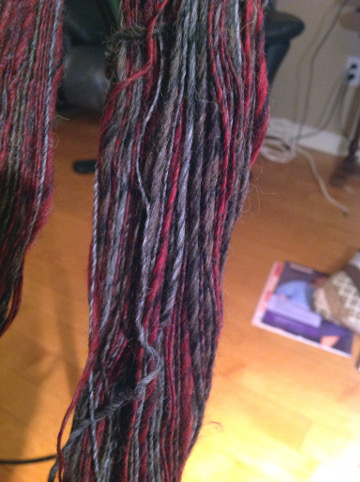 Gorgeous. It goes from scarlet to taupe brown to grey and back to scarlet. I decided to knit a swatch with it. That became two swatches as I switched needles to get the recommended gauge. And even though it had been lying on the couch beside me, and I had barely disturbed it, the gossamer light alpaca and merino wool turned into a tangled mess. I have never seen anything like it! I kept reminding myself how beautiful it was. I kept reminding myself how beautiful it was as I watched a movie (or three) and worked into daybreak trying to unravel it, stubbornly refusing to go to bed until it was done!
The first ball took me 9 hours.
This was completely my fault.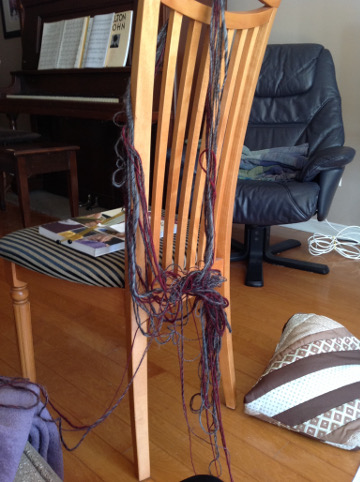 I hung the second hank from the back of this chair. This time the job went faster but when I was looking down, the wool would slip off the top and here I am near the end unravelling the last bit of mess. With another person's help, winding it into a ball might be a 15 minute job.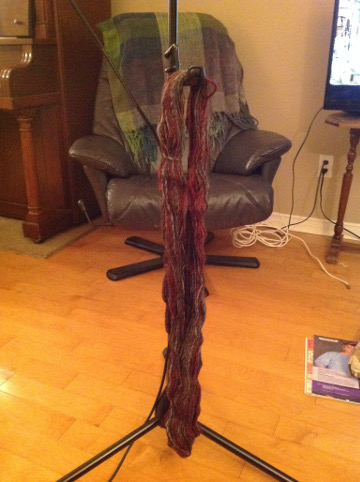 I thought I was getting smarter when I hung the third hank on the headphone holders of my microphone stand!
Meanwhile, I had been looking for a pattern and I discovered Amy Herzog's website and custom patterns, where you can choose a pattern, input your knitting gauge and body measurements, and purchase a pattern custom made for you and your wool. I bought and downloaded Pilot House Pullover, a fitted, low necked, 3/4 sleeve pullover. As this wool is textured and variegated, I deciding not to put a fancy design on the sweater front that wouldn't be seen easily.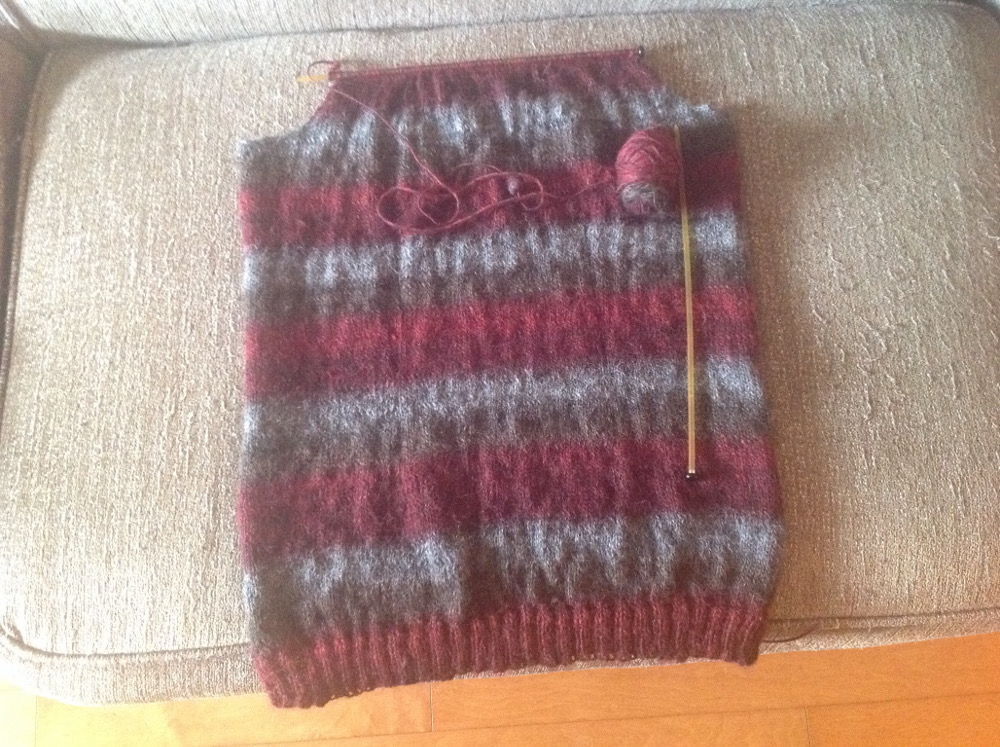 And here is where I am, so far, almost at the shoulders on the back. You can only slightly make out the two lines of decreasing for the waist shaping. There was just one potential problem. While I had enough wool for the sweater, I hadn't considered trying to match a stripe pattern. I was kicking myself for not buying the fourth hank when I had the chance, but I contacted this wonderfully helpful yarn store and they still had it in the same dye lot, and I got to watch it travel here.
So... I'm thinking of turning a chair upside down and draping the hank over two chair legs this time...
Images
Photos from the iPad of @kansuze in Kanata (Ottawa), Canada.


Enjoy!
@kansuze
---
---