From My Bucketlist to REALITY (NEEDLEWORKMONDAY: BUCKETLIST CHALLENGE!)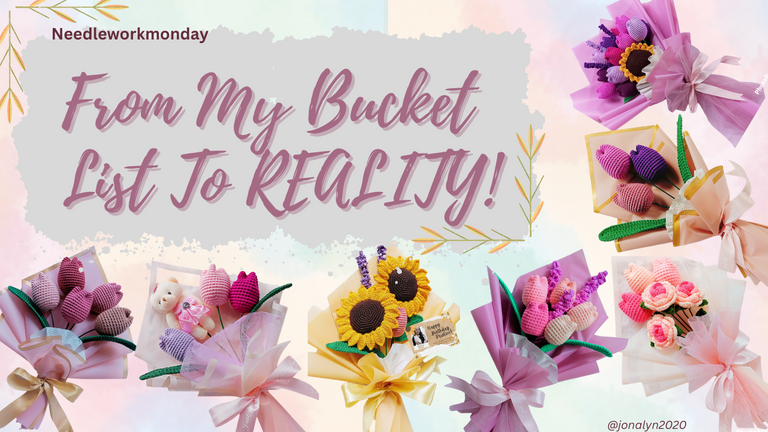 (Edited on Canva)
One of the things I wanted to try from my bucket list was making flowers in a crochet version. I got inspired back then (last January 2022) by my fellow crocheters who shared their work on social media. They were selling flower bouquets made of crochet and I was astonished at how they looked like. They were all adorable and seeing them in a bouquet made me want to try them for myself.
But I wasn't able to try it right away since I have some commissioned work to do first which is the crochet wearables. And since I've got no orders for crochet flower bouquets (which is very unlikely if I receive one without me doing it first and introducing it on my social media letting them know that I also accept making flower bouquets) of course I have to do first the other orders.
I tried to post others' work on my social media accounts once for reference only so that some of my customers will have an idea that I'm accepting flower bouquet orders too.
But later on, I realized that it's not a good idea of showing those lovely crocheted flower bouquets made by others. Because I still have no experience in making those flowers, and arranging them in a bouquet, as I have read that most beginners have a hard time doing it.
So I decided to give it a try and have it given to my mother-in-law who will be celebrating her birthday. I first ordered the materials online, specifically the floral wire and tape, a ribbon, and a flower wrapper in pink and lavender color. I was excited about making my first tulip. And then I truly realized that wrapping those flowers wasn't easy. I could crochet the flowers easily in no time. But wrapping them took me hours of retrying. 😅 I tried watching videos on how the others wrap their flowers but it seems that I can't make it as beautiful as what they had done. Same on the 2nd and 3rd bouquet I made, which was given to my children's teachers during "Teacher's day".
After showcasing my works on social media accounts, a friend of mine ordered a flower bouquet. It was my first commissioned order of a flower bouquet. And for the 4th time, I still don't know how to properly wrap my flowers. 😅 But I still manage to do it after how many attempts.
Then last month, a random customer asked for a flower bouquet. And I realized that maybe it was a sign to finally focus my creativity on making flower bouquets this year 2023. So I challenged myself to reach a goal of making 50 bouquets for the whole year.
Yes! 50 pieces of bouquets. Do you think I can do it? 😅
I don't know if I will be able to achieve this or not. But I'm eager to do it. And I'm so thankful that after posting some of my works of crocheted flower bouquets, I got more orders and reservations for Valentine's day. 🥰
Here are the crocheted flower bouquets that I made for this January: I would love to hear feedback from you and which of them you like most.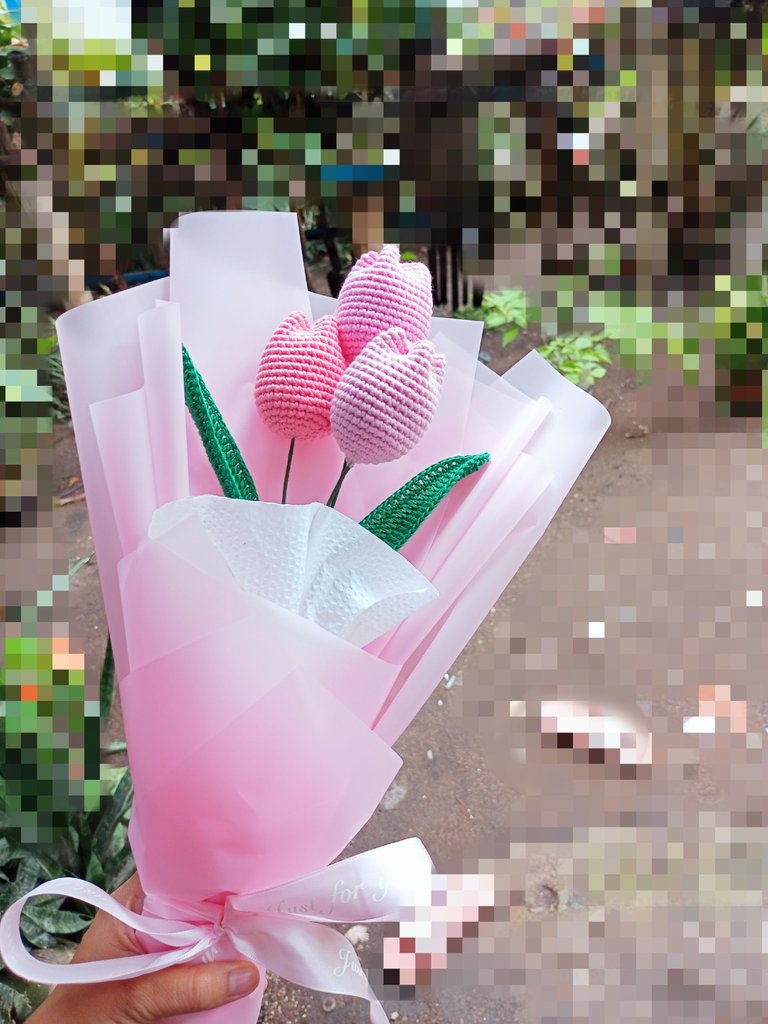 (1st)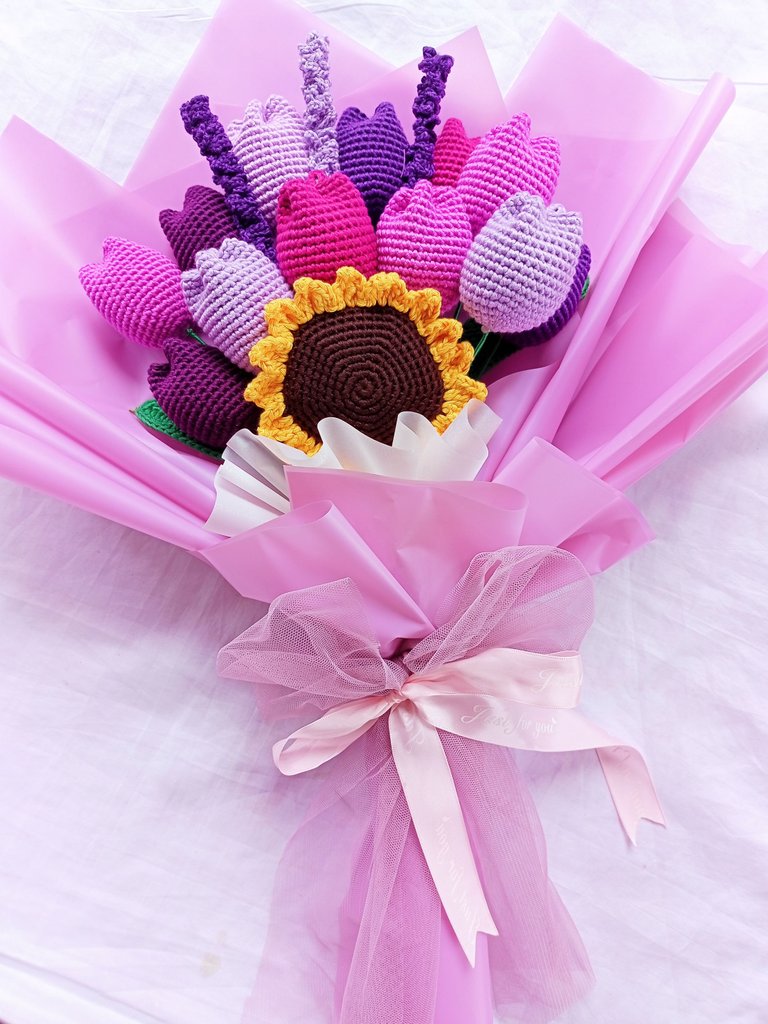 (2nd)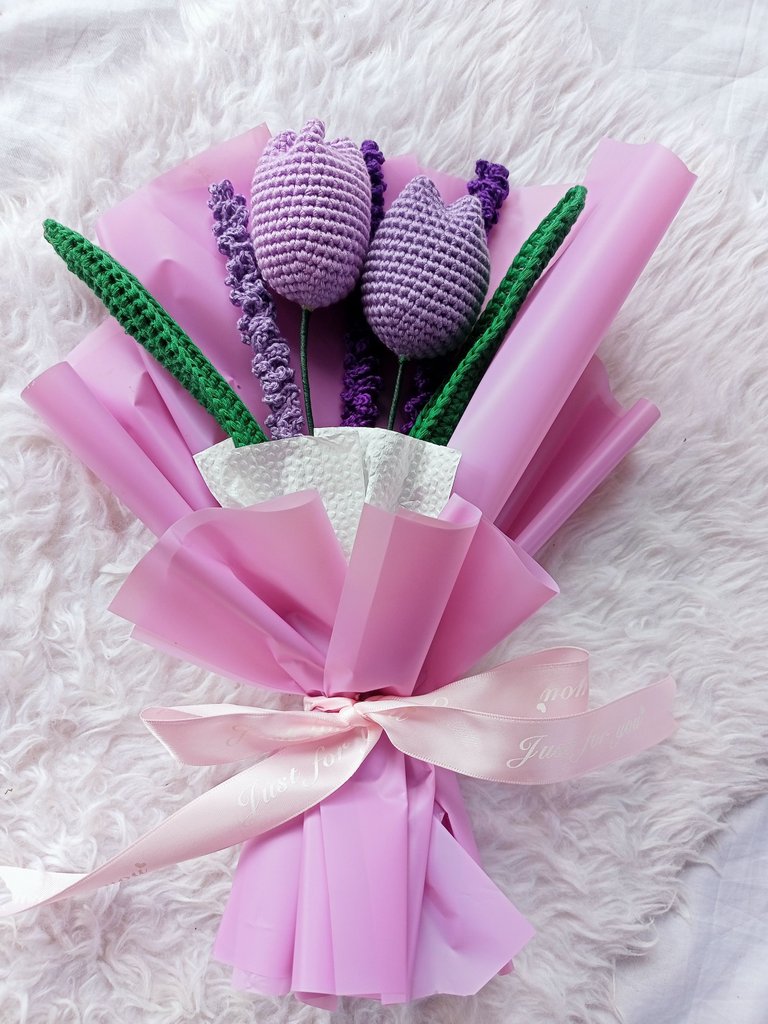 (3rd)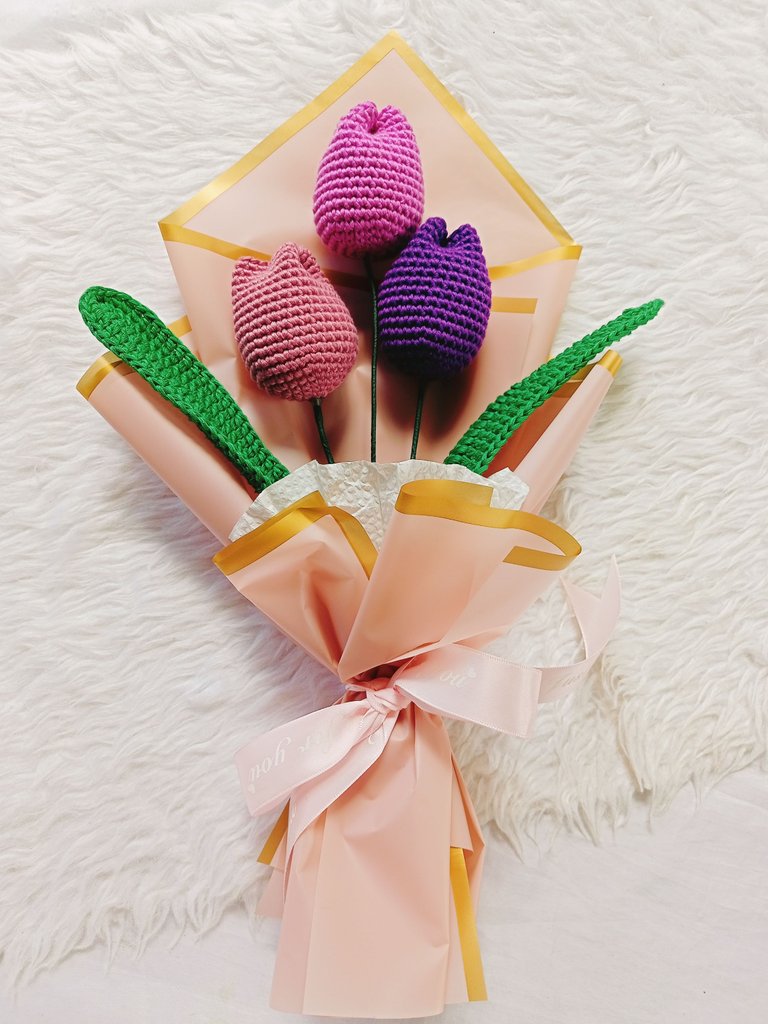 (4th)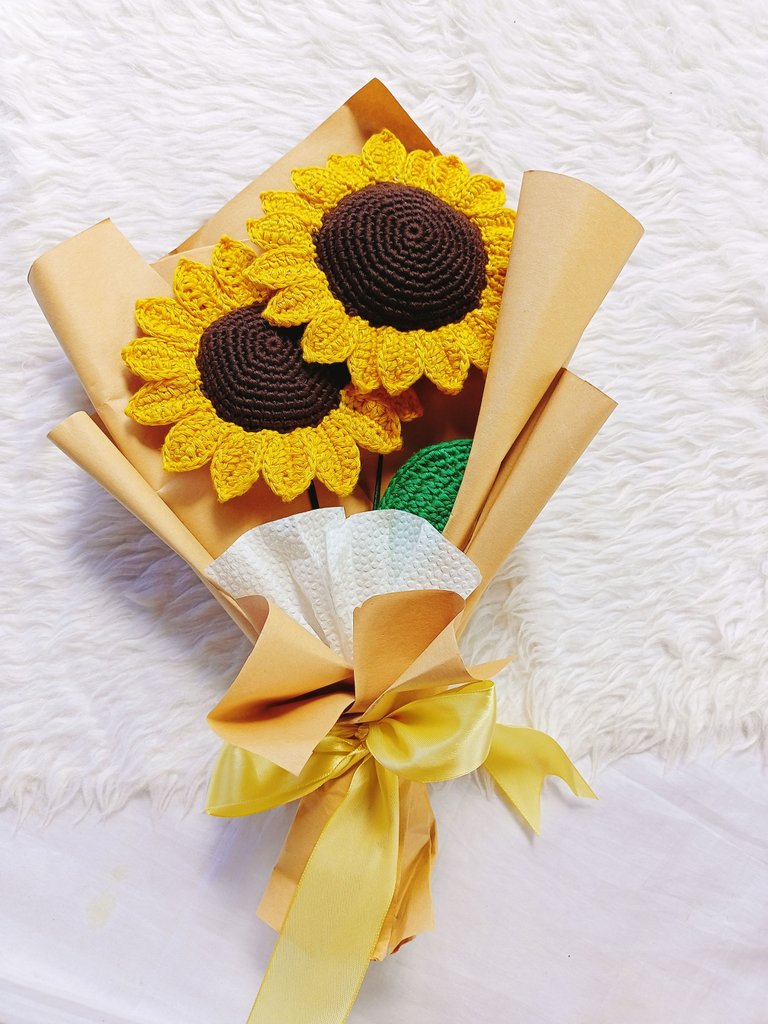 (5th)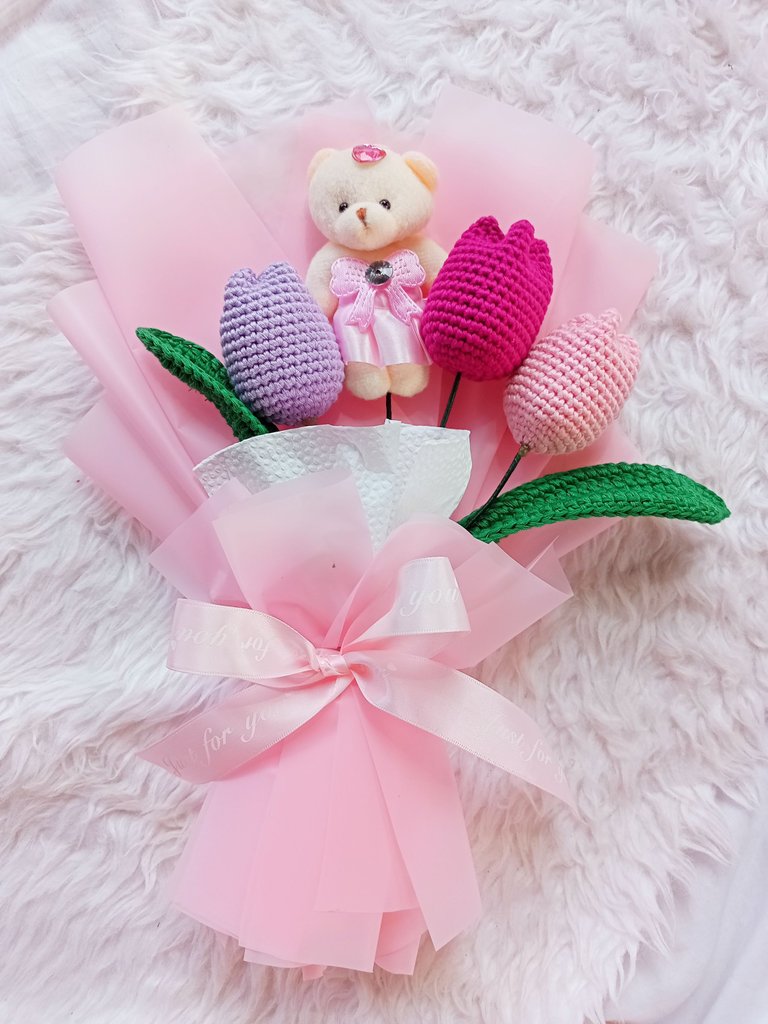 (6th)
By the way, I also included some single flowers being wrapped below on my 50 pieces bouquet. 😅 I know that a bouquet should comprise lots of flowers fastened together in a bunch (as what the meriam-webster dictionary defined), but I also want to number them as to how many had purchased and how many times I had to wrap those flowers and be able to identify my level of wrapping.😅😉 Anyway, to continue, here they are.
(7th)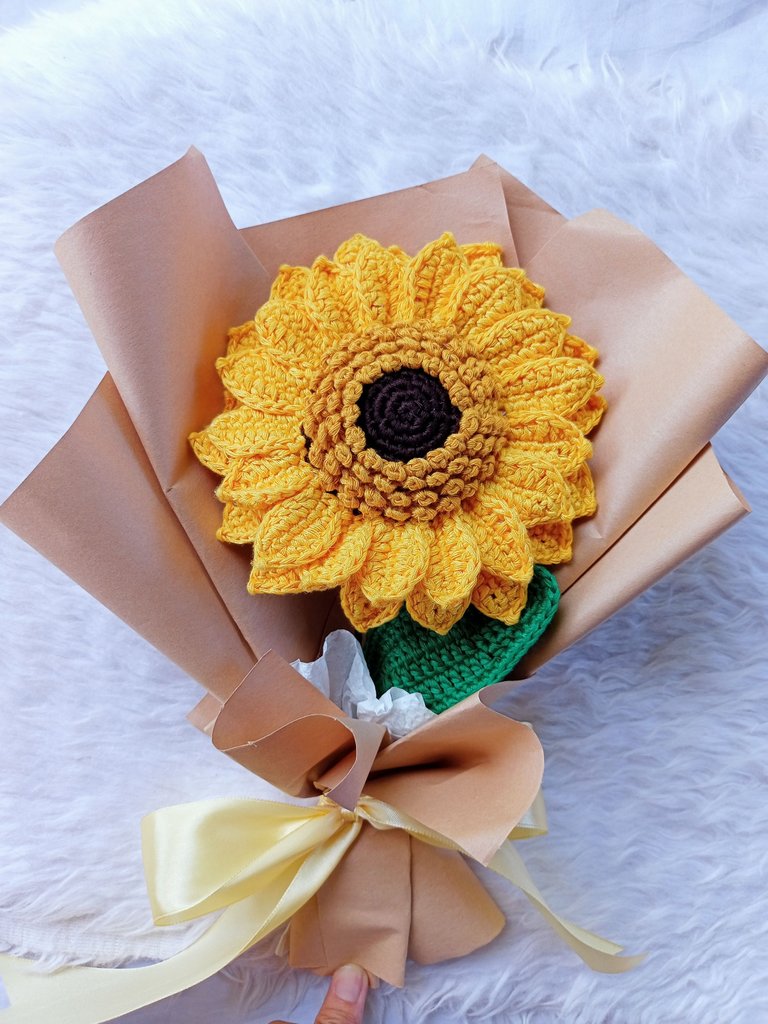 (8th)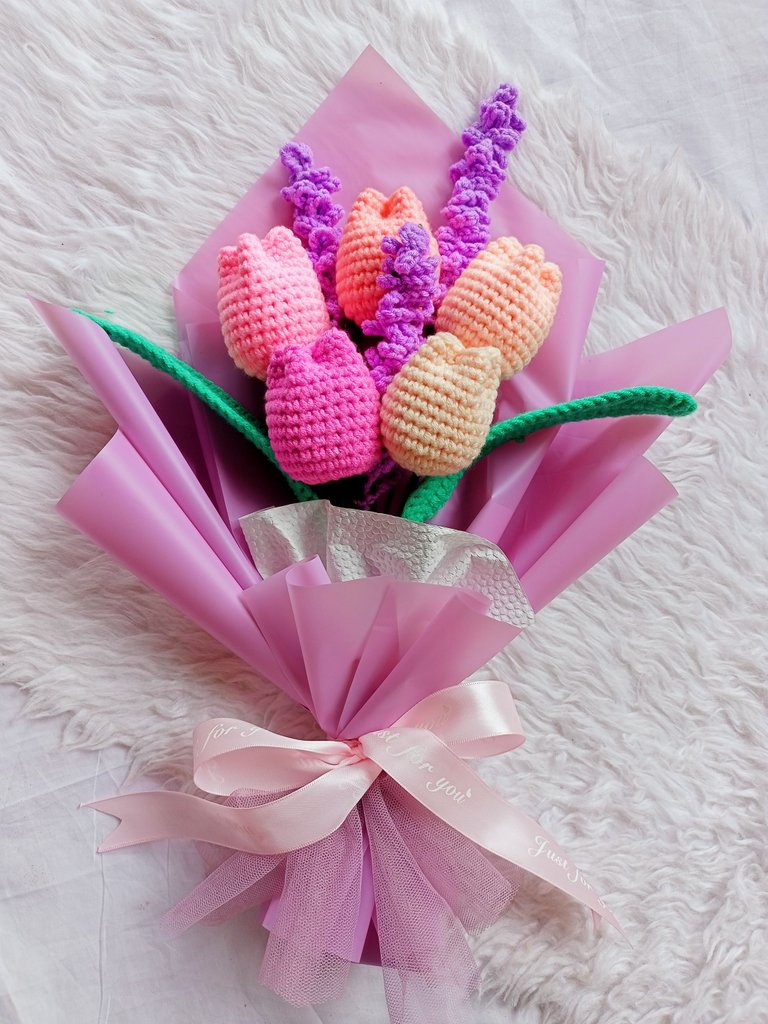 (9th)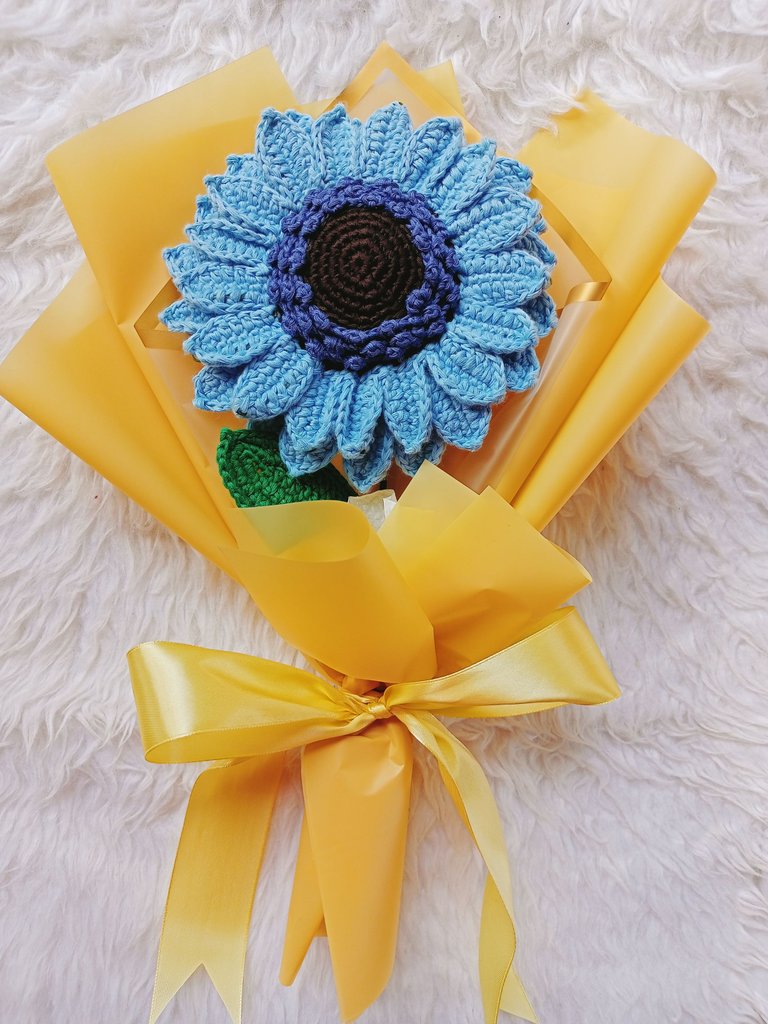 (10th)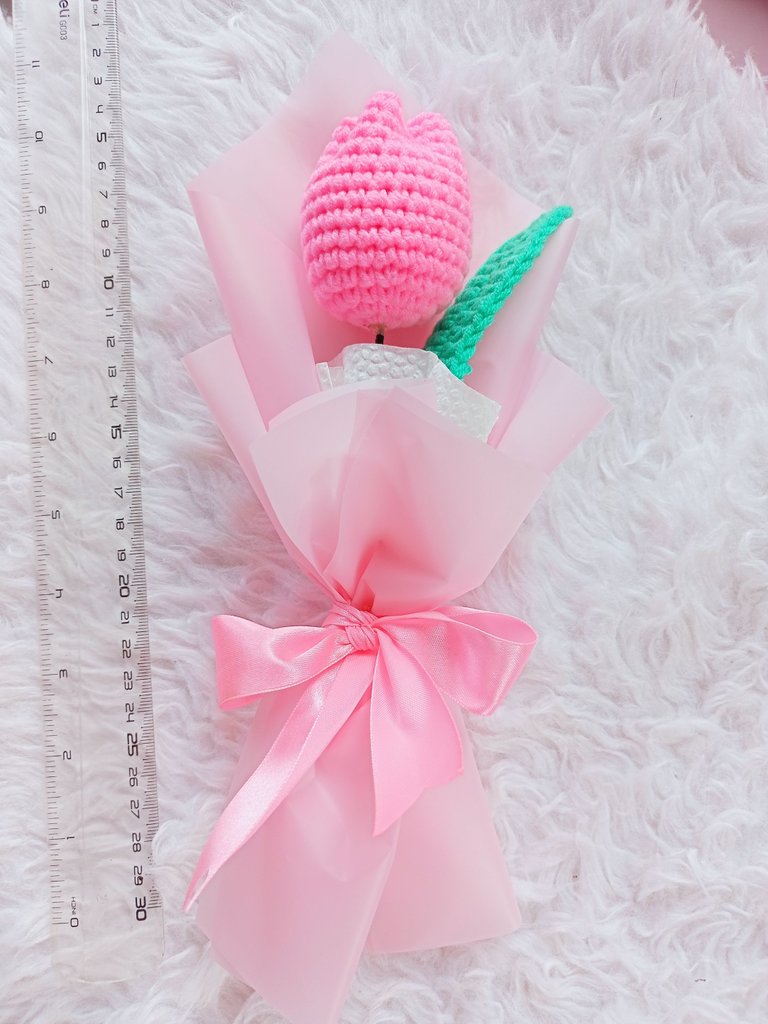 (11th)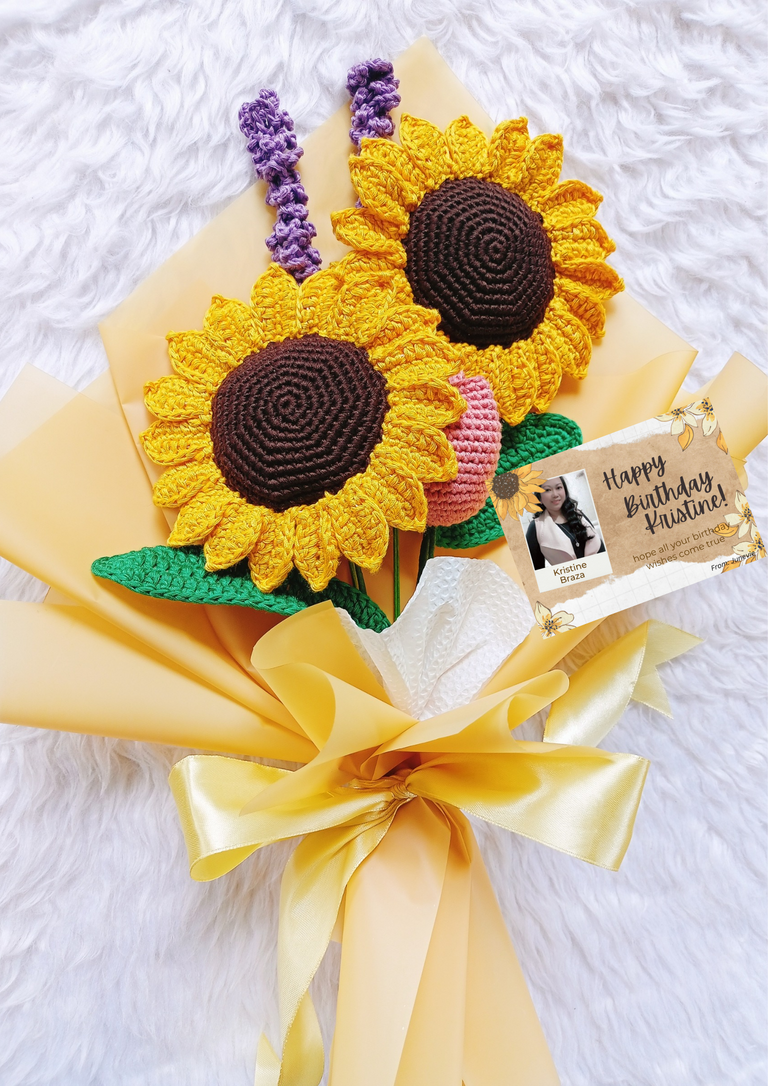 (12th)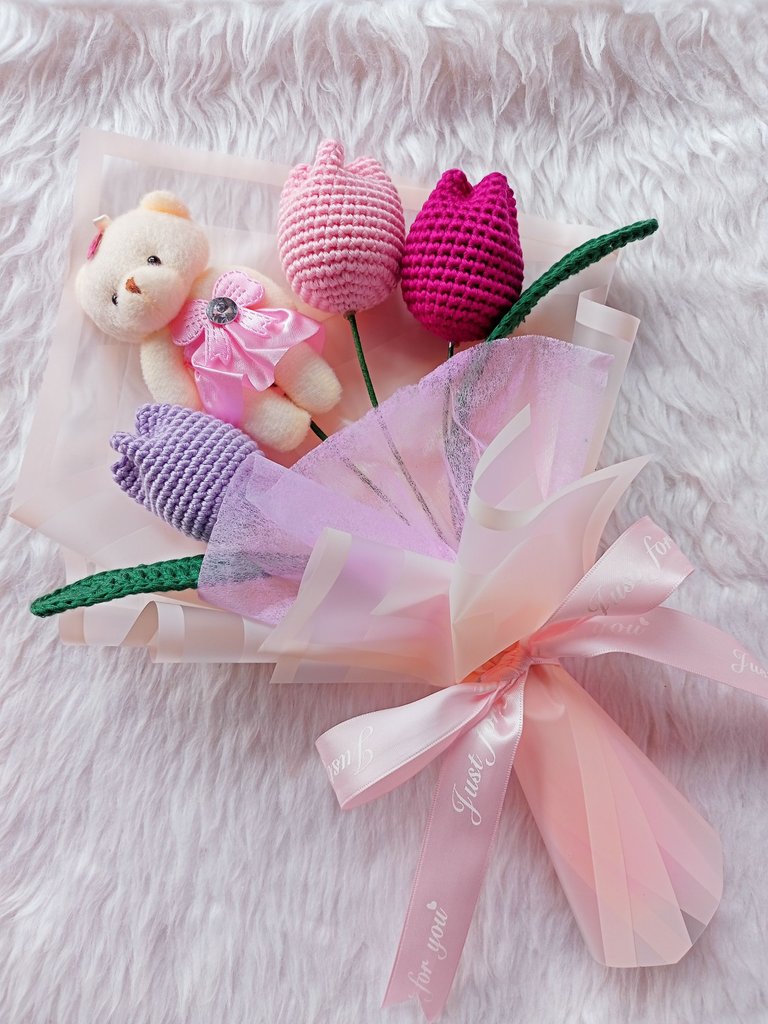 (13th)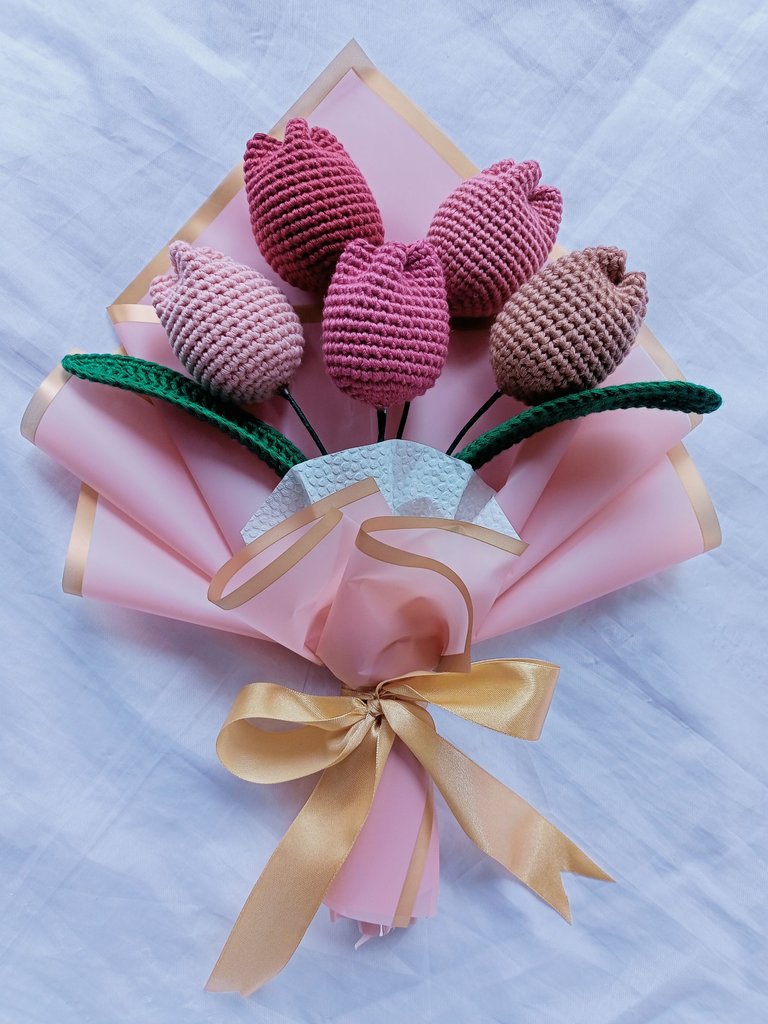 (14th)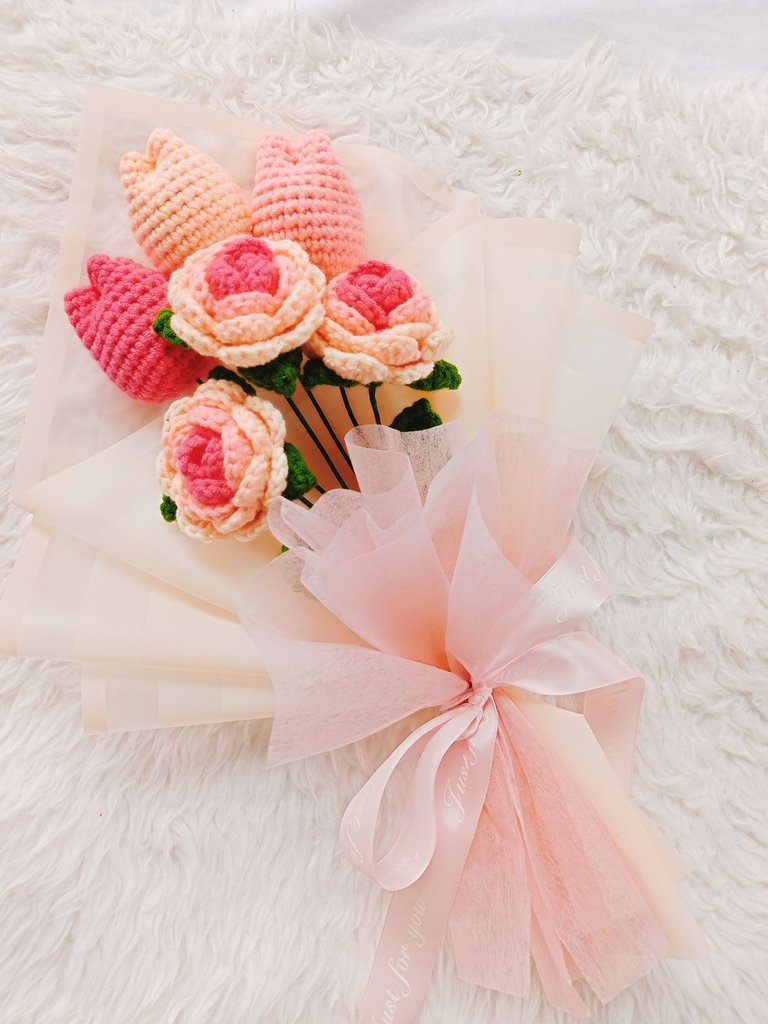 (15th)
As of now, From January 1-30, I made 15 bouquets, and from 50 pieces bouquet goals, now down to 35 pieces. 🥰 Out of those 15, there are only 3 (8th, 14th, and 15th) that are left for any miners.
And also, this post is my entry to the new challenge of the Needleworkmonday community called BUCKETLIST CHALLENGE! See this post:It's Time to Mark Off Our List!! for more details.
Though my 50-piece goal is way far, I just want to show you guys the status of my goal after a month, so others will get encouraged and will decide to work for their bucketlist!
God bless everyone.
Yours truly,
@jonalyn2020 😘😘😘


Kung nagustuhan mo ang aking sinulat ngayon, pakipusuan mo naman. 😍😉

For orders, please message me or visit these links.
To God Be The Glory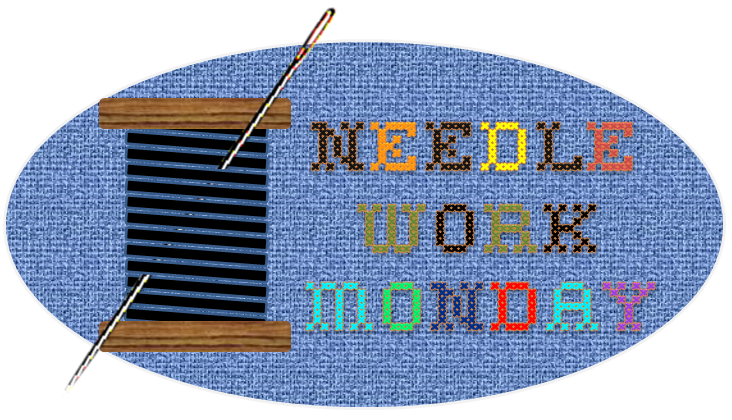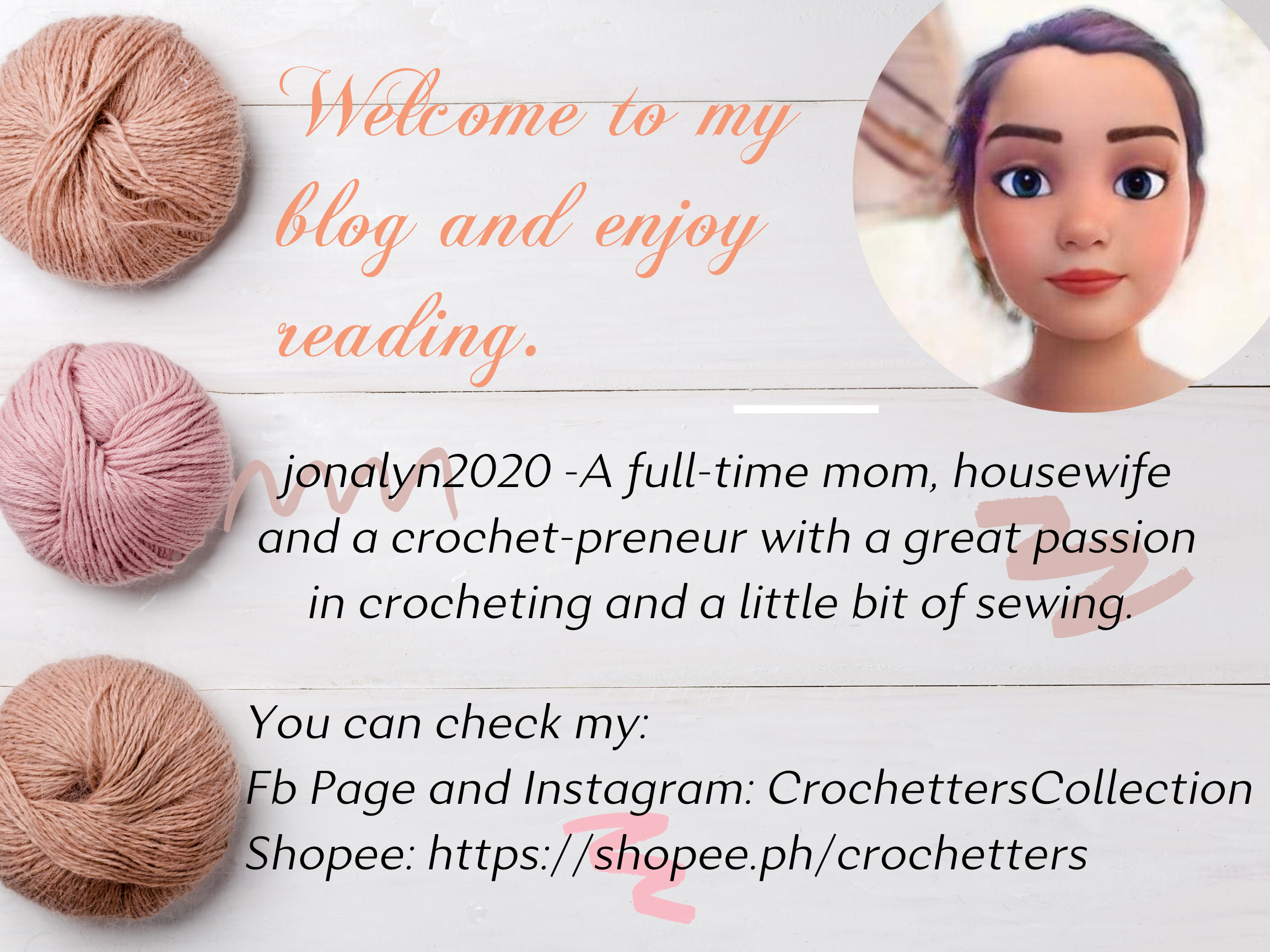 ---
---