Cómo hacer una pulsera con un cordón tejido [ESP] / How to make a bracelet with a woven cord [ENG]
En el pasado las pulseras eran muy ostentosas hechas de oro o plata y decoradas con piedras preciosas, no todos podían tener acceso a comprarlas por lo costoso que resultaban ser.
Con el pasar del tiempo, han surgidos diversas opciones de pulseras, desde hechas con materiales de desecho, de cintas, de diversos materiales, tejidas en diversas técnicas, esto ha permitido que niñas y mujeres e inclusive los hombres puedan darle brillo a sus oufits solo con llevar una pulsera que sea de su gusto.
Personalmente me encantan las pulseras, aún cuando uso pulseras me encanta hacerlas para regalar. La que les comparto hoy es para el cumpleaños de mi sobrina mayor, ella le encantan las pulseras y el próximo mes cumple 22 años, acostumbro a darle de regalos de cumpleaños la cantidad de regalos en función a los años que cumple, por lo cual ya comencé con esta pulsera.
In the past, bracelets were very ostentatious, made of gold or silver and decorated with precious stones, not everyone could afford them because they were so expensive.
With the passing of time, different options of bracelets have emerged, from bracelets made from scrap materials, ribbons, various materials, woven in various techniques, this has allowed girls and women and even men can brighten their oufits just by wearing a bracelet that is to their liking.
Personally I love bracelets, even when I wear bracelets I love to make them as gifts. The one I share with you today is for my eldest niece's birthday, she loves bracelets and next month she will be 22 years old, I usually give her as birthday gifts the amount of gifts according to her birthday, so I started with this bracelet.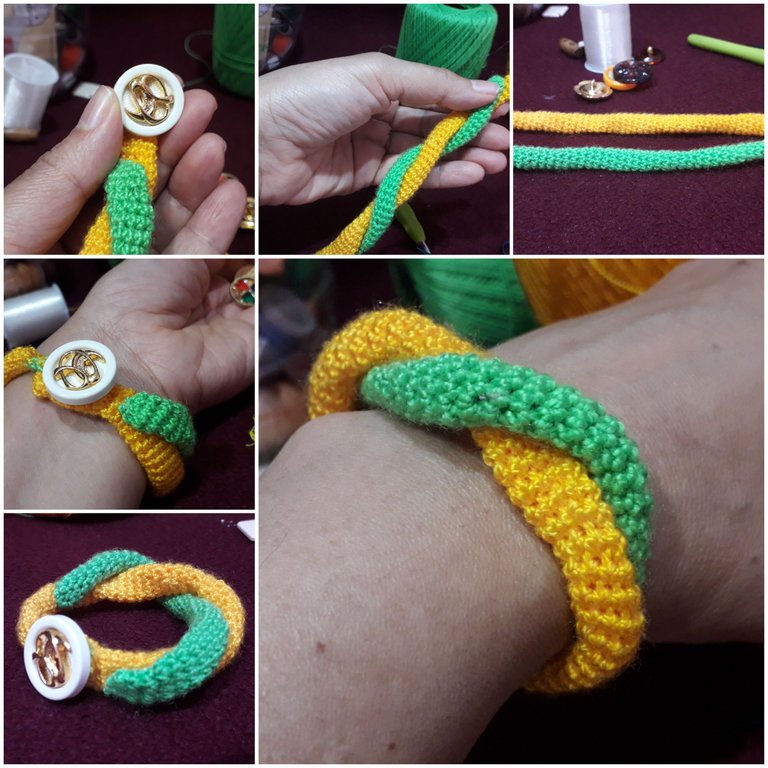 ---
Materiales / Materials
Esta pulsera está realizada en hilo acrílicos, usé dos colores, también se necesita un botón para decorar, tijeras, ganchillo de medida 2.0 y aguja con hilo para coser el botón a la pulsera.
This bracelet is made in acrylic yarn, I used two colors, you also need a button to decorate, scissors, crochet 2.0 and needle with thread to sew the button to the bracelet.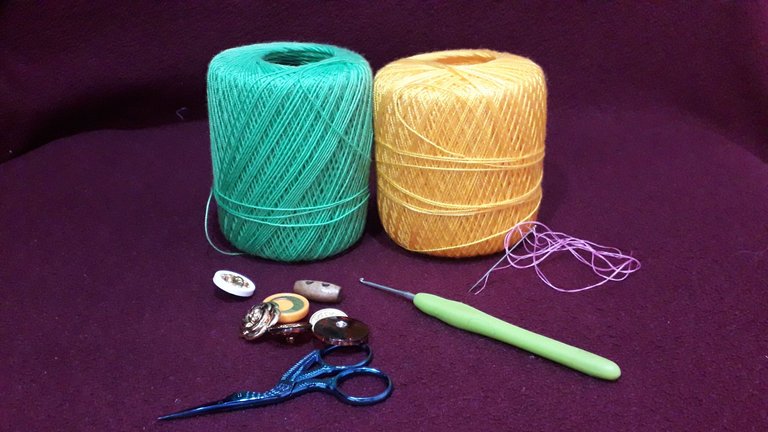 ---
Pasos / Steps
Esta pulsera me tomó realizarla unas 12 horas, pensé tardaría menos, pero los cordones aún cuando son fáciles de hacer se tiene que tener cuidado de mantener la cantidad de puntos bajos en cada vuelta, al tejer con hilo acrílico, cuesta ver cada punto de la ronda anterior, por lo que se pudiese estar disminuyendo o aumentando sin darse cuenta, lo cual alteraría el resultado. Se requiere bastante concentración para realizar estos cordones y queden prolijos. Me tocó desbaratar unas cuantas veces.
Realizar dos cordones uno con medida de 13 cm, en mi caso es el cordón de color amarillo, y otro cordón de 10 cm, en mi caso el cordón de color verde.
Para el cordón amarillo inicié con un anillo mágico de 7 puntos bajos, en la segunda vuelta tejer un punto bajo sobre cada punto de la vuelta anterior, repetir la secuencia hasta completar 13 cm.
Para el cordón verde inicié con un anillo mágico de 6 puntos bajos, en la segunda vuelta tejer un punto bajo sobre cada punto de la vuelta anterior, repetir la secuencia hasta completar 10 cm.
This bracelet took me about 12 hours to make, I thought it would take less, but even though the cords are easy to make you have to be careful to keep the number of low stitches in each round, when knitting with acrylic yarn, it is difficult to see each stitch of the previous round, so you could be decreasing or increasing without realizing it, which would alter the result. It takes a lot of concentration to make these cords and have them look neat and tidy. I had to mess up several times.
Make two cords, one measuring 13 cm, in my case the yellow cord, and another cord measuring 10 cm, in my case the green cord.
For the yellow cord I started with a magic ring of 7 single crochet stitches, in the second row knit a single crochet over each stitch of the previous row, repeat the sequence until completing 13 cm.
For the green cord I started with a magic ring of 6 single crochet stitches, in the second row knit a single crochet over each stitch of the previous row, repeat the sequence until 10 cm are completed.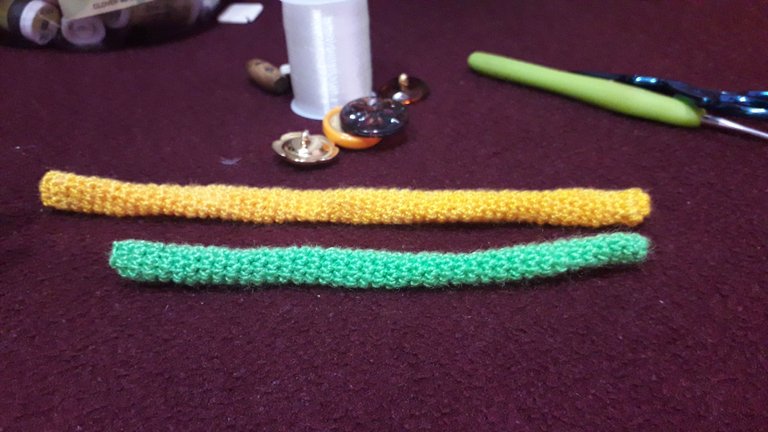 ---
En uno de los extremos del cordón amarillo, tejer una cadeneta de 10 cadenetas, usé los dos colores para tejer la cadeneta. Luego de tejer la cadeneta, cerrar haciendo un punto deslizado. Contar y esconder hilos.
On one end of the yellow cord, weave a chain of 10 chains, I used both colors to weave the chain. After weaving the chain stitch, close by making a slip stitch. Counting and hiding yarns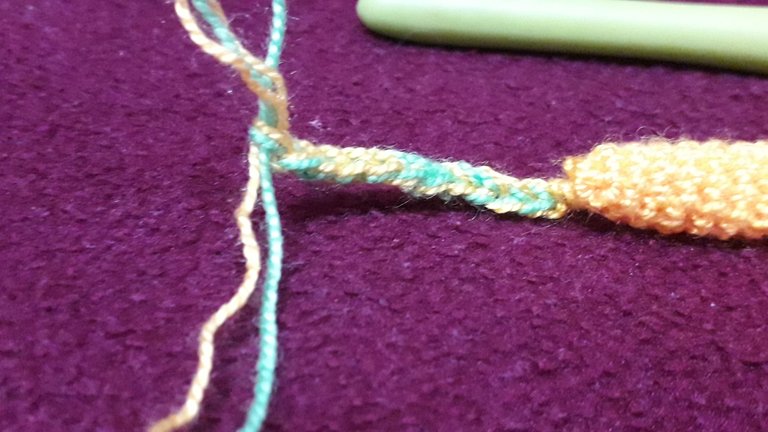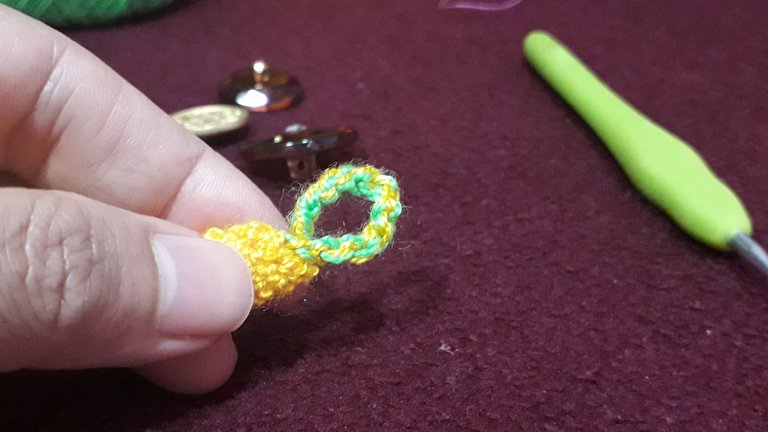 ---
Seguidamente enrollé el cordón verde sobre el cordón amarillo, comenzando a enrollar dejando tres cm del extremo del cordón amarillo.
Next I wound the green cord over the yellow cord, starting to wind leaving three centimeters from the end of the yellow cord.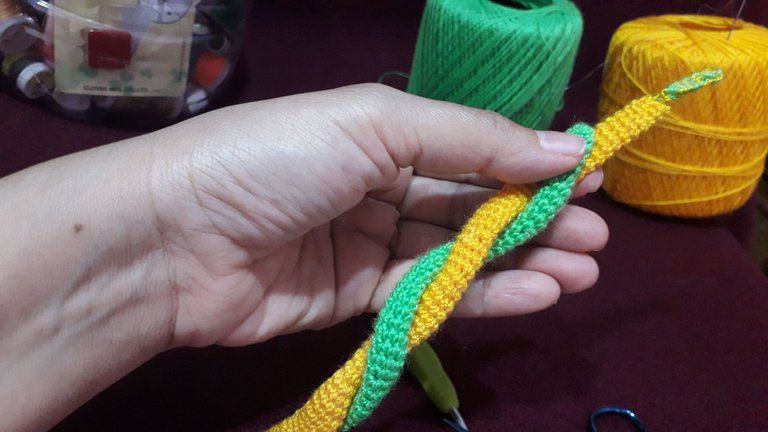 ---
Para coser el cordón verde sobre el cordón amarillo, empleé hilo trasparente, no es un hilo fácil de enhebrar ni de manipular, pero me gusta usarlo, ya que da un buen acabado a la labor haciendo prácticamente invisible la unión de los cordones.
To sew the green cord on the yellow cord, I used transparent thread, it is not an easy thread to thread or manipulate, but I like to use it, as it gives a good finish to the work, making the union of the cords practically invisible.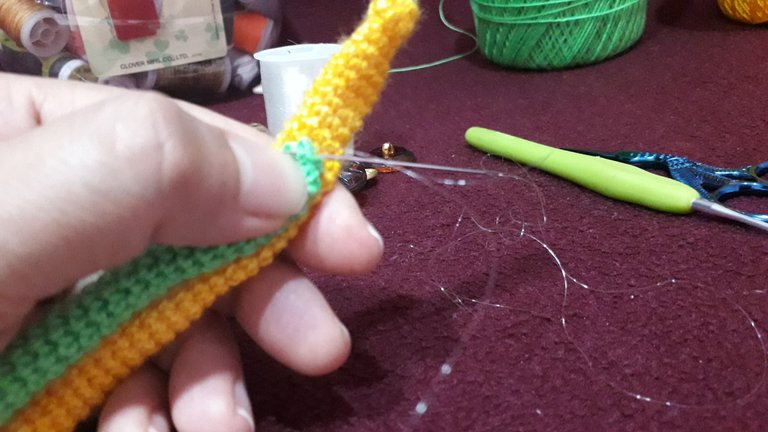 ---
Se repite el procedimiento de coser en el otro extremo. Quedando armada la pulsera, le estaría faltando el botón.
Repeat the sewing procedure at the other end. Now that the bracelet is assembled, the button is missing.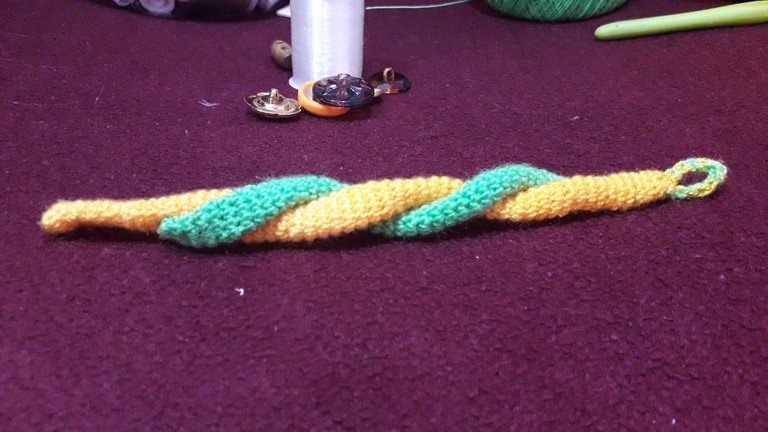 ---
Bueno ya saben me encanta decorar botones, comienzo a ensayar y ver cuál luce mejor. Mientras ensayo en ver qué botón luce mejor, puedo escuchar a mi sobrina decir "Ji atrévete, sal de lo clásico, atrévete a combinaciones atrevidas", en otro momento hubiese colocado un botón dorado o verde o amarillo, me atreví y le coloqué un botón blanco.
Well you know I love to decorate buttons, I start rehearsing and see which one looks best. While I am rehearsing to see which button looks better, I can hear my niece saying "Ji dare, go out of the classic, dare to daring combinations", in another moment I would have put a gold or green or yellow button, I dared and I put a white button.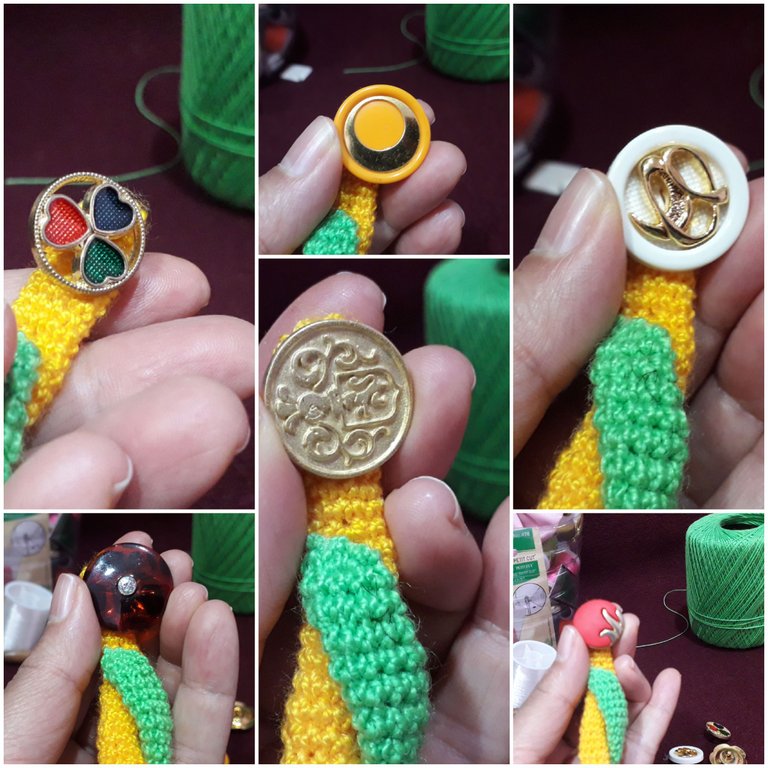 Creo que el botón blanco le saca brillo a la pulsera y le da un toque de elegancia. ¿Qué les parece el botón blanco?
I think the white button brightens up the bracelet and gives it a touch of elegance. What do you think of the white button?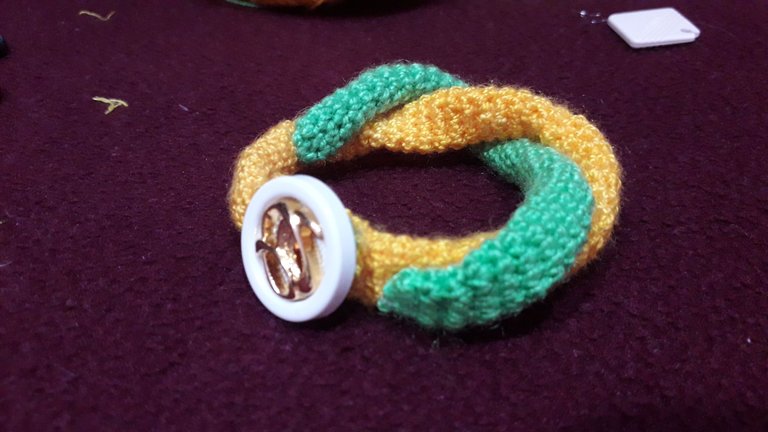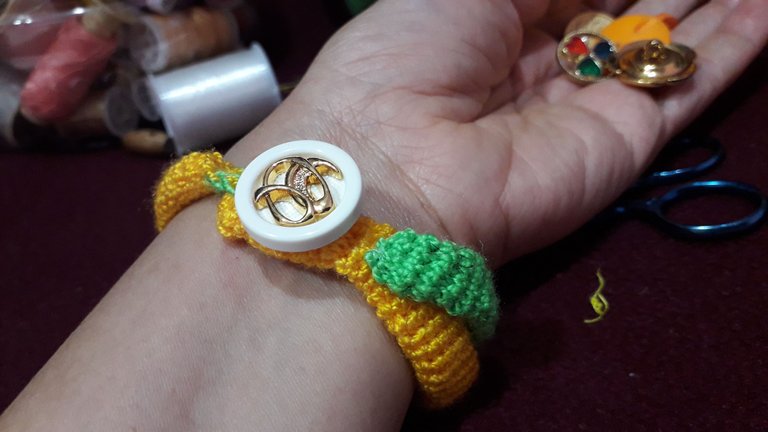 ---

Completada la realización de la pulsera, creo que a mi sobrina adorada le va gustar mucha, ella es muy coqueta, siempre le ha gustado le haga cosas tejidos, le lucen bastante.
Completed the realization of the bracelet, I think that my beloved niece will like it very much, she is very flirtatious, she has always liked to have things woven, they look very nice on her.
---
Gracias por dedicar un espacio de su tiempo para leer la publicación. Si hay alguna pregunta, por favor pregúntame en la sección de comentarios a continuación.
Thank you for taking the time to read this publication. If there are any questions, please ask me in the comments section below.
Texto e imágenes: Por @jicrochet
Text and images: By @jicrochet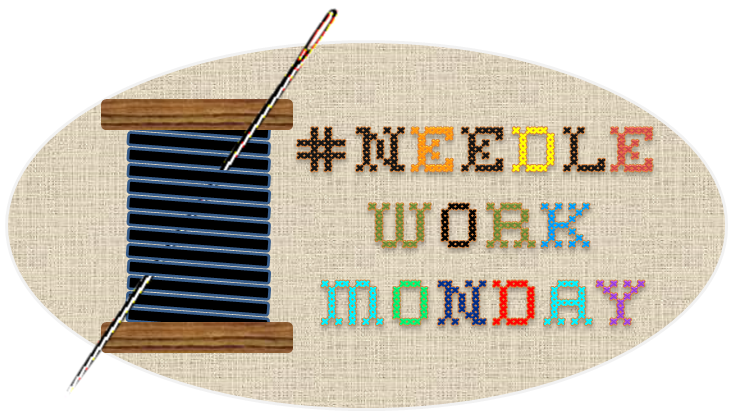 ---
---