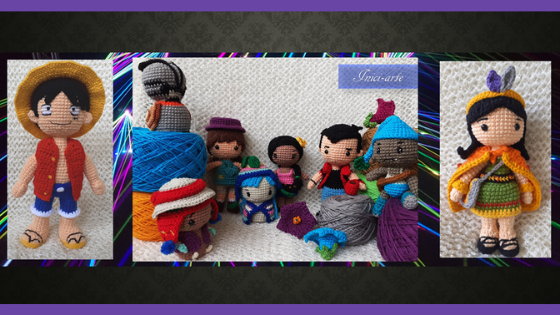 Hola, espero la estén pasando bien
Hi, I hope you're all right
Este año salieron a la luz los "Personajes peruanos" de Inici-arte, por lo que decidí colocarlos en la portada.
La flora y fauna no necesariamente es nativa y de origen peruano, aquí hago 2 aclaraciones: antes el Perú estaba conformado por varios países y tras la llegada de los españoles, empezamos a cultivar distintos alimentos europeos, convirtiéndolos en ingredientes de la actual culinaria. Algo similar sucedió con los distintos animales traídos de Europa.
The flora and fauna is not necessarily native and of Peruvian origin. Here I make 2 clarifications: before Peru was made up of several countries and after the arrival of the Spanish, we began to grow different European foods, converting them into ingredients of the current cuisine. Something similar happened with the different animals brought from Europe.
La idea de representar los "Personajes peruanos" es para darnos cuenta de la biodiversidad con la que contamos, conocer y redescubrir los usos medicinales, alimenticios, hábitats, funciones que cumplían y el por qué de su importancia en la historia, entre otros.
The idea of representing the "Peruvian Characters" is to realize the biodiversity we have, to know and rediscover the medicinal uses, food, habitats, functions they fulfilled and why their importance in history, among others.
¡…Hasta la próxima!
See you next time!
    Dato curioso:  Luffy, está porque el patrón es propio pero el diseño es de un anime.

►Encuéntranos en: