Hola, espero la estén pasando bien
Hi, I hope you're all right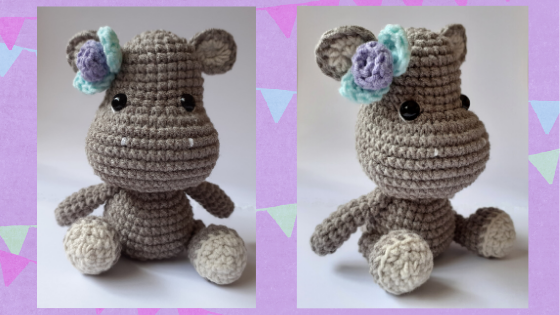 Navegando por la internet, encontré este amigurumi distinto, es de la diseñadora vivir vintage (canal de youtube). En un inicio creí que era grande, luego recordé que para que en el video se note bien los puntos, por lo general utilizan hilos más gruesos. Me quedó del tamaño de 9 centímetros de altura. El tejido es súper sencillo y queda muy lindo, recomendado para quienes estén iniciando en el mundo de los amigurumis.
Surfing the internet, I found this different amigurumi, it's from the designer vivevintage(youtube: vivir vintage). At first I thought it was big, then I remembered that for the video to show the dots well, they usually use thicker threads. I was left with a height of 9 centimetres. The fabric is super simple and looks very nice, recommended for those who are starting in the world of amigurumis.
El mes pasado llegaron a mis manos (y al país) los famosos ojitos de seguridad negros (yeeh)…Al menos algo bueno trajo el tema del virus, al parecer acortó las cadenas de comercio (en el campo de productos de importación). He utilizado los ojitos en algunos amigurumis como en este, me encanta la idea de jugar con los tamaños en los nuevos diseños que se avecinan.
Last month I got my hands (and the country) on the famous black security eyes (yeeh)... At least something good came from the virus, apparently shortening the trade chains (in the field of imported products). I have used the eyes in some amigurumis like this one, I love the idea of playing with the sizes in the new designs that are coming.
A tejer: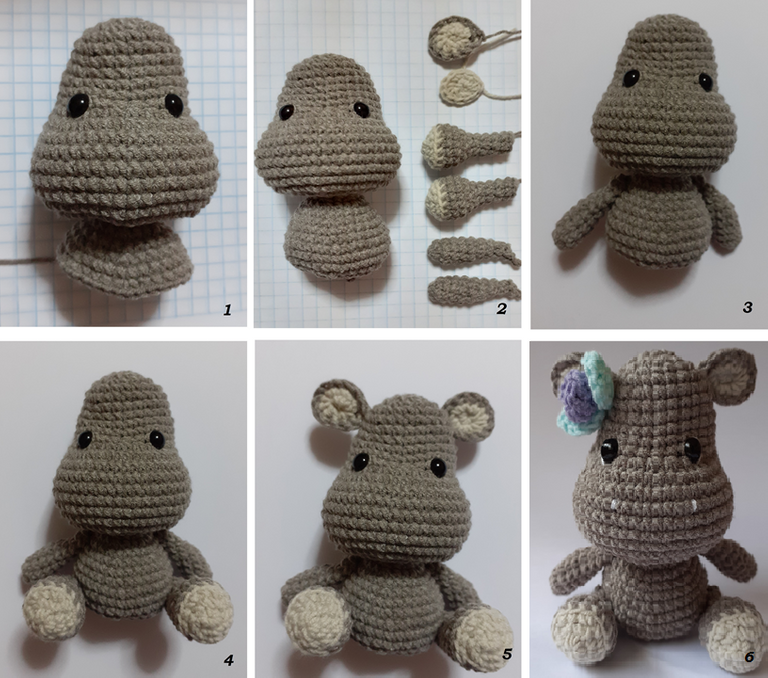 El tejido se inició con un anillo mágico, seguido de aumentos. Lo curioso aquí fue poco a poco darle una forma ovalada con aumentos en los laterales. Se colocó los ojitos de seguridad número 7 antes de cerrar la cabeza (figura 1). La cabeza, el hocico y el cuerpo fueron tejidos en una sola pieza, las extremidades y las orejas fueron tejidos aparte (figura 2). Una vez que se tuvo todas las piezas requeridas, se inició con la diagramación y unión de las piezas. Los brazos fueron primero, para luego orientar la unión de las piernas (figuras 3 y 4). Las orejas van un poco atrás del centro principal (figura 5). Por último se tejió y colocó una florecita. Se bordó un reflejo blanco en los ojos (figura 6).
The weaving was started with a magic ring, followed by magnification. The curious thing here was to gradually give it an oval shape with magnifications on the sides. The safety eyes number 7 were placed before closing the head (figure 1). The head, the muzzle and the body were woven in one piece, the extremities and the ears were woven separately (figure 2). Once all the required pieces were had, we started with the diagramming and joining of the pieces. The arms were first, to later orientate the union of the legs (figures 3 and 4). The ears go a little behind the main centre (figure 5). Finally a little flower was woven and placed. A white reflection was embroidered in the eyes (Fig. 6).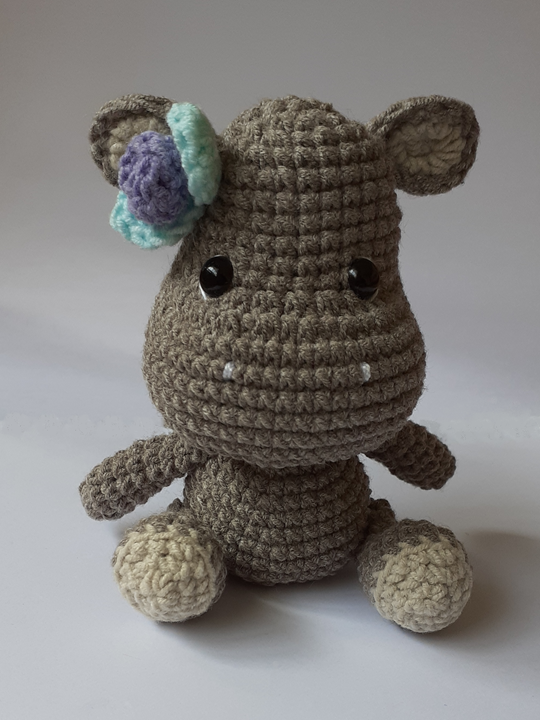 ¡Y eso es todo!,

¡…Hasta la próxima!
See you next time!
    Dato curioso: Para este amigurumi utilicé hilos 60% algodón y 40%acrílico, eso le da una textura mas suave.

►Encuéntranos en: