Gato personalizado
Hola, espero la estén pasando bien
Hi, I hope you're all right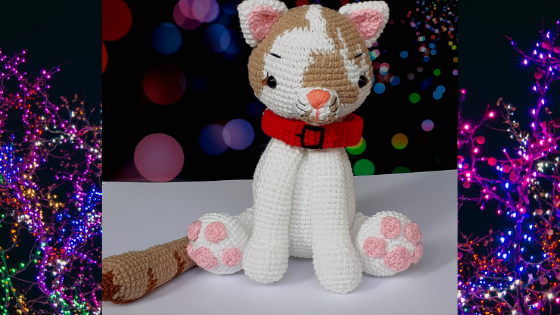 Una de las diferencias de los amigurumis en comparación con los juguetes comunes es que la elaboración es de manera individual, es decir una vez que se llega a un dominio de la técnica se puede realizar cambios pequeños o grandes, de acuerdo a la creatividad y exigencia de las personas. Este es el caso del gatito. Para ello me basé en un patrón de pago, de MyKrissieDolls. Mide 17 centímetros y fue tejido con hilo 60% algodón y 40% acrílico por lo que quedó blandito.
One of the differences between amigurumis and ordinary toys is that they are made individually, i.e. once you have mastered the technique you can make small or large changes, according to your creativity and requirements. This is the case of the kitten. For this I based on a payment pattern, from MyKrissieDolls. It measures 17 centimetres and was woven with 60% cotton and 40% acrylic thread so it was soft.
A tejer: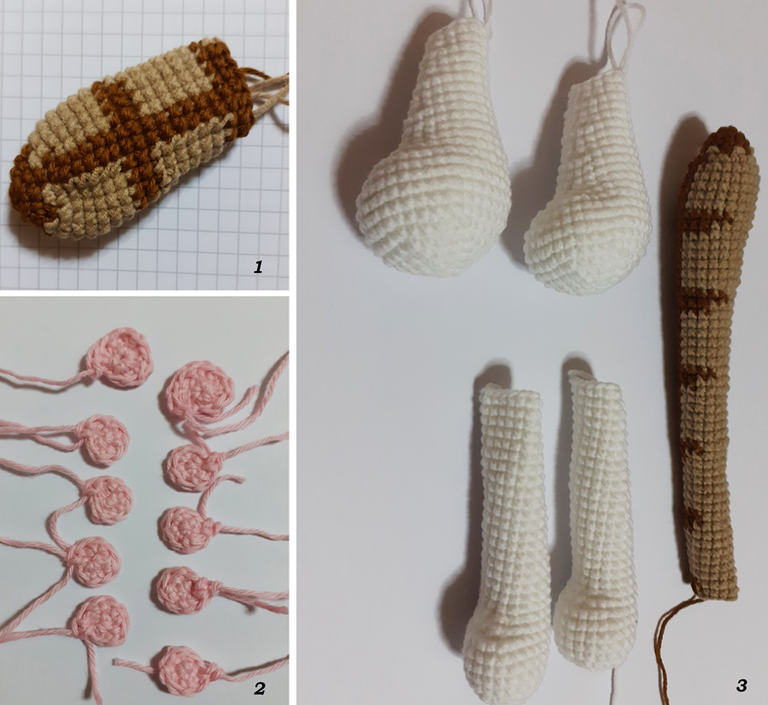 Se inició por la parte más complicada, la colita (figura 1). Para esto se escogió colores similares a la imagen de referencia. Una de las características de este patrón son las huellas rosadas del gato (figura 2). Las extremidades fueron de color blanco, por lo que se tejió de manera sencilla (figura 3).
It started with the most complicated part, the tail (figure 1). For this, colours similar to the reference image were chosen. One of the characteristics of this pattern is the pink footprints of the cat (figure 2). The extremities were white, so it was woven in a simple way (figure 3).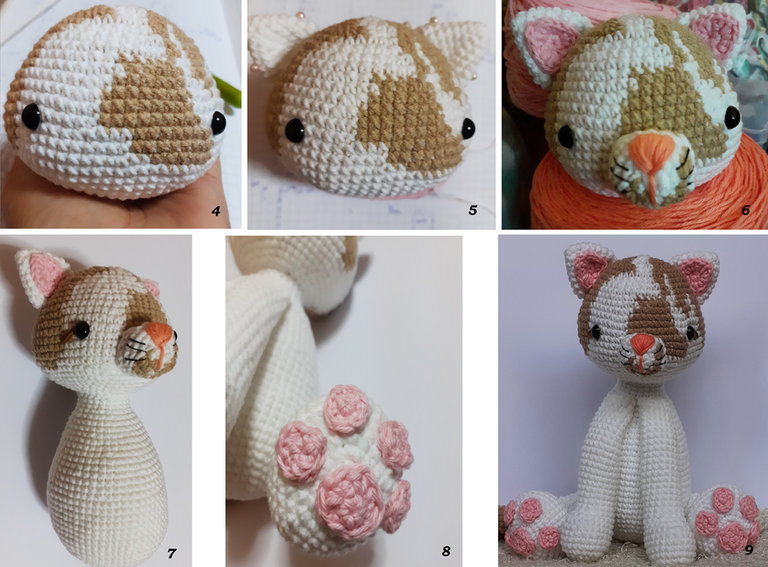 Sí, tejer la cabeza fue todo un reto, debido a la distribución de las manchas amarillas. Para esta vez utilicé ojitos de seguridad tal como indica el patrón (figura 4). Luego se colocó las orejas, el interior de las mismas el hocico (figuras 5 y 6). El cuerpo fue tejido de un solo color (figura 7) y el detalle de las huellas en las patas (figura 8). Por último, la diagramación del amigurumi (figura 9).
Yes, weaving the head was a challenge, due to the distribution of the yellow spots. This time I used safety eyes as indicated in the pattern (figure 4). Then the ears were placed, the inside of them the muzzle (figures 5 and 6). The body was woven in one colour (figure 7) and the detail of the footprints on the legs (figure 8). Finally, the diagram of the amigurumi (figure 9).

Se le agregó un collar rojo y blanco, ya que en una foto estaba el gatito con una ropa peruana.
A red and white collar was added, as in one photo the kitten was wearing Peruvian clothes.
¡Y eso es todo!,

¡…Hasta la próxima!
See you next time!
    Dato curioso: Si bien el amigurumi llevó ojos número 7, el patrón original sugiere que sean números mayores.

►Encuéntranos en: