Pequeñas medusas
Hola, espero la estén pasando bien
Hi, I hope you're all right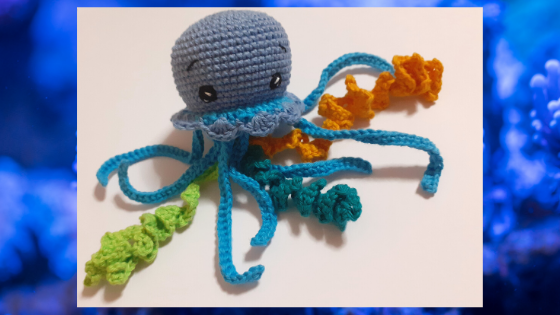 Desde hace tiempo no participaba en retos tejeriles. Este reto fue algo extraño porque era por Whatsapp, además participaron más de 100 personas (estoy segura), es decir publicaban cada minuto…En lo personal fue incómodo, porque los comunicados realmente importantes (de las administradoras) se perdía entre los mensajes. Además subían muchas imágenes a cada rato y eso ocupa espacio en la memoria. En resumen, prefiero los retos por grupos de Facebook.
It has been a long time since I took part in weaving challenges. This challenge was a bit strange because it was for Whatsapp, moreover more than 100 people participated (I am sure), that is to say they published every minute... Personally it was uncomfortable, because the really important communications (from the administrators) were lost among the messages. In addition, many images were uploaded at all times and this took up space in the memory. In short, I prefer the challenges by Facebook groups.
A tejer: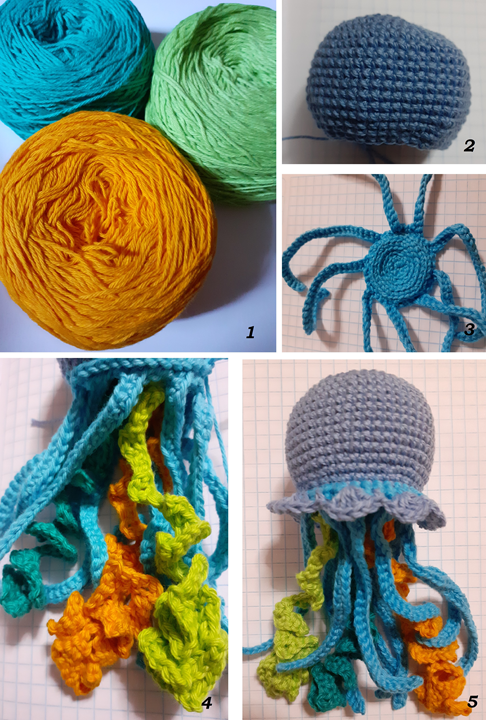 Materiales: crochet número 2, tijera, napa siliconada, aguja lanera e hilos de colores (figura 1). La cabeza se tejió con aumentos, tejido recto y luego disminuciones (figura 2). Luego se tejió la base, cogiendo solo las hebras de detrás del tejido, seguido de los flagelos (figura 3). En el centro se tejió tres flagelos gruesos, con puntos altos (figura 4). Se unió la base con la cabeza, de inmediato se tejió unas blondas con 5 puntos altos dejando un punto. (figura 5).
Materials: number 2 crochet, scissors, siliconised nappa, wool needle and coloured threads (figure 1). The head was knitted with increases, straight knitting and then decreases (figure 2). Then the base was woven, taking only the threads from behind the fabric, followed by the flagella (figure 3). In the centre, three thick flagella were woven, with high stitches (figure 4). The base was joined to the head, and immediately some doilies with five high stitches were woven, leaving one stitch. (Figure 5).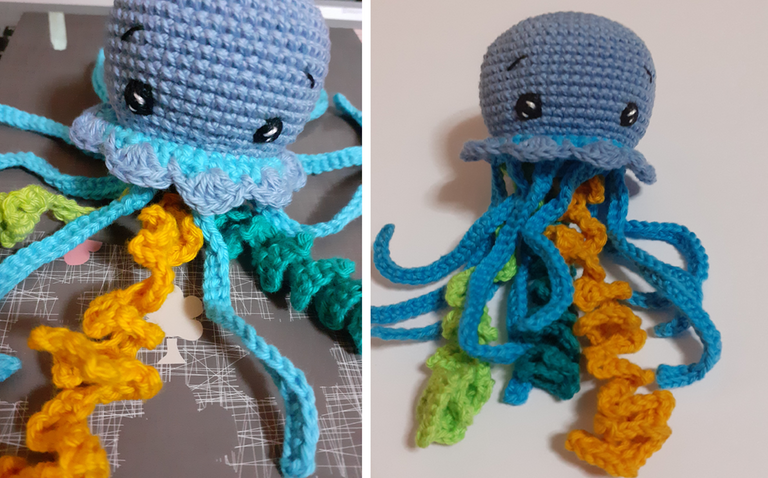 Por último se bordó los ojitos. Si tienen ojitos de seguridad, son del número 7.
Finally, the little eyes were embroidered. If they have safety eyes, they are number 7.
¡Y eso es todo!,

¡…Hasta la próxima!
See you next time!
    Dato curioso: Para este amigurumi, decidí emplear colores extravagantes. La dificultad sería nivel principiante, es decir sencillo.

►Encuéntranos en: