El segundo personalizado
Hola, espero la estén pasando bien
Hi, I hope you're all right
Una de las complicaciones que tuve para este caso fue la escala, es decir el tamaño coordinado entre los personajes. Por ello, si bien realizo patrones propios, decidí seguir video tutorial de la maestra ByPetus (enlace al final). Si observamos de manera individual, tiene un nivel medio, pero si observamos los 4 sería nivel difícil. Mide 25 centímetros.
One of the complications I had for this case was the scale, that is, the coordinated size of the characters. Therefore, although I make my own patterns, I decided to follow the video tutorial of the teacher ByPetus (link at the end). If we observe individually, it has an average level, but if we observe all 4 it would be a difficult level. It measures 25 centimetres.
A tejer: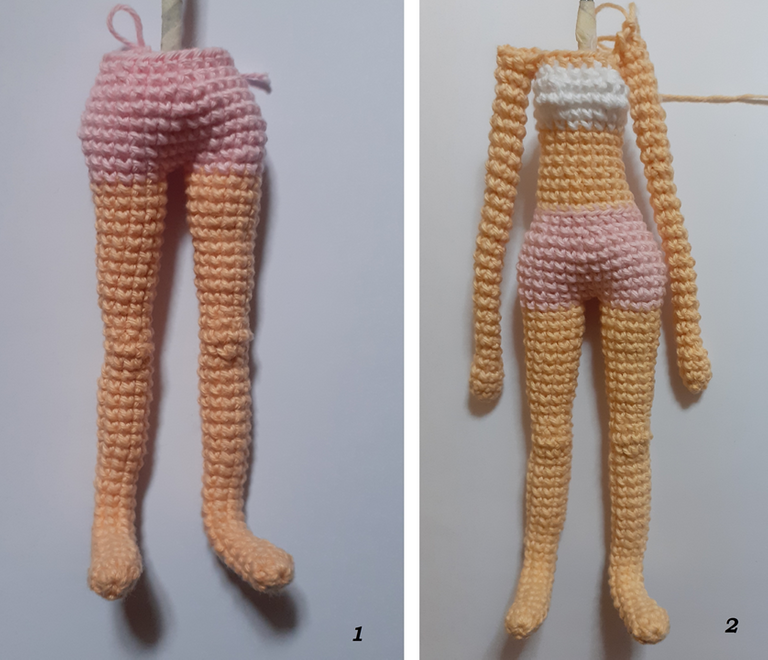 Se inició el tejido por las piernas. Si recién comienzas es algo complicado debido a ser tejido recto, para que quede bien el detalle de las rodillas (figura 1). Se siguió tejiendo con disminuciones y aumentos hasta llegar a la unión de los brazos (figura 2). Desde allí se realiza disminuciones hasta formar el cuello.
The tissue was started by the legs. If you are just starting it is somewhat complicated because it is straight tissue, so that the detail of the knees will be well defined (figure 1). The knitting was continued with decreases and increases until reaching the union of the arms (figure 2). From there, decreases are made until the neck is formed.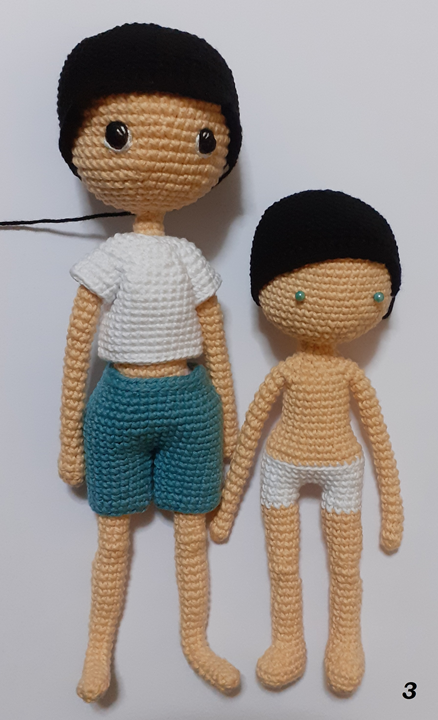 Hay 2 maneras de tejer la cabeza, una es continuar tejiendo desde el cuello a la cabeza y la otra es tejerlo por separado. Como se mencionó una vez, si bien la ropa se teje aparte (puede variar), no se le puede sacar la ropa luego, algunas prendas sí, por ejemplo el short. Se bordó los ojos y avanzó con el cabello. En la imagen se muestra junto a su hermana (figura 3).
There are 2 ways of knitting the head, one is to continue knitting from the neck to the head and the other is to knit it separately. As mentioned once, although clothes are woven separately (it can vary), you cannot take the clothes off later, some clothes can, for example shorts. He embroidered his eyes and moved forward with his hair. In the picture she is shown with her sister (figure 3).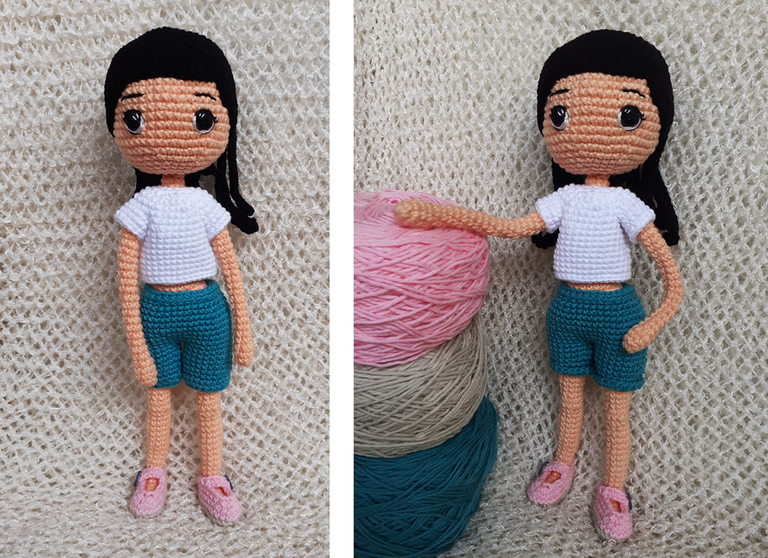 Con cada amigurumi se aprende algo nuevo, esta vez fue el cabello.
With every amigurumi you learn something new, this time it was the hair.
¡Y eso es todo!,

¡…Hasta la próxima!
See you next time!
    Dato curioso: El personaje que muestra en la figura 3 es el 3er personalizado.

►Encuéntranos en:
Fuente de video: