El inicio de 4 personalizados
Hola, espero la estén pasando bien
Hi, I hope you're all right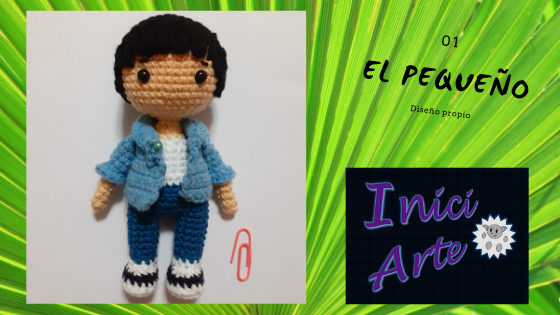 Desde un tiempo que decidí realizar amigurumis propios, es como si tuviese mayor libertad de expresión, es como si se abriera otro mundo donde todo es posible. Este amigurumi personalizado es uno de los 4 niños encantadores. En lo personal, me agrada más este, porque por el momento me siento más cómoda tejiendo de ese tamaño, mide 13 centímetros.
Since a time when I decided to make my own amigurumis, it's as if I had more freedom of expression, it's as if another world was opening up where everything is possible. This personalized amigurumi is one of the 4 charming children. Personally, I like this one the most, because at the moment I feel more comfortable knitting that size, it's 13 centimeters long.
Cierto, estos días estaba ordenando los hilos de colores y adquiriendo nuevos materiales, es algo complicado por el tema de la pandemia, ya que no puedo tocar las texturas y tampoco se puede distinguir las tonalidades de colores. A todo esto, espero realizar la próxima compra el siguiente año, si todo sale bien claro.
True, these days I was sorting out the coloured threads and acquiring new materials, it's a bit complicated because of the pandemic theme, since I can't touch the textures and I can't distinguish the colour shades either. To all this, I hope to make the next purchase next year, if everything goes well clear.
A tejer: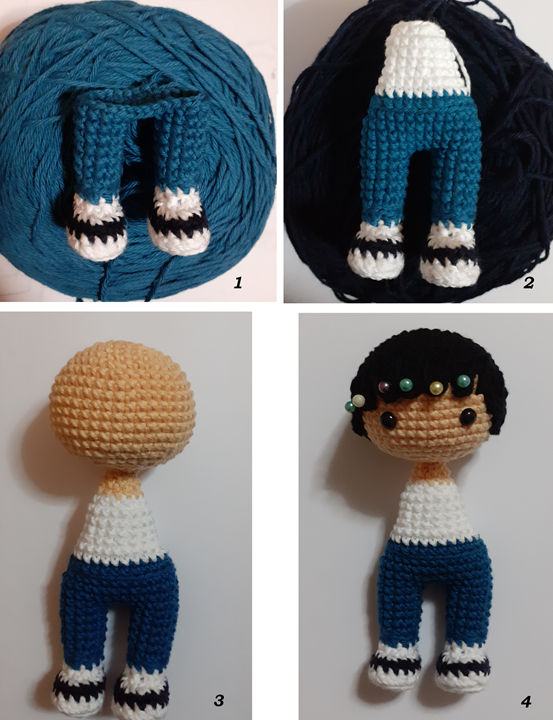 Antes de tejer se realizó un dibujo sencillo, para tener presente las proporciones en cuanto a la escala de los 4 personajes. Se comenzó tejiendo por las zapatillas, seguido del pantalón jean y polo blanco (figuras 1 y 2). Se continuó el tejido hasta llegar a la cabeza (figura 3), luego el cabello…el niño tenía corte honguito así que se trató de ponerle cerquillo (flecos) sobre la frente, estos están sujetados por alfileres de colores (figura 4). Por lo que no llega a notarse muy bien las cejas. También se colocó los ojitos.
Before weaving, a simple drawing was made, to take into account the proportions in terms of scale of the 4 characters. The weaving began with the slippers, followed by the jeans and white polo shirt (figures 1 and 2). The weaving was continued until arriving at the head (figure 3), then the hair...the boy had cut mushroom so it was tried to put cerquillo (fringe) on the forehead, these are held by colored pins (figure 4). So the eyebrows are not very noticeable. The eyes were also placed.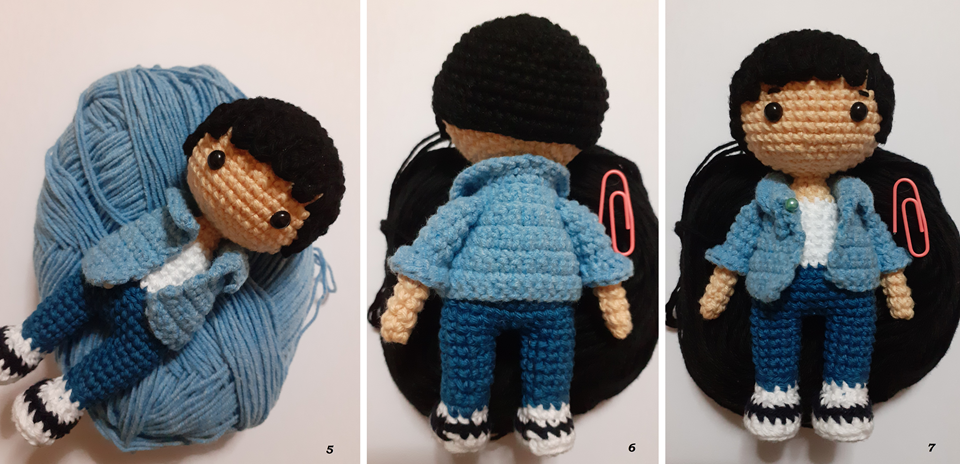 El pequeño llevaba una camisa manga larga remangada en los brazos (figuras 5 y 6). Por último se colocó un clip como referencia del tamaño (figura 7).
The child was wearing a long-sleeved shirt rolled up in his arms (Figures 5 and 6). Finally, a paper clip was placed as a size reference (figure 7).
Y eso es todo,

¡…Hasta la próxima!
See you next time!
    Dato curioso: Me divertí mucho tejiendo al amiguito, sobre todo porque son pequeños y resaltan los detalles del personaje. / I had a lot of fun knitting the little friend, especially because they are small and highlight the details of the character.

►Encuéntranos en: