Amigurumi #108: Personalizado VIII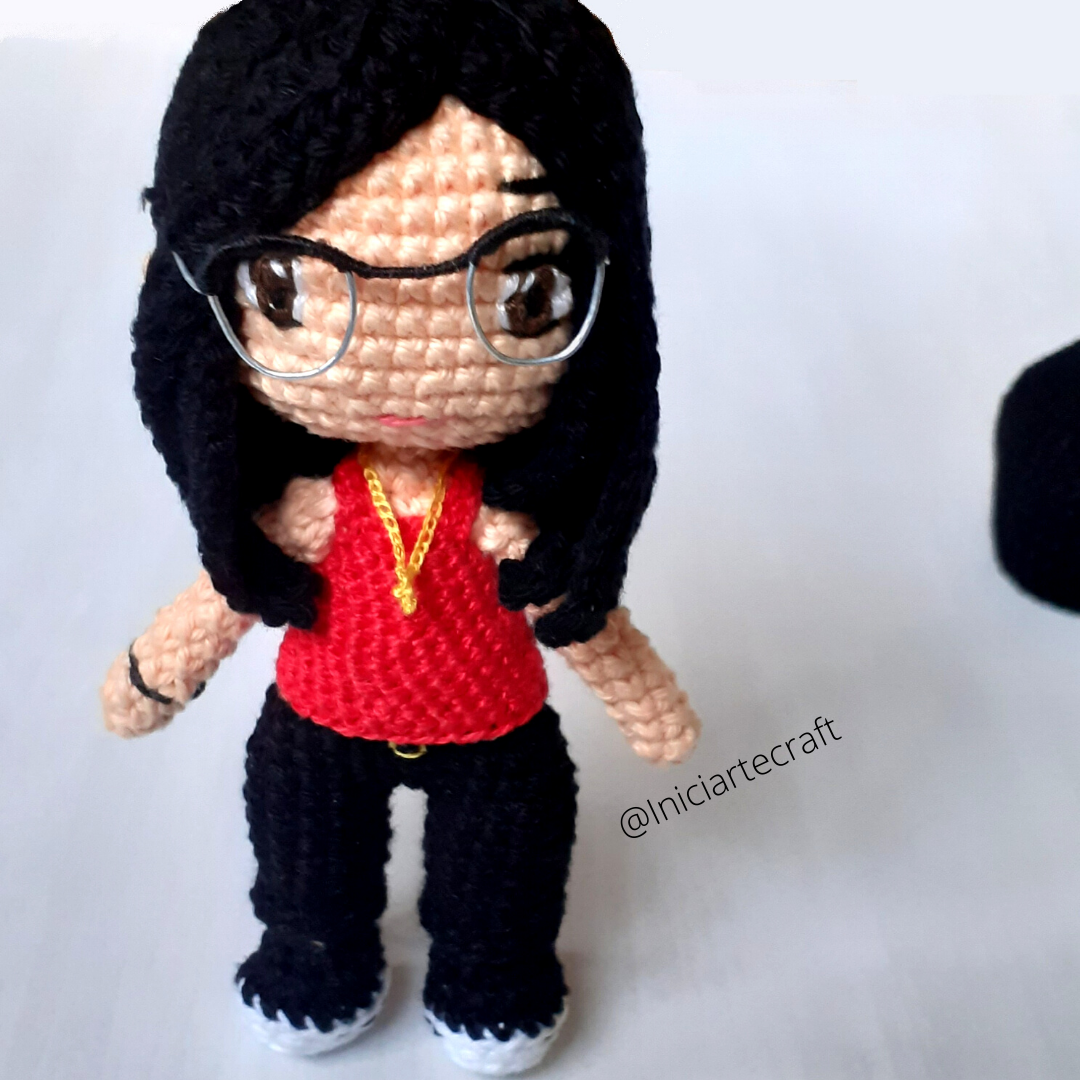 ¡Hola, espero la estén pasando muy bien!
Hi, I hope you are having a good time!
Los amigurumis personalizados se caracterizan por resaltar esas características únicas de las personas. Estas pueden ser: peinados, colores de la vestimenta, calzado y los accesorios. Generalmente este tipo de amigurumis son de tamaños medianos a grandes (entre 20 y 30cm). Este sería el tercer personalizado pequeño que tejo, mide 13cm de altura. Lo cual hace que algunos detalles sean más complejos en su elaboración.
Personalised amigurumis are characterised by highlighting those unique characteristics of people. These can be: hairstyles, clothing colours, shoes and accessories. Generally these types of amigurumis are medium to large in size (between 20 and 30cm). This would be the third small custom amigurumi I knit, it is 13cm tall. Which makes some details more complex in its elaboration.
Materiales /materials:
Hilos de algodón (4 hebras) / Cotton thread (4 strands)
hilo de bordar / embroidery thread
crochet 2 mm
tijera / scissor
napa siliconada / silicone coating
aguja lanera / wool needle
alfileres con cabeza / headed pins
alambre galvanizado / galvanised wire
A tejer/ To weave: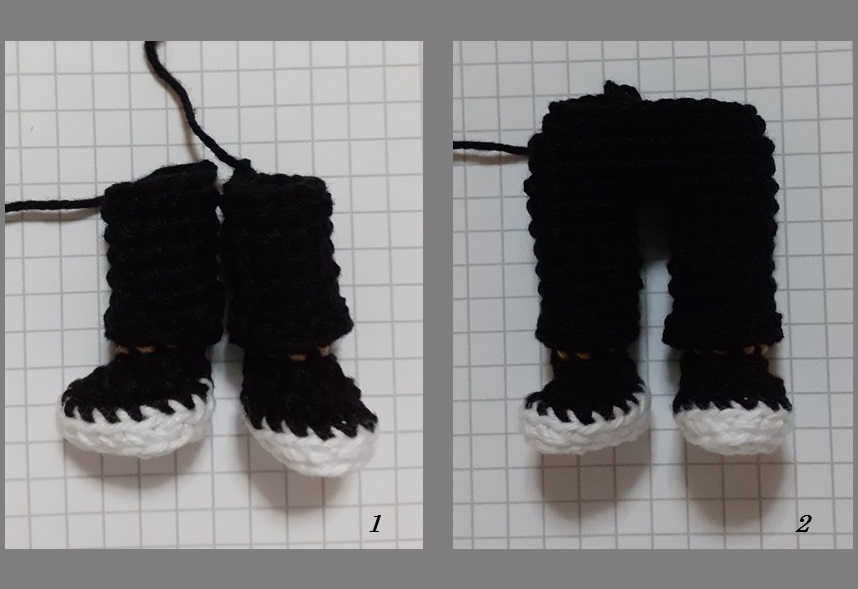 Con este amigurumi confirmo que tejer con hilo color negro fue agotador. Se inició tejiendo la suela de las zapatillas, luego se fue formó las piernas. En la intersección entre el tobillo y el pantalón, se tejió solo por la hebra de atrás. Luego se tejió con aumentos por la hebra delantera. Esto con el objetivo de darle una forma de "pantalón suelto" (fig 1). Se unió ambas piernas y se formó la cintura (fig. 2).
With this amigurumi I confirm that knitting with black yarn was exhausting. I started by knitting the sole of the slippers, then I knitted the legs. At the intersection between the ankle and the trousers, I knitted only the back yarn. Then the front yarn was knitted with increases. This was done in order to give it a "loose trouser" shape (fig 1). The two legs were joined together and the waist was formed (fig. 2).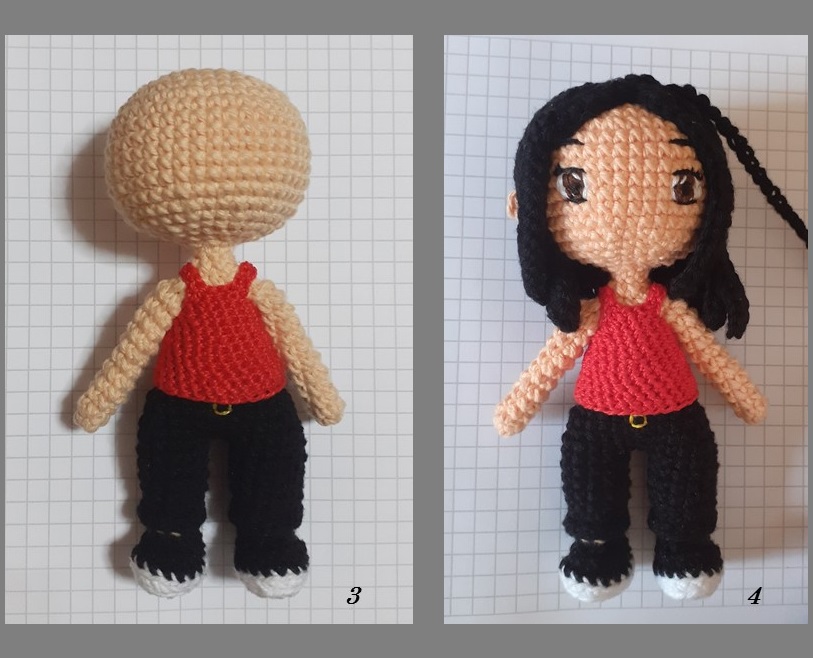 Se formó el cuerpo mediante tejido recto y disminuciones a medida que se llega a cuello. Esta vez los brazos fueron unidos con el tejido, debido a la articulación que llevó en su interior. La cabeza fue tejida aparte y luego se unió al cuerpo. El polo manga cero fue tejido al revés y con hilo de bordar (fig. 3). El bordado del rostro es algo complejo, por eso generalmente utilizo ojos de seguridad. El cabello fue tejido con medios puntos altos (fig. 4).
The body was formed by straight weaving and tapering as it reached the neck. This time the arms were joined with the weave, due to the joint carried inside. The head was knitted separately and then joined to the body. The zero sleeve polo shirt was knitted inside out and with embroidery thread (fig. 3). The embroidery of the face is somewhat complex, so I generally use safety eyes. The hair was knitted with high half stitches (fig. 4).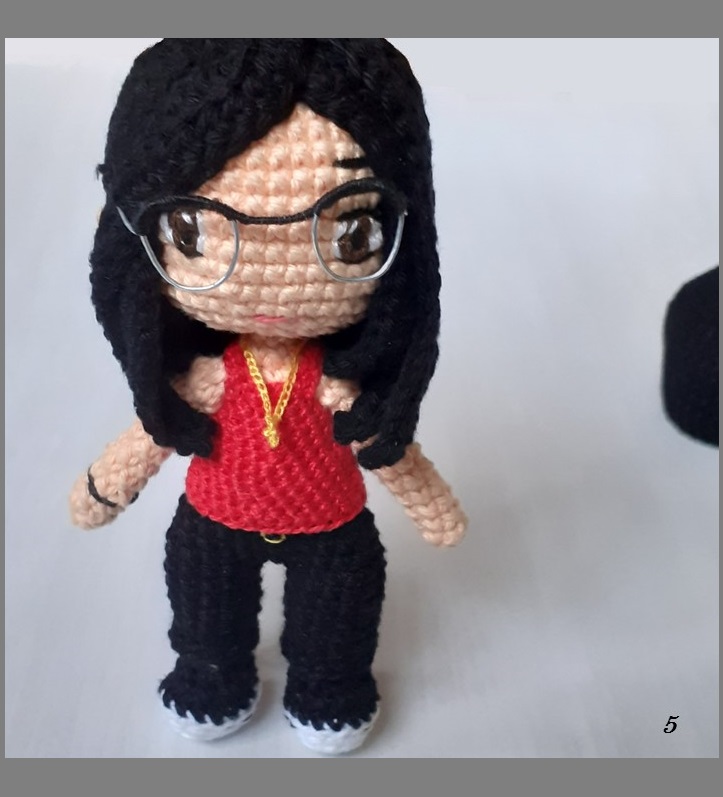 Por último, se elaboró los lentes con alambre galvanizado y forrado con hilo de bordar negro y algunos accesorios que llevaba la foto de referencia (fig. 5).
Finally, the glasses were made from galvanised wire and lined with black embroidery thread and some accessories from the reference photo. (fig. 5)
¡Y eso es todo!,

¡…Hasta la próxima!
See you next time!
 Dato curioso: Aún sigo sufriendo con los diseños de los lentes / I'm still struggling with the lens designs.
---
---