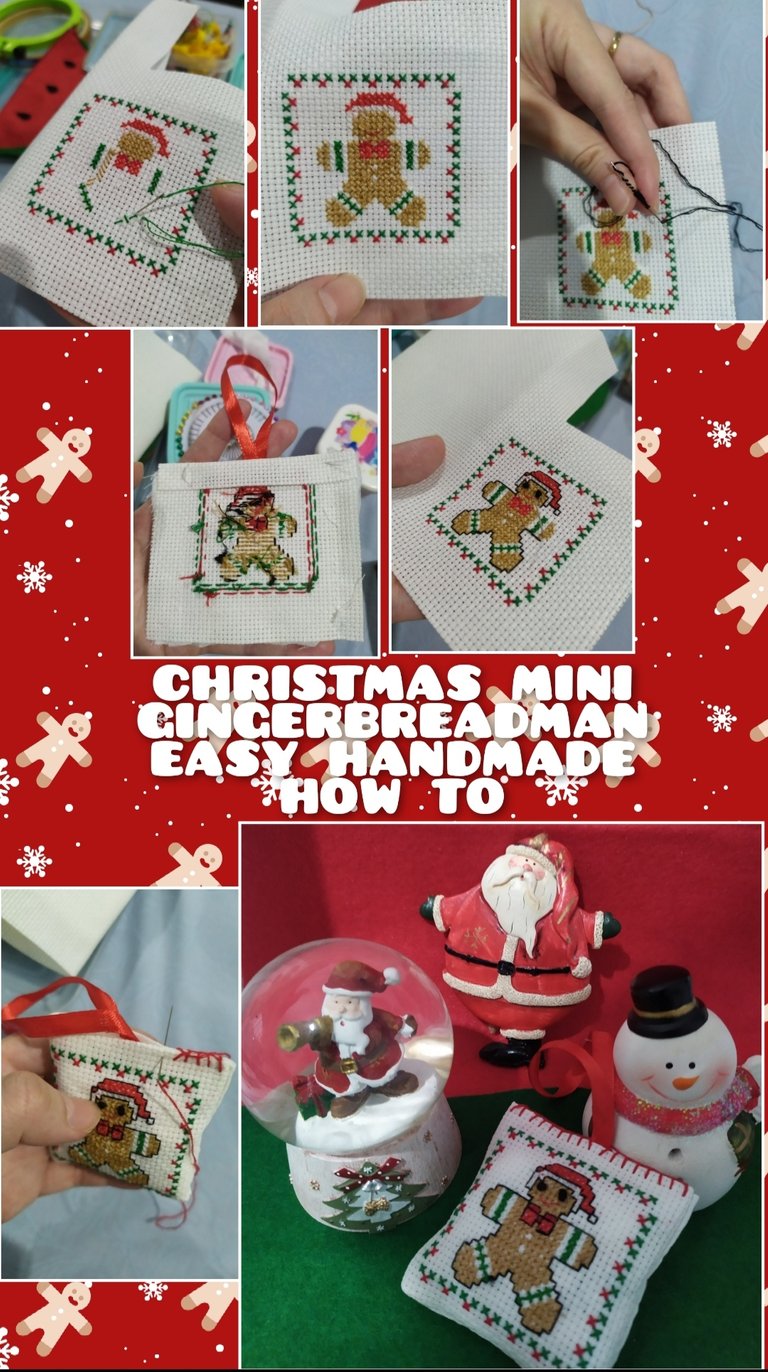 Hello, friends!
Yesterday i just finished stitching this cute christmas decor, gingerbreadman. And now i would like to share how i made it, and if you want to make the same you could comment below and i will send you the key for the gingerbreadman.
Now let's started, first you need to prepare all the materials needed:
embroidery needle
14ct cross stitch fabrics
embroidery floss (red, chilli red, goldy brown, green, medium green, white, black)
natural fabrics
scissors
sewing needle
pins
white thread
How i made this was divided into 2 parts, the first part would be the cross stitching part. All the cross stitch were using 2 strands of floss. Begin to stitch the frame with green and also red like below. Finish then stitch the christmas hat with chilli red and the white below.


Then cross stitch the gingerbreadman's head with the goldy brown colour. The bow with two kind of red. To do thr cross stitch actually was quite simple, you need to stitch diagonal, horizontal then diagonal again like i did.


Stitch the line near the hands and feet with the white and medium green floss like below. Also the white for the buttons. Then finish the gingerbreadman with the brown goldy.

Back stitch the mouth with a strand of chilli red floss. Make the french knot for the eyes. It is quite easy, you only need to follow like my steps below. Last, backstitch with a black strand for the border line.




After finished the cross stitch part, cut the fabrics and also cut the natural colour fabrics. Also cut the red ribbon. Use some straight pins to join the two kind of fabrics like below. Then sew the ribbon on natural fabrics.


After that, sew the three sides with two strands of white thread. Turn it up then left the top side unsewn.


Put cotton balls inside it then do the blanket stitch with red floss for the top. Voila it's finished!


Now it could be put among other christmas decorations.


Happy stitching and sewing!