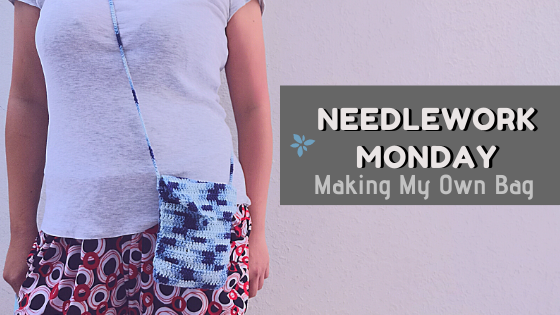 Took Me A While
I honestly thought I'd be finished in time for last week's #needleworkmonday, but I apparently overestimated myself and underestimated the lots of other things that needed to be done IRL. What I thought would take me just a couple of days, took me over a week!
Sometime back, I shared that I was starting a new project, and now the time has come -- the big reveal! Lol!
There's really nowhere for me to go these days apart from the fortnightly grocery runs and the daily drive to send off and fetch @kennyroy to work. For some reason, I cannot find my old sling bag (must have been buried in my wardrobe) and that is why I decided to make a new crocheted sling bag.
Easy, Not Easy
As I said before, I've never crocheted anything in my whole life apart from the small cardholder cover a few weeks ago and this one. I mostly take my "lessons" via Youtube so I can get the visuals, and rewind or slow down the videos if required.
For this project, I followed the easiest tutorial I could find. Actually, it's a combination of a few different videos, taking ideas from each of them. This video was my initial reference, but instead of making separate parts, I decided to just make one long rectangular material.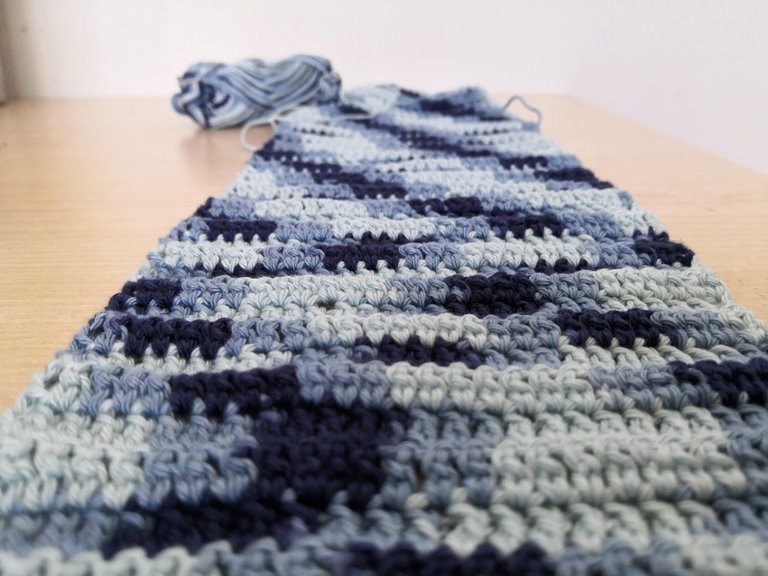 Since I needed the bag to keep my phone, car keys, and cardholder, I measured my work based on this. I made 28 stitches across, of 48 rows to complete the bag inclusive of the flap cover.
After getting the desired length, it is time to stitch them together!
The stitches were not too tight and so I decided to put a cloth lining inside. Fortunately, there was a small black shayla (head cloth cover) lying inside our cabinet. I cut a portion of it, enough to wrap around the bag.
We do not have a sewing machine so I had to hand stitch everything. Anyhow it is worth it, that in any case I have to put a pen in my bag, it won't go through the small gaps. LOL.
Also, I did not put a zipper on this bag. I don't want to complicate the job further. 😅
Almost there!
The cord took me long to finish. Again, I do not have any idea how to make one. This video was my reference when I made the cord.
At first, I wanted to use double yarn to make the cord but it became too hard for me because the yard was multi-colored. It became too hard for me to identify the V's on the stitches. I quickly accepted defeat and proceeded with just a single thread.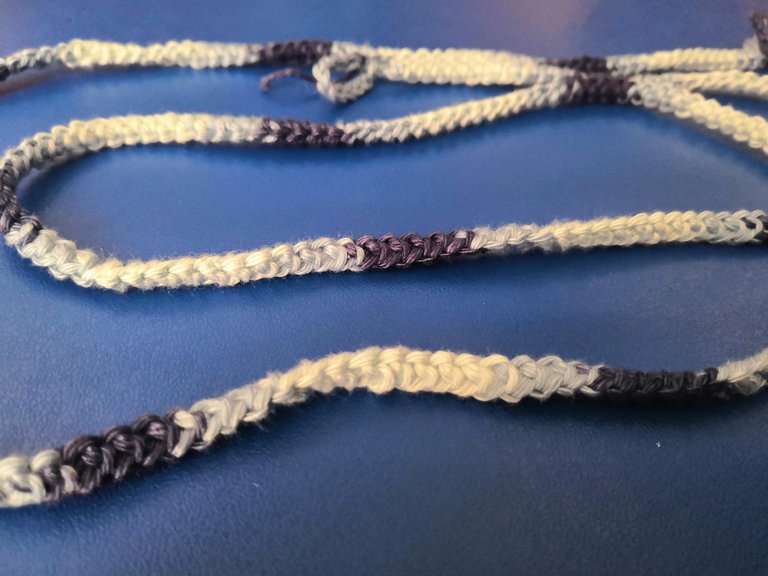 I think it took me three days to complete around 1.5 meters length. My nails hurt from the wriggling through the stitches. Initially, I made a small ring at the ends of the cord to insert it through another ring that I planned to attach at the sides.
I decided against it eventually and just sewed the cords directly on the bag itself. It felt sturdier this way.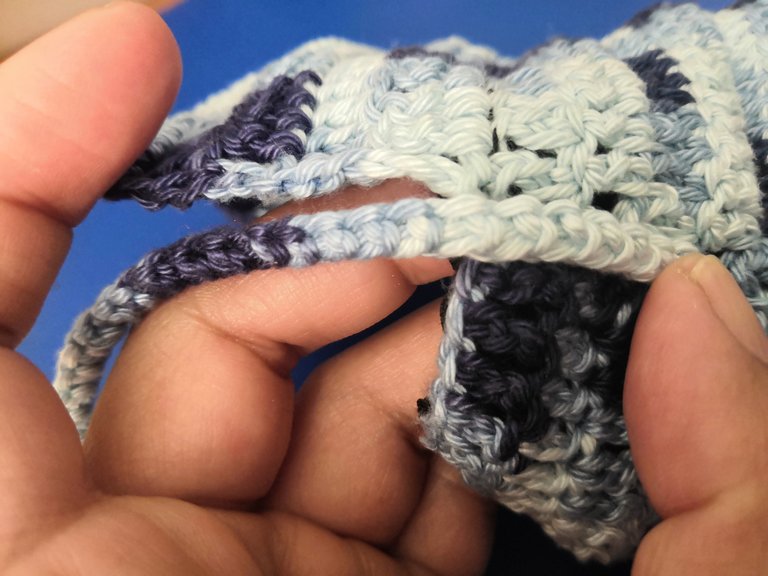 Finally, the button! For this, I rolled an inch of double crochets and sewed it to make a knot, then attached a chain long enough to wrap around this at the flap of the bag.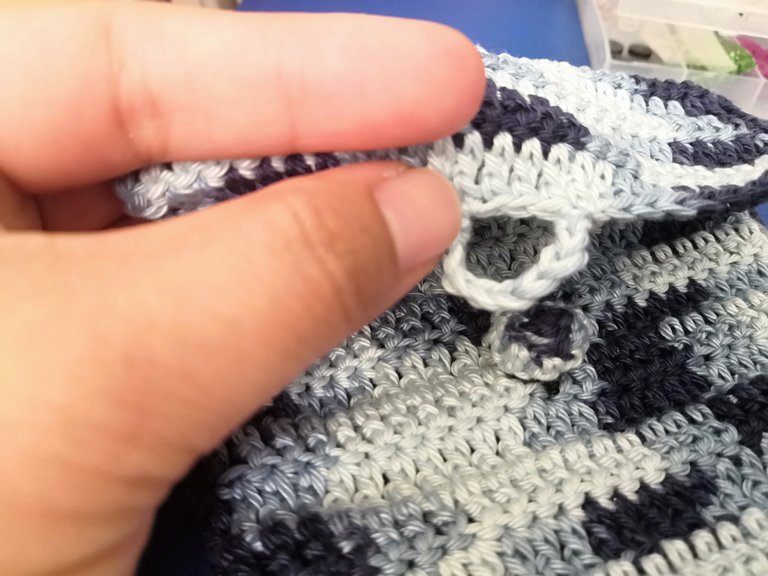 And that's it! My very first crocheted bag, done! I'm so happy. 😍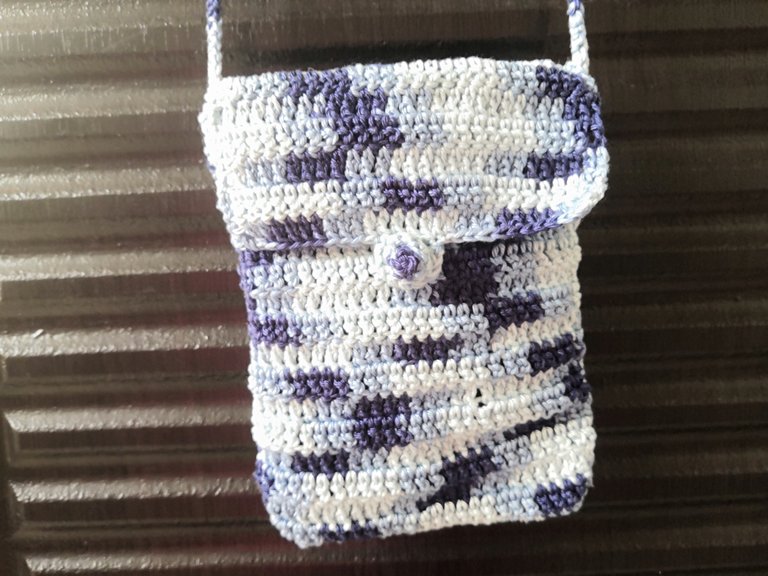 Now, my daughter wants me to make one for her. Hmmmm, a new project. Why not?!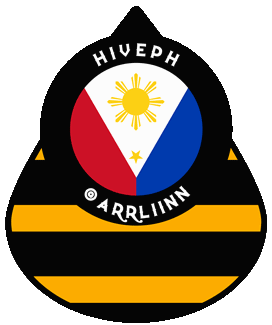 Many thanks to @bearone for this beautiful Hiveph badge!
Join and subscribe to the HivePh Community : Supporting Filipinos Worldwide
Join us in Discord.