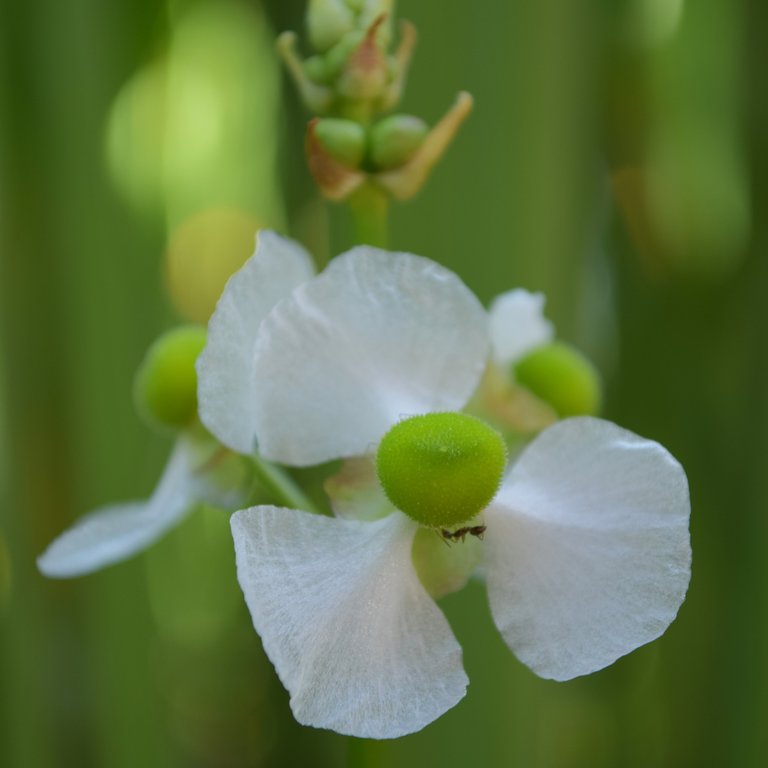 ¨Ant in the flower¨


This photograph for me is a wonder of nature because it measures approximately two inches (five centimeters) and in spite of being so small it looks big in the photograph, due to the great amount of detail it has, the roughness of its petals, the hair-like texture of its center, the detail of the ant walking on the bottom... It is impressive how Mother Nature has created things so wonderful and so small at the same time.
This photograph, although I have realized that it does not call the attention to many people, to me if it pleased me enough as it was, since the bottom of the plants was blurred, the ant I remain in one of the thirds of the composition generating a focal point and the flower only for the fact of having three petals, that is to say, an odd number... it makes that it jumps to my eyes.



Esta fotografía para mí es una maravilla de la naturaleza porque mide aproximadamente dos pulgadas (cinco centímetros) y a pesar de ser tan pequeña se ve grande en la fotografía, debido a la gran cantidad de detalles que tiene, la rugosidad de sus pétalos, la textura como pelitos de su centro, el detalle de la hormiga caminando en la parte de abajo... Es impresionante cómo la madre naturaleza ha creado cosas tan maravillosas y tan pequeñas al mismo tiempo.
Esta fotografía, aunque me he dado cuenta de que no le llama la atención a mucha gente, a mí si me agradó bastante como quedó, ya que el fondo de las plantas quedó difuminado, la hormiga quedo en uno de los tercios de la composición generando un punto focal y la flor solo por el hecho de tener tres pétalos, es decir, un numero impar... hace que salte a mis ojos.

And while we're here we can talk a little bit about ant philosophy, as Jim Rohn says, when was the last time you saw ants find an obstacle and give up? Never.
The ants never give up, if you try to put an obstacle in the way, they find another one, if they have to climb, carry twice their weight, if they have to run, they just do it without complaining.
The ants think in the winter in the summer, they spend it collecting food for their community, they are always prepared with reserves preparing themselves for the difficult moments that come, for example in winter.
And when it arrives they think about summer all winter, even if they are in a difficult moment, they always remember that something better is coming and that soon they are going to leave.
**They do everything they can, but they don't think about the amount of food, or that they're tired, or that it's enough. If an ant can do more, it simply does it.
Never give up, look ahead, stay positive and do everything you can. -Philosophy of the ant.
Y ya que estamos aquí podemos hablar un poco de la filosofía de la hormiga, como dice Jim Rohn, ¿Cuándo fue la ultima vez que viste a las hormigas encontrar un obstáculo y rendirse? Nunca.
Las hormigas nunca se rinden, si tratas de ponerle un obstáculo en el camino, ellas encuentran otro, si tienen que escalar, cargar el doble de su peso, si tienen que correr, simplemente lo hacen sin quejarse.
Las hormigas piensan en el invierno en el verano, se la pasan recolectando alimentos para su comunidad, siempre están preparados con reservas preparándose para los momentos difíciles que vienen, por ejemplo en invierno.
Y cuando este llega piensan en el verano todo el invierno, aunque estén en un momento difícil, recuerdan siempre que viene algo mejor y que pronto van a salir de allí.
Ellas hacen todo lo que puedan no piensan en cantidad de alimentos, ni que están cansadas, ni que es suficiente... Si una hormiga puede hacer mas, simplemente lo hace.
Nunca te rindas, mira adelante, mantente positivo y haz todo lo que puedas. -Filosofía de la hormiga.

I would really add two more philosophies to those of Jim Rohn, the first is that ants can carry twice their weight, this means that no matter how much weight we have on our back, we are twice as strong as we think we are, many times we underestimate our power, when everything is in our brain.
And the second is the ants work with the community and for the community, they spend all day collecting food to take home, together they build their home, together they walk. And when one of them needs help, it immediately sends a distress signal and the others come to its aid without a second thought.
Nature is perfect and always finds its way. We should learn more from her!
Yo realmente le agregaría dos filosofías más a las de Jim Rohn, la primera es que las hormigas pueden cargar el doble de su peso, esto quiere decir que no importa el peso que tengamos en nuestra espalda, somos el doble de fuertes que lo que creemos muchas veces nosotros mismos subestimamos nuestro poder, cuando todo esta en nuestro cerebro.
Y la segunda es las hormigas trabajan con la comunidad y para la comunidad, ellas se pasan todo el día recolectando alimentos para llevarlo a su casa, juntos construyen su hogar, juntos andan. Y cuando una de ellas necesita ayuda, inmediatamente manda una señal de auxilio y las demás llegan a socorrerla sin pensarlo dos veces.
La naturaleza es perfecta y siempre encuentra su camino. ¡Deberíamos aprender más de ella!

This is my entry for the following challenges:
Challenge created by @adalger, in the AMAZING NATURE COMMUNITY community, with the tag #amazingnature. Here I leave the link
And the challenge created by @kalamandra, called @colorchallenge, with today's theme Thursday: Green, turquoise and using the label #colorchallenge and #thursday.
Database for initiative created by @hive-118554, The Stock Images community , with the tag #hivestockimages, if you want to participate here is the link
Photo taken in Iberoamerican park, National District, Dominican Republic.
Camera: Nikon 3300
Edited with Photoshop
Terms of use for these images:
-Credit me, as the creator of the image.
-A #hivetip or a beneficiary would be appreciated.
-You may use this image only on Hive Chain.
-You may overlay text or edit to suit your needs.

Esta es mi entrada para los siguientes desafíos:
Desafió creado por @adalger, en la comunidad de AMAZING NATURE COMMUNITY, con la etiqueta #amazingnature. Aquí dejo el link
Y el desafió creado por @kalamandra, llamado @colorchallenge, con el motivo de hoy Jueves: Verde, turquesa y usando la etiqueta #colorchallenge y #thursday.
Base de datos para iniciativa creada por @hive-118554, The Stock Images community , con las etiquetas #stockimages #hivestockimages, si quieres participar aquí esta el link
Fotografía tomada en el parque Iberoamericano, Distrito Nacional, República Dominicana.
Camara: Nikon 3300
Editada con Photoshop
Términos para uso de estas imágenes:
-Dáme crédito como creadora de la imagen.
-Se aprecia un #hivetip o un beneficiario de post.
-Solo se puede utilizar en la cadena de Hive Chain.
-Puedes colocarle texto encima como gustes.


Inside my personal business i have great accessories with this image that you may be interested in! There are bags, t-shirts, prints, furniture, home decorations, cell phone covers and much more.
Here I leave you the direct links to the collections and some examples:
If you have any questions or want the direct link to any of the products, just let me know.
¡Dentro de mi negocio personal tengo buenísimos accesorios con esta imagen que te pueden interesar! Hay bolsas, polochers, impresiones, mobiliario, decoraciones para el hogar, covers para celulares y mucho más.
Aquí te dejo los links directos para las colecciones y algunos ejemplos:
Si tienes cualquier pregunta o quieres el link directo a alguno de los productos, solo déjame saber.

REDBUBBLE / SOCIETY6
Thanks for your wonderful visit to my blog, I hope to see you again. Good vibes, see you next time!
Gracias por tu maravillosa visita a mi blog, espero verte de nuevo. ¡Buenas vibras y hasta la próxima!





---
--> Check out our products here <--
---