Greetings kind readers, this time I will share what the Venezuelan rainy season has achieved in the green areas of my house, what a little water and a little time with our friend nature can do. In my home we have a patio that we use to grow, plant, share and listen to the birds sing, but the rain and the weather have changed a lot of things.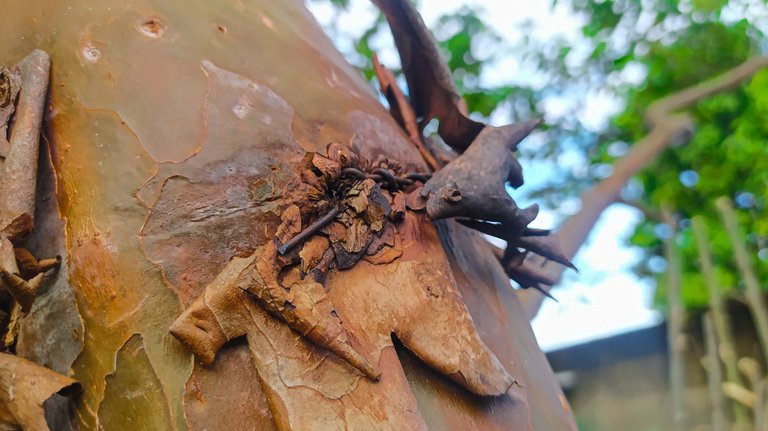 ---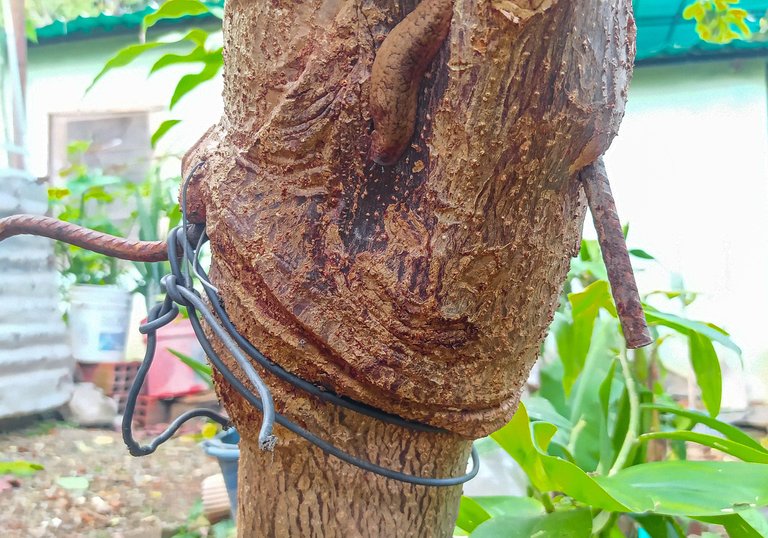 Absorbed by nature
Water is life, and when it falls from the sky it reaches all those plants that are uncovered, making them grow at an accelerated rate and attract new animals, as they become home to insects, birds, reptiles and amphibians.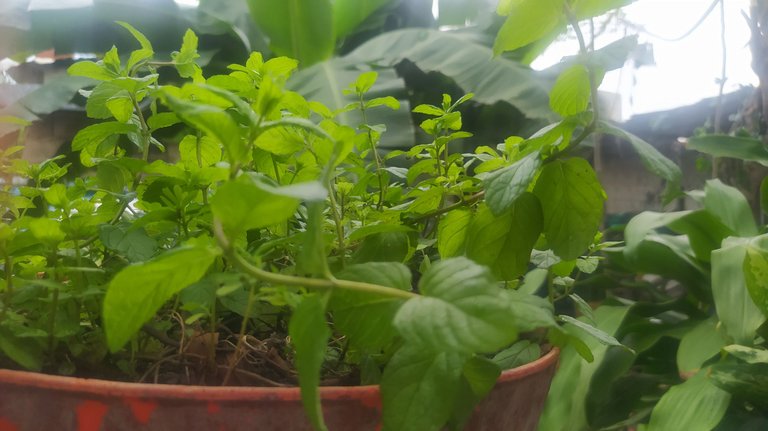 ---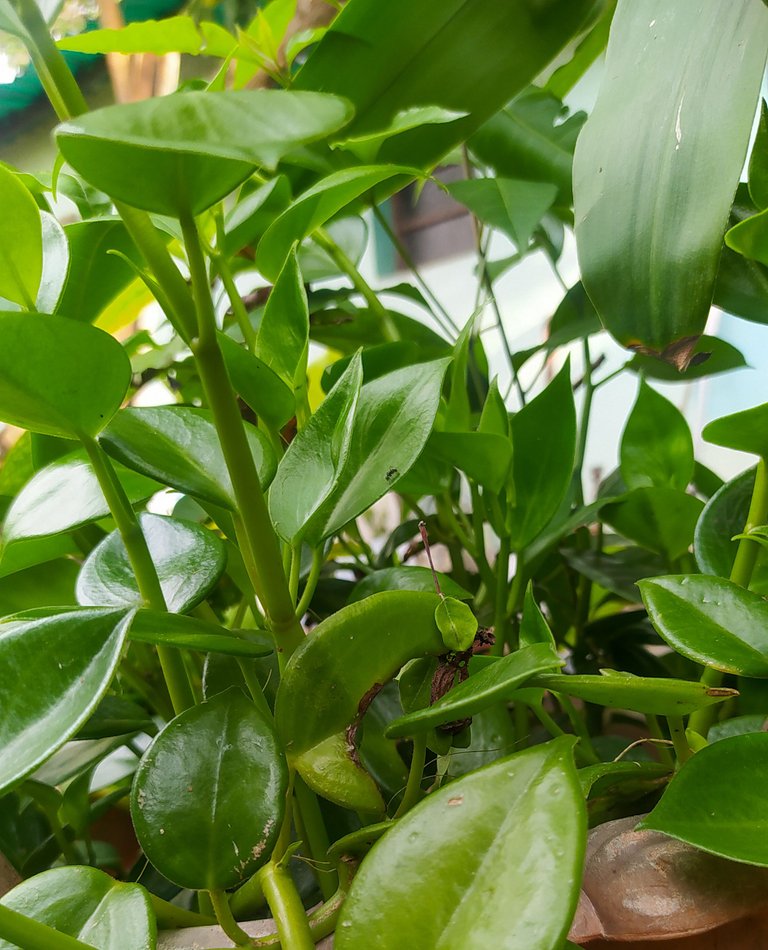 Growing vegetation
Already at home we have our pets, which are morrocoyes, which live in the roots of a guava tree, they inhabit the house for a long time, we have raised, cared for and loved them until today. They have grown healthy and were the inhabitants of our space until the rains took me to clean the yard and prune the plants.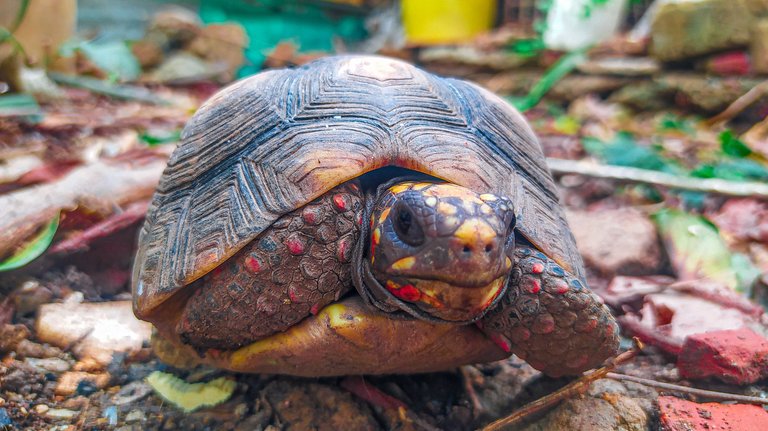 Red-footed tortoise or Morrocoy tortoise
While pruning some trees and cleaning the yard I found a lot of new things that the water had attracted and other not so new things that have remained through the years in this place, like the fact of finding a huge toad, with striking brown, black and golden colors, as you can see in the picture almost the size of the block on its back, likewise I saw new insects among the plants and wet soil, like centipedes, green spiders and ants with wings, product of the rain.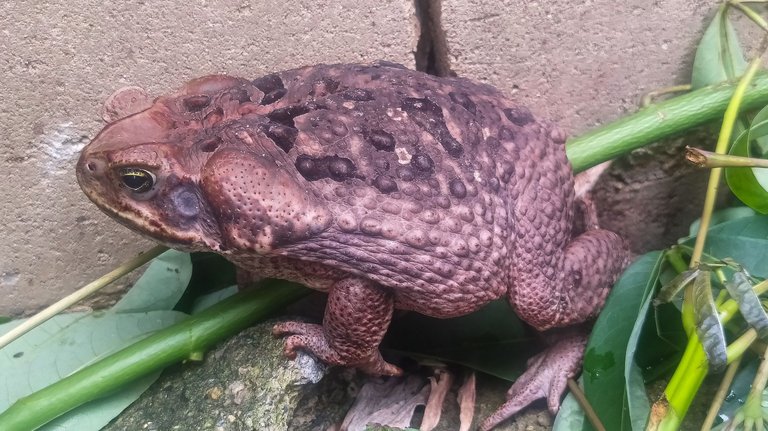 ---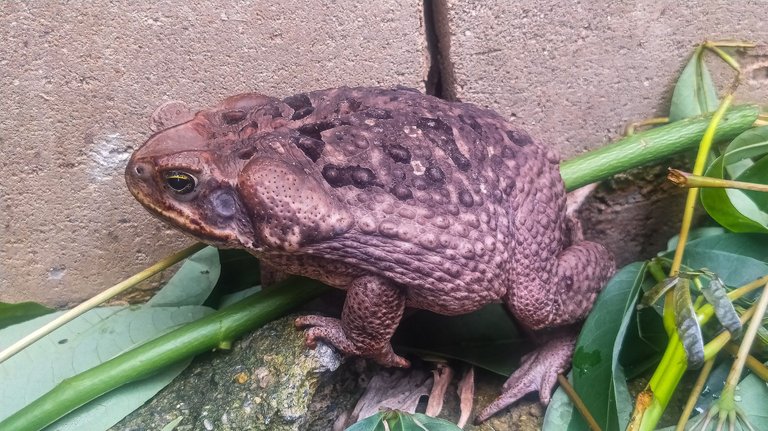 Cane Toad or Rhinella Narina
I also found an African snail, which was on the plant of a fern, I did not know what to do with it, so I cleaned the area where it was and put it back on the leg of the plant. I also watched it as it slowly crawled through a banana leaf and couldn't help but pick it up.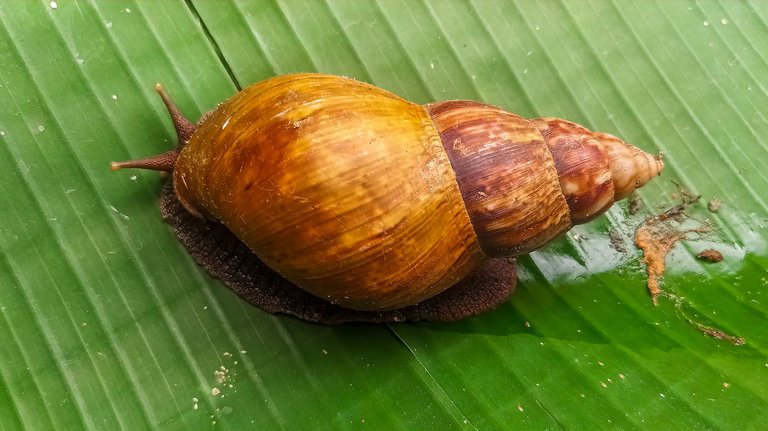 ---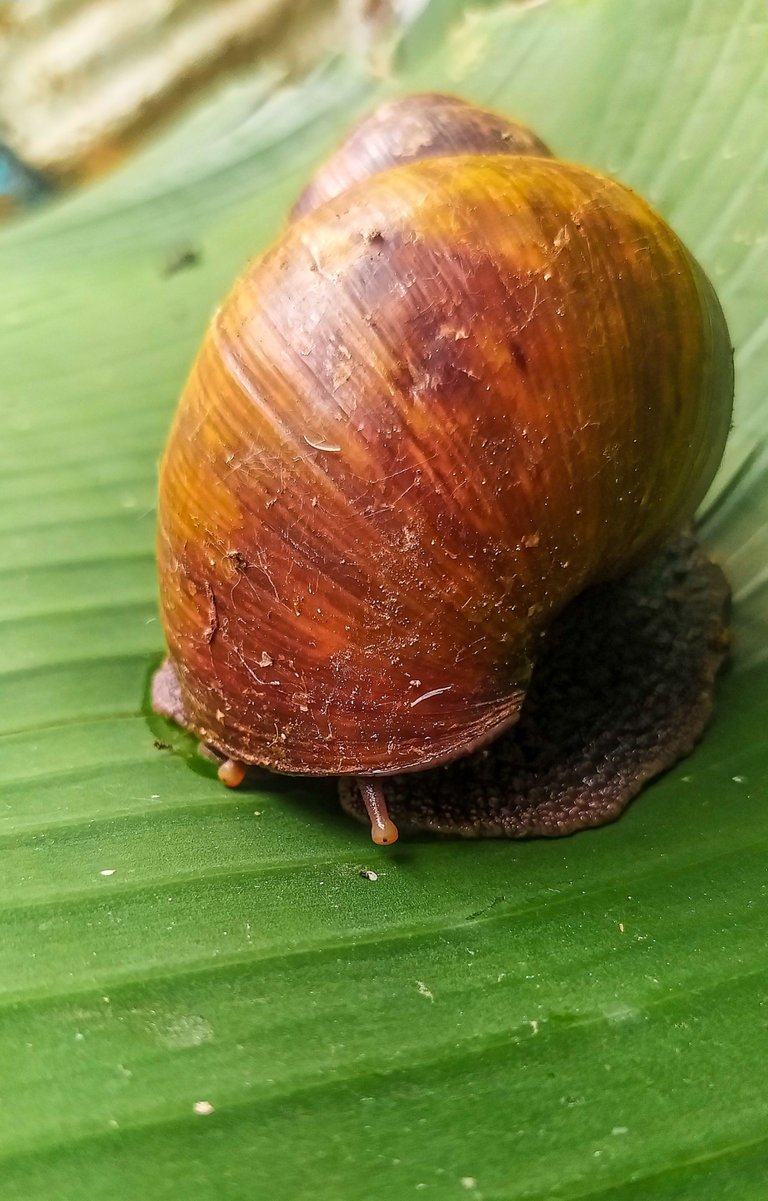 African Snail
I will tell you that at one time this yard was abandoned so nature took over processed items such as ropes and wires and you can still see the aftermath of these events, possibly they have been here for years, but since we don't want to cut the plants we will let nature continue to do its thing. It is incredible how nature can absorb these elements and the changes that are achieved thanks to it, making the vegetation seem incredible, however, the contamination of processed elements is something that affects this ecosystem.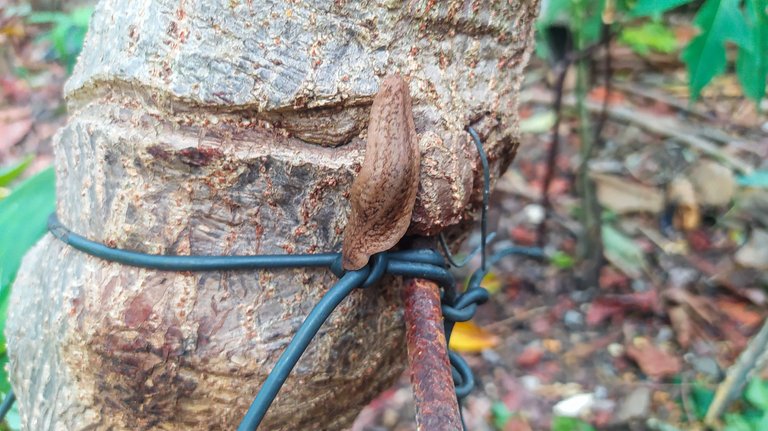 Metal rod absorbed by nature
---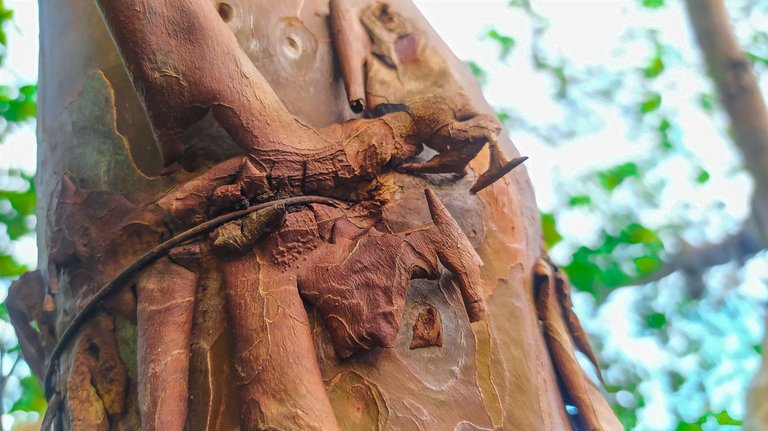 ---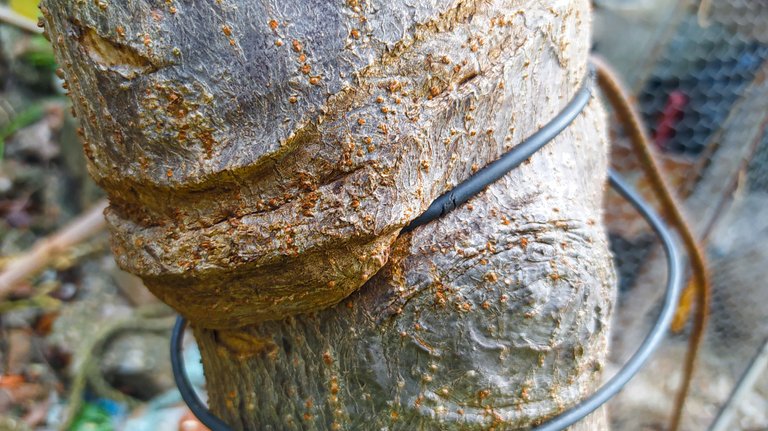 Wire absorbed by a tree
Finally I will write about the growth of different plants, there was a planting of mint, its leaves have a delicious smell, and the constant hydration has made these have a beautiful green. Also the harvest of vegetables such as chili, new vines taking over the corners and surfaces, likewise a new plant for this space, "the parchita".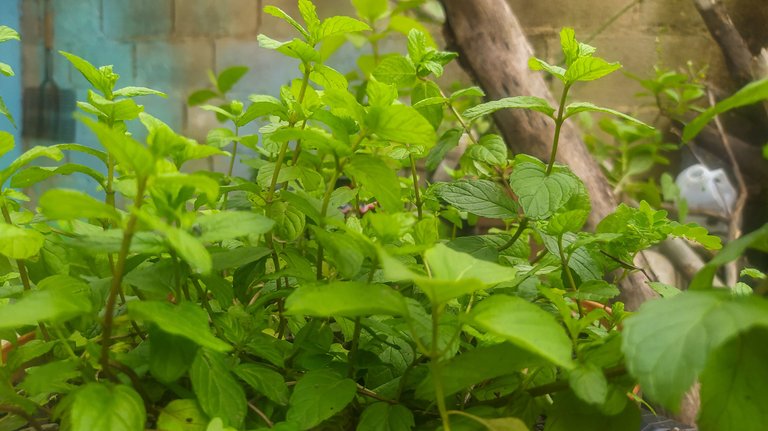 Mint plant
---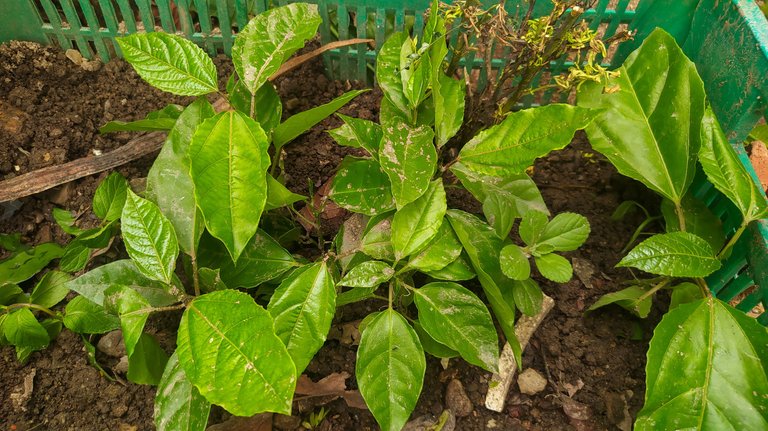 Parchita Plant
One of the things I use as a pseudonym RafaelGreen, is the fact that I love nature, plants and adventures, so for me it is a pleasure how climate change and a little time has transformed my patio into a new ecosystem.
---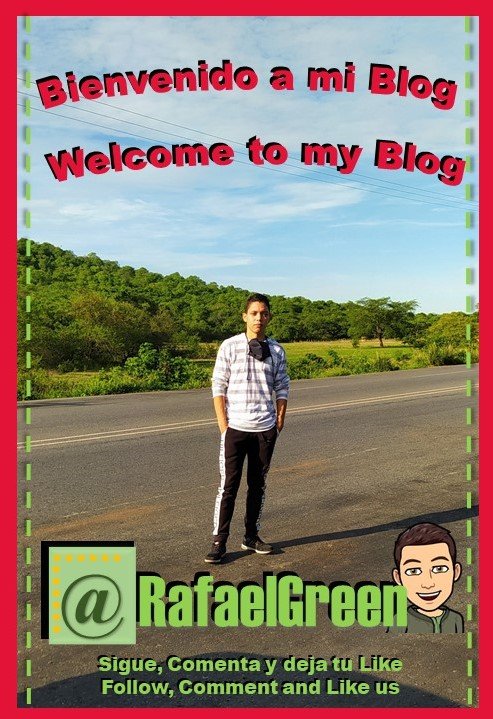 Welcome to a piece of my mind, a space of @RafaelGreen, Military by profession, Graduate and Blogger. Adventurer, narrator of adventures and experiences, on my way to being a storyteller. Knowing new places, an ecologist by passion, looking for the best way to undertake and achieve my goals. Taking you to know places in Venezuela, telling a story, an adventure and something more. If you like my content, don't forget to leave a comment, your like, or your opinion, and thank you very much for your support.
---
My native language is Spanish so I use Deepl for my translations.
The pictures are my own, I used the camera of the Redmi Note 8 for the pictures, edited with PowerPoint and retouched with lightroom.
"We are a particle in the universe with the power to change the world"
If you liked the writing leave your opinion and if you have any constructive observation do not hesitate to do it.

Banner designed by myself in PowerPoint.
---