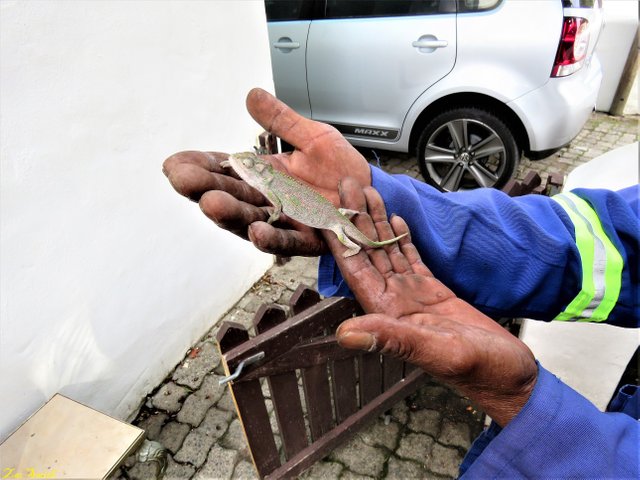 This tiny guy almost didn't make it!
A soft knock at our front door and Marian answered.
Now Marian is the type of girl that gets excited when I save a cricket and her face was blossoming when she came to call me.
The complex gardener went out to the shops and on his way back, he picked up this little Cape dwarf chameleon in the road.
Everyone here in the complex brings their little finds, mostly injured to me and I take care of them.
Let's look at this little guy!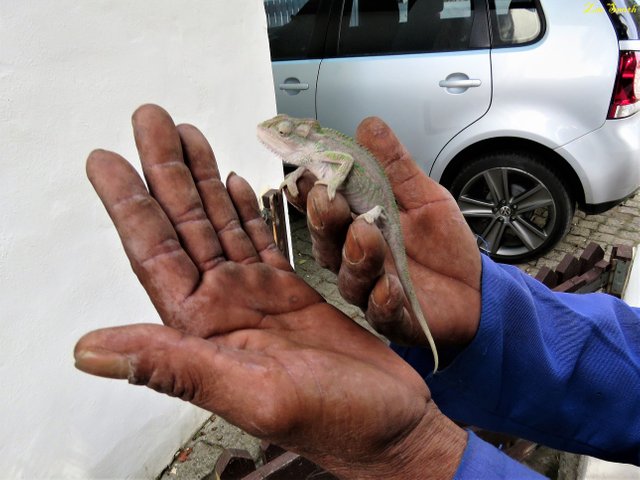 Yep! Healthy and spirited, as he has never been handled before!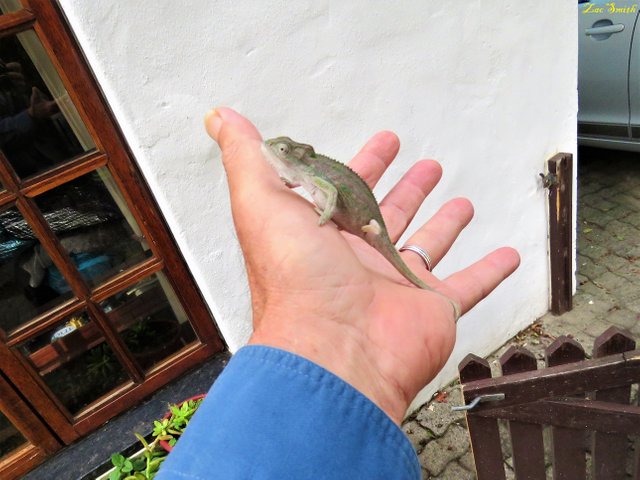 I have a photo in my files of one of the bigger species of chameleons, dead, as he was flattened by a car, but decided not to post it here.
This post is meant to display the gratitude in our hearts for being able to save this little gift.
Of course he didn't understand what was going on, as the one moment he was happily walking along and the next moment he was picked up by some kind of big animal(human) that he didn't know.
Wouldn't you be feisty if this were to happen to you?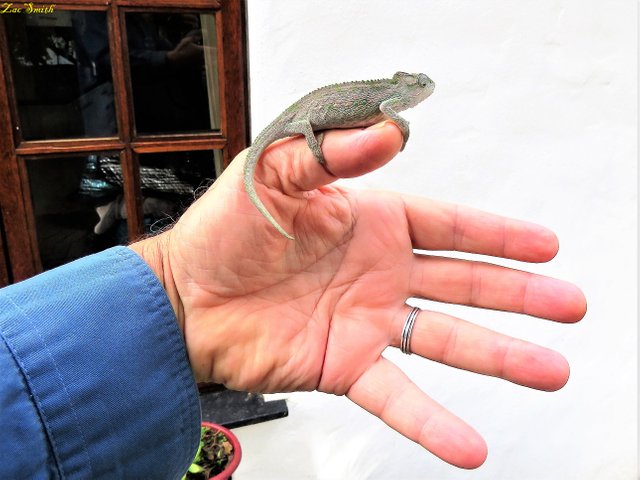 Look at the size of this little soldier!
We have named him "Tommy Thumb".
When he becomes a small adult, his name will change like his colors to "Tom Thumb" hahaha!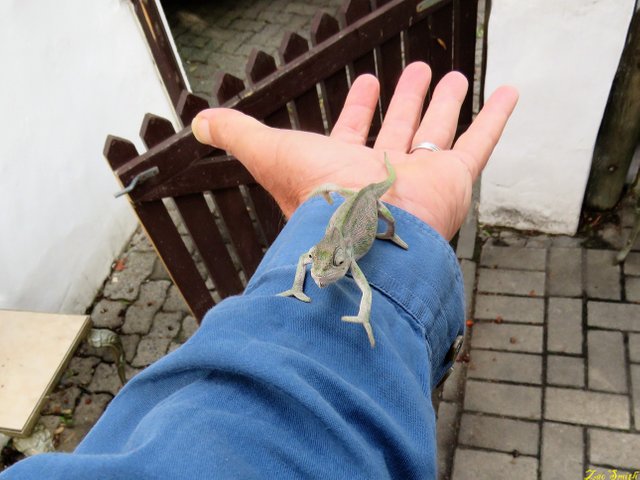 Spirited he started to climb his Kilimanjaro!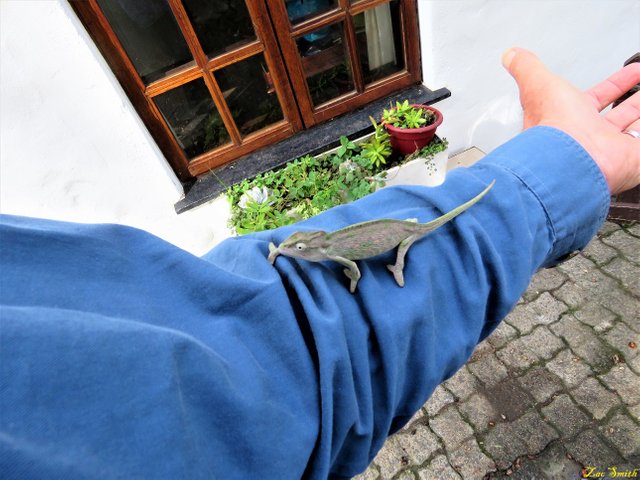 On his merry way up to my shoulder, but I decided to take him to my special dwarf bottlebrush tree!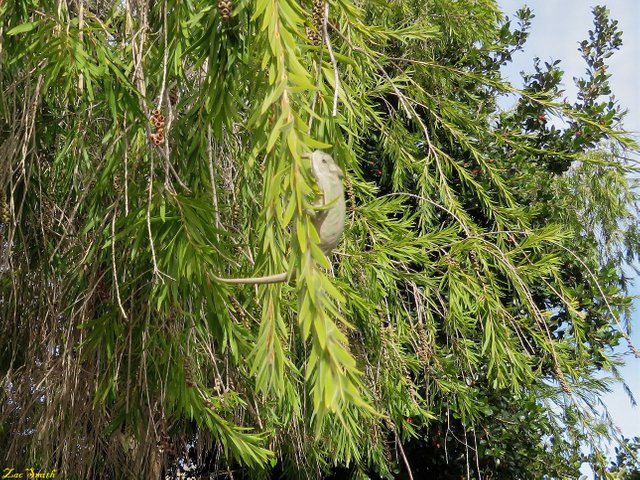 As I put him onto one of the lower hanging branches, he was at first unsure what to do!
"What", he thought, "Maybe I must stay with this man, as it doesn't look like he is going to eat me"!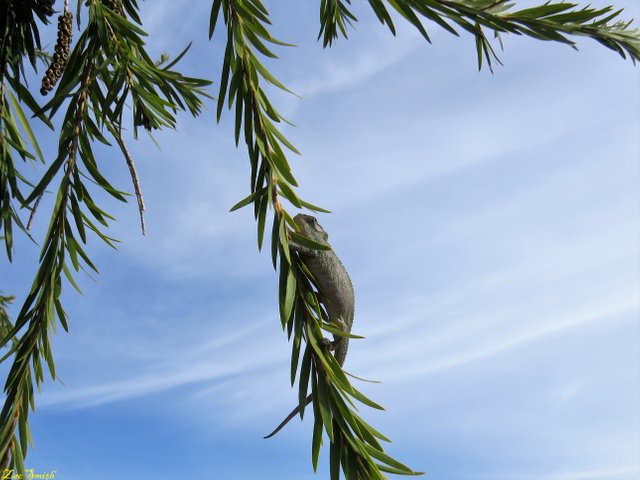 I stepped to the side, but he was still a bit unsure.
So I nudged him on his bum and he started climbing!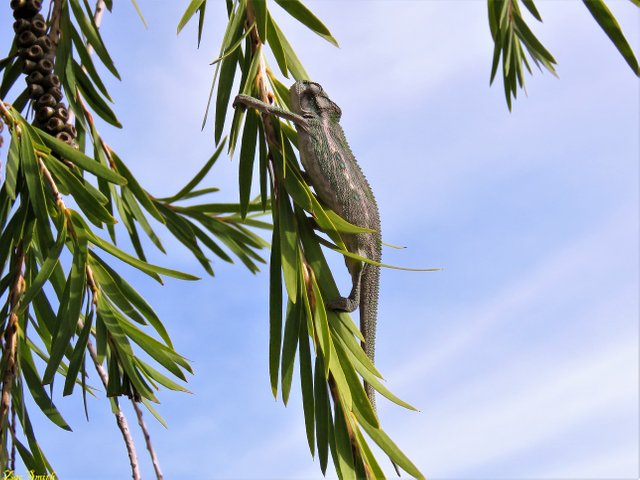 And he climbed like a champion as you can see here!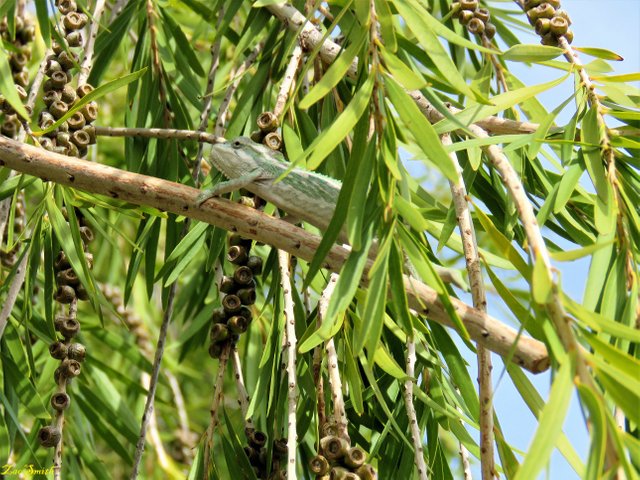 Finally he was on his way and he soon disappeared into the dense parts of the bush.
"Go", I said, "fare thee well and hope that you will have a wonderful little free life"!
Whenever I do this, I always get such a great feeling of relief.
As mankind we are the custodians of nature and were never given the right to go about destructing all that we see.
An article online today reads that a football size of the rainforest is destroyed very 6 hours.
Some more information about Cape Dwarf Chameleons here below!
"The Cape dwarf chameleon (Bradypodion pumilum) is a chameleon native to the South African province of the Western Cape, where it is restricted to the region around Cape Town. As with most chameleons, its tongue is twice the length of its body and it can be shot out of its mouth using a special muscle in the jaw. This gives the chameleon the ability to catch insects some distance away".
Source
Mankind is certainly intent on committing suicide, but at least, just by this tiny act of mine today I hope to have shown that there are still those of us that really care.
Yes, I know that I am a charity man, but is love and regarding all life as sacred then not charity?
Time for real love to be restored on this planet!
Note: All photos are my own, unedited and only cropped for uploading purposes!
Camera used: Canon Powershot SX60HS. (Some shots one handed)
What really hurts is when I Google "Cape Dwarf Chameleons" and I see all of the "For Sale" ads popping up!
We hope that you have enjoyed the photos and thank you for visiting a post by @papilloncharity