Amazing Nature Constent: Thematic Challenge - #1/5/21 | Absorbido por la naturaleza |Absorbed by nature [Esp - Eng]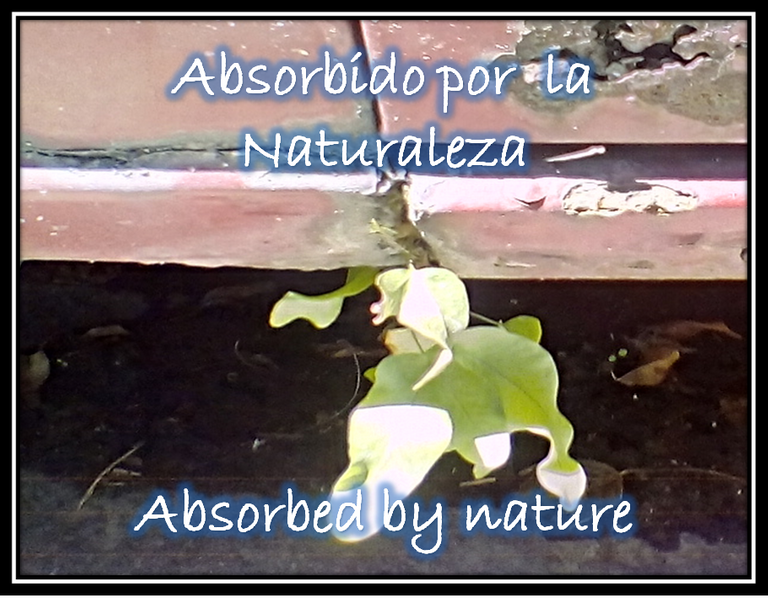 Fotos tomadas con mi teléfono ZTE A 110 editado en PPT
Photos taken with my ZTE A 110
---
SALUDOS APRECIADOS HIVERS AMANTES DE LA NATURALEZA. PRESENTO MI ENTRADA AL DESAFÍO TEMÁTICO QUE SEMANALMENTE NOS INVITA NUESTRA CREATIVA @bucipuci EN ESTA OPORTUNIDAD ES:
GREETINGS DEAR NATURE-LOVING HIVERS. I PRESENT MY ENTRY TO THE THEMATIC CHALLENGE THAT WEEKLY INVITES OUR CREATIVE @bucipuci. THIS TIME IT IS:

separador perteneciente a la comunidad #amazingnature
Absorbido por la naturaleza |Absorbed by nature
---
Brevemente comento que en principio cuando leí la propuesta me resulto todo un desafío, en vista de que casi no salgo más haya de sector debido a los rigores de la pandemia. Sin embargo con la idea de querer participar recibí de la vida un regalo a través de mi sobrina. Resulta que cuando fui a buscarla a su casa que queda cerca de la mía, veníamos caminado y conversando, justo le hablaba de mi publicación para participar esta semana en Amanzing Nature, ella muy atenta mirando al rededor me dice: ¡Títí mira qué raro! ¿Cómo esa planta puede crecer allí?
Briefly, when I first read the proposal, I found it a challenge, since I hardly ever go out of the area due to the rigors of the pandemic. However, with the idea of wanting to participate, I received a gift from life through my niece. It turns out that when I went to pick her up at her house which is close to mine, we were walking and talking, I was just talking to her about my publication to participate this week in Amanzing Nature, she very attentively looked around and said to me:Tití look how strange! How that plant can grow there?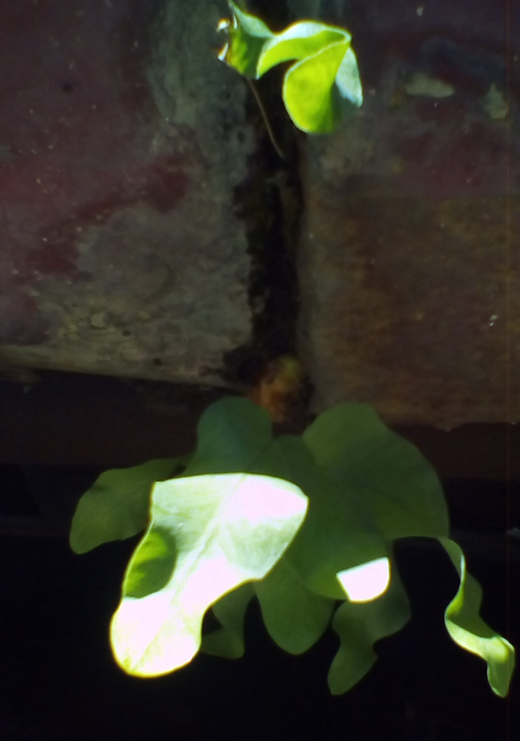 Realmente fue sorprende como sus ojitos enseguida captaron lo que yo necesitaba, y de tantas veces que he pasado por allí nunca me había percate de semejante casualidad, creyendo que lo que vimos solo es posible en los distintos lugares inhóspitos de un bosque, selva o montaña donde se dejan abandonados infinidad de elementos creados por el hombre. Es asombrosa observar en plenas ciudades y calles como la vida con su naturaleza se manifiesta y florece de diversas formas, algunas veces reclamando sus espacios desarrollándose a partir de su propio instinto.
It was really surprising how their eyes immediately captured what I needed, and of all the times I have been there I had never noticed such a coincidence, believing that what we saw is only possible in the different inhospitable places of a forest, jungle or mountain where countless man-made elements are left abandoned. It is amazing to observe in the middle of cities and streets how life with its nature manifests itself and flourishes in different ways, sometimes claiming its spaces and developing from its own instin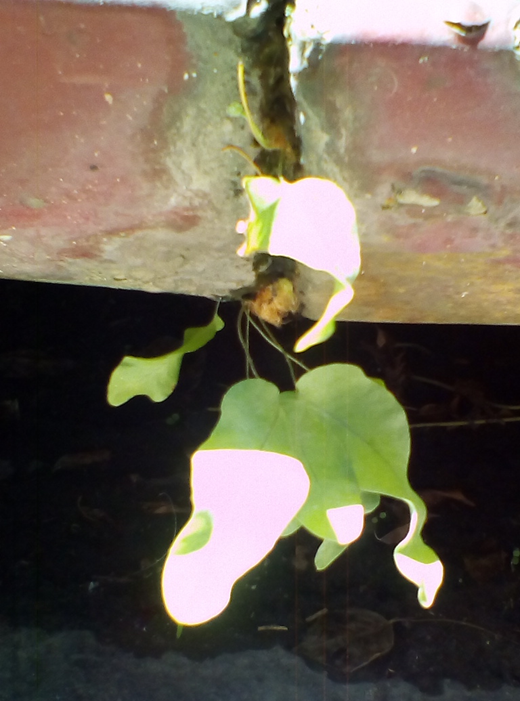 A simple vista parece una pared roída por años de la que brota una planta.
At first glance it looks like a wall gnawed by years from which a plant is sprouting.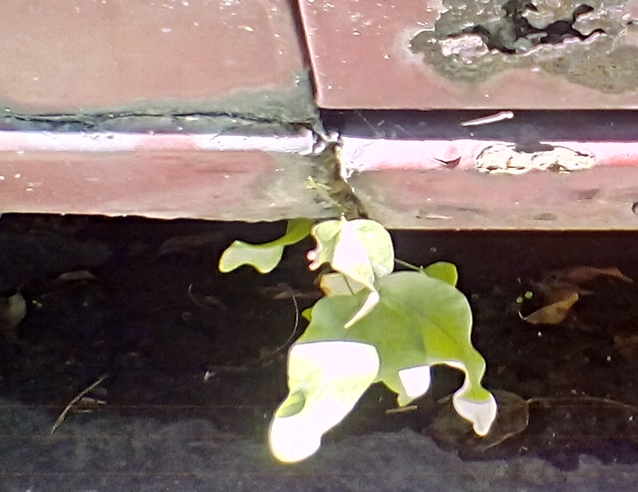 Aquí les presento de donde brota esta hermosa planta que se aferra a la vida en un lugar increíble.
Here I present to you where this beautiful plant sprouts from and clings to life in an incredible place.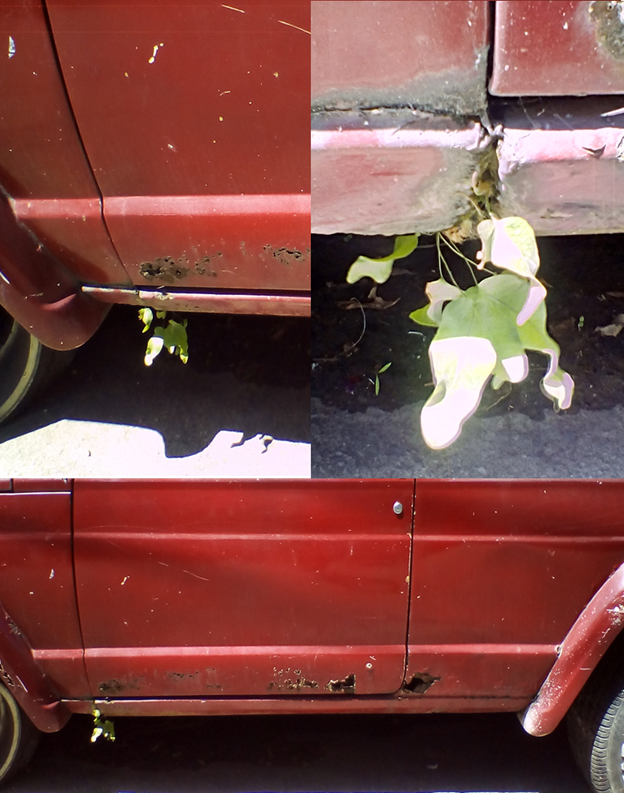 El hábitat actual de esta plantita es una camioneta Wagoneer abandonada frente a mi casa, su dueño vive en el sector y la tiene como un patrimonio familiar parada en ese lugar hace más de 20 años.
The current habitat of this little plant is an abandoned Wagoneer truck in front of my house, its owner lives in the area and has it as a family patrimony standing in that place for more than 20 years.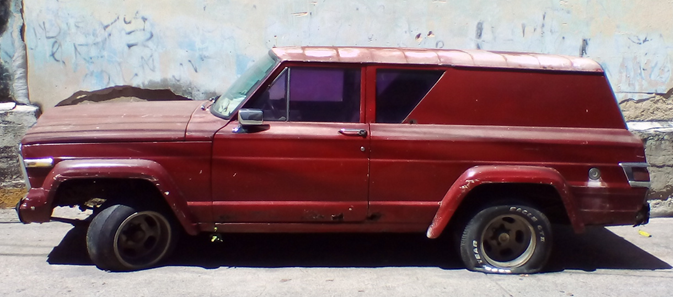 ---
Hasta un próximo desafío | Until the next challenge
---
Amigos visitantes de mi blog al clicar Aquí pueden seguir las interesantes propuestas de #amazingnature
Friends visitors of my blog by clicking Here you can follow the interesting proposals of #amazingnature.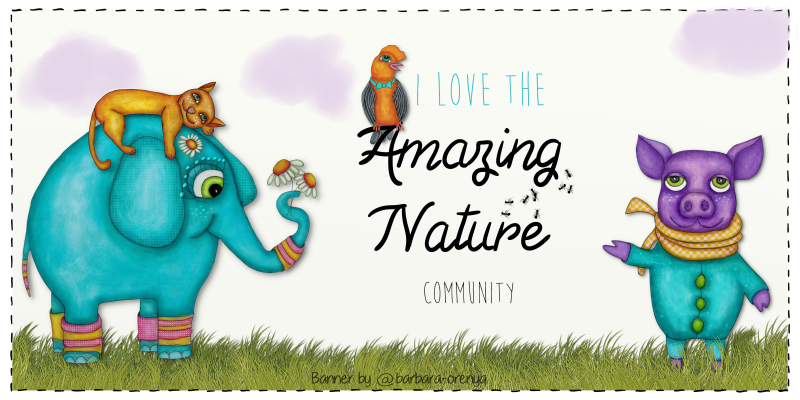 banner by @barbara-orenya

Banner de mi autoría | Banner of my authorship
---
---