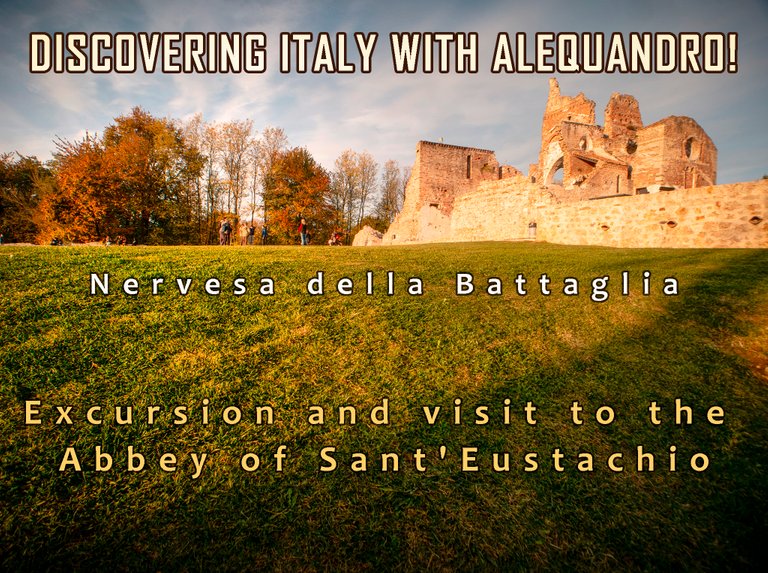 Hi everyone, what a great hike I took last week!
I dove right into the fall colors and it was great!
ITA
Ciao a tutti, che bella escursione che ho fatto la scorsa settimana!
Mi sono tuffato in pieno nei colori autunnali ed è stato fantastico!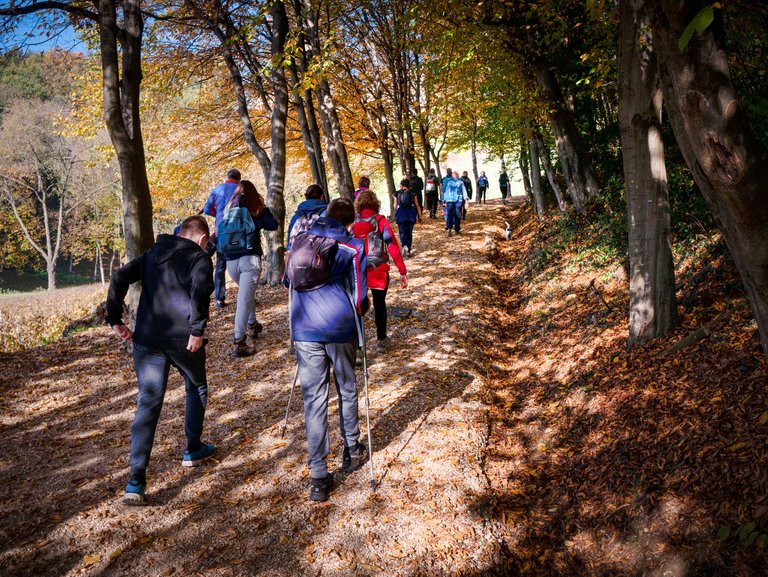 It was a group excursion.
A beautiful walk of 10 km in the province of Treviso, precisely in Nervesa della Battaglia.
ITA
E' stata un'escursione di gruppo.
Una bella camminata di 10 km nella provincia Treviso, precisamente a Nervesa della Battaglia.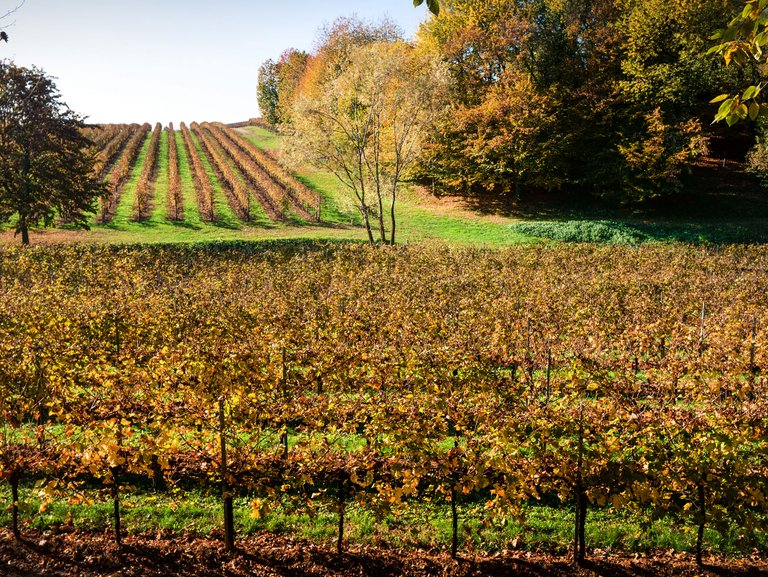 In Nervesa della Battaglia there is the Abbey of Sant'Eustachio built around 1050, a beautiful architectural recovery which was the starting and ending point of the excursion.
ITA
A Nervesa della Battaglia c'è l'Abbazia di Sant'Eustachio realizzata intorno al 1050, un belissimo recupero architettonico che è stato il punto di partenza e di arrivo dell'escursione.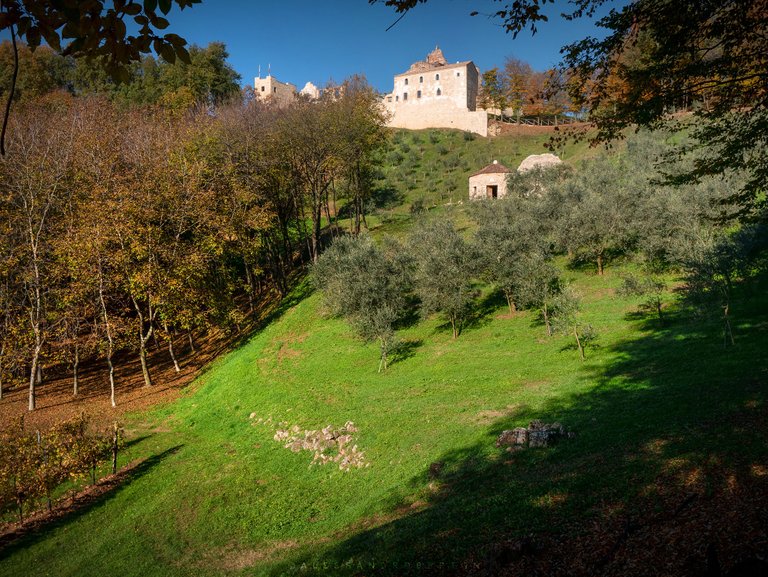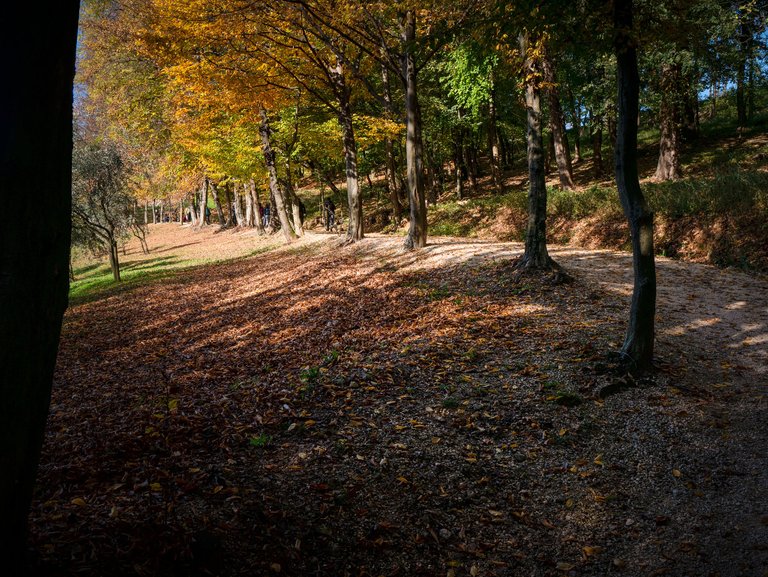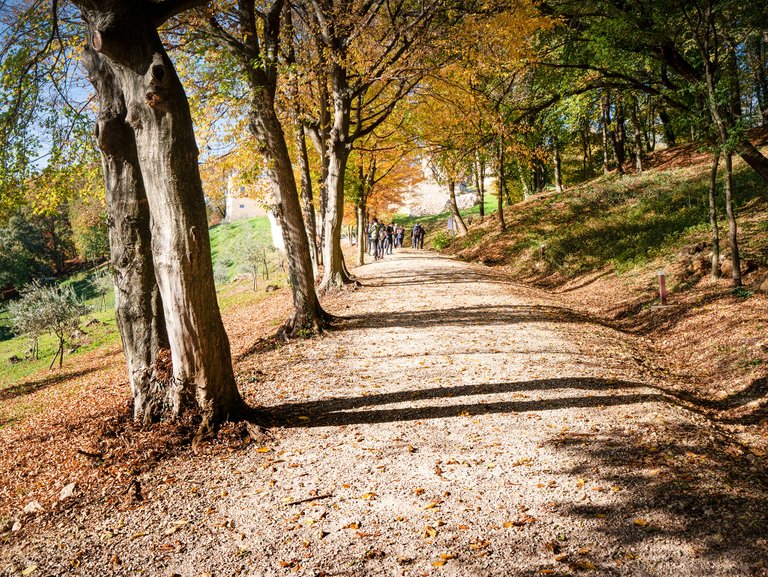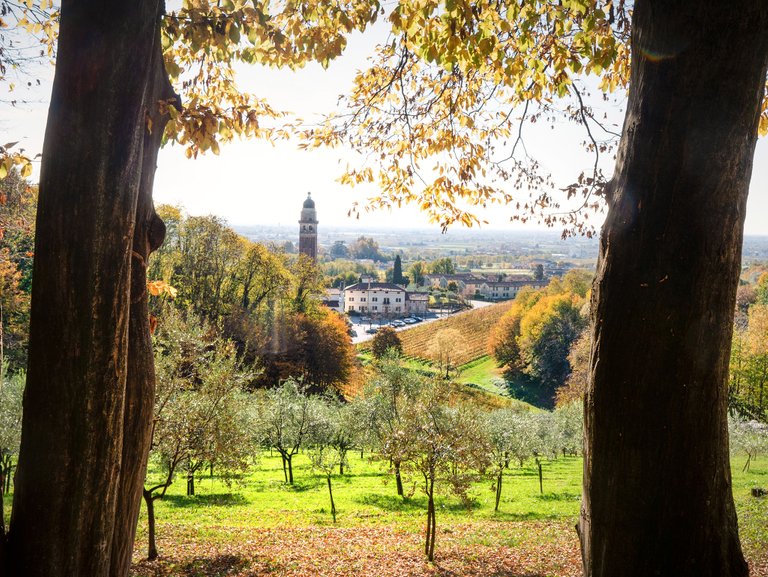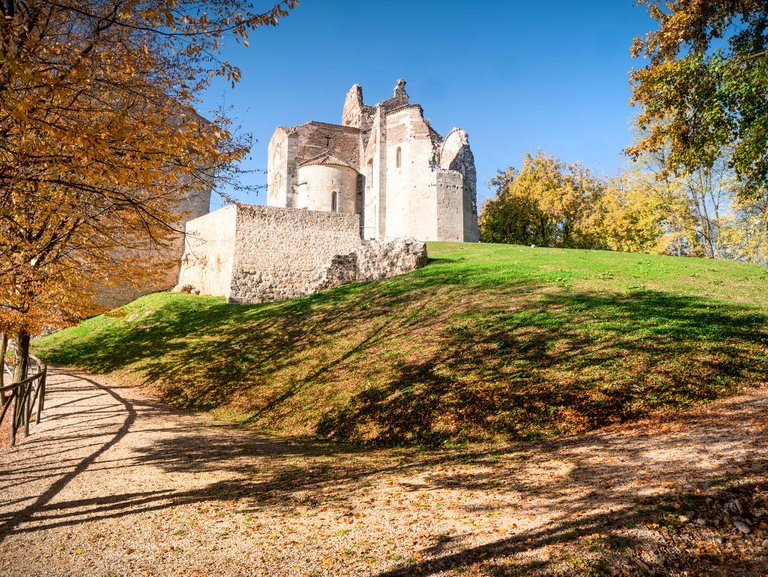 This site is abandoned, luckily a last restoration in 2018 made the abbey accessible and safe.
ITA
Questo sito è in abbandono, per fortuna un ultimo restauro del 2018 ha reso l'abbazia accessibile e sicura.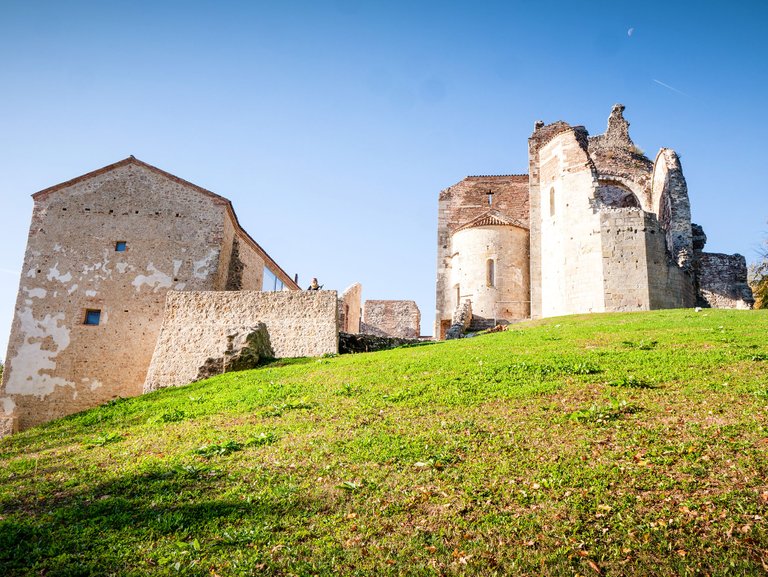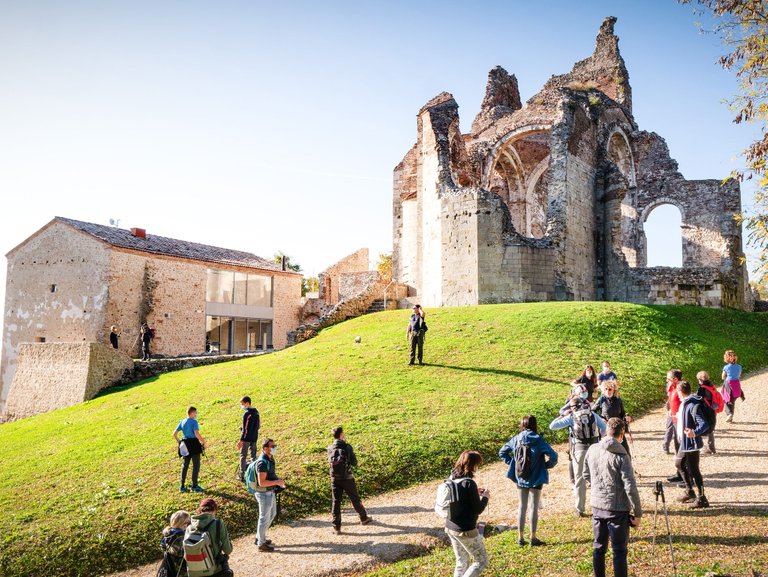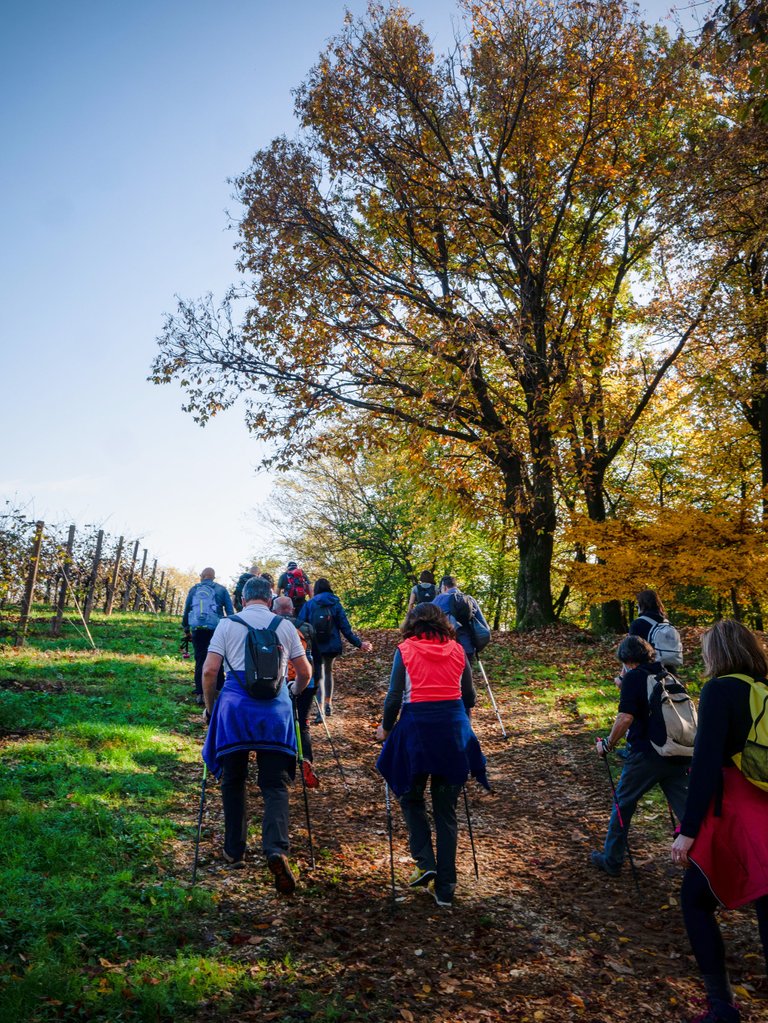 The excursion developed in the surrounding countryside between vineyards and woods and we had the opportunity to visit interesting places that were the scene of the First World War.
ITA
L'escursione si è sviluppata nella campagna circostante tra vigneti e boschi e abbiamo avuto modo di visitare posti interessanti che sono stati teatro della prima guerra mondiale.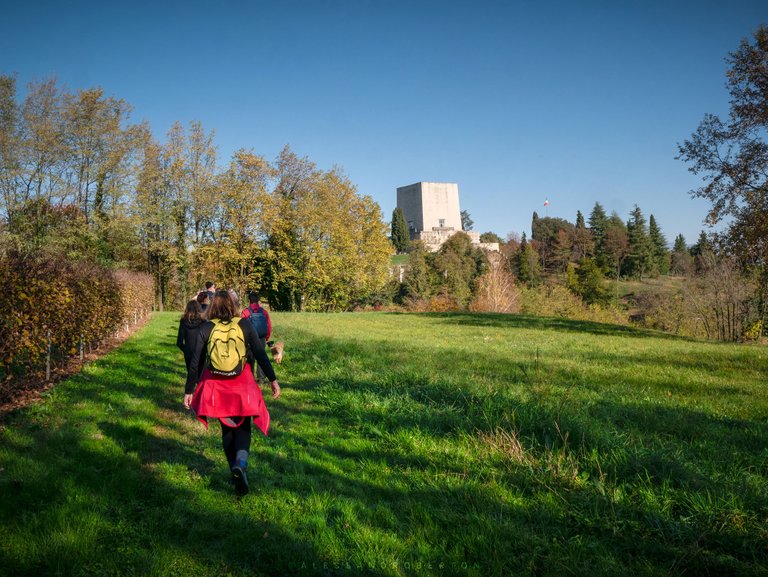 In the photo above you can see the military ossuary we were about to reach.
There are 9325 Italian soldiers buried there, many of them unknown.
ITA
Nela foto sopra si intravede l'ossario militare che stavamo per raggiungere.
Lì sono sepolti 9325 soldati italiani, molti dei quali ignoti.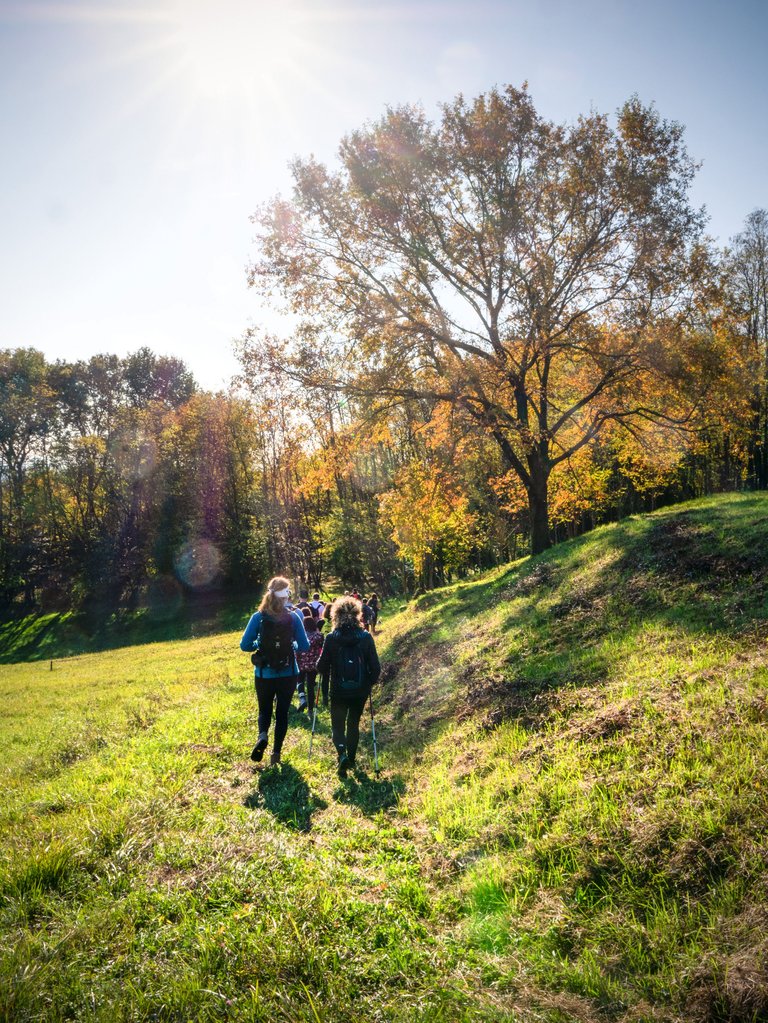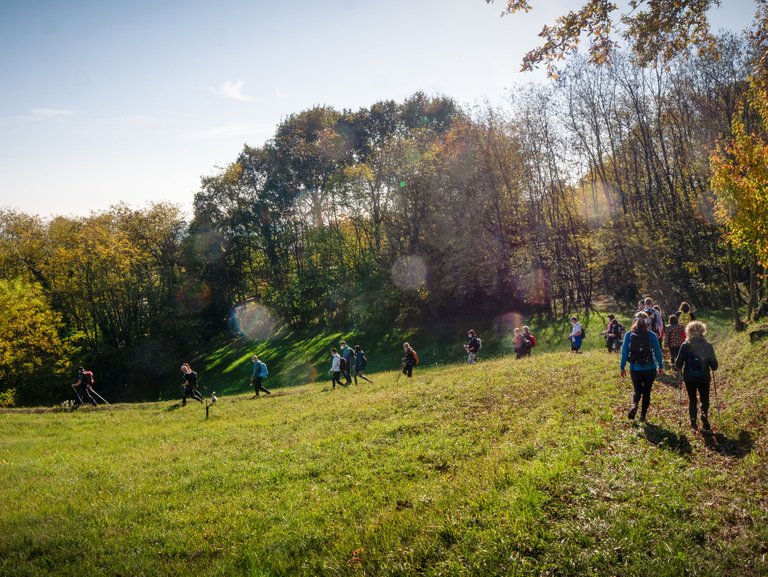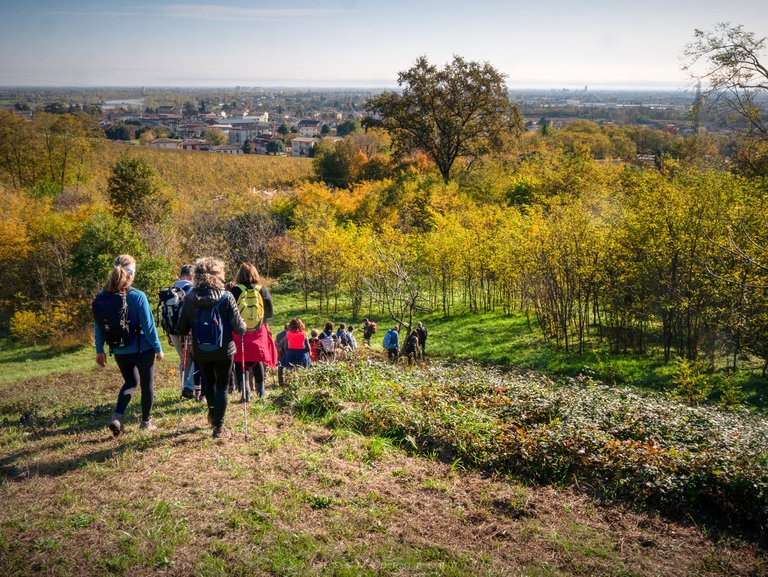 The building of the military ossuary is a cube that imposes itself strongly in the landscape, as if to simulate the weight of war and its consequences.
ITA
L'edificio dell'ossario militare è un cubo che si impone con forza nel paesaggio, come a simulare il peso della guerra e le sue conseguenze.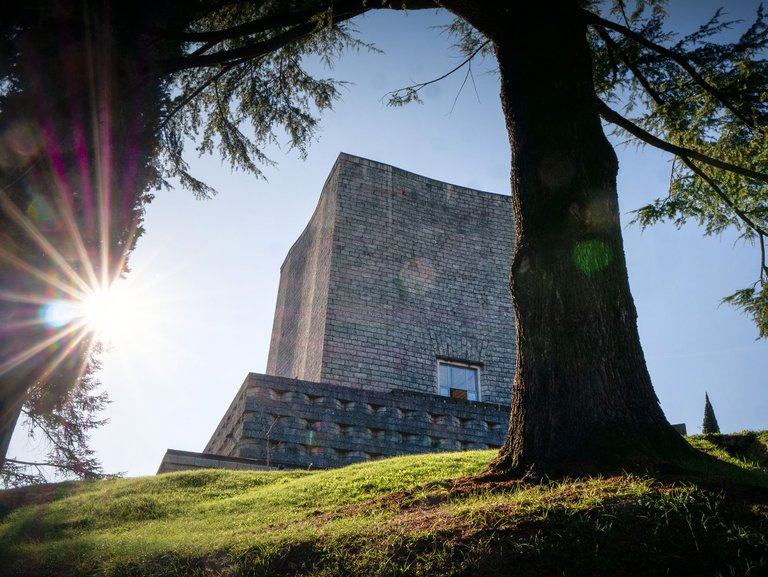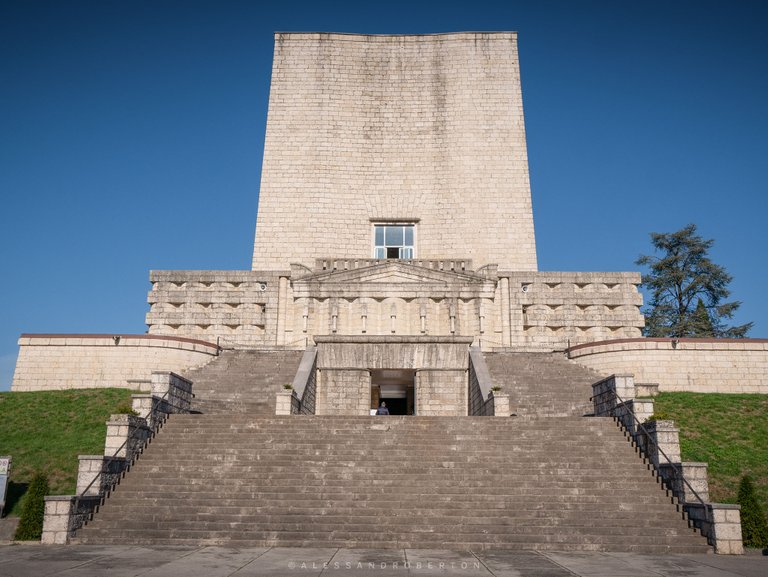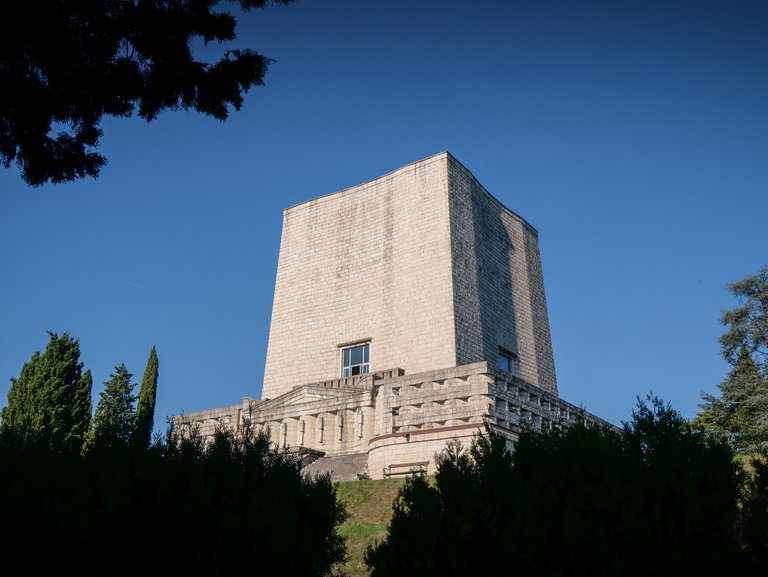 After a short briefing, we divided into groups and entered alternating so as not to create crowds.
ITA
Dopo un breve briefing ci siamo divisi in gruppi e siamo entrati alternandoci per non creare assembramenti.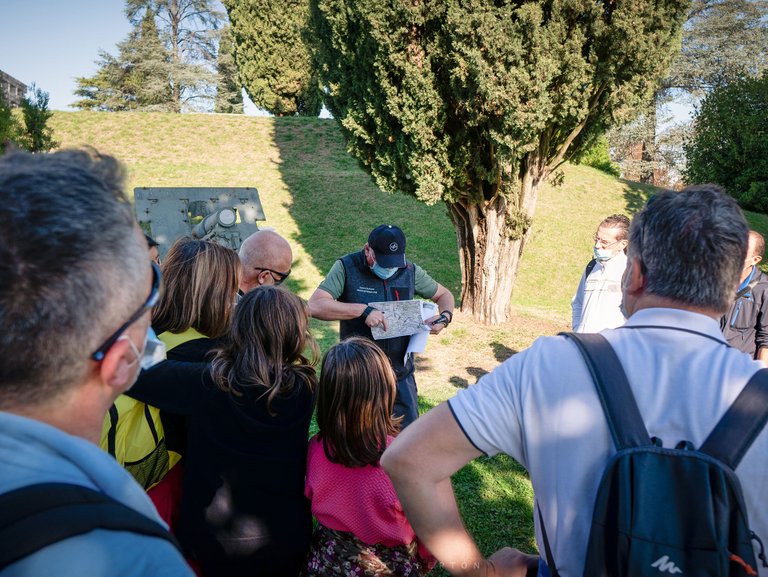 Behind us there was a beautiful view over the plain and the Piave river.
ITA
Alle nostre spalle c'era una bella visuale sulla pianura e il fiume Piave.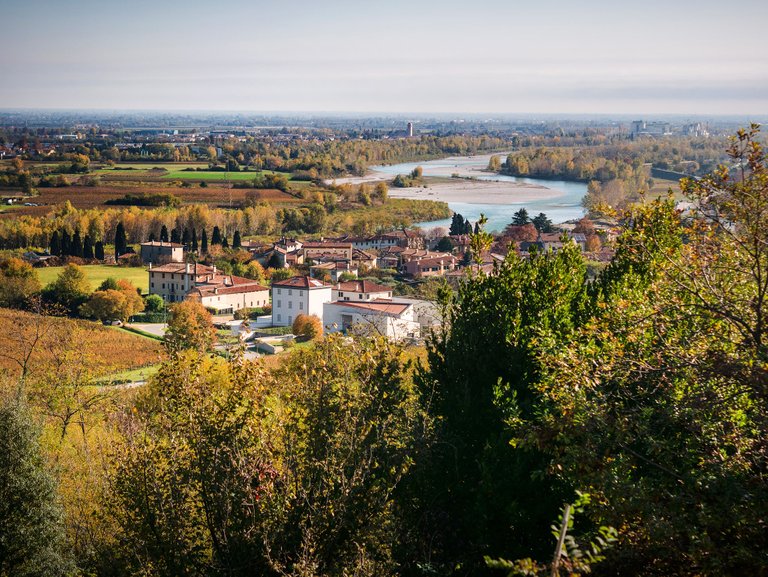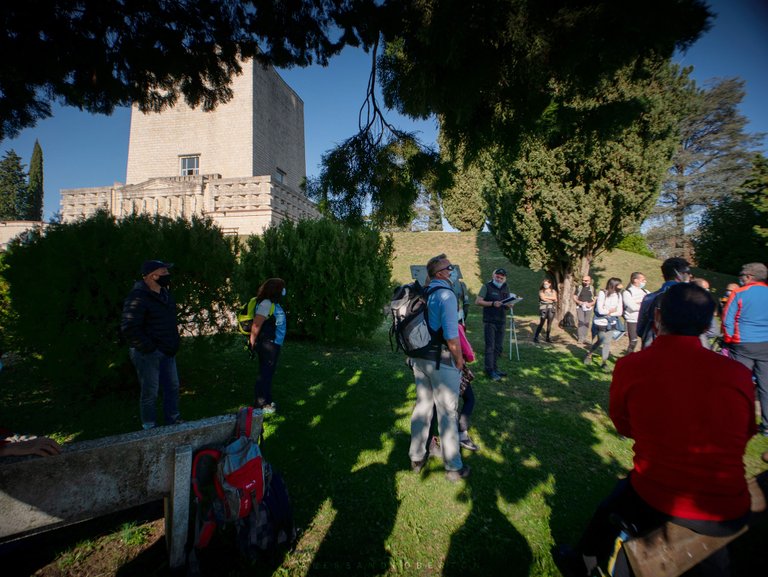 As the exterior of the building suggests, the four-story structure has the central atrium and stairways, around the corridors with the corpses. The top floor is a large tower from where you can contemplate the landscape that was at the center of the fighting.
ITA
Come suggerisce l'esterno dell'edificio, la struttura su quattro piani ha l'atrio e scale centrali, attorno i corridoi con le salme. L'ultimo piano è un ampio torrione da dove si può contemplare il paesaggio che fu al centro dei combattimenti.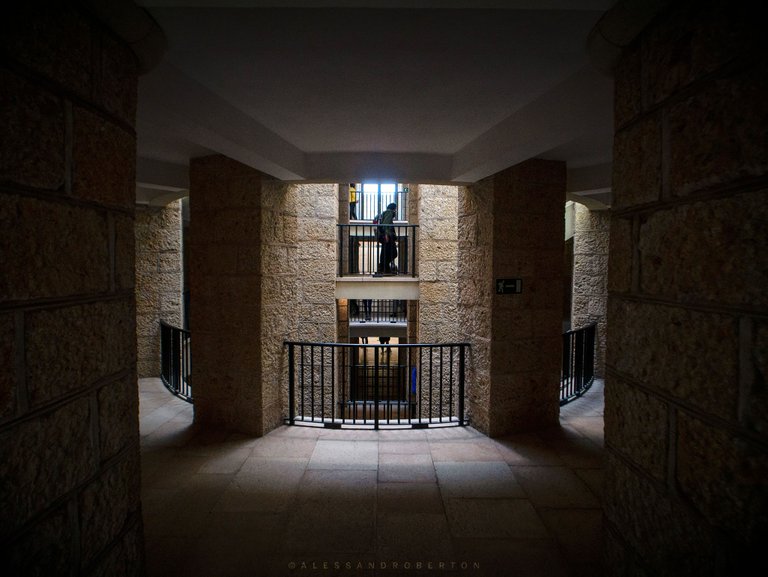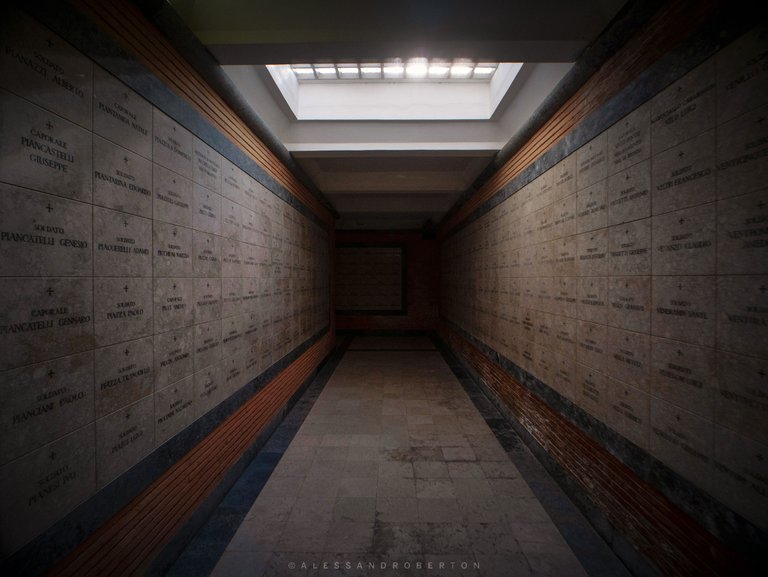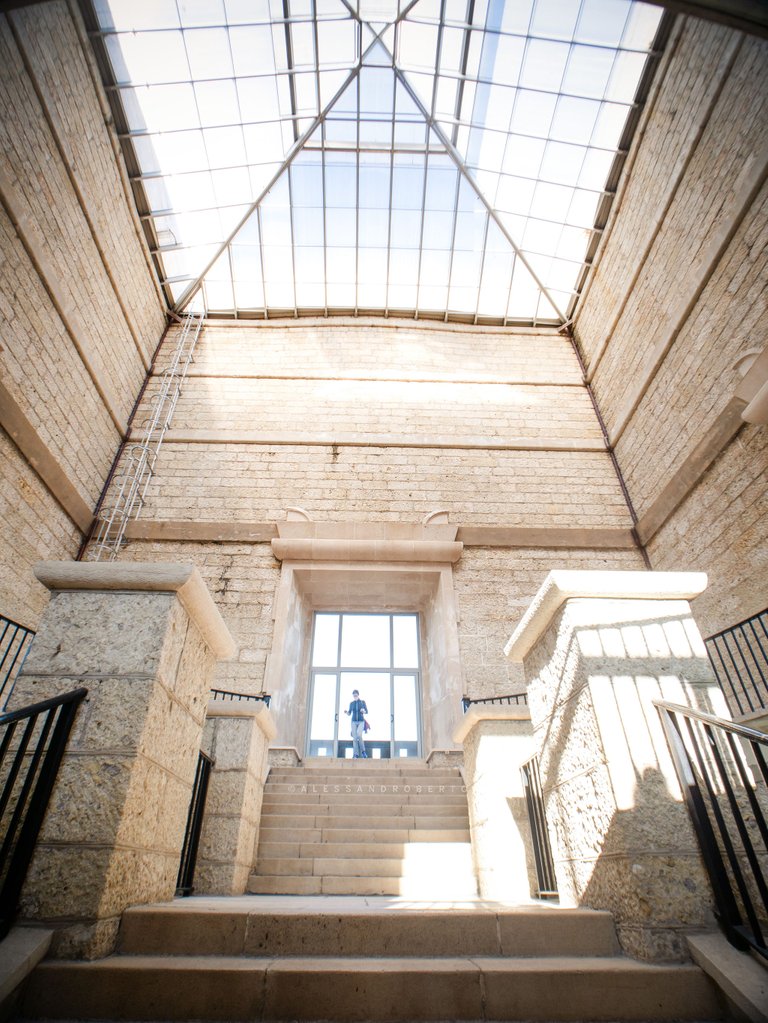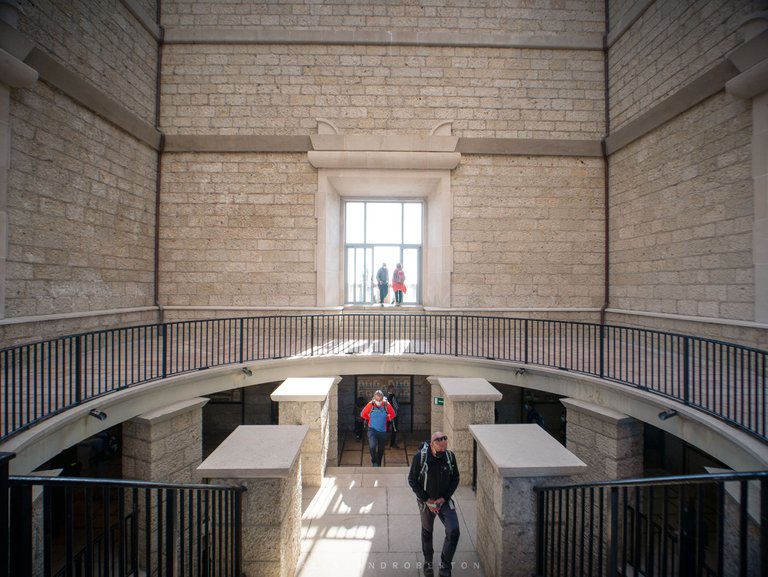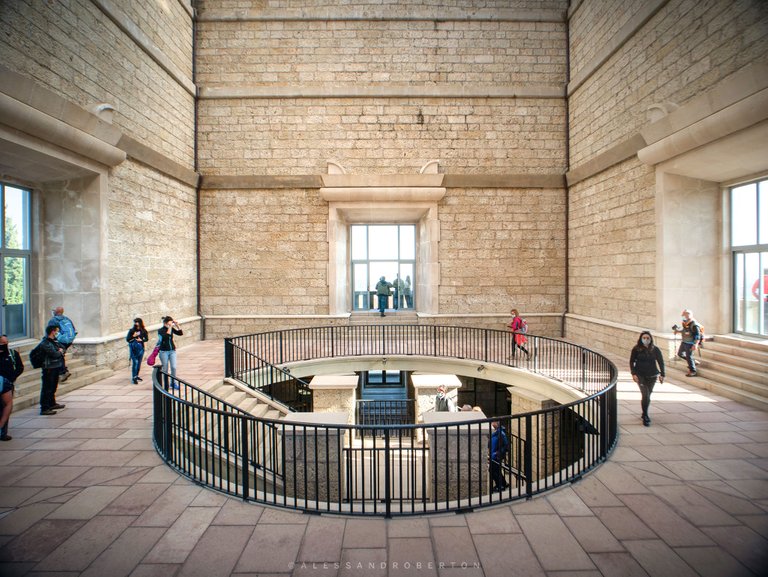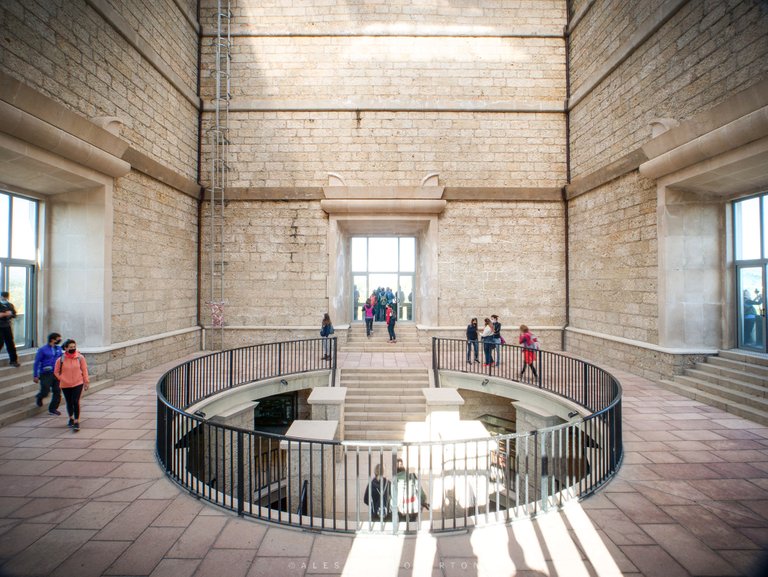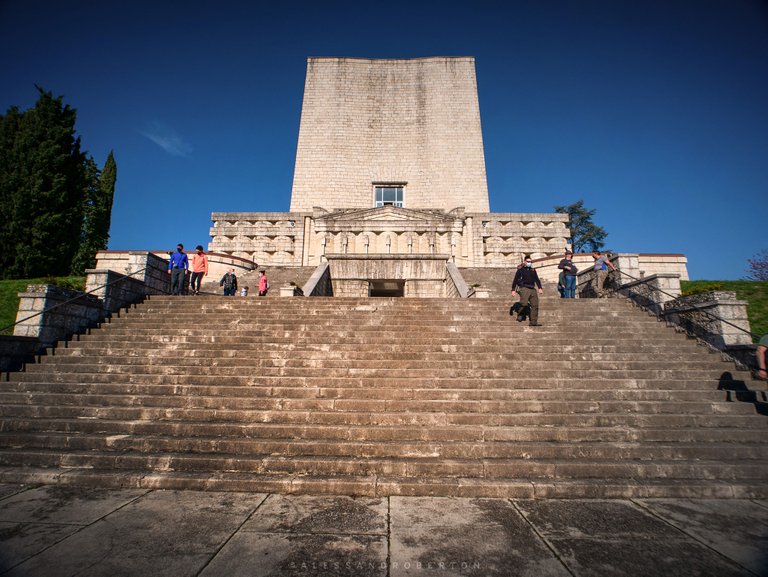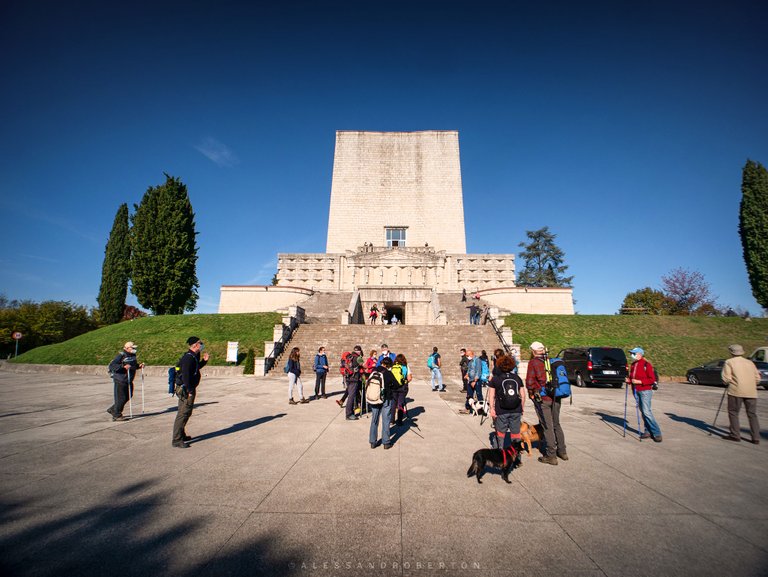 Once we left, we continued the excursion on car-free country roads, all to ourselves!
ITA
Una volta usciti, abbiamo proseguito l'escursione su strade di campagna libere da auto, tutte per noi!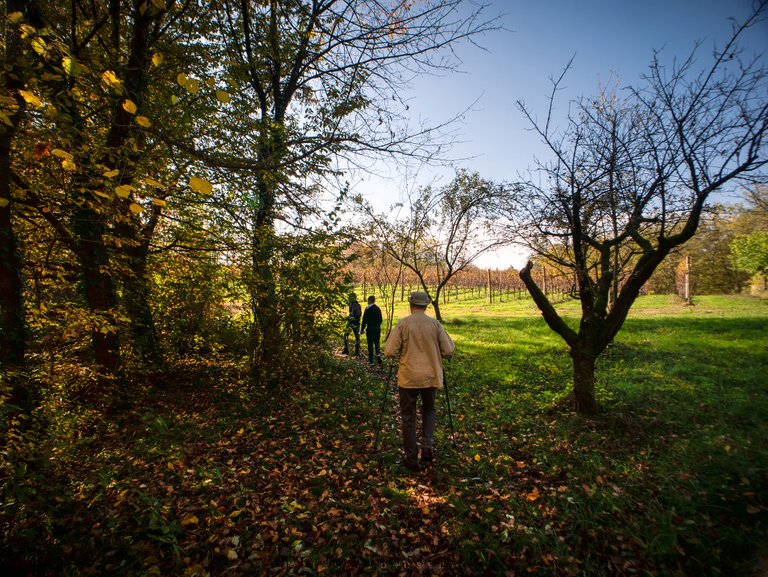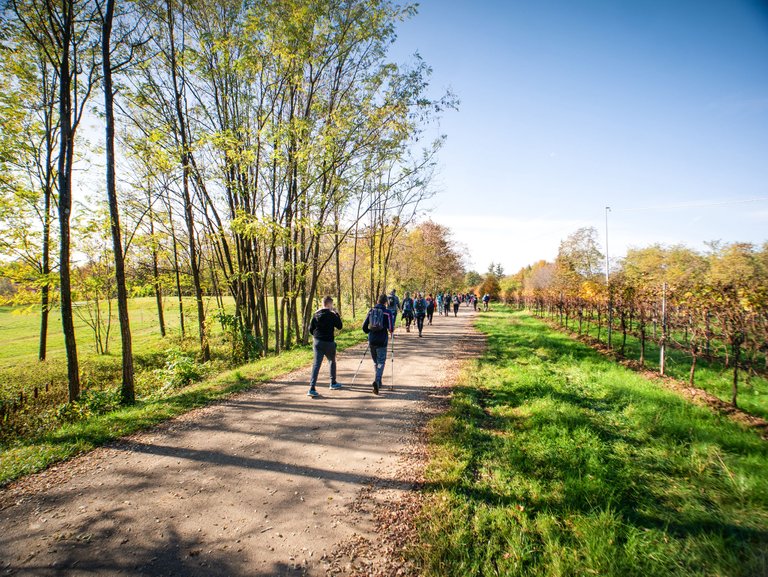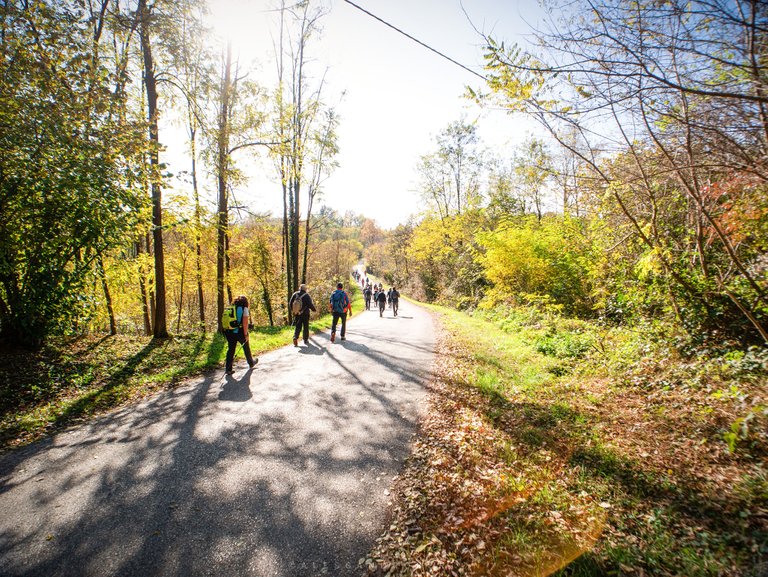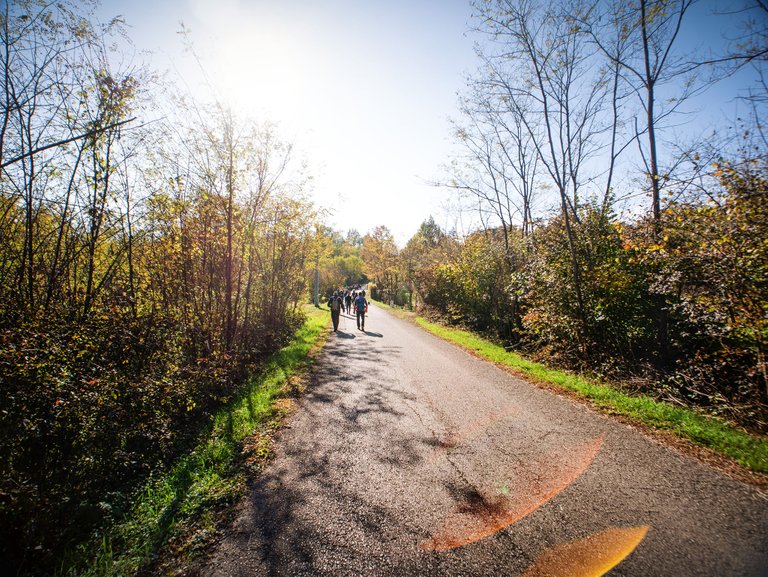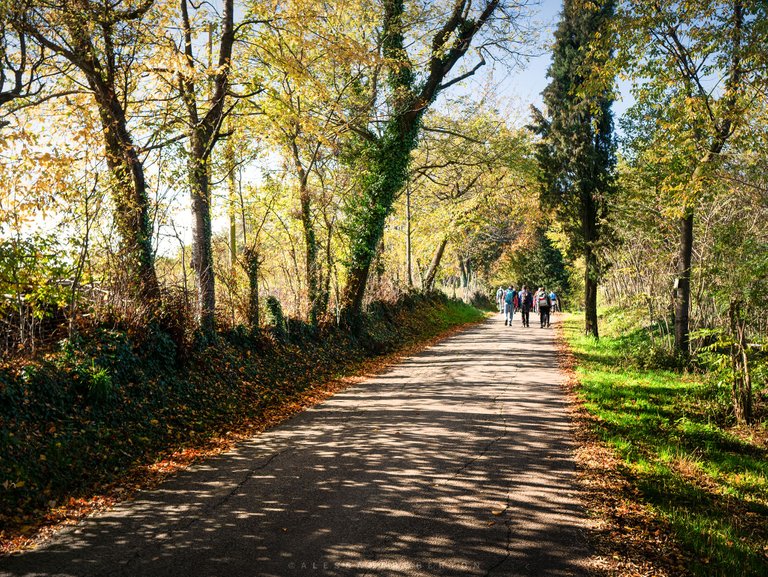 After a couple of kilometers we reached another interesting place where there is the monument to Francesco Baracca, a great aviator who has been attributed 34 aerial victories.
ITA
Dopo un paio di chilometri abbiamo raggiunto un altro posto interessante dove c'è il monumento a Francesco Baracca, un grande aviatore a cui gli sono state attribuite 34 vittorie aeree.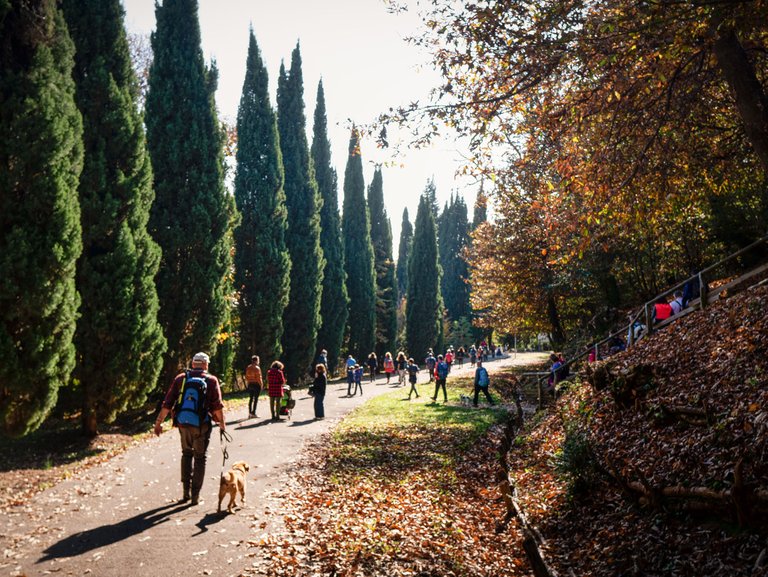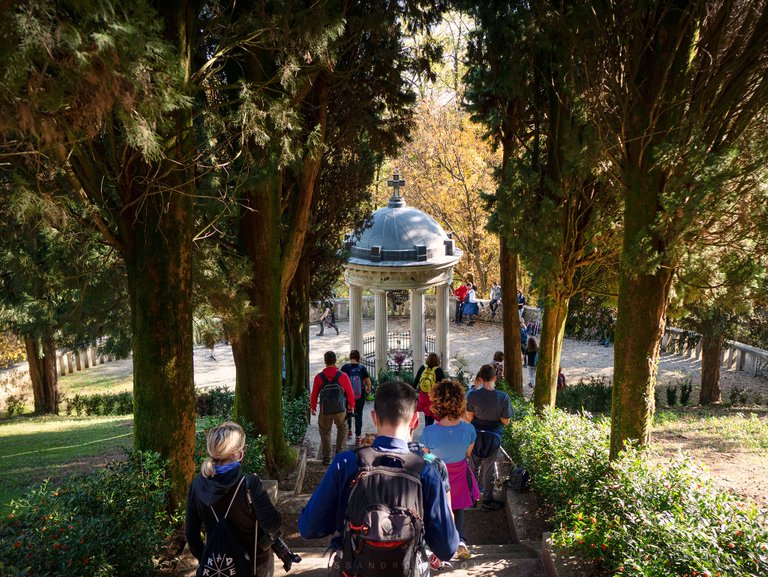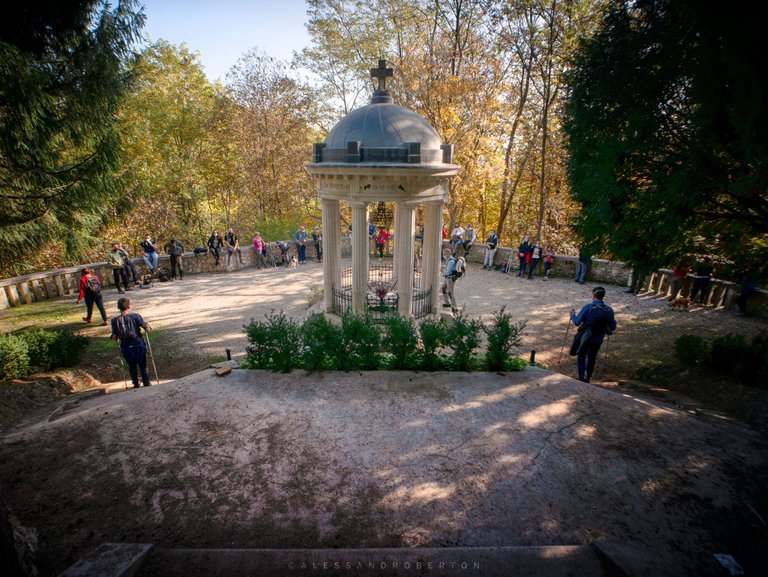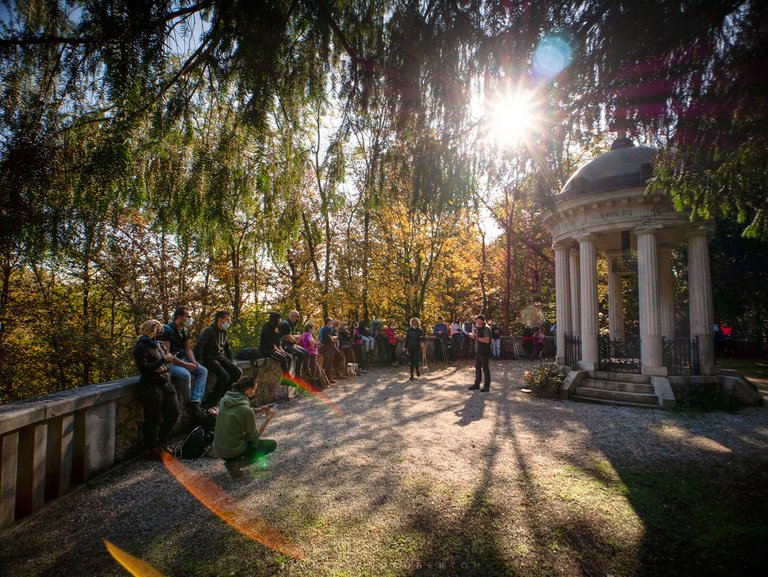 An interesting anecdote is that the aviators of the time used to apply their coat of arms on the fuselage.
Baracca's coat of arms was a prancing horse.
The parents offered Enzo Ferrari to use their son's coat of arms.
So Enzo Ferrari decided that that would be the Ferrari emblem, the only difference is that the tail is pointing upwards and the background is yellow which is the color of Modena, the city of Ferrari.
ITA
Un aneddoto interessante è che gli aviatori dell'epoca usavano appplicare un loro stemma sulla fusoliera.
Lo stemma di Baracca era un cavallino rampante.
I genitori offrirono a Enzo Ferrari di usare lo stemma di loro figlio.
Enzo ferrari così decise che sarebbe stato quello lo stemma della Ferrari, l'unica differenza sono che la coda è rivolta verso l'alto e lo sfondo è giallo che è il colore di Modena, la città della Ferrari.
https://www.difesa.it/Area_Storica_HTML/pilloledistoria/Pagine/il_Cavallino_Rampante_della_Ferrari_e_Francesco_Baracca.aspx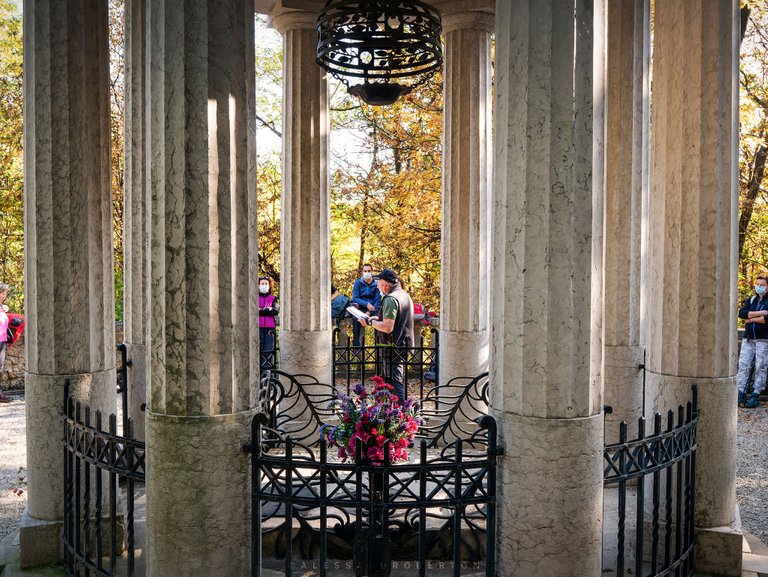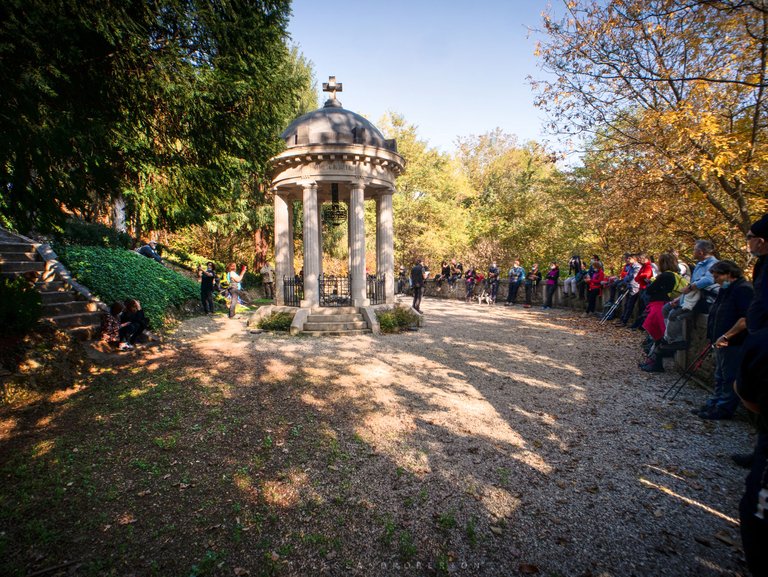 After a relaxing lunch break on a meadow, we continued the walk...
ITA
Dopo una rilassante pausa pranzo su un prato, abbiamo continuato la camminata...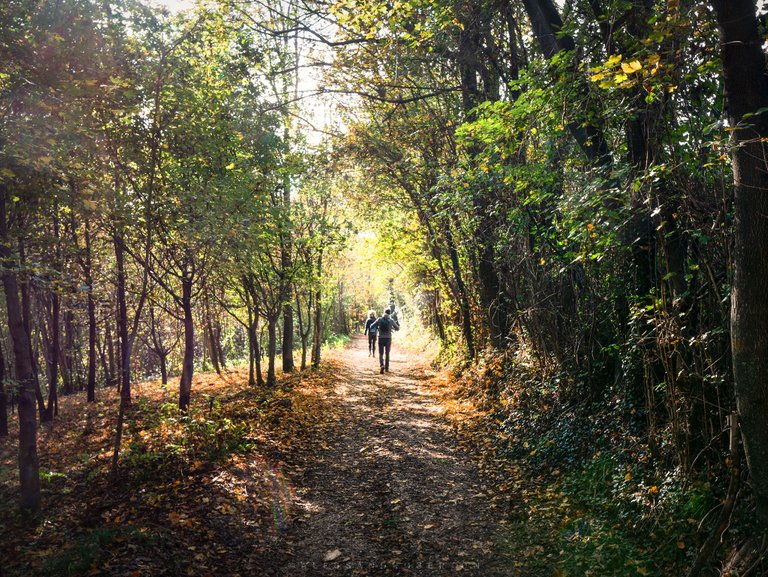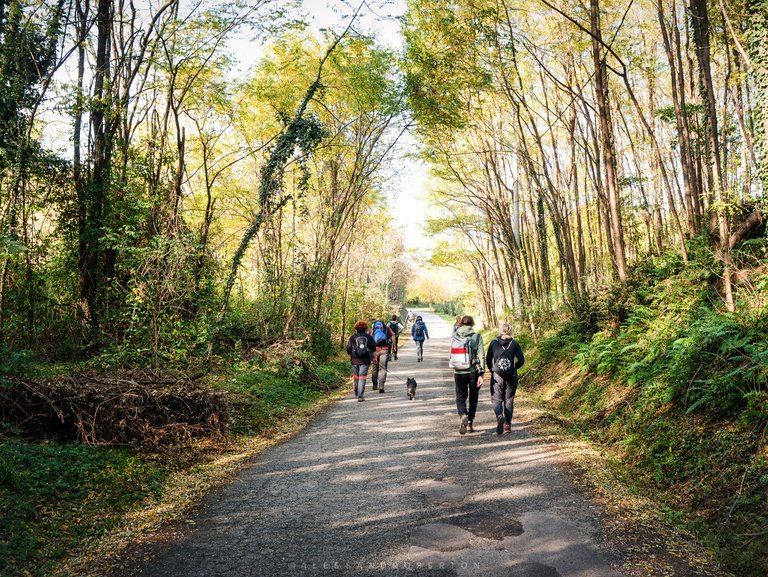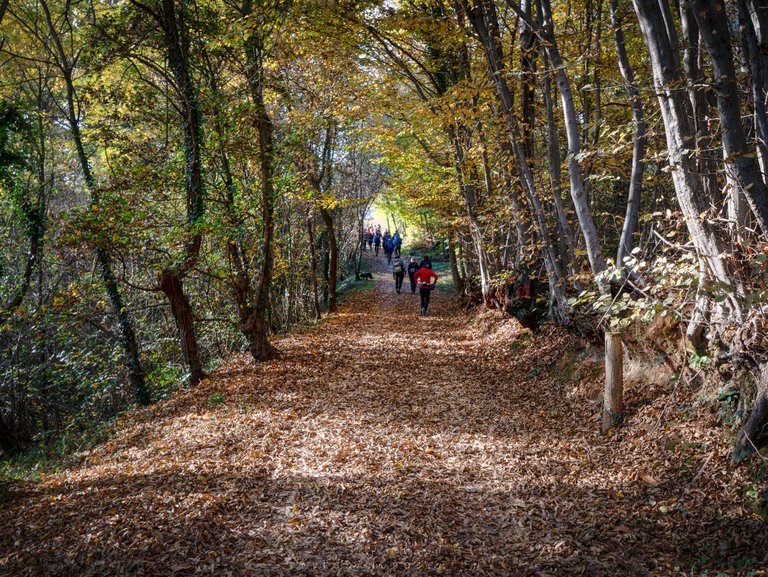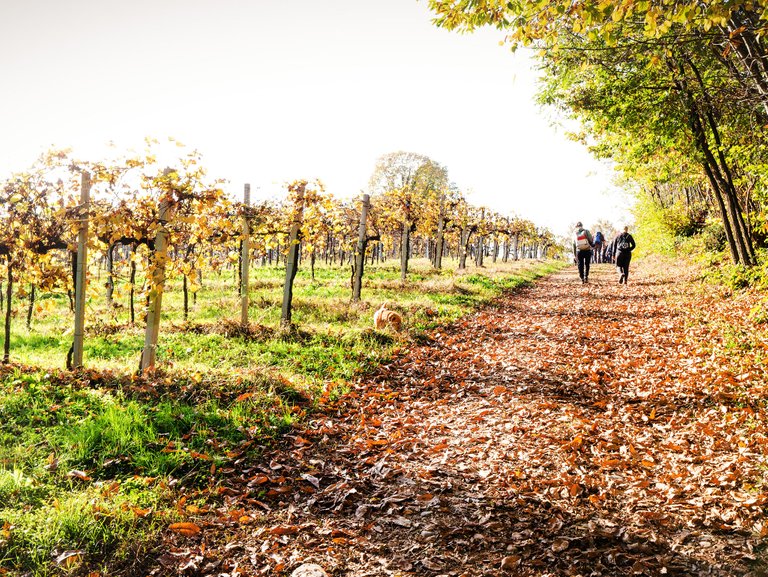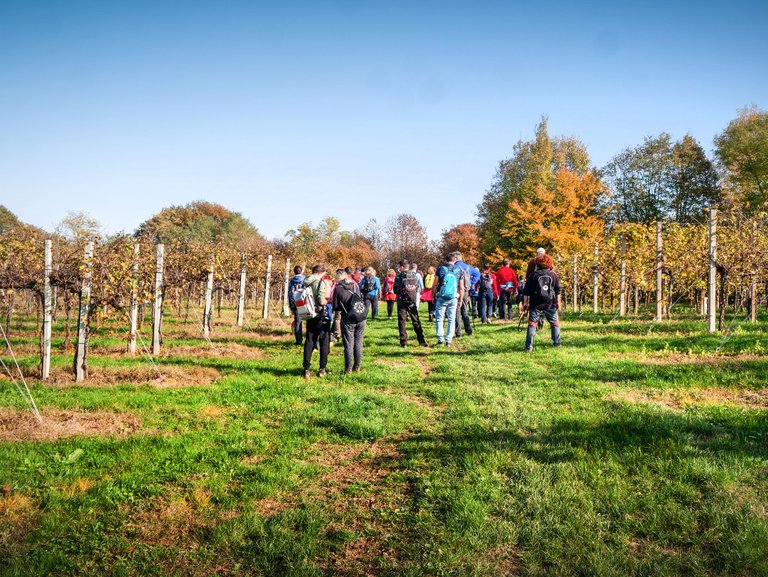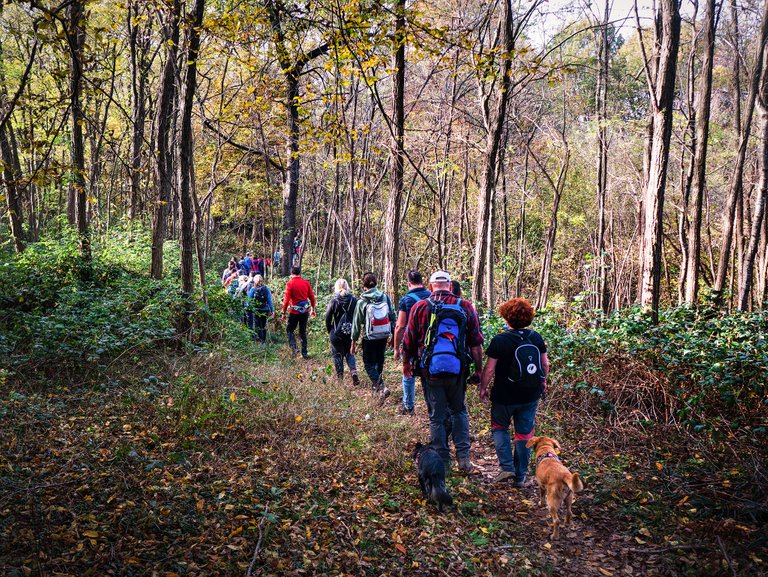 We then stopped in a grove, where Francesco Baracca is presumed to have crashed with his plane. There our guide illustrated the salient historical events of that period.
ITA
Ci siamo poi fermati in un boschetto, dove si presume sia precipitato Francesco Baracca con il suo aereo. Lì la nostra guida ci ha illustrato gli eventi storici salienti di quel periodo.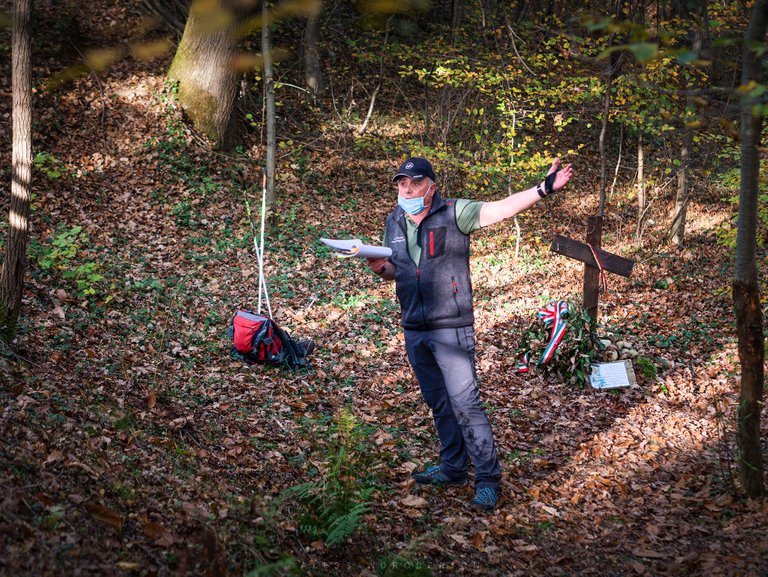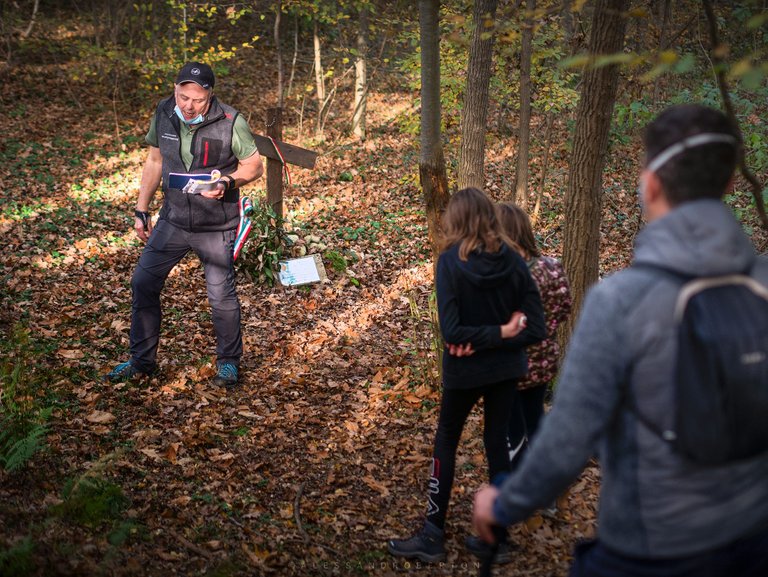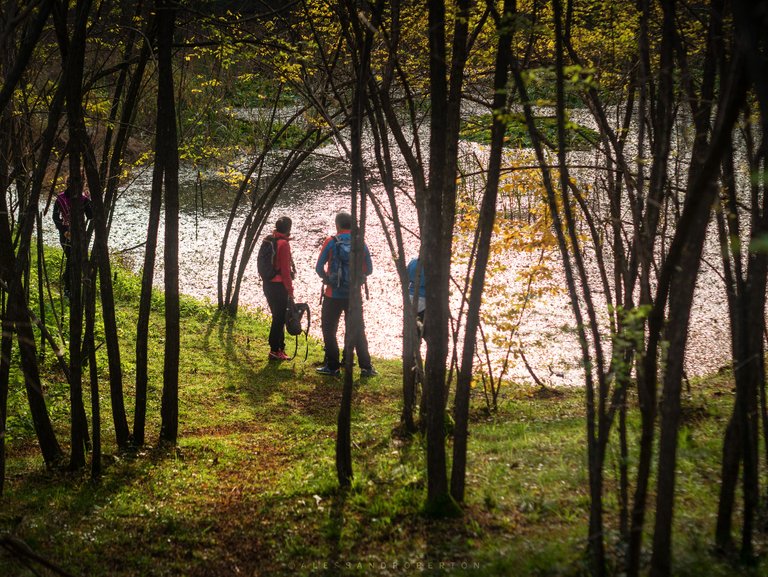 Then we resumed the walk and headed back to the abbey, passing between country houses and vineyards.
ITA
Poi abbiamo ripreso la camminata e ci siamo diretti nuovamente verso l'abbazia, passando tra case di campagna e vigneti.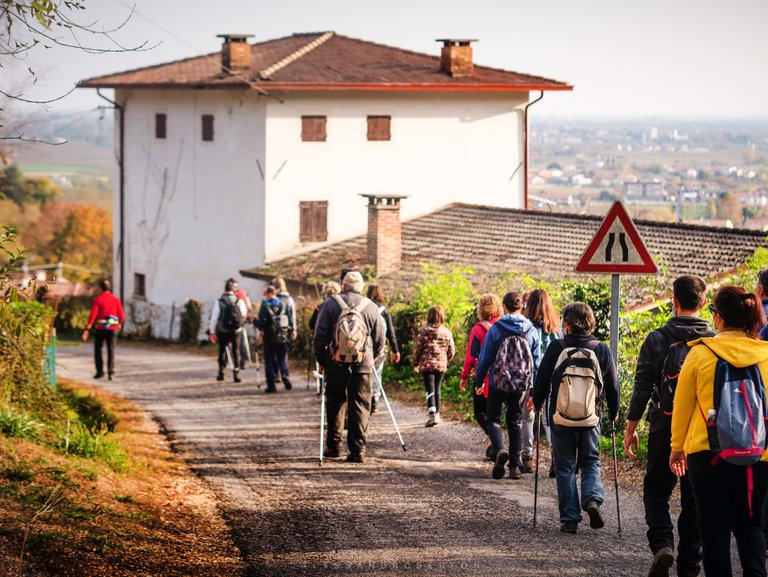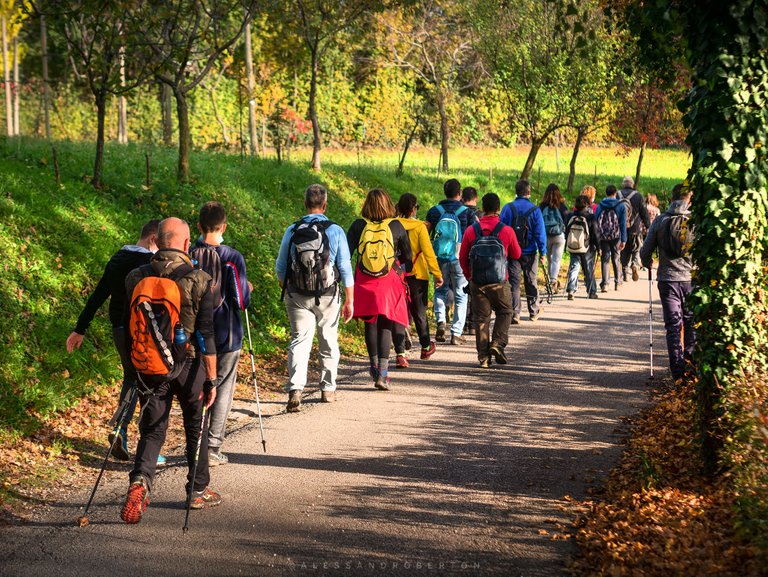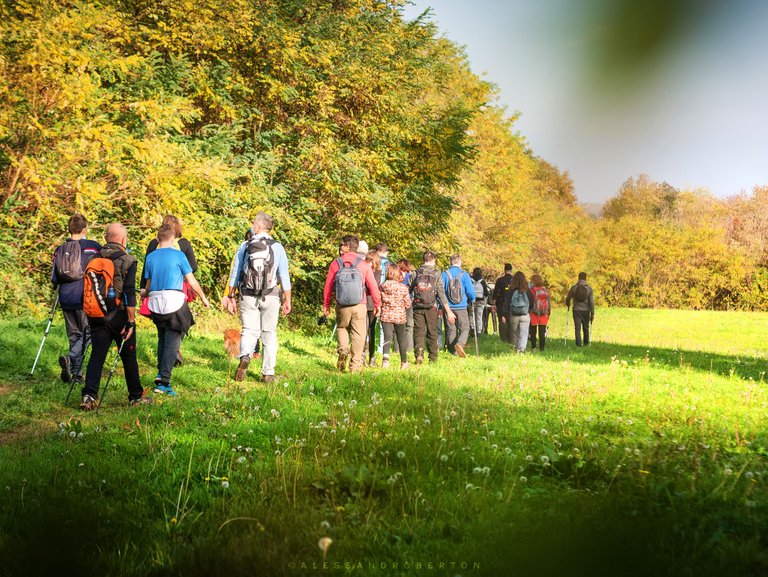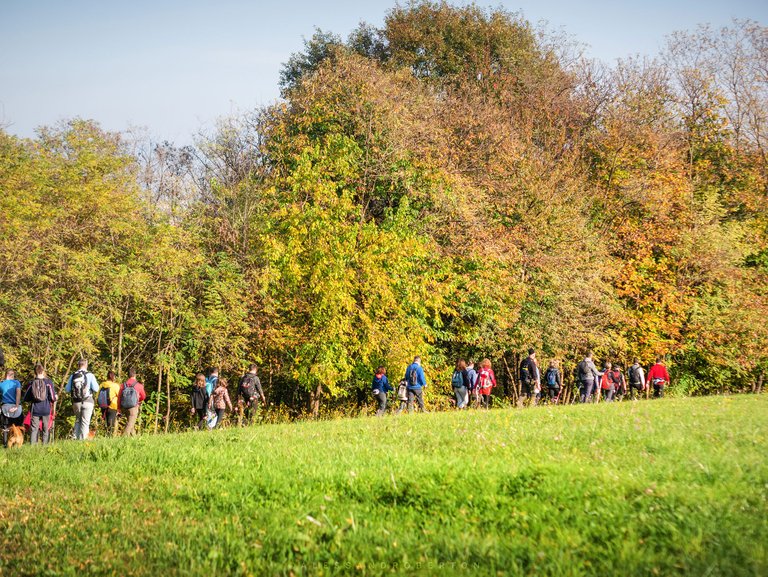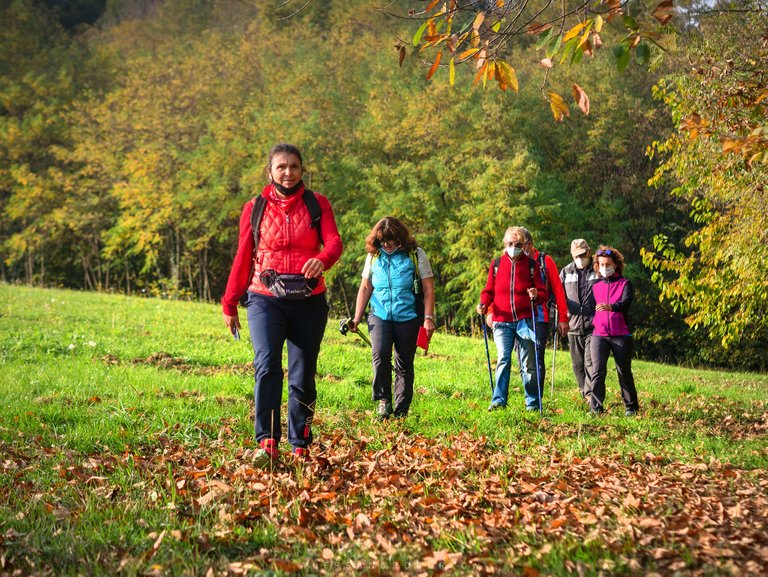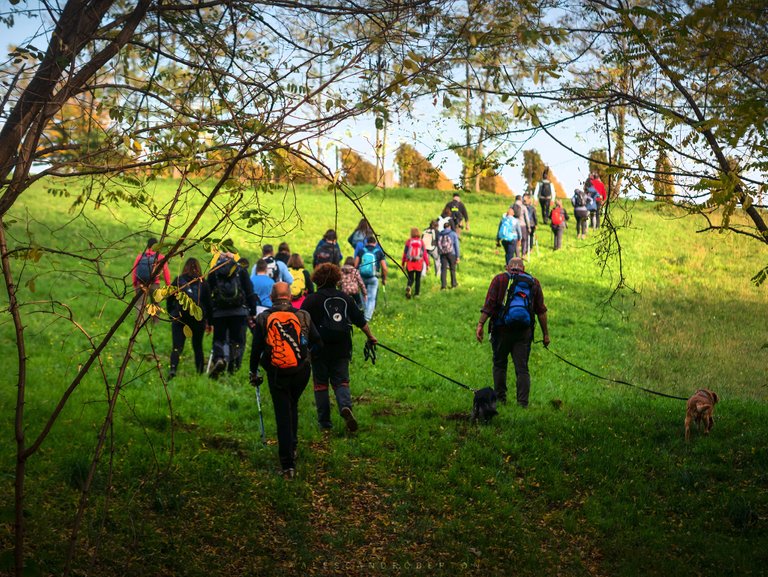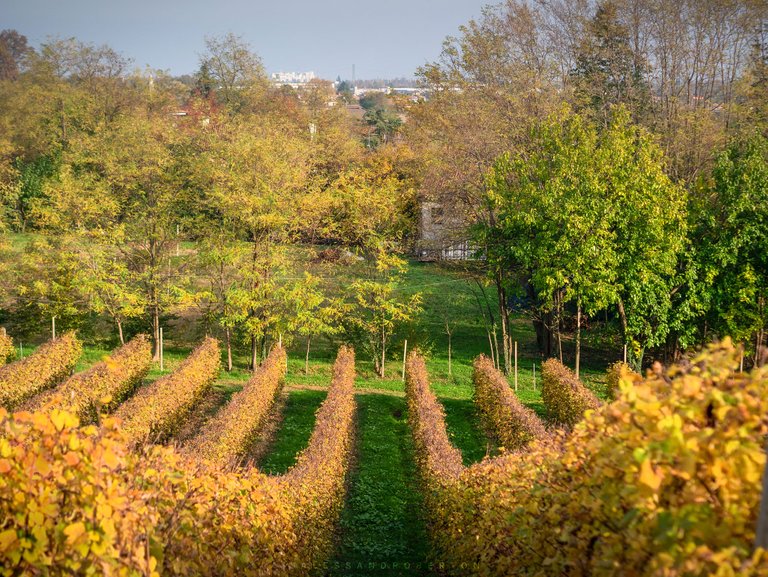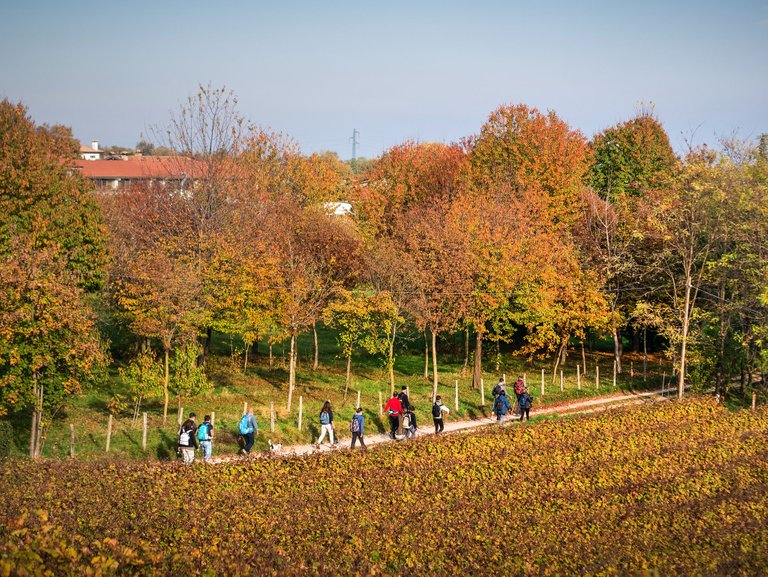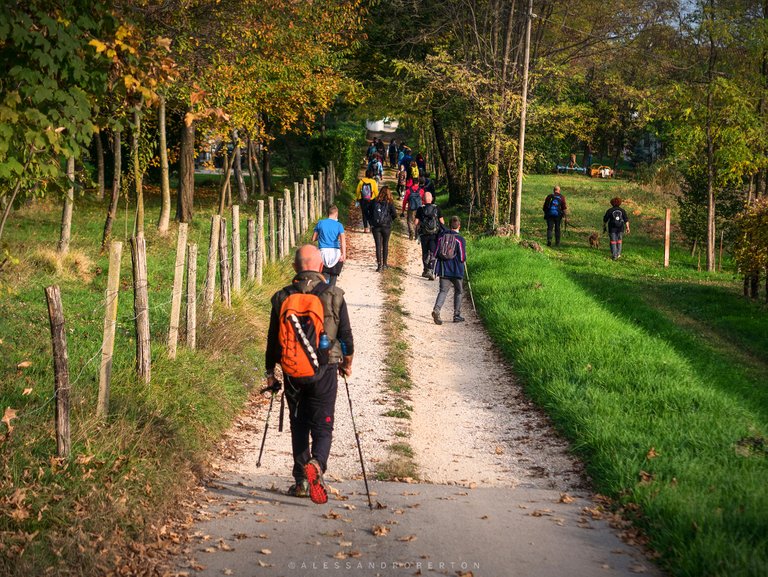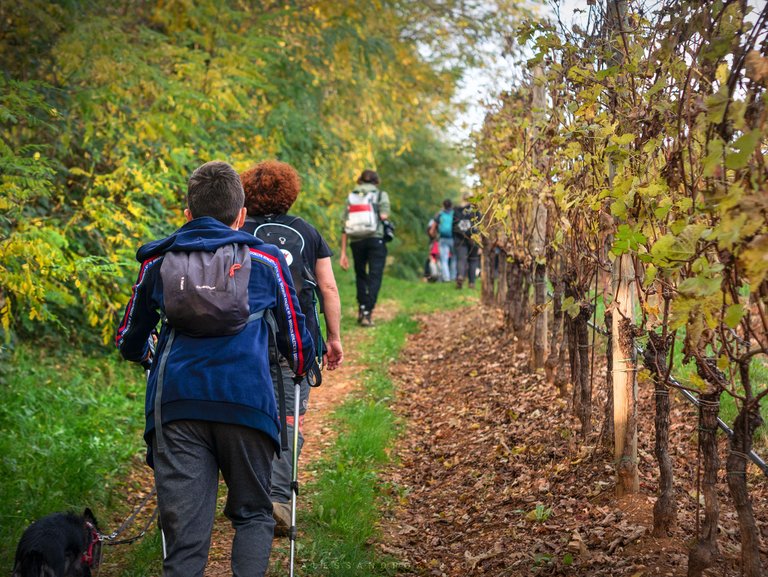 This section of the route is really beautiful, it is an avenue of ancient chestnut trees and walking along it with autumn colors is beautiful!
ITA
Questo tratto del percorso è veramente bello, è un viale di castagni antichi e percorrerlo con i colori autunnali è bellissimo!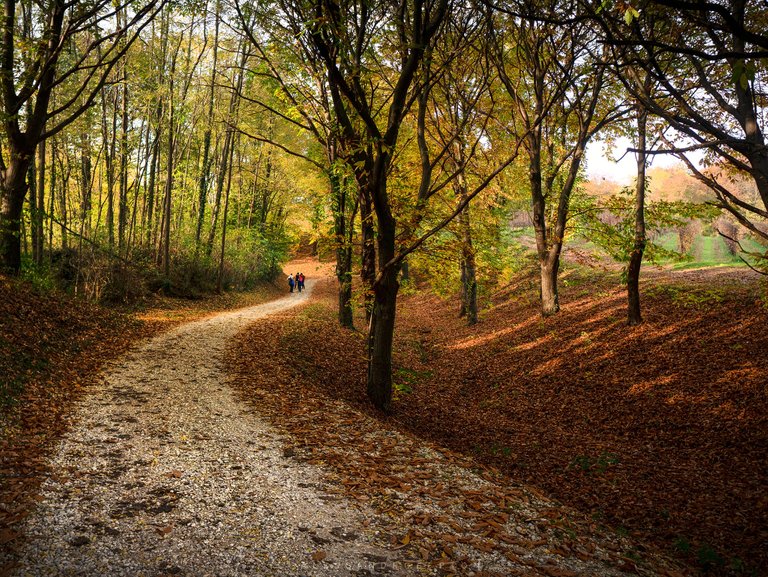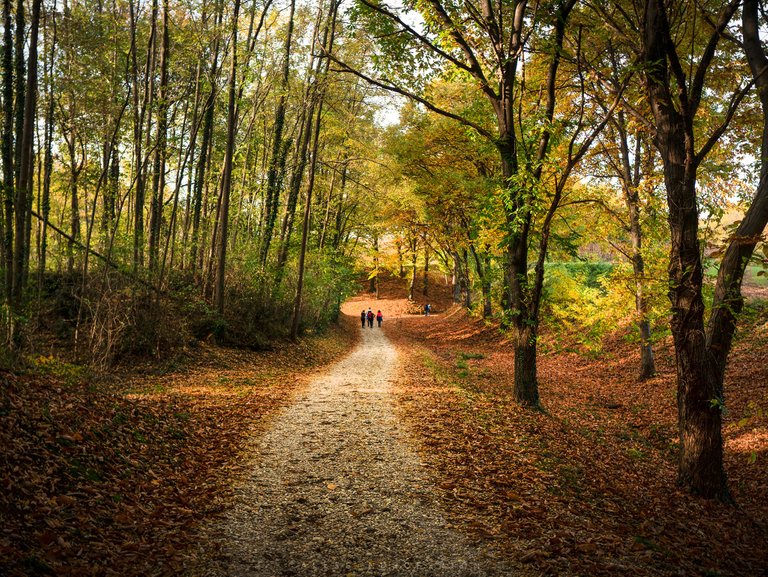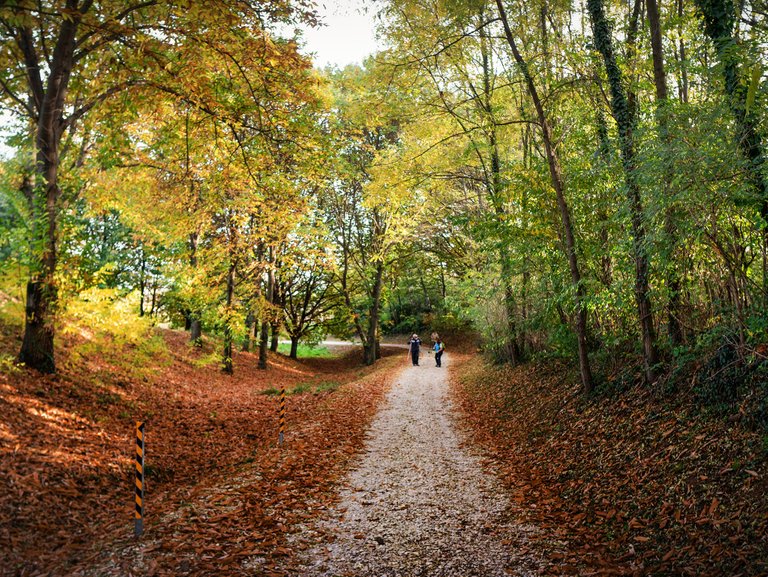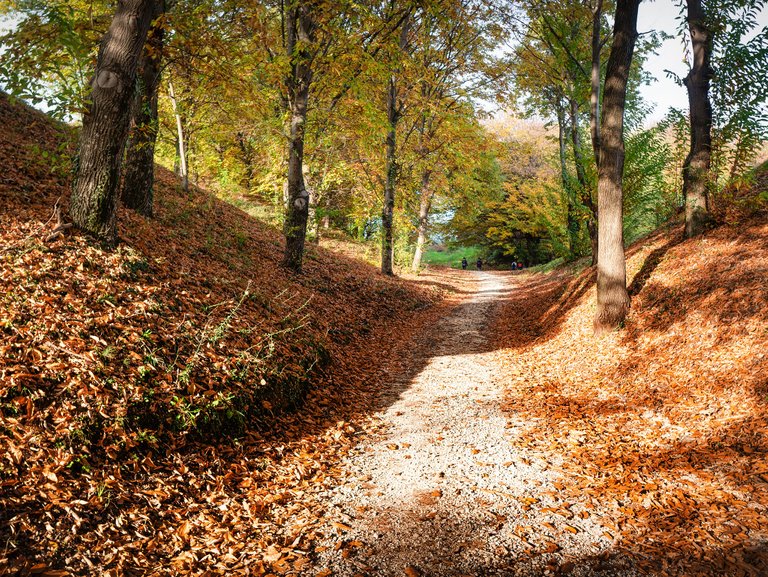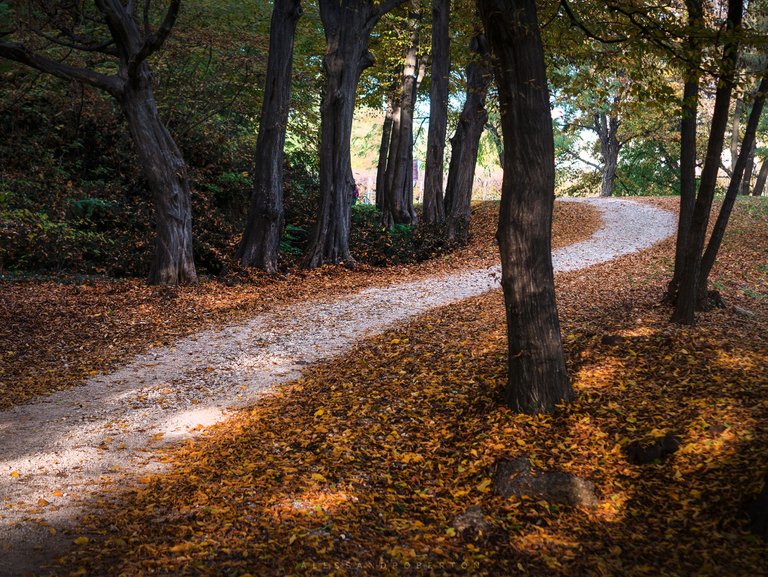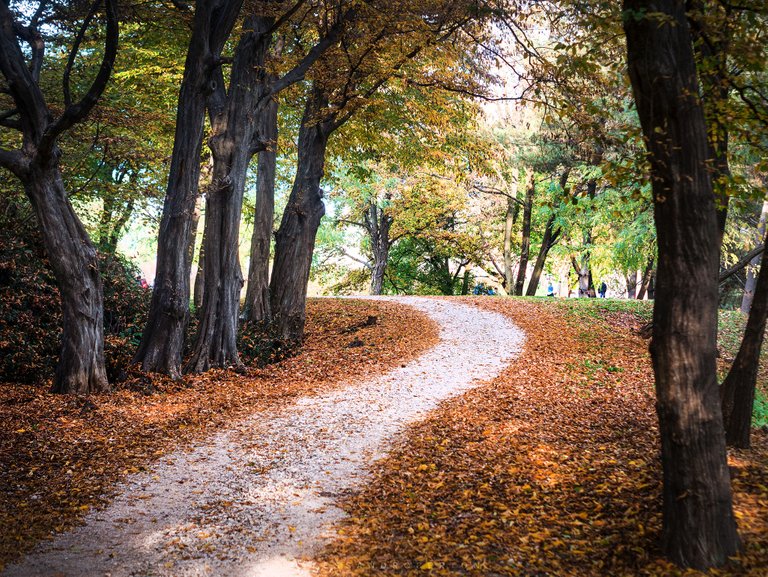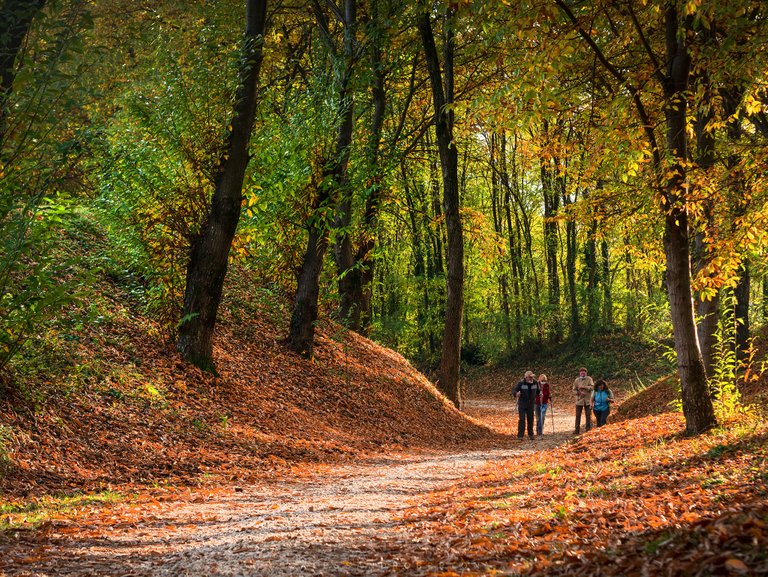 Shortly before the abbey, among the branches of the trees you could see the bell tower of Nervesa della Battaglia.
In particular I liked the composition given by the verticality of the bell tower with the lines of the rows of vineyards and trunks in the foreground.
ITA
Poco prima dell'abbazia tra i rami degli alberi si riusciva a scorgere il campanile di Nervesa della Battaglia.
In particolare mi piaceva la composizione data dalla verticalità del campanile con le linee dei filari delle vigne e dei tronchi in primo piano.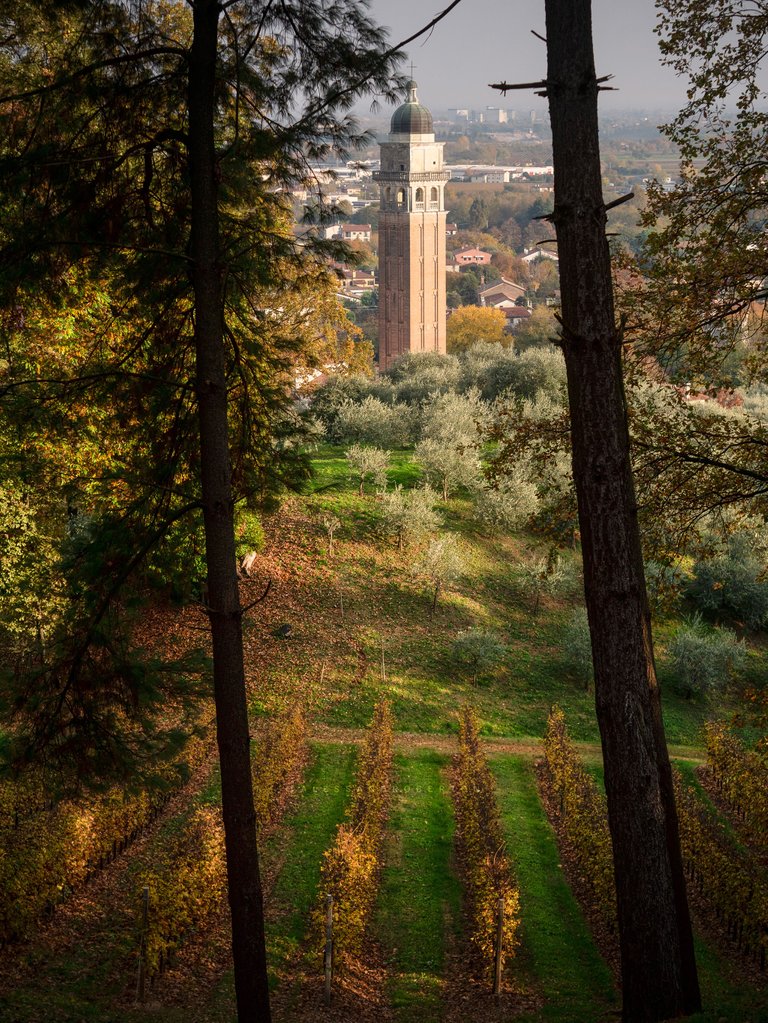 And here we are finally!
ITA
Ed eccoci arrivati finalmente!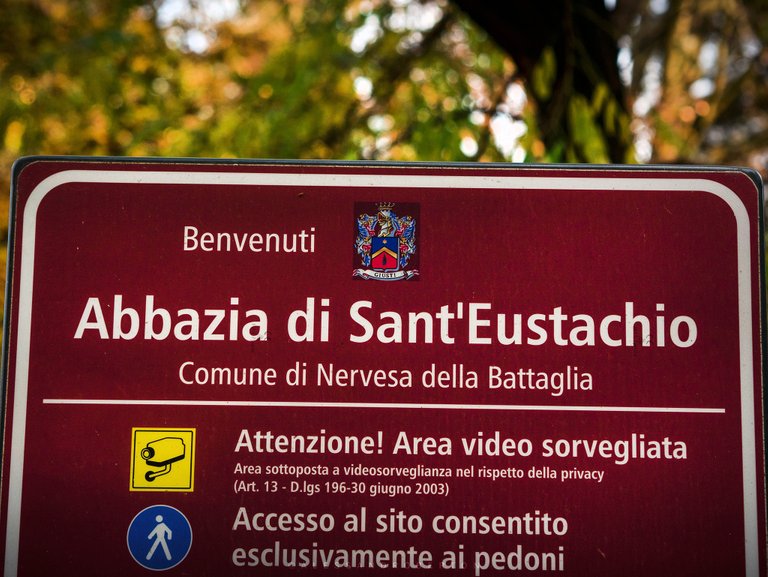 I admit I was really tired and my legs hurt.
I guess because I've never sat down all day...
ITA
Ammetto che ero davvero stanco e avevo male alle gambe.
Credo perchè non mi sono mai seduto durante tutta la giornata...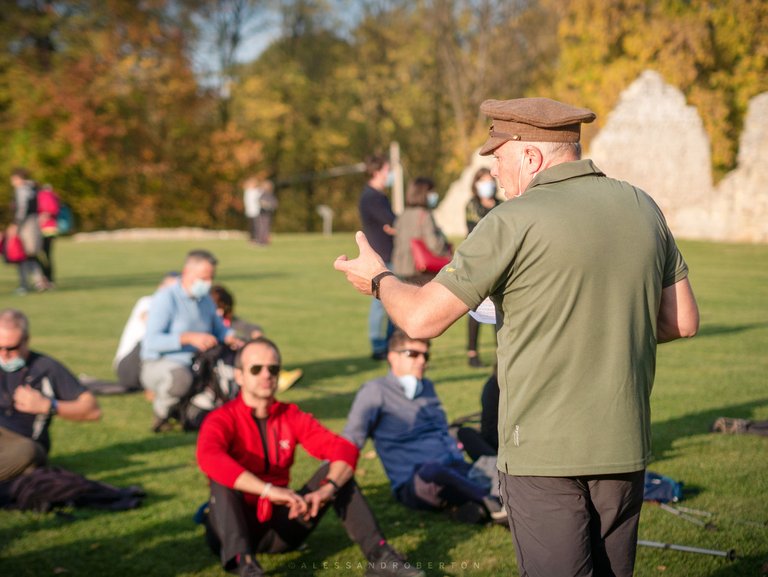 I wasn't the only one who was tired.
ITA
Non ero l'unico ad essere stanco. Si erano tutti seduti sul prato ad ascoltare la guida che ci spiegava la storia dell'abbazia.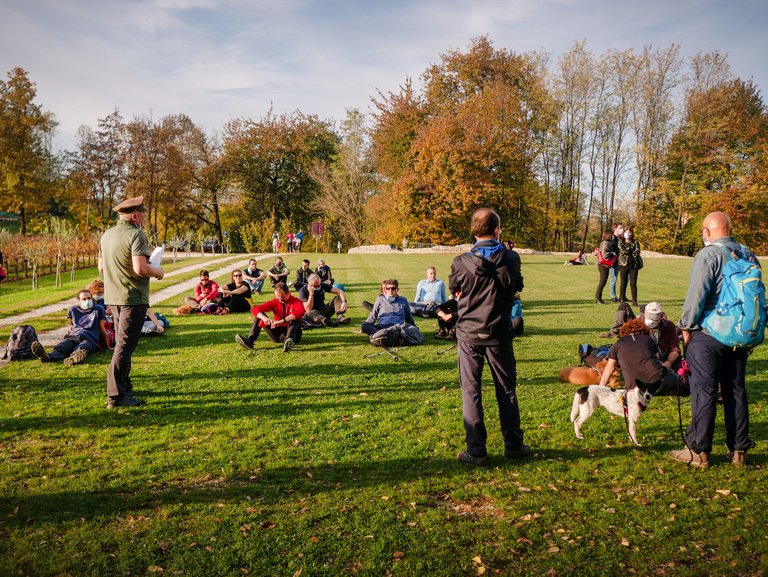 Even if I was tired I could not visit the abbey, so slowly I walked through the various rooms and took some photos.
ITA
Anche se ero stanco non potevo non visitare l'abbazia, così piano piano ho percorso i vari ambienti e ho scattato alcune foto.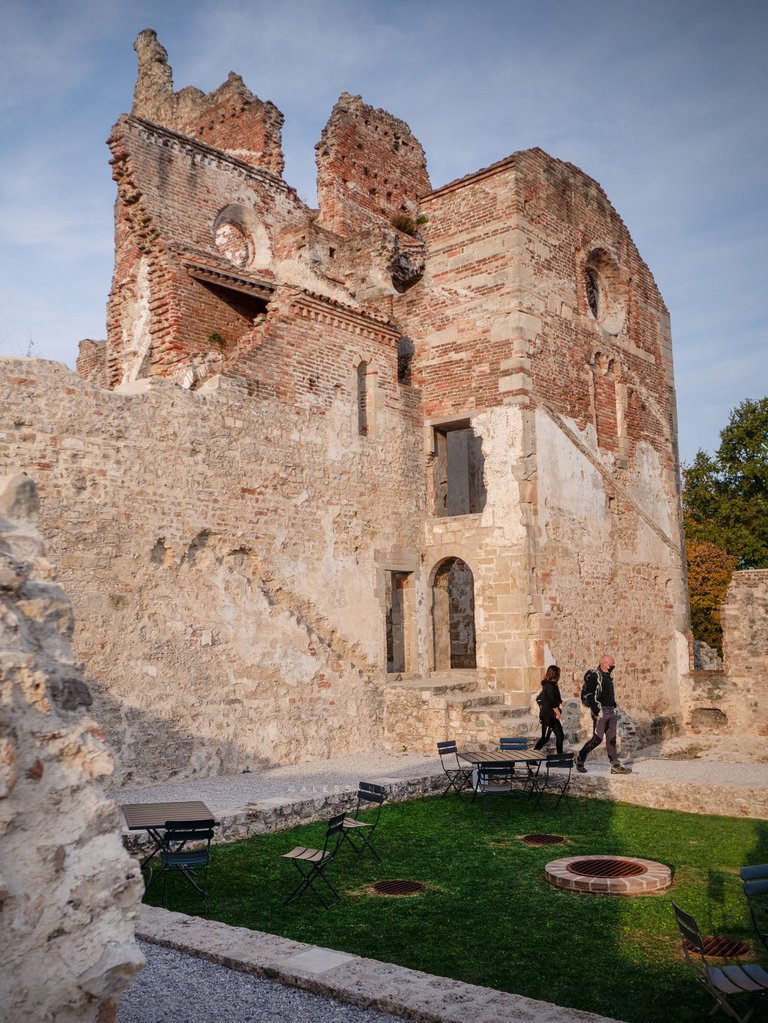 I like this shot because you can see the proportion of the structure to the people.
I was able to capture the width of the shot using a focal length of 16mm.
ITA
Questo scatto mi piace perchè si vede la proporzione della struttura rispetto alle persone.
Sono riusciuto a cogliere l'ampiezza dello scatto sfruttando una focale di 16mm.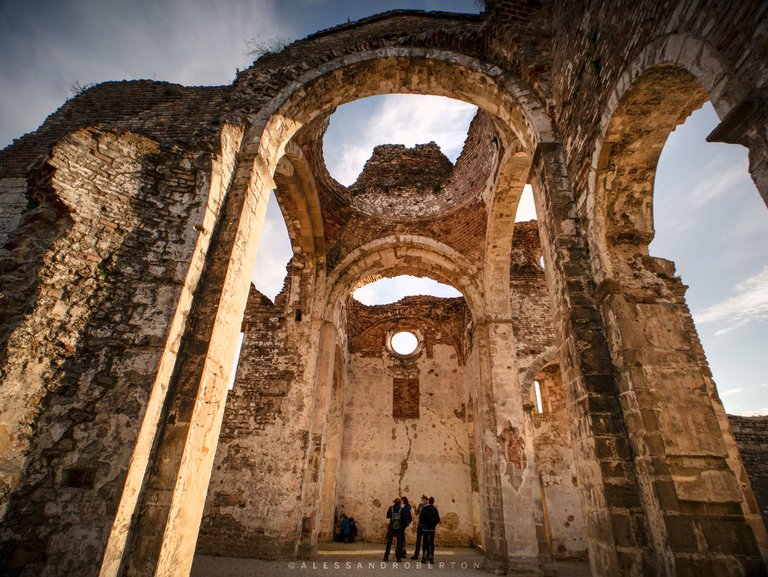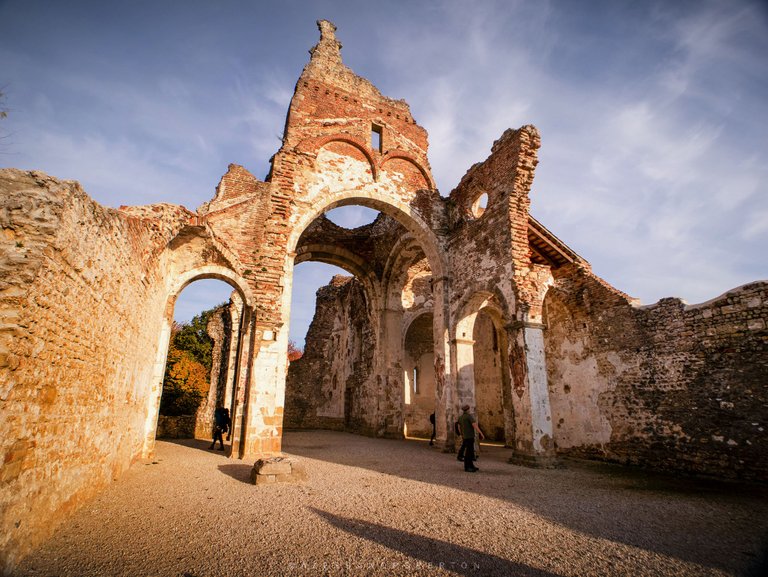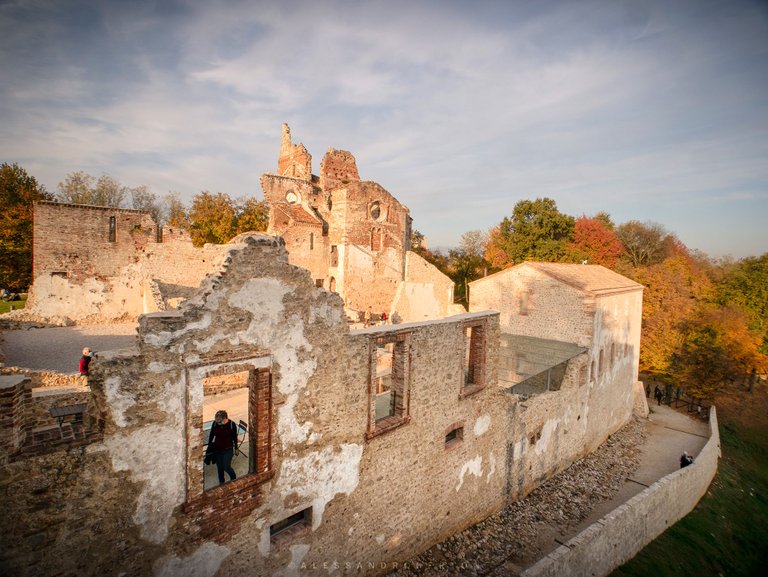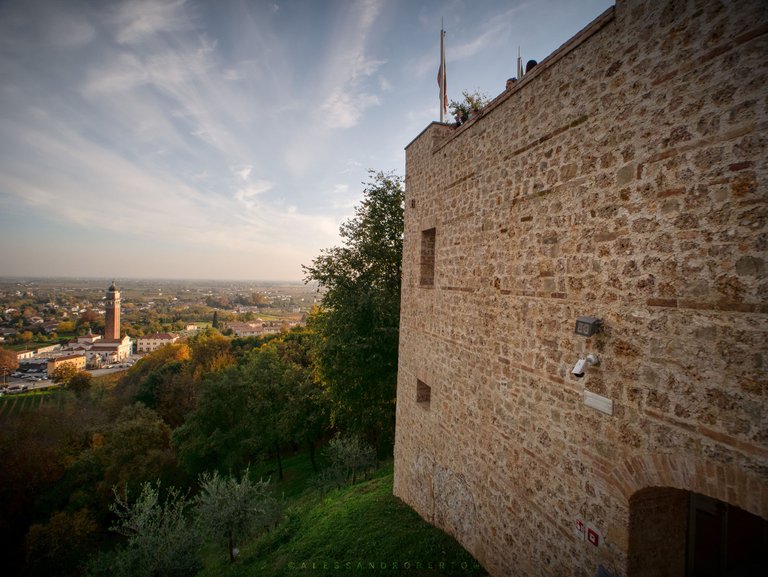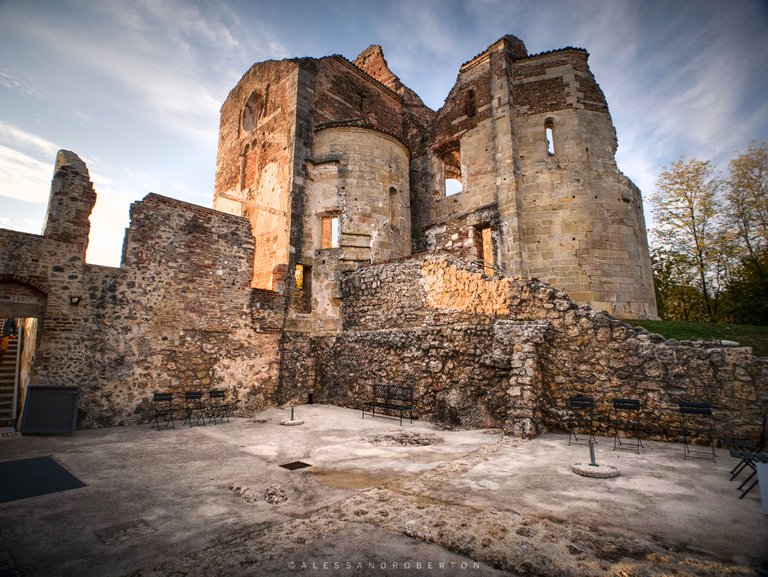 It was a really satisfying day, the abbey deserves a deeper visit and I will definitely be back.
I hope that the post has not bored you because of the many photos, I greet you and I give you an appointment for the next adventure!
I wish everyone a good weekend!
ITA
E' stata una giornata davvero soddisfacente, l'abbazia merita una visita più approfondita e ci tornerò sicuramente.
Spero che il post non vi abbia annoiato per via delle molte foto, vi saluto e vi do appuntamento alla prossima avventura!
Auguro un buon weekend a tutti!