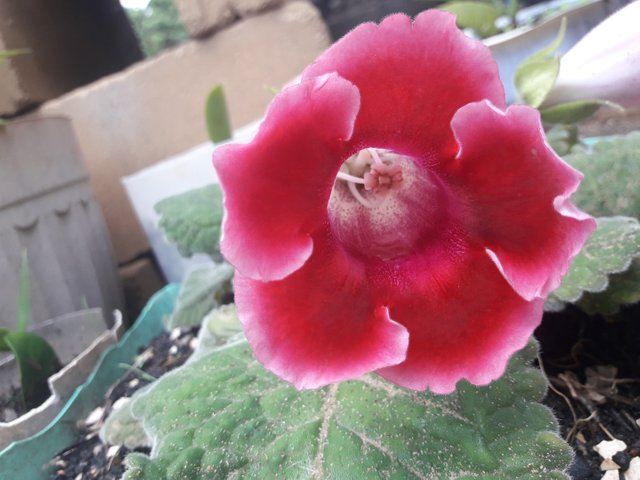 ---
Pretty in Fuchsia...
---
Continuing with my daily pics (ok is just day 2) lets see how long i will keep this going.... today's i tried i really really tried the rule of 3rds that @monster-one told me about but... as you can see i fail miserably, I had my baby stuck like a leach to me so that didnt help but i just needed to take a picture today to keep the momentum going or i would lose this daily pic goal that i have in my head lol. Anyways I will try again tomorrow.
This flower i dont know its name is really pretty she opens up on the late afternoon and in the morning you can see it like she is dying or something and then by the next afternoon she will be ok like nothing happen again she is crazy like that lol.
As for the technical stuff I will just say I took this with my phone a Samsung J7 Neo and that is all I know because I don't know about iso or openings or whatever the other stuff is lol.
Hopefully tomorrow i can take a better picture to share here.
---
As always, thank you very much for reading me and
I hope to read your comments!
---
Picture Credit: All images are of my property unless said otherwise and the emojis are made with Bitmoji.com!
---
Actualmente soy curadora activa para @minnowsupport #palnet, #creativecoin y #foodie, e incluso aunque me centre en publicaciones en español (¡porque obvio!) ¡Si conoces alguna publicación buena que merezca ser curada o cualquier buen autor del que deba estar pendiente 🔎📌 en cualquier idioma, házmelo saber en los comentarios!
---
---
Proud Member and Supporter of The Minnow Support Project, If You Are Not Yet on The Community What Are You Waiting For?? CLICK below!!!

---
---

---

😗 Follow me on my Other Social Media...❗️⬇️⬇️⬇️⬇️

You can find this post shared on Twitter Here please give the tweet a like and retweet!***
---