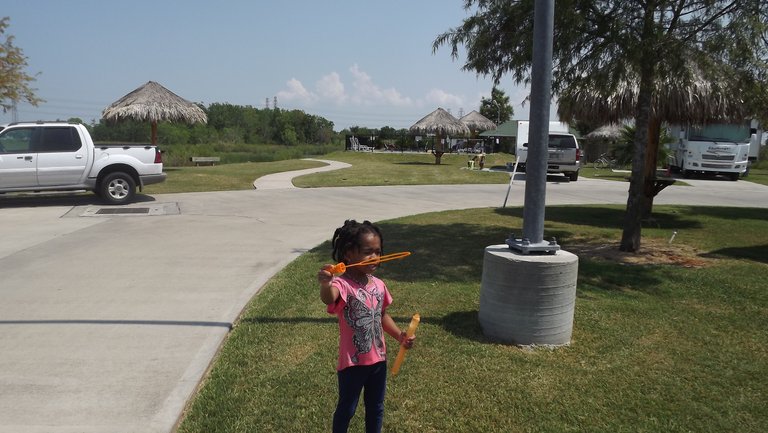 Under Rule 6 of the Picture A Day Community:
Don't be ashamed of your non-awesomeness
I'm sharing with you one of my photographs. Keeping Rule 6 in mind, I ask that judgement not be awarded too harshly.
My photograph is one of my granddaughter attempting to blow bubbles with the bubble wand. Don't know what happened because evidently the bubbles or her blowing capacity wasn't working that day.
She soon gave up and moved on to something that worked...riding her bicycle. I'll share memories of that venture another day.

RULES OF THE PICTURE A DAY COMMUNITY
Share just one
Don't share more than one
Share at least one
Don't not share one
Be proud of your awesomeness
Don't be ashamed of your non-awesomeness
We're keeping it family friendly... no NSFW
Only pictures you took yourself
Cross-Posting only by Moderators and only for official reasons
Bots that don't advance the community conversation will be muted
We allow more than just English posts

Equipment Used:
Samsung Galaxy 10" Tablet
Location:
Texas, U.S.A.

Thanks,
@justclickindiva
Happy rest of the week everyone with whatever your endeavors.

---
SOURCES:
a) JustClickindiva's personalized PHC signature created by and purchased from PHC.
b) Unless otherwise noted, all photos taken by me with my (i) Samsung Galaxy 10" Tablet, (ii) Samsung Phone, & (iii) FUJI FinePix S3380 - 14 Mega Pixels Digital Camera
c) Purple Butterfly part of purchased set of Spiritual Clip Art for my Personal Use
d) Separator Lines Free ClipArt Belt from Public Domain Vectors & ShadedLine from ClipArt-Library
e) All Tribe logos used with permission of Tribe Discord Channel admins.
f) Video of The Terminal Discord created and donated by @sgt-dan to The Terminal Owners for its use. Permission granted by The Terminal admins to use herein.
g) HIVE gif created by @peakstudio for Hive users. Used herein according to guidelines.

If you are an account under 500HP or 500SP and want to win prizes or delegations, then you can request to enter the REDFISHRALLY by going to @theterminal blog and read how it can help you learn and earn.

Si tiene una cuenta de menos de 500HP o 500SP y desea ganar premios o delegaciones, puede solicitar ingresar a REDFISHRALLY yendo al blog
@theterminal
y leer cómo puede ayudarlo a aprender y ganar.
Your Personal Terminal Discord Invite