Today I want to give a first try to the posting in communities...
I'm not sure I understood it all right, but here is how I made that :
I went on the Steemit beta and had a look at the communities,
then I subscribed to 3 or 4 that interested me,
and now I am posting in the "Picture a day" community whose admin is @jarvie-dev
but I doubled the challenge by posting from a front-end ...LoL...
as I'm used to post from eSteem Surfer,
I will add #hive-127238 as my first hashtag, in order for my post to appear on the "Picture a day" community 😊
Where do you find this strange hashtag ? I can hear you asking
-----> when you are in the community, look at the Leadership section at the right side, just below the "NEW POST" blue button, and copy the name of the owner, (don't ask me why they all begin with Hive and a number....probably because the wifi code was already taken 😄 )
so this is a try in order to verify if this is the right process, and if it makes you want to discover about the communities on Steemit, well this would be great 😉
Now on to the picture of the day !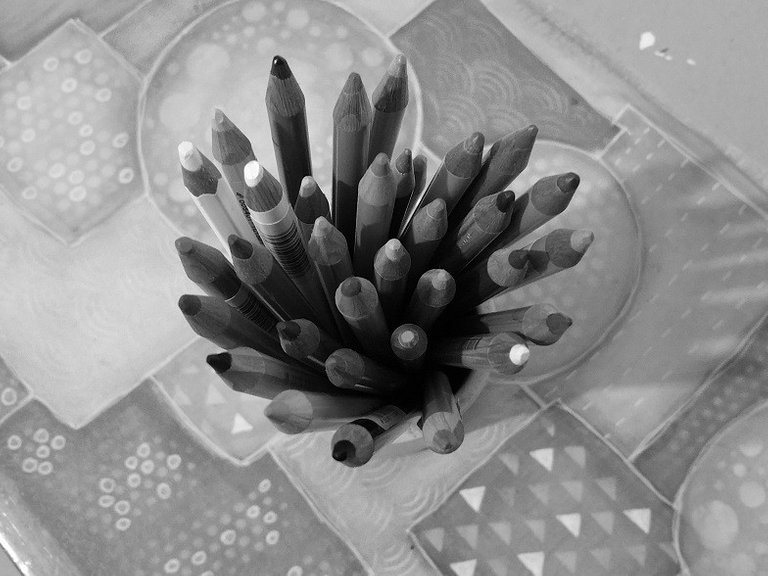 I think this is the first time since 2 years 1/2 that I post only one photo 😄
what I found amusing when taking this photo is that they are colored pencils ... in black and white...
and the design that is on my worktable under the pencil pot is also a very multi-colored one,
that I would show you in colors if only I could post a second photo