Welcome to the Daily Crypto News: A complete News Review, Coin Calendar and Analysis. Enjoy!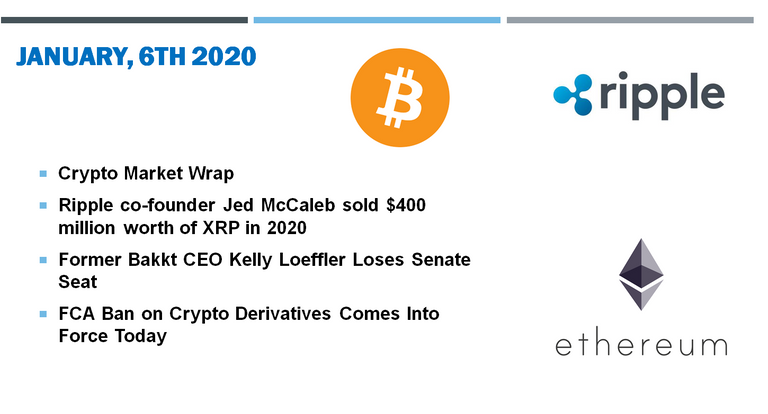 Higher-than-average spot volume, even for the past month, is helping push bitcoin's price upward at a time when traders are plowing into ether futures at a quick pace to open 2021.
Bitcoin (BTC) trading around $33,987 as of 21:00 UTC (4 p.m. ET). Gaining 8.9% over the previous 24 hours.
Bitcoin's 24-hour range: $29,986-$34,220 (CoinDesk 20)
BTC well above its 10-hour and 50-hour moving averages on the hourly chart, a bullish signal for market technicians.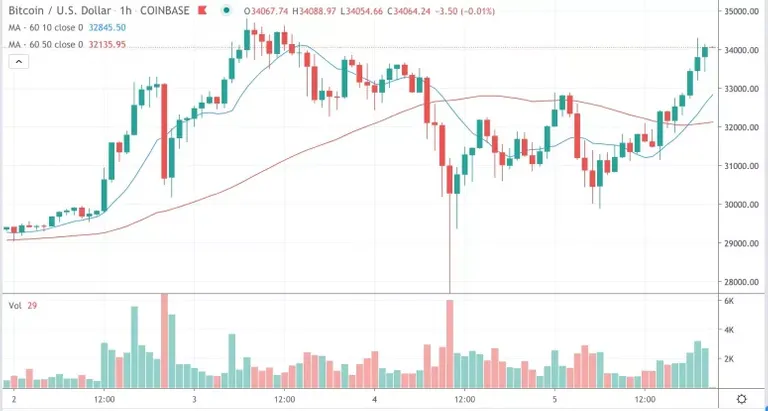 "Bitcoin has extended its already-steep uptrend to new all-time highs," said Katie Stockton, a technical analyst for Fairlead Strategies. "The signs of exhaustion that appeared in December were absorbed via a brief consolidation phase, and there are no active overbought 'sell' signals."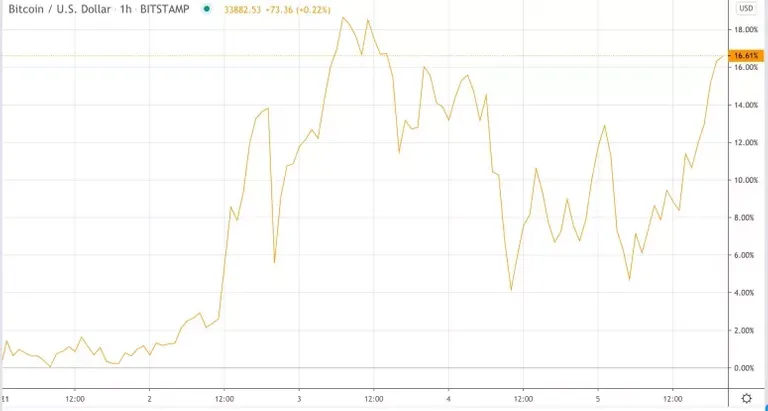 Spot bitcoin volumes are looking quite robust; Monday was the highest-volume day on the eight CoinDesk 20 exchanges in the past month, at over $6.6 billion. Tuesday's spot volume is also looking healthy, at $4.2 billion as of press time. In the past month, volumes have averaged $2.3 billion per day.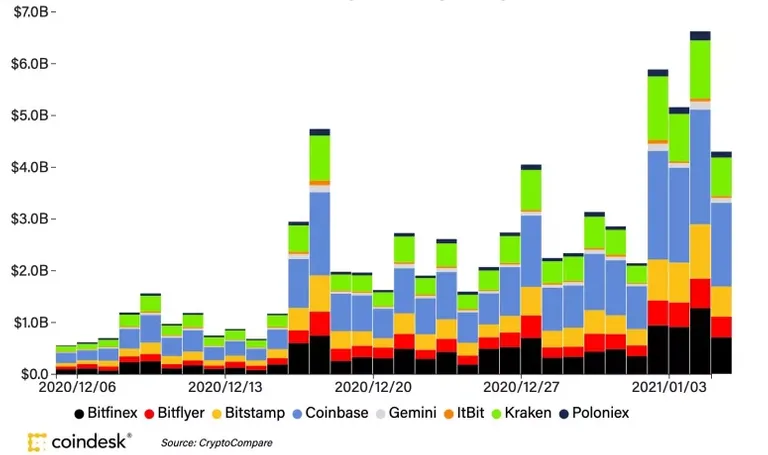 Ether futures boiling hot to open 2021
The ether futures market continues to see staggering gains in the first trading week of 2021. Since Sunday, ether futures open interest (OI) on major venues has grown $350 million to $2.95 billion total, with Binance by far leading the way at $734 million in open interest alone.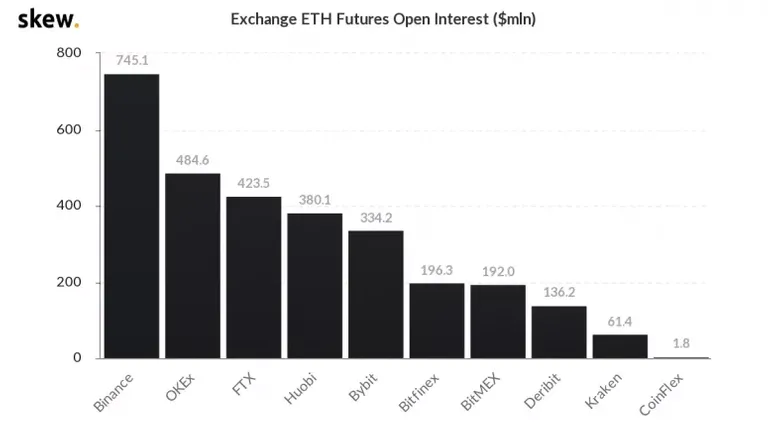 Stellar CTO and Ripple architect Jed McCaleb cashed out a whopping $411 million in XRP in 2020, according to an updated report from blockchain analytics account Whale Alert.
McCaleb sold 1.2 billion XRP throughout the year at an average price of $0.34 per coin — amassing close to half a billion dollars. The sum reportedly represents 27% of McCaleb's XRP stash that is held in a settlement account with Ripple Labs, and marks a sharp acceleration of his sales to date. He sold roughly one billion XRP in the five years between 2014 and 2019.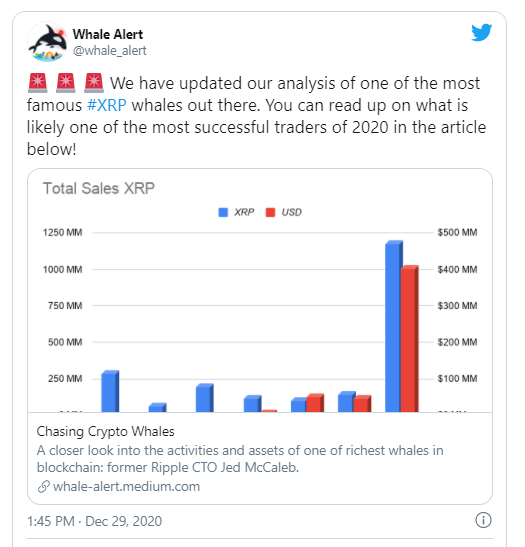 McCaleb also appears to have timed his sales well, with Ripple currently facing lawsuits from both the SEC and from a major investor who participated in the firm's $200 million Series C funding round in 2019.
McCaleb controversially received a co-founders reward of 9.5 billion XRP when he left Ripple Labs in 2014. During the same year, McCaleb signed an agreement with Ripple Labs that limited the amount of XRP he can sell per week in order to avoid negative pressure on the market.
Despite receiving widespread criticism, McCaleb has repeatedly sought to assure investors that his selling has not impacted the price of XRP. McCaleb's agreement with Ripple Labs comes to an end in 2023.
Former Bakkt CEO Kelly Loeffler (R-Ga.) will not return for a full term as a U.S. Senator, AP projected Wednesday.
Loeffler, who ran against Democrat Raphael Warnock, lost her Senate seat in a special election Tuesday after serving for just over a year. She left the crypto warehousing company late in December 2019 to fill former Sen. Johnny Isakson's seat, after Isakson (R-Ga.) stepped down due to health concerns.
Tuesday's special election will determine the fate of the Senate; alongside Loeffler and Warnock, Jon Ossoff (D-Ga.) and Sen. David Perdue (R-Ga.) ran for Georgia's other Senate seat. Both Democrats winning clears the way for President-elect Joe Biden to enact his agenda by creating a 50-50 split (with Vice President-elect Kamala Harris acting as tiebreaker) in the upper house.
However, either Republican winning would allow current Sen. Mitch McConnell (R-Ky.) to enjoy another two years running the Senate, where he could control key confirmation votes for both Biden's legislative agenda as well as for Cabinet nominees, such as Janet Yellen, Biden's pick to run the Treasury Department.
The Ossoff-Perdue race hadn't been called as of press time, though Cook Political Report's Dave Wasserman projected Ossoff to win the race late Tuesday.
The FCA announced a ban on crypto products for retail investors in October 2020.
That ban comes into force today.
Many in the crypto industry are critical of the FCA's decision.
The Financial Conduct Authority's (FCA) ban on crypto-based products for retail investors in the UK comes into force today.
The British financial services regulator announced the ban in October of 2020. The FCA considered crypto-based products "ill-suited" to retail customers because of a lack of reliable valuations, the prevalence of financial crime, price volatility, as well as the retail customer's lack of understanding of crypto assets.
"This ban reflects how seriously we view the potential harm to retail consumers in these products," said Sheldon Mills, acting as interim executive director of strategy and competition at the FCA in October, adding, "Consumer protection is paramount here."
🗞 Daily Crypto Calendar, January, 6th💰

"AMA: STX on Top Traders"
Muneeb Ali to have a live AMA on Binance Korea.
"AMA: STX on CryptoDiffer"
"The Sandbox Live Streams Wednesday, January 6, 2021 - 18:00 - 19:00 GMT"
"When: 9PM UTC (Every Wednesday) Where: RFI Community TG Channel"
"For a smoother transition and to best accommodate all $PI participants V1.3.07 is being rescheduled to January 6th 12:00 UTC+8."


➡️ Youtube
➡️ Twitter
➡️ Hive
➡️ Publish0x
➡️ UpTrennd
➡️ Read.cash
➡️ LBRY
➡️ Spotify
➡️ Be paid daily to browse with Brave Internet Browser
➡️ A secure and easy wallet to use: Atomic Wallet
➡️ Invest and Trade on Binance and get a % of fees back
➡️ Check out my video on Unstoppable Domains and get 10$ off a 40$ domain purchase
➡️ Get 25$ free by ordering a free Visa Card on Crypto.com using this link or using this code qs4ha45pvh


20% of this article rewards wil go to the @hodl-fund account in order to support HODL Community Initiatives.
Find out more about HODL Community: Crypto Social Community and by following our community account @hodlcommunity

If you would like to delegate some HP to our community and support us; we give you back 90% of the curation rewards on a daily basis ! APR > 12% !
500 HP - 1000 HP - 2500 HP - 5000 HP
Make a good APR Curation by following our HIVE trail here