Welcome to the Daily Crypto News: A complete News Review, Coin Calendar and Analysis. Enjoy!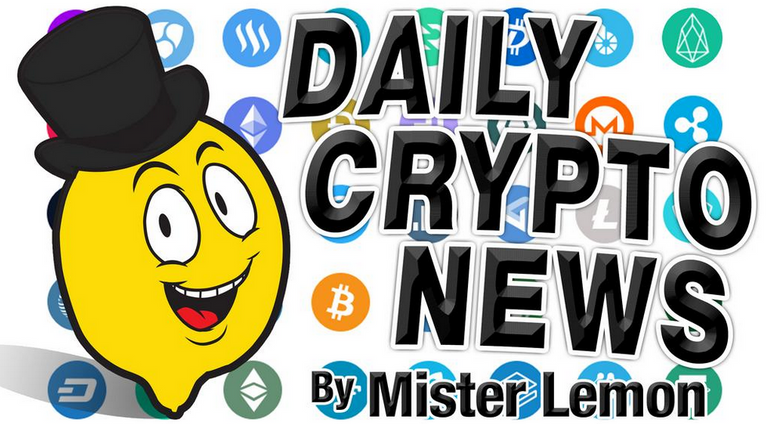 Bitcoin was slipping Friday on lower-than-average volumes for 2021 so far. In other news, while BTC and ETH are up this year, some DeFi tokens are doing even better.
Bitcoin (BTC) trading around $35,610 as of 21:00 UTC (4 p.m. ET). Slipping 9.4% over the previous 24 hours.
Bitcoin's 24-hour range: $34,425-$39,673 (CoinDesk 20)
BTC below the 10-hour and 50-hour moving averages on the hourly chart, a bearish signal for market technicians.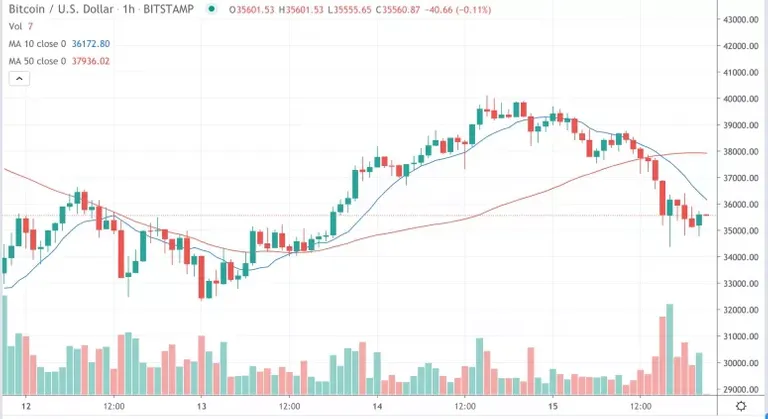 "The price rested at $40,000. Now we are waiting for a rollback to $34,000," said Constantin Kogan, partner at crypto investment firm Wave Financial. "Most likely the next possible low will be at least $26,000."
That's a pretty bearish sentiment from an analyst, but the outsized volume numbers to open 2021 are certainly diminishing for the time being. For the first two weeks of the new year, bitcoin's daily spot volume on the eight major exchanges tracked by CoinDesk (Bitfinex, Bitflyer, Bitstamp, Coinbase, Gemini, itBit, Kraken and Poloniex) averaged $6.1 billion per day. For Friday, spot volumes are at $4.2 billion, as of press time.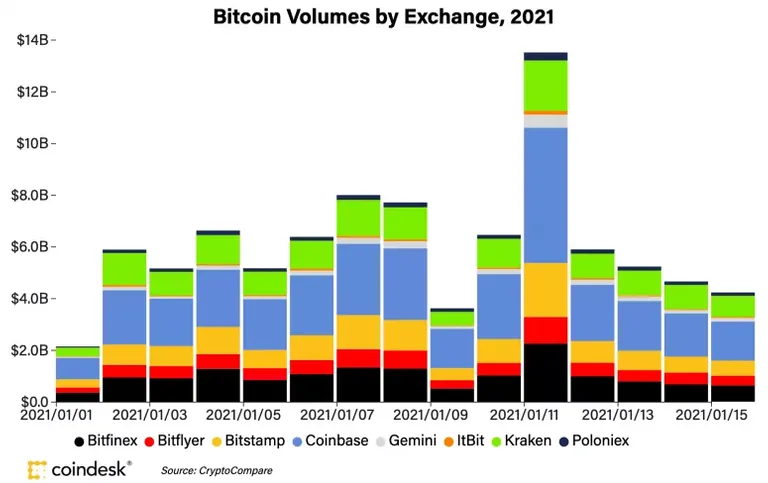 Big-name DeFi tokens doing better than ether in 2021
Bitcoin's is up over 20% in 2021. However, ether is easily beating that, in the green over 50% to start the year. Meanwhile, two well-known projects built on the Ethereum platform used for decentralized finance (DeFi) are doing even better than that. The token associated with derivatives liquidity platform Synthetix is up more than 83% so far this year, while lending protocol Aave's token has climbed more than 69% in 2021 so far.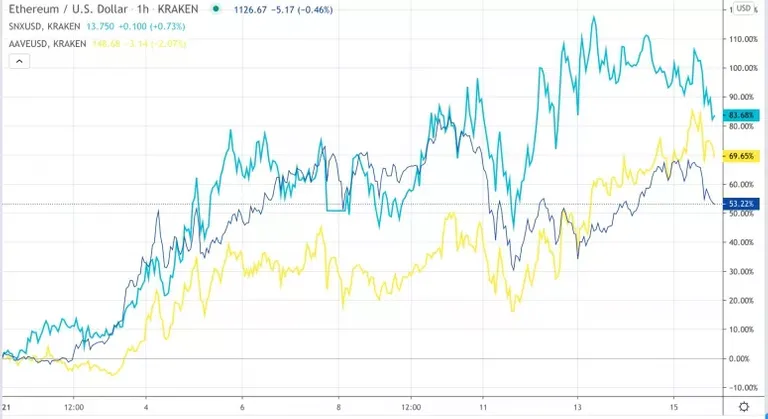 Jean-Marc Bonnefous, managing partner of investment firm Tellurian Capital, told CoinDesk DeFi tokens such as aave and synthetix have big upside potential in bullish markets. He recently tweeted about DeFi token performance over the last three months. However, Bonnefous cautioned that there's also a downside to these lesser-known and less-liquid tokens.
Polkadot's price has increased by about 60% in the past week.
XRP's price has dropped by more than 9% in the past week.
Polkadot today overtook XRP in market cap size, $13.2 billion to $12.8 billion.
Polkadot's price surge continues. The protocol's native DOT token is now trading for $14.66, after experiencing a nearly 60% rise over the last week.
Polkadot was created by Parity Technologies, led by Gavin Wood and Jutta Steiner, which transitioned at the end of 2019 from working on Ethereum projects (including maintaining the Parity Ethereum client) to focusing exclusively on Polkadot.
Polkadot is an interoperability protocol for connecting multiple blockchains. Its native DOT tokens are used both for voting on governance issues and for creating "parachains."
In December 2020, the US Securities and Exchange Commission brought a $1.3 billion lawsuit against Ripple Labs, Ripple CEO Brad Garlinghouse, and Executive Chairman Chris Larsen. According to the SEC, XRP is a security; the defendants, all three of whom had access to considerable amounts of XRP because it was created by Ripple founders, have sold large amounts of XRP over the years.
U.S. banking powerhouse Goldman Sachs has issued a request for information (RFI) to explore digital asset custody, according to a source inside the bank.
When asked about timing, the Goldman source said the bank's custody plans would be "evident soon."
Goldman's digital asset custody RFI was circulated to at least one well-known crypto custody player toward the end of 2020.
"Like JPMorgan, we have issued an RFI looking at digital custody. We are broadly exploring digital custody and deciding what the next step is," said the Goldman source, who asked not to be named. (An RFI on crypto custody was issued by JPMorgan in October 2020, as reported by The Block.)
The Goldman insider said the bank's digital assets initiative was "part of a broad digital strategy," citing stablecoins in relation to recent missives from the U.S. Office of the Comptroller of the Currency (OCC).
Citing the recent U.S. Securities and Exchange Commission (SEC) lawsuit against Ripple Labs, cryptocurrency exchange Kraken announced it is halting trading of the XRP token for U.S. residents.
The halt, which goes into effect Jan. 30 at 1 a.m. UTC, only affects Kraken clients residing in the U.S. Those residing elsewhere will be unaffected.
With the halt, Kraken becomes the latest exchange to suspend or end trading in XRP (+0.8%), the cryptocurrency at the heart of a SEC lawsuit against Ripple Labs claiming the token is really a security.
Kraken had been a holdout.
The move follows Grayscale Investments' dissolution of its XRP Trust earlier this week.
🗞 Daily Crypto Calendar, January, 16th💰

"Watch out for our big announcement coming up next week"
"$50,000 Worth of XPRT will be Distributed During the Matic Network StakeDrop, Beginning January 16th!"
Amino Network (AMIO), KickToken (KICK), Add.xyz (PLT)
"The deposit and withdrawal services of all the above will be closed at 18:00:00 on January 16, 2021 (UTC+8)."
"In light of recent developments, here are a couple of things to look forward to next week: - detailed explanatory article on..."
This AMA is a special one, with loads of highly anticipated announcements, some of which are our biggest news releases yet!


➡️ Youtube
➡️ Twitter
➡️ Hive
➡️ Publish0x
➡️ UpTrennd
➡️ Read.cash
➡️ LBRY
➡️ Spotify
➡️ Be paid daily to browse with Brave Internet Browser
➡️ A secure and easy wallet to use: Atomic Wallet
➡️ Invest and Trade on Binance and get a % of fees back
➡️ Check out my video on Unstoppable Domains and get 10$ off a 40$ domain purchase
➡️ Get 25$ free by ordering a free Visa Card on Crypto.com using this link or using this code qs4ha45pvh


20% of this article rewards wil go to the @hodl-fund account in order to support HODL Community Initiatives.
Find out more about HODL Community: Crypto Social Community and by following our community account @hodlcommunity

If you would like to delegate some HP to our community and support us; we give you back 90% of the curation rewards on a daily basis ! APR > 12% !
500 HP - 1000 HP - 2500 HP - 5000 HP
Make a good APR Curation by following our HIVE trail here