Welcome to the Daily Crypto News: A complete News Review, Coin Calendar and Analysis. Enjoy!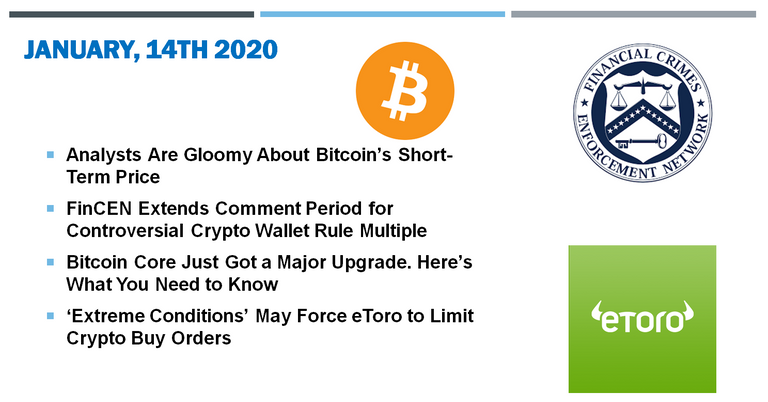 Bitcoin's recovery from Monday's low is gathering pace, with the options market pricing in a double-digit probability of an above $50,000 by the month's end.
The leading cryptocurrency by market value is currently trading at $38,300, representing a nearly $4,000 or 11% gain on a 24-hour basis, according to CoinDesk 20 data.
The price bounce has erased a significant chunk of losses observed earlier this week. Bitcoin dropped from $40,000 to $30,305 on Monday on heavy selling in the spot market, most notably on the U.S.-based Coinbase exchange.
Options are derivative contracts that give the purchaser the right, but not the obligation, to buy the underlying asset at a predetermined price on or before a specific date. A call option represents a right to buy, and a put option gives the right to sell.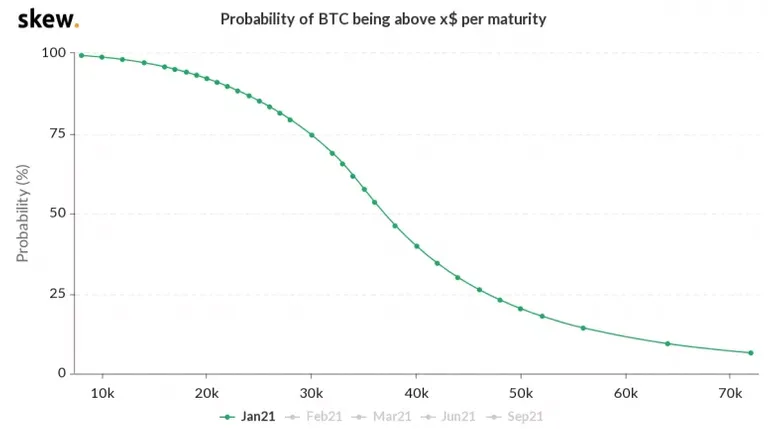 Call options in demand
The one-, three- and six-month put-call skews, which measure the cost of puts relative to calls, remain entrenched into the negative territory, according to Skew data. That's a sign of calls or bullish bets drawing higher demand than puts.
The one-month put-call skew has declined to a lifetime low of -35.9, indicating record bullish sentiment. Investors have been buying the $52,000 call expiring on Jan. 29 since Tuesday.
"In the past 24 hours, the $52,000 call option has registered a buying volume of 2,059 contracts. Meanwhile, the $36,000 call has seen a buying volume of 1211 contracts," Swiss-based data analytics platform Laevitas told CoinDesk.
The Financial Crimes Enforcement Network (FinCEN) said Thursday it would reopen its proposed rulemaking period for an additional 15 days for its reporting requirements, and another 45 days for a requirement on recordkeeping and counterparty reporting requirements.
First submitted Dec. 18, the proposals would require exchanges to store name and address information for customers transferring over $3,000 in crypto per day to private crypto wallets, and file currency transaction reports for customers transacting in over $10,000 per day.
Critics of the rule said it would be technically impossible for some projects to comply because smart contracts and author-decentralized tools do not have name or address information to provide.
Perhaps most important, the 15-day extension means Treasury Secretary Steven Mnuchin, who is said to be spearheading this effort, will be out of office by the time the comments period closes, perhaps allowing for FinCEN to better incorporate industry feedback.
In its public notice, FinCEN wrote that the proposed reporting requirements "are essentially equivalent to the existing CTR reporting requirements that apply to transactions in currency," and called the proposal "vital" to closing loopholes that terrorists or other malicious actors might use. This is the part that will see a 15-day extension for comments.
Bitcoin Core is an open-source client for nodes and wallets.
*Its 0.21.0 update introduces so-called "descriptor wallets," which give users more control over how their Bitcoin is secured.
*It also supports the latest version of Tor.
Bitcoin Core, the open source node and wallet software derived from Satoshi Nakamoto's original client, received some significant tweaks in an update released earlier today.
Among the most significant changes in Bitcoin Core 0.21.0 is the introduction of "descriptor wallets," which expand the ways in which Bitcoin wallets can be secured. Where traditional wallets require private keys to move Bitcoin, descriptor wallets instead require scripts, which provide more flexibility on the back end. These scripts can incorporate private keys, but they aren't limited by them in the way that traditional "legacy wallets" are.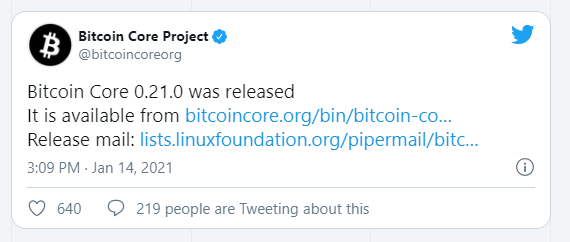 eToro might have to limit the amount of crypto each user can buy.
The cryptocurrency exchange has warned users about extreme conditions in crypto markets.
In the first 11 days of the year, eToro had over 380,000 new users register with the exchange.
Cryptocurrency exchange eToro has warned customers that trading limits may be put in place due to a surging demand for cryptocurrencies.
Bitcoin may have crashed by over $10,000 in a single day this week, but growing demand for cryptocurrencies has surged to such a height that eToro has had to warn customers to temper their trading expectations on the exchange.
"We are seeing extreme conditions in crypto markets," Katie Evans, global PR and communications manager at eToro, told Decrypt, adding, "If the demand for crypto continues we might once again see liquidity issues in crypto markets."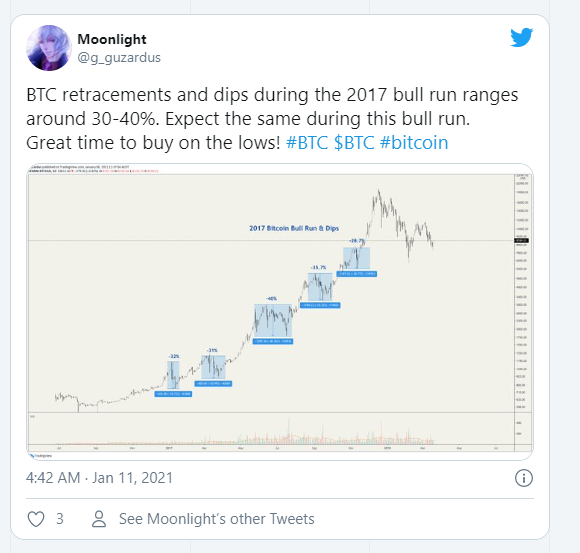 🗞 Daily Crypto Calendar, January, 14th💰

"#Symbol #Snapshot & #Launch are January 14."
"NEM & Symbol Announcements | More partnerships. More events. More possibilities," from Jan 1st - 14th.
Mainnet Launch event for Stacks 2.0: Apps and smart contracts. On Bitcoin.
Swipe Wallet conducts public sale for Cannon at 00:00 UTC.
"XRP trading and deposits will stop for all US users on Jan 14, 2021."
"On January 14, VRS token Staking will be launched on the Official Wallet"


➡️ Youtube
➡️ Twitter
➡️ Hive
➡️ Publish0x
➡️ UpTrennd
➡️ Read.cash
➡️ LBRY
➡️ Spotify
➡️ Be paid daily to browse with Brave Internet Browser
➡️ A secure and easy wallet to use: Atomic Wallet
➡️ Invest and Trade on Binance and get a % of fees back
➡️ Check out my video on Unstoppable Domains and get 10$ off a 40$ domain purchase
➡️ Get 25$ free by ordering a free Visa Card on Crypto.com using this link or using this code qs4ha45pvh


20% of this article rewards wil go to the @hodl-fund account in order to support HODL Community Initiatives.
Find out more about HODL Community: Crypto Social Community and by following our community account @hodlcommunity

If you would like to delegate some HP to our community and support us; we give you back 90% of the curation rewards on a daily basis ! APR > 12% !
500 HP - 1000 HP - 2500 HP - 5000 HP
Make a good APR Curation by following our HIVE trail here