Welcome to the Daily Crypto News: A complete News Review, Coin Calendar and Analysis. Enjoy!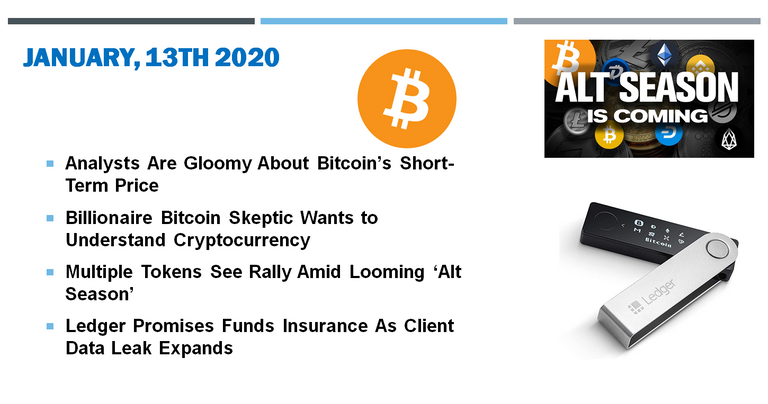 The near-term outlook for bitcoin has dimmed, analysts say, with some now seeing a possible extension of Monday's major price drop.
"There could be another dump as outflows from the cryptocurrency exchange Coinbase Pro have dried alongside an increased transfer of coins onto exchanges," David Lifchitz, chief investment officer for Paris-based quantitative trading firm ExoAlpha, told CoinDesk.
Bitcoin fell by over 20% on Monday to $30,305 amid heavy selling in the spot market.

Meanwhile, exchange deposits have picked up the pace, a sign that some investors may be looking to liquidate holdings and take profits.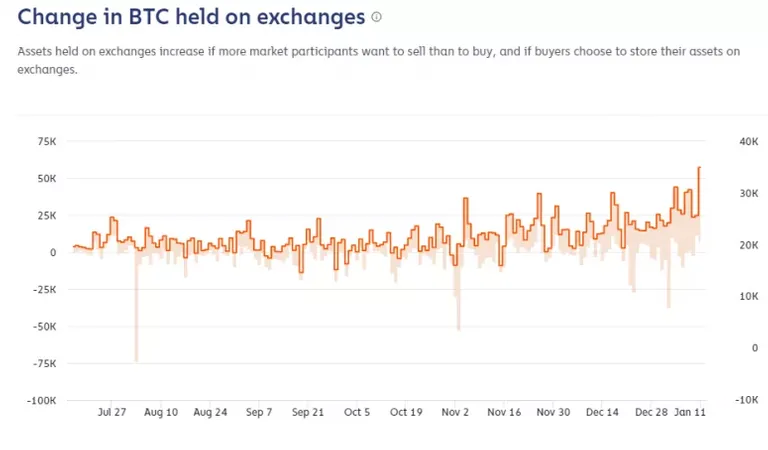 "At a minimum, increased inflows suggest that the type of buyers who self-custody, typically the larger investors, are not buying as much at the moment," Chainalysis economist Philip Gradwell told CoinDesk. "These coins could be held on exchanges to flip if prices rise rather than to sell immediately, but that will put a lid on gains, if any, or even cause a fresh downturn."
The Ichimoku cloud, a technical tool created by Japanese journalist Goichi Hosoda in the late 1960s, includes multiple lines that help identify support and resistance levels and other essential information such as trend direction and momentum, as shown below.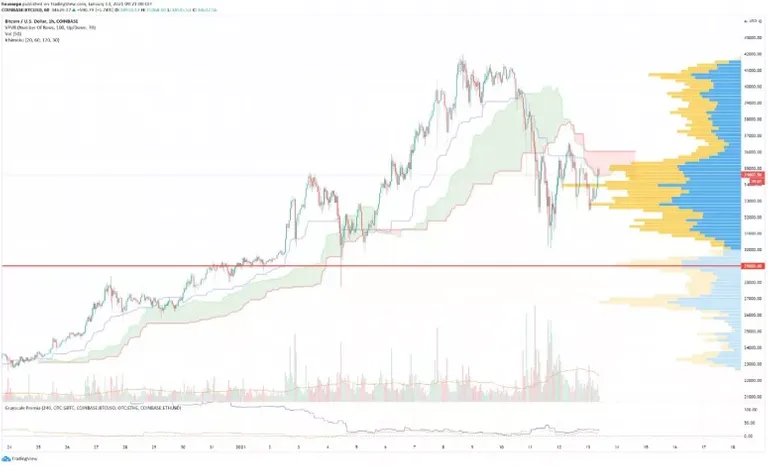 Heusser said that "$29,000 is the make-or-break level. Things could get ugly if that support is breached," and $36,000 is the level to beat for the bulls.
Howard Marks, co-founder and co-chairman of Oaktree Capital Management, is still skeptical about Bitcoin.
However, he concedes that he is not informed enough about cryptocurrencies and wants to learn more.
One source of inspiration for the billionaire is his son Andrew who possesses "a meaningful amount" of Bitcoin.
Famous investor Howard Marks has acknowledged that he wants to get a better understanding the cryptocurrency world.
In his latest memo for the clients, the billionaire co-founder of Oaktree Capital Management explains why he had been so skeptical of Bitcoin and where he currently stands on the asset.
He argues that skepticism is the natural state for the value investor. According to Marks, without attaining real knowledge of what's going on and attempting to fully understand the positive case, it's impossible to have a sufficiently informed view to warrant the dismissiveness that many of us exhibit in the face of innovation.
When it comes to digital assets, however, Howard Marks assumes that he allowed his pattern recognition around financial innovation and speculative market behavior to produce this kind of a skeptical approach. At the same time he admits that while these things have helped Oaktree to stay out of trouble, "they probably don't help me think through innovation."
"Thus, I've concluded that I'm not yet informed enough to form a firm view on cryptocurrencies. In the spirit of open-mindedness, I'm striving to learn," said Marks.
As prices for bitcoin and ether retreat from their recent highs, the strong performance of other cryptocurrencies indicate traders and investors may now be turning to alternative coins (altcoins) for potential high returns.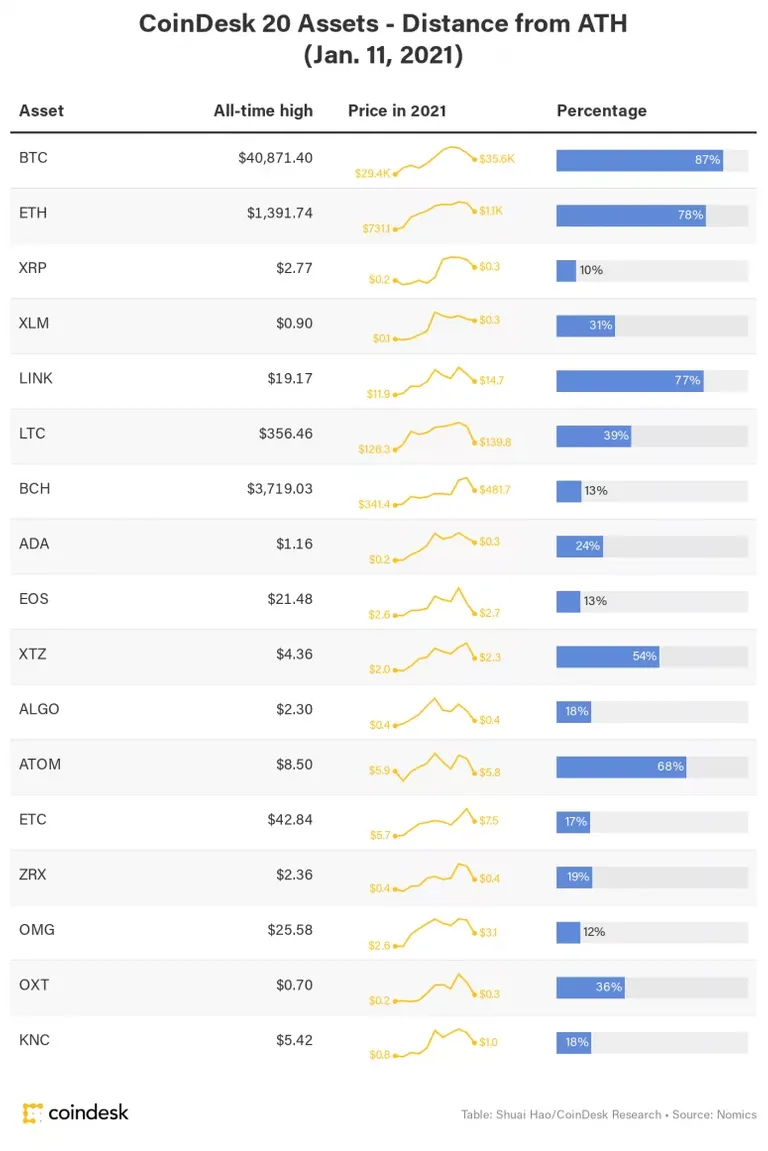 "We have seen [altcoins] pump – both before and after [Monday's] correction – in ways that we have not really seen since 2017," Andrew Tu, an executive at quant firm Efficient Frontier, said.
Bitcoin's market capitalization hit a new record high on Jan. 8 but has dropped since then, evidence that some traders may be taking some profits from bitcoin and plowing them into altcoins, according to Tu.
As CoinDesk reported previously, following the institution-driven 2020 bitcoin bull run, retail investors and traders have joined the rally for "fear of missing out." Some entry-level investors viewing the high-numbered trading price of bitcoin – unaware that it can be bought in minute fractions – take to altcoins because their relatively low price make them appear affordable
SEC Approving Bitcoin ETF Could Be Negative
France-based major crypto hardware wallet manufacturer Ledger confirmed that Shopify hackers obtained Ledger customer personal information in April and June 2020. (Updated at 14:01 UTC: updates throughout the entire text.)
"Along with forensic firm Orange Cyberdefense we were able to establish that it affects approximately 292,000 customers. While the database is 93% similar to those exposed in the previous attack there were approximately 20,000 new customer records including, email, name, postal address, product(s) ordered and phone number included in this breach," the company said, adding that if you purchased a Ledger product after the end of June, 2020, or if you purchased your product outside of Ledger.com, your data was not exposed in these incidents.
"On December 23rd, 2020 we received a notification from our e-commerce service provider, Shopify, regarding an incident involving merchant data in which rogue member(s) of their support team obtained customer transactional records, including Ledger's," the company said on January 13, after completing forensics with Orange Cyberdefense.
According to them, Shopify claims that this is related to the incident reported in September 2020, which concerns more than 200 merchants, but until December 21st, 2020, Shopify had not discovered that Ledger was also targeted in this attack.
In May last year, Ledger denied claims that their databases have been compromised via a Shopify exploit. "We haven't found any proof that this claim is legitimate," they said back then.
Meanwhile, the company said today that they will "soon release a technical solution that will remove the 24 words as the single pillar of the security of our hardware wallets and will open the door to funds insurance for individual customers."
🗞 Daily Crypto Calendar, January, 13th💰

"XRP will be delisted from Binance.US effective Wednesday, January 13, 2021 at 10am EST."
"FIRO will undergo a hard fork upgrade at the block height 336888, estimated between January 12 and January 13, 2021 to activate Lelantus."
"Our Q1 update will be released on the 13th of January with our AMA following up on the 14th at 5 pm GMT."
"On Jan 13 at 7AM PST join the @unifidao team on their first Demo Day presentation!"
"Bitrue is listing Cosmos $ATOM for trading on the $BTC and $USDT pairs starting January 13 at 08:00 UTC!
"On Jan 13 2021 from 10:00-12:00 GMT+8, we will perform #XWallet upgrade, including bug fixes and KYC optimization."


➡️ Youtube
➡️ Twitter
➡️ Hive
➡️ Publish0x
➡️ UpTrennd
➡️ Read.cash
➡️ LBRY
➡️ Spotify
➡️ Be paid daily to browse with Brave Internet Browser
➡️ A secure and easy wallet to use: Atomic Wallet
➡️ Invest and Trade on Binance and get a % of fees back
➡️ Check out my video on Unstoppable Domains and get 10$ off a 40$ domain purchase
➡️ Get 25$ free by ordering a free Visa Card on Crypto.com using this link or using this code qs4ha45pvh


20% of this article rewards wil go to the @hodl-fund account in order to support HODL Community Initiatives.
Find out more about HODL Community: Crypto Social Community and by following our community account @hodlcommunity

If you would like to delegate some HP to our community and support us; we give you back 90% of the curation rewards on a daily basis ! APR > 12% !
500 HP - 1000 HP - 2500 HP - 5000 HP
Make a good APR Curation by following our HIVE trail here