Welcome to the Daily Crypto News: A complete News Review, Coin Calendar and Analysis. Enjoy!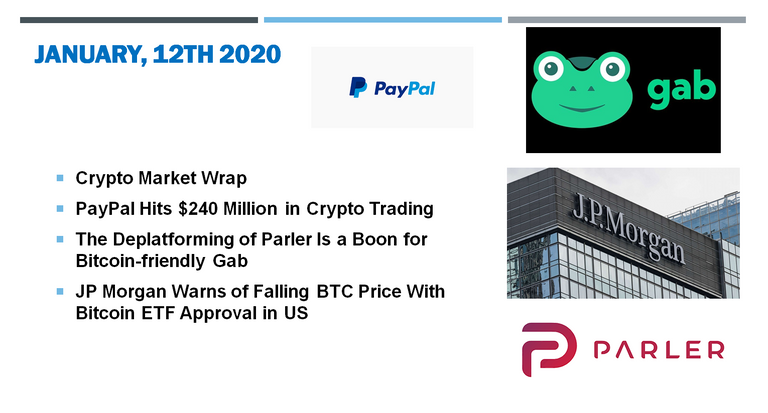 Bitcoin's plunge to as low as $30,305 was intensified from leveraged long derivative liquidations; options traders are totally bearish on ether, the native asset of Ethereum.
Bitcoin (BTC) trading around $33,277 as of 21:00 UTC (4 p.m. ET). Slipping 10.9% over the previous 24 hours.
Bitcoin's 24-hour range: $30,305-$38,947 (CoinDesk 20)
BTC above the 10-hour but well below the 50-hour moving averages on the hourly chart, a sideways-to-bearish signal for market technicians.
"Bitcoin is seeing a retracement of its steep move up, something that I am sure some traders welcome, having felt they missed the opportunity to add into weakness," noted Katie Stockton, and analyst for Fairlead Strategies.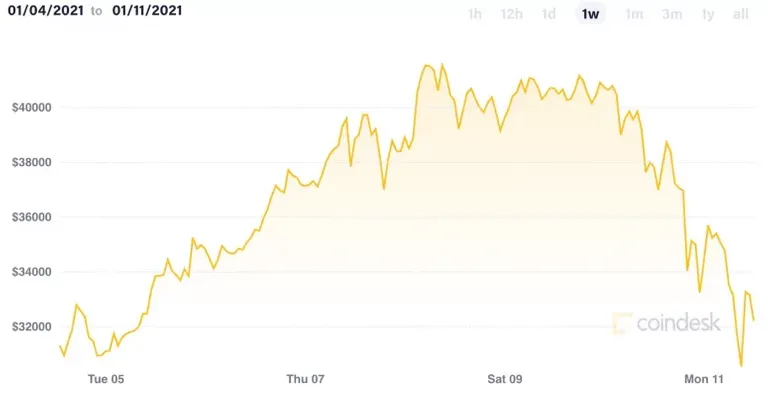 According to data aggregator Bybt, Sunday was by far the largest liquidation day in three months, with Binance alone processing over $500 million in long liquidations, the cryptocurrency version of a margin call.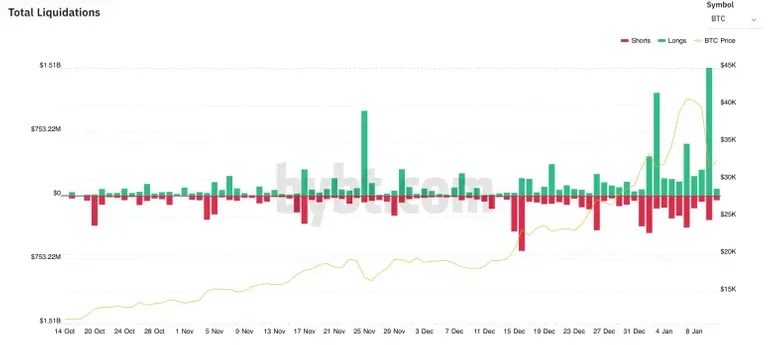 Ether option strikes orienting below $1,000
Ether options traders appear to be hovering, like crows looking for shiny things, over the possibility of the asset dunking even further. The largest open interest strike on the ether options market Sunday was $400, followed by $480 and then $800, according to data analytics firm Skew.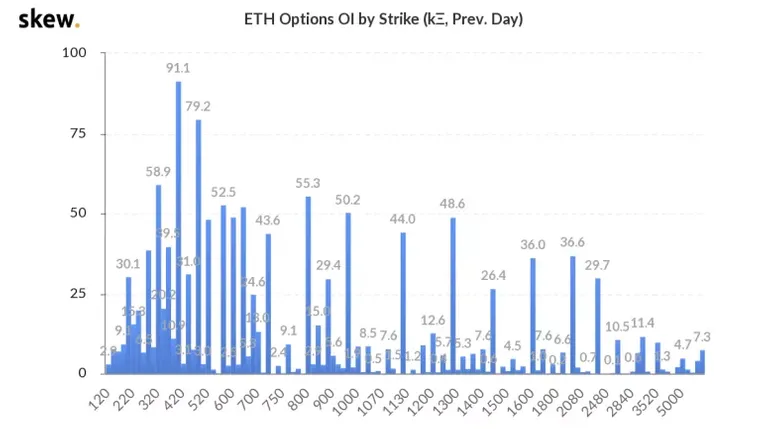 PayPal reported record crypto trading volume.
Global Market Cap recovers after record breaking crash.
Tech stocks took a beating as more regulation is expected under a Biden presidency.
Who would thought a centralized web2 payments company would be mentioned in the same sentence as "Bitcoin recovery." That's exactly what happened yesterday as PayPal revealed it had broken its previous trading volume record.
Some $242 million worth of digital assets appear to have moved through the platform, beating its previous high of $129 million set a week ago, according to data provider Nomics. The data is derived by looking at the exchange numbers produced by itBit, the exchange PayPal has chosen to buy its crypto through. While we can't know for sure if this surge in volume was linked to PayPal, itBit's volume performance never climbed above $5 million in the year leading up to the PayPal announcement. Since then its numbers have grown exponentially.
In amongst the PayPal news, big Bitcoin holders appear to have spurred the recovery by buying the dip. That's according to Elias Simos over on Twitter. In his research, he found that wallet addresses with more than 1,000 BTC have continued to grow while the markets turned down.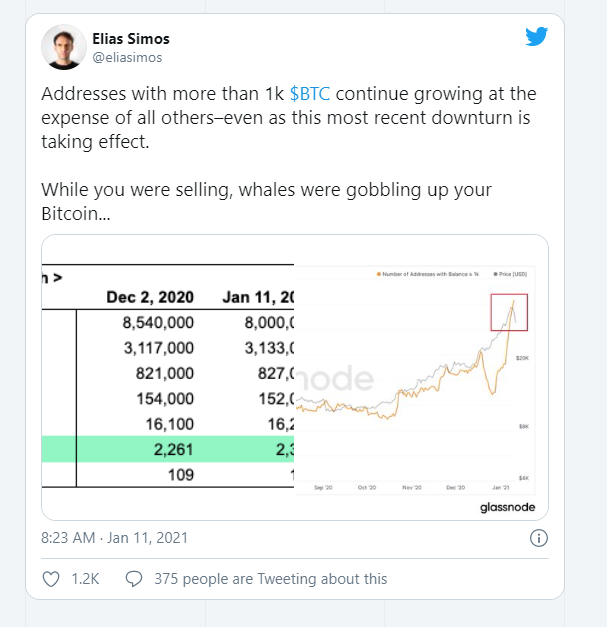 All of this means that the crypto market more broadly had a strong day. In yesterday's Market Watch global crypto market cap had sunk to just above $900 billion, today it's hit $1 trillion. What a difference a day makes.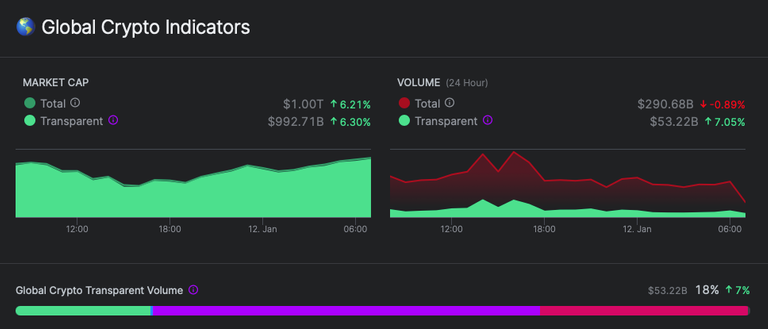 Parler has been suspended by Amazon, Apple, and Google.
With Parler offline, rival site Gab is seeing an influx of new users.
Gab has spent the last few years making itself censorship-resistant.
With social media website Parler completely offline, rival social network Gab says it is picking up users in droves.
Because the two sites have analogous user bases—they lean heavily to the right and both call themselves "free speech" social networks—Gab is now absorbing new users and capitalizing on a years-long quest to remove its reliance on third parties and receive customer payments through Bitcoin. It reported 600,000 new users yesterday alone.
If this invokes a sense of deja vu, that may be because "free speech" social network Gab weathered a similar onslaught from Silicon valley power brokers starting in 2018 after a verified Gab user (who included anti-Semitic messages in his bio) posted violent messages to the platform before attacking the Tree of Life synagogue in Pittsburgh, killing 11.
In an interview today with WBRE in Scranton, Pennsylvania, Gab CEO Andrew Torba explained the steps the site has taken to remain online.
"We went out and bought our own servers. We own them. We cannot be banned from them. That's how you're going to take back control of the internet."
JP Morgan's analysts say that the U.S. Securities and Exchange Commission (SEC) approving a bitcoin exchange-traded fund (ETF) is likely negative for bitcoin in the near term. There is optimism around the prospect of the SEC approving a bitcoin ETF under new leadership, the analysts say.
SEC Approving Bitcoin ETF Could Be Negative
JP Morgan published a report on Friday that discusses the impact of an SEC-approved bitcoin ETF on the bitcoin market. "Optimism around the prospect of the SEC approving a bitcoin ETF in the US this year has risen in anticipation of SEC leadership changes," the analysts wrote, stating:
The approval of a bitcoin ETF in the US this year would likely be negative for bitcoin in the near term.
The analysts, including strategist Nikolaos Panigirtzoglou, proceeded to explain why they are forecasting a negative outlook. "The reason is a potential decline in the Grayscale Bitcoin Trust (GBTC) premium to NAV [net asset value] from the introduction of bitcoin ETF in the US, which would unwind a big portion of GBTC investments currently placed for monetizing this premium."
Emphasizing that a bitcoin ETF would provide an alternative investment vehicle to GBTC for institutional investors, the JP Morgan analysts concluded:
A cascade of GBTC outflows and a collapse of its premium would likely have negative near-term implications for bitcoin given the flow and signaling importance of GBTC.
🗞 Daily Crypto Calendar, January, 11th💰

"Starting January 12th, lock your $ETH and ERC-20s on the Secret Ethereum Bridge and you can mine for your share of 500,000 $SCRT!"
GM Chung, CEO of DeSpread to have a Stacks 2.0 AMA for the Korean Community.
Band Protocol (BAND), Injective Protocol (INJ), Mirror Protocol (MIR), Terra (LUNA)
"Check out an exclusive livestream panel on January 12, 2021 at 8 AM EST as @InjectiveLabs looks to launch decentralized stock trading..."
Don't forget to mark 12 January 2021, as we will hold multiplatform livestream to let you know what are Vexanium Development Plans for Q1...
"The token burn for Q4-2020 will be conducted next Tuesday."


➡️ Youtube
➡️ Twitter
➡️ Hive
➡️ Publish0x
➡️ UpTrennd
➡️ Read.cash
➡️ LBRY
➡️ Spotify
➡️ Be paid daily to browse with Brave Internet Browser
➡️ A secure and easy wallet to use: Atomic Wallet
➡️ Invest and Trade on Binance and get a % of fees back
➡️ Check out my video on Unstoppable Domains and get 10$ off a 40$ domain purchase
➡️ Get 25$ free by ordering a free Visa Card on Crypto.com using this link or using this code qs4ha45pvh


20% of this article rewards wil go to the @hodl-fund account in order to support HODL Community Initiatives.
Find out more about HODL Community: Crypto Social Community and by following our community account @hodlcommunity

If you would like to delegate some HP to our community and support us; we give you back 90% of the curation rewards on a daily basis ! APR > 12% !
500 HP - 1000 HP - 2500 HP - 5000 HP
Make a good APR Curation by following our HIVE trail here