Welcome to the Daily Crypto News: A complete News Review, Coin Calendar and Analysis. Enjoy!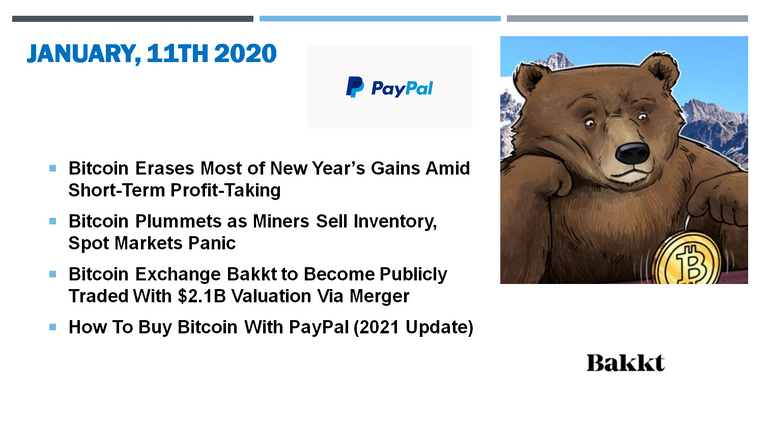 Bitcoin's prices have surrendered much of 2021's eye-popping gains in an equally breathtaking plunge, a drop traders and analysts said was mostly due to short-term profit-taking by some institutional investors.
Bitcoin fell to as low $30,305.30, just over $1,100 from its 2020 closing price of $29,133.86, before recovering to $32,748.52 at press time, down 14.51% in the last 24 hours.
The price for the oldest cryptocurrency is down 21.8% from its all-time high at $41,962.36, which was reached in the past week.
Darius Sit of crypto quant trading firm QCP Capital told CoinDesk the sharp price drop was likely driven by hedge funds taking short-term profits after bitcoin (BTC, -12.6%)'s price soared quickly at the start of the year.
Sit cited the bitcoin price gap between the Chicago Mercantile Exchange, which mainly serves institutional investors, and other exchanges as evidence that traditional money managers could be taking some short-term profit from bitcoin's recent all-time high price.
Bitcoin fell sharply early on Monday, having failed to establish a foothold above $40,000 over the weekend.
Over the last 24 hours, the cryptocurrency declined by more than $8,000 to $32,400, an over-20% fall from levels over $40,800 late on Sunday (UTC). The cryptocurrency was last seen changing hands up slightly near $35,380 – still down 13.6% on a 24-hour basis.
Prices reached a record high of $41,962 on Jan. 8 and ended the last week with 15% gains, its fourth-consecutive double-digit weekly gain, according to CoinDesk 20 data.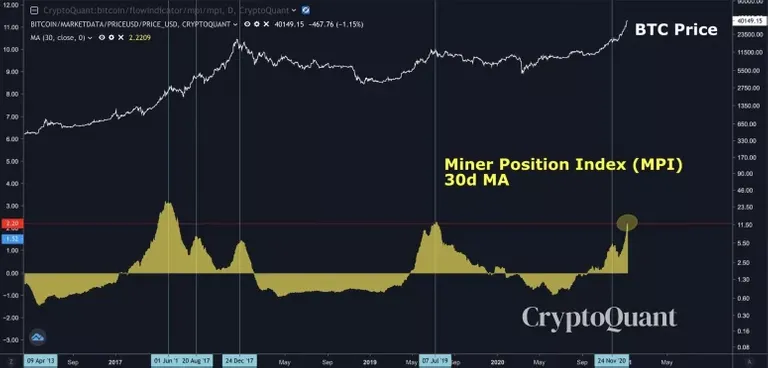 Some panic selling was seen on the U.S.-based crypto exchange Coinbase. A sell order for 180 bitcoin on Coinbase quickly brought the price down by $1,200, as noted by trader @lightcrypto.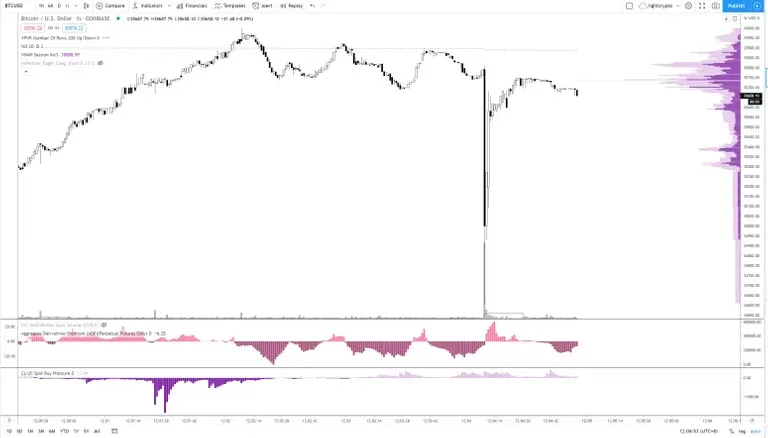 "The derivatives market can relax a bit, with the perptuals funding rate or cost of holding longs declining and futures premium falling," Patrick Heusser, head of trading at Zurich-based Crypto Broker AG, told CoinDesk, also noting heavy selling in the spot market and long liquidations worth nearly $1 billion.
Bitcoin exchange Bakkt has inked a business combination deal that will result in the Intercontinental Exchange subsidiary becoming a publicly traded company.
According to an announcement Monday, the agreement will see Bakkt merge with VPC Impact Acquisition Holdings, a special purpose acquisition company sponsored by Victory Park Capital.
The combined company will be called "Bakkt Holdings" and will be listed on the New York Stock Exchange with an expected valuation of $2.1 billion.
With the announcement, Gavin Michael, former head of technology of Citi's Global Consumer Bank, is joining Bakkt as CEO effective today.
PayPal users in the US can buy cryptocurrencies including Bitcoin directly through the platform.
In the first half of 2021, the feature will roll out to "select international markets."
Bitcoin bought on PayPal cannot be transferred out of PayPal's digital wallet.
In November 2020, PayPal announced that all account holders in the US would be able to buy and sell cryptocurrencies including Bitcoin through its platform. The news followed its announcement in October 2020 that it would introduce options for cryptocurrency buying and selling, through a partnership with Paxos Crypto Brokerage.
"We are pleased to announce that all eligible PayPal accountholders in the U.S. can now buy, hold and sell cryptocurrency directly with PayPal," the company said in a brief statement, which added that users in the United States will soon able to use cryptocurrencies to buy products from its 26 million merchants worldwide. Payments will be converted into fiat at the point of sale.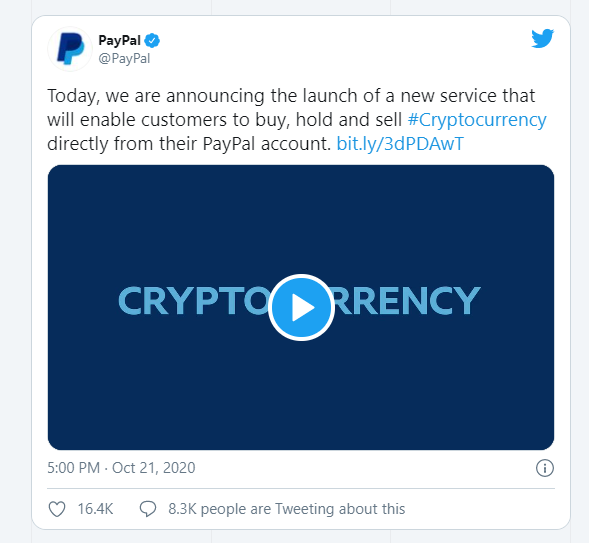 🗞 Daily Crypto Calendar, January, 11th💰

"The airdrop will be sent on January 11, 2021 to the respective wallet that held the DIA tokens eligible."
Major partnership announcement at CES2021.
Enzyme V2 is going live the 11th of January.
Team updates at 3:30 PM UTC/ 11:30 AM EDT: Engineering, Node network, Product/UX, Helpdesk, Legal, BD, Marketing, CEO Closing thoughts, AMA.
"OneWallet Launch for Delegation"


➡️ Youtube
➡️ Twitter
➡️ Hive
➡️ Publish0x
➡️ UpTrennd
➡️ Read.cash
➡️ LBRY
➡️ Spotify
➡️ Be paid daily to browse with Brave Internet Browser
➡️ A secure and easy wallet to use: Atomic Wallet
➡️ Invest and Trade on Binance and get a % of fees back
➡️ Check out my video on Unstoppable Domains and get 10$ off a 40$ domain purchase
➡️ Get 25$ free by ordering a free Visa Card on Crypto.com using this link or using this code qs4ha45pvh


20% of this article rewards wil go to the @hodl-fund account in order to support HODL Community Initiatives.
Find out more about HODL Community: Crypto Social Community and by following our community account @hodlcommunity

If you would like to delegate some HP to our community and support us; we give you back 90% of the curation rewards on a daily basis ! APR > 12% !
500 HP - 1000 HP - 2500 HP - 5000 HP
Make a good APR Curation by following our HIVE trail here