Welcome to the Daily Crypto News: A complete News Review, Coin Calendar and Analysis. Enjoy!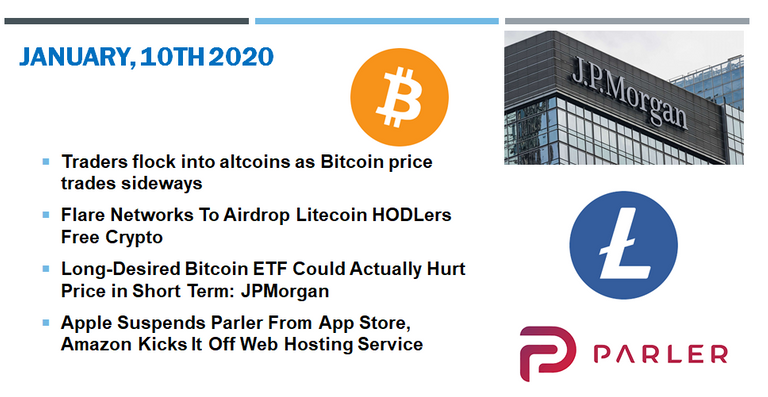 The bullish momentum seen throughout the week has spilled over into the weekend as the majority of the top-100 tokens listed on CoinMarketCap are posting double-digit gains.
Bitcoin (BTC) entering a brief consolidation period and the possibility of a third round of stimulus checks for American citizens are two possible reasons for today's bullish price action.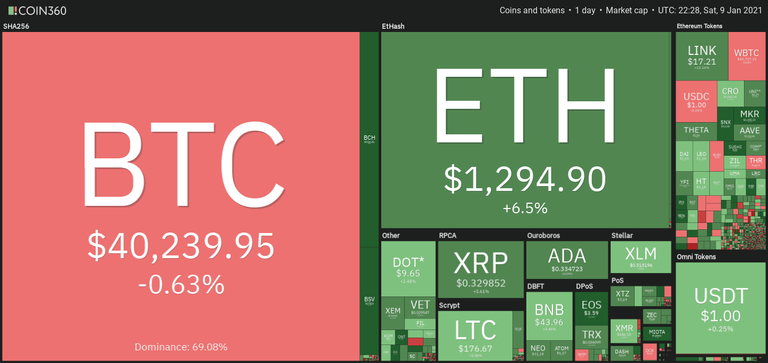 Bitcoin finds a new range in uncharted territory
Following the new all-time high price in Bitcoin (BTC) of $41,940 on Jan 8, the top cryptocurrency has entered what looks to be a brief consolidation phase as bulls attempt to push the price higher after confirming the $40,000 level as support.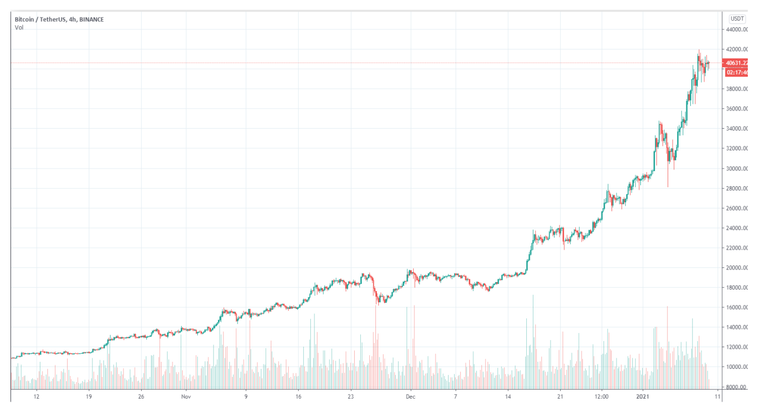 Update: This article has been updated to remove a reference to Kraken delisting XRP.
On Friday, Flare Networks announced that it will airdrop Spark (FLR) tokens to Litecoin holders in advance of its mainnet launch later this year.
In a follow-up tweet, the company also announced that it has reduced the five billion tokens initially allocated for distribution amongst their founders to cover the airdrop.
Flare Networks plans to integrate with Litecoin to bring decentralized financial services (DeFi) to the currency, allowing LTC "to be used trustlessly on Flare with Ethereum style smart contracts" and promising "interoperability and composability" for it.
Nor is this Flare's first big airdrop. Back in December, Flare took a snapshot of XRP for an airdrop of 45,827,728,412 Spark tokens, which will be issued to XRP holders in the first half of 2021.
In a blog post, Hugo Philion, CEO and co-founder of Flare Networks, said that the ratio between XRP and FLR holders is near enough to 1:1. For every XRP that an eligible participant held, Flare shall give them 1.0073 Spark tokens
While a bitcoin exchange-traded fund (ETF) would be a long-term positive, in the short term it could hurt the price of the leading cryptocurrency as it would draw institutional money from the Grayscale Bitcoin Trust (GBTC), currently the only way for some on Wall Street to gain exposure to bitcoin, JPMorgan analysts wrote in a report.
Optimism over the U.S. Securities and Exchange Commission approving a bitcoin (BTC, -1.46%) ETF this year has grown due to the likelihood of a new commissioner being appointed this year, the report notes.
But that change would give competition to GBTC, which benefits from being the only game in town. (Grayscale is owned by Digital Currency Group, the parent company of CoinDesk.)
Due to regulatory and other restrictions, some financial institutions and funds can't directly own bitcoin or even buy shares directly from Grayscale. To get in on the bitcoin action, they have little choice but to buy GBTC shares on the secondary market at a premium. With an ETF, that premium would shrink, reducing the attractiveness of GBTC shares.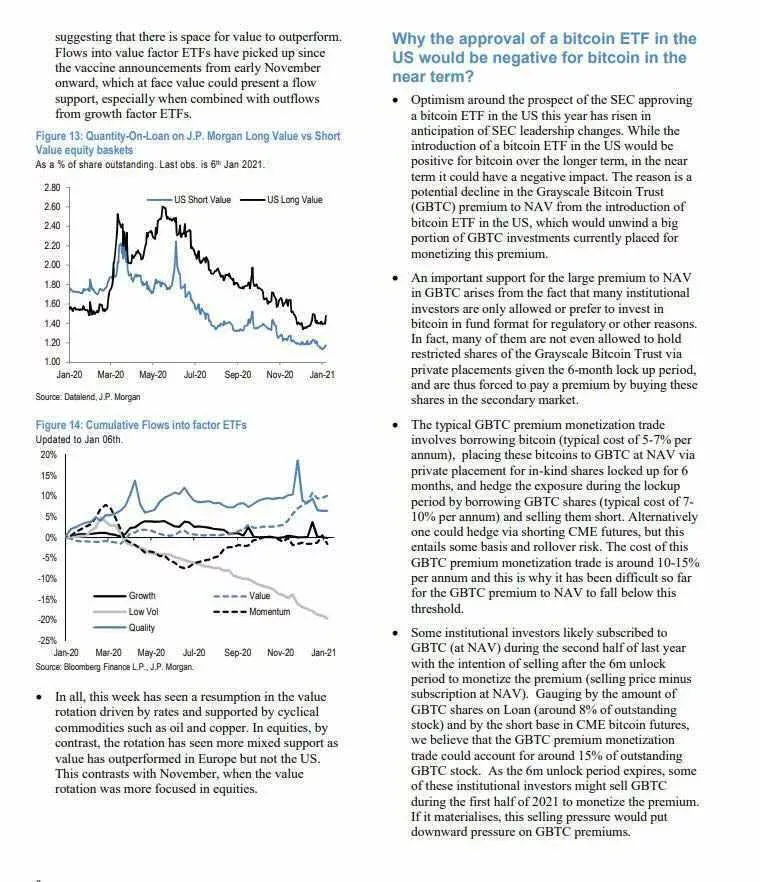 Apple has suspended Parler, a conservative social media service, from its App Store, saying the app's owner hasn't done enough to deal with threats of violence on the platform. Meanwhile, Amazon dealt the service a potential death blow by kicking it off its web hosting service, citing the same reason, BuzzFeed News reported.
Amazon's action means that if the service can't find another host, Parler will go offline Sunday.
"Recently, we've seen a steady increase in this violent content on your website, all of which violates our terms. It's clear that Parler does not have an effective process to comply with the AWS terms of service," Amazon said to Parler in an email obtained by BuzzFeed.
Apple struck much the same tone in a statement Saturday: "Parler has not taken adequate measures to address the proliferation of these threats to people's safety."
🗞 Daily Crypto Calendar, January, 10th💰

"$HEGIC Phase II Liquidity M&U rewards distribution will start on Jan 10, 2021."
"On Sunday January 10th at 6pm CET we will have the pleasure to share with our community our updated roadmap."
"Beta Program to go live from 10th Jan"
"The airdrop will be sent on January 11, 2021 to the respective wallet that held the DIA tokens eligible."
Major partnership announcement at CES2021.


➡️ Youtube
➡️ Twitter
➡️ Hive
➡️ Publish0x
➡️ UpTrennd
➡️ Read.cash
➡️ LBRY
➡️ Spotify
➡️ Be paid daily to browse with Brave Internet Browser
➡️ A secure and easy wallet to use: Atomic Wallet
➡️ Invest and Trade on Binance and get a % of fees back
➡️ Check out my video on Unstoppable Domains and get 10$ off a 40$ domain purchase
➡️ Get 25$ free by ordering a free Visa Card on Crypto.com using this link or using this code qs4ha45pvh


20% of this article rewards wil go to the @hodl-fund account in order to support HODL Community Initiatives.
Find out more about HODL Community: Crypto Social Community and by following our community account @hodlcommunity

If you would like to delegate some HP to our community and support us; we give you back 90% of the curation rewards on a daily basis ! APR > 12% !
500 HP - 1000 HP - 2500 HP - 5000 HP
Make a good APR Curation by following our HIVE trail here