Welcome to the Daily Crypto News: A complete News Review, Coin Calendar and Analysis. Enjoy!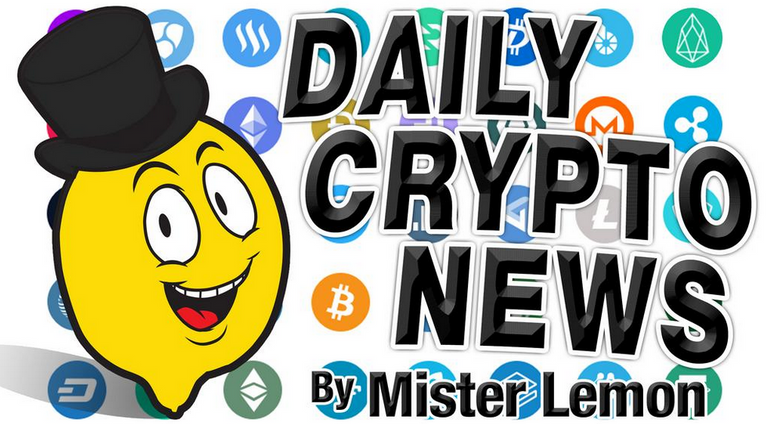 Bitcoin is trading higher on Tuesday, and the bull market is looking less overheated than it did a day ago.
At press time, the top cryptocurrency by market value is changing hands near $31,590, representing a 5% gain on a 24-hour basis. Bitcoin had dipped by 15% to near $28,000 during Monday's European trading hours.
The sudden sell-off happened after the average perpetual funding rate (the cost of holding long positions) on major derivatives exchanges rose to an 11-month high of 0.137%, implying excess bullish leverage.
The average now stands at 0.039%, according to data provided by the blockchain intelligence firm Glassnode. Further, major exchanges liquidated $936 billion worth of long positions on Monday – the highest in at least eight months – wiping out excess leverage.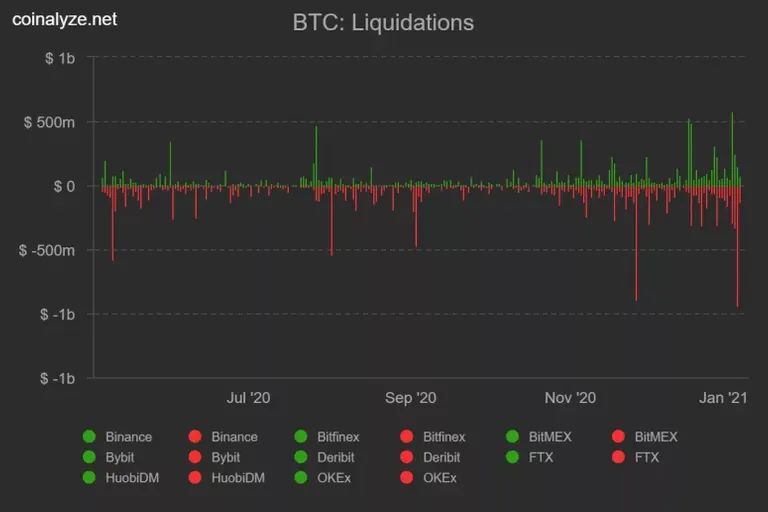 Sentiment remains bullish
Bitcoin's swift recovery from Monday's low indicates dip demand, a sign of the bullish mood in the market.
"The Coinbase premium reappeared as bitcoin began to recover, which is a good sign," Young noted. "This means high-net-worth investors in the U.S. took advantage of the drop and bought bitcoin."
The options market continues to paint a bullish picture amid the high price volatility, with the one-, three-, and six-month put-call skews hovering well into the negative territory, according to data source Skew.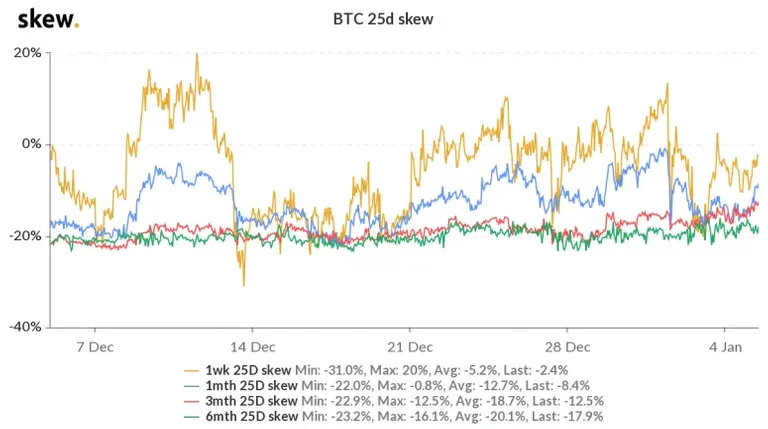 Put-call skews measure the cost of puts (bearish bets) relative to calls (bullish bets). Meanwhile, on-chain metrics show scope for a continued price rally.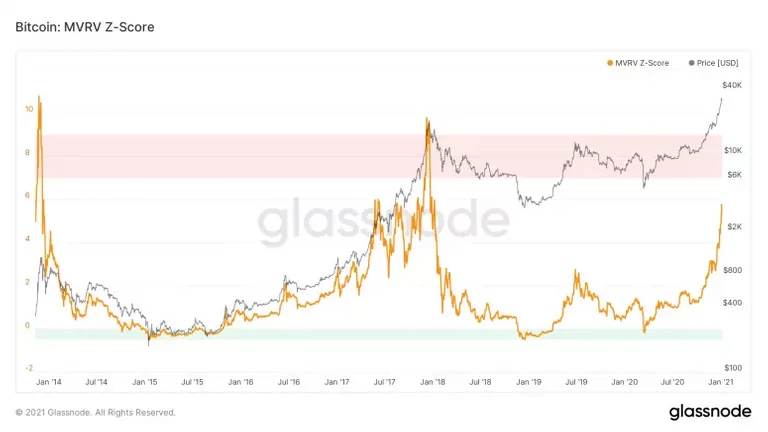 Grayscale Investments, the world's largest cryptocurrency asset manager, announced Tuesday that it has liquidated its XRP holdings and used the remaining funds to buy up more Bitcoin (BTC), Bitcoin Cash (BCH) and Litecoin (LTC).
The decision affects Grayscale's Digital Large Cap Fund, a market-cap-weighted asset that provides exposure to the largest cryptocurrencies by market capitalization. The sale of XRP occurred on Monday, less than a week after Genesis Global Trading, the fund's authorized participant, announced it would soon temporarily suspend XRP trading, likely in relation to the lawsuit filed by the United States Securities and Exchange Commission against Ripple.
Genesis Global Trading plans to halt all XRP transactions on Jan. 15.
Prior to the sale on Monday, XRP accounted for roughly 1.46% of the Digital Large Cap Fund. The fund's components are now 81.63% BTC, 15.86% Ether (ETH), 1.08% BCH and 1.43% LTC. Each share represented 0.00047489 BTC, 0.00287011 ETH, 0.00047537 BCH and 0.00167314 LTC.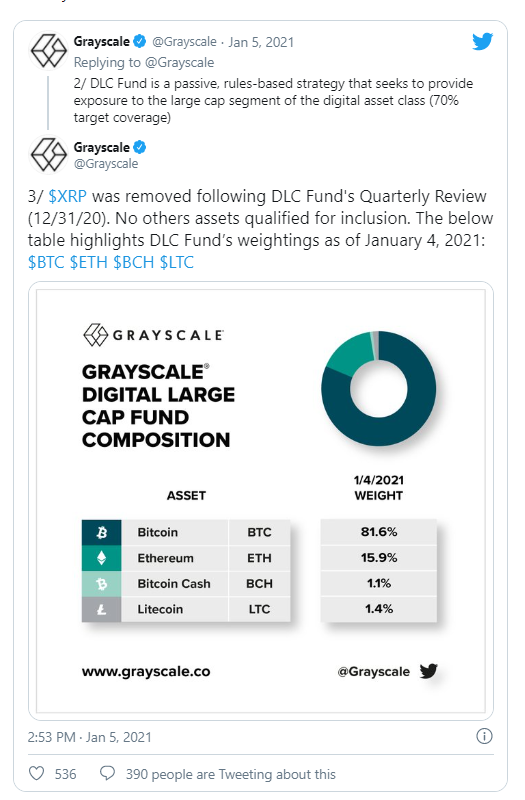 The fund manager said XRP was "removed following DLC Fund's Quarterly Review (12/31/20)." It explained that no other asset qualified for inclusion in the fund.
Some of crypto's biggest names and companies have opposed FinCEN's proposed crypto regulations.
FinCEN has proposed enforcing reporting requirements for certain crypto transactions.
After a period for public consultation, FinCEN has received over 6,000 comments on its proposal.
Coinbase, Square, and other major crypto companies have rallied against crypto regulations proposed by the US Financial Crimes Enforcement Network (FinCEN).
Just before the Christmas holidays, the US Treasury announced new restrictions that would require relevant companies to file cryptocurrency transaction reports and verify the identity of customers who use unhosted crypto wallets.
"The process itself is fraught with an 'us-versus-them' hostility to the industry's views—as seen by the breakneck schedule for a major rule, the thinness of Treasury's justifications, and the lack of meaningful engagement before the eleventh-hour holiday rulemaking," cryptocurrency platform Coinbase said, in a prepared statement.
Drawing parallels between Bitcoin (BTC) and gold's role as a hedge for investors has been popular for years. Until now, the stark discrepancy in the total market capitalizations of the two assets has limited these analogies to a significant extent. Gold, even after a major Bitcoin price rise in Dec. 2020, continues to command roughly 4.6 times Bitcoin's current $5.85 billion market capitalization.
Yet strategists at the American multinational megabank JPMorgan Chase are forecasting a possible scenario in which Bitcoin can seriously take on its predecessor. On Jan. 5, a Bloomberg report cited a note from the bank's strategists, led by Nikolaos Panigirtzoglou, in which they sketched out a path to the total private sector investment in Bitcoin coming to equal the value that is currently invested in gold via either exchange-traded funds or bars and coins.
Yet such a path crucially depends on Bitcoin's volatility converging with that of the precious metal, they stressed, and that is likely to take some time:
"A crowding out of gold as an 'alternative' currency implies big upside for Bitcoin over the long term [...] a convergence in volatilities between Bitcoin and gold is unlikely to happen quickly and is in our mind a multiyear process. This implies that the above-$146,000 theoretical Bitcoin price target should be considered as a long-term target, and thus an unsustainable price target for this year."
🗞 Daily Crypto Calendar, January, 5th💰

"Swipe Wallet will be delisting $XRP for our USA users on January 5th 00:00 UTC."
Muneeb Ali to have a live AMA on Binance Korea.
"AMA: STX on CryptoDiffer"
"LCX Exchange is a secure and compliant trading platform... The full operational launch will be on January 5th, 2021."
"Anyone can build on Syntropy, all powered by the $NOIA token. Launching January 5th."
"We decide to launch #Super Node Election on January 5th, 2021!"


➡️ Youtube
➡️ Twitter
➡️ Hive
➡️ Publish0x
➡️ UpTrennd
➡️ Read.cash
➡️ LBRY
➡️ Spotify
➡️ Be paid daily to browse with Brave Internet Browser
➡️ A secure and easy wallet to use: Atomic Wallet
➡️ Invest and Trade on Binance and get a % of fees back
➡️ Check out my video on Unstoppable Domains and get 10$ off a 40$ domain purchase
➡️ Get 25$ free by ordering a free Visa Card on Crypto.com using this link or using this code qs4ha45pvh


20% of this article rewards wil go to the @hodl-fund account in order to support HODL Community Initiatives.
Find out more about HODL Community: Crypto Social Community and by following our community account @hodlcommunity

If you would like to delegate some HP to our community and support us; we give you back 90% of the curation rewards on a daily basis ! APR > 12% !
500 HP - 1000 HP - 2500 HP - 5000 HP
Make a good APR Curation by following our HIVE trail here