Welcome to the Daily Crypto News: A complete News Review, Coin Calendar and Analysis. Enjoy!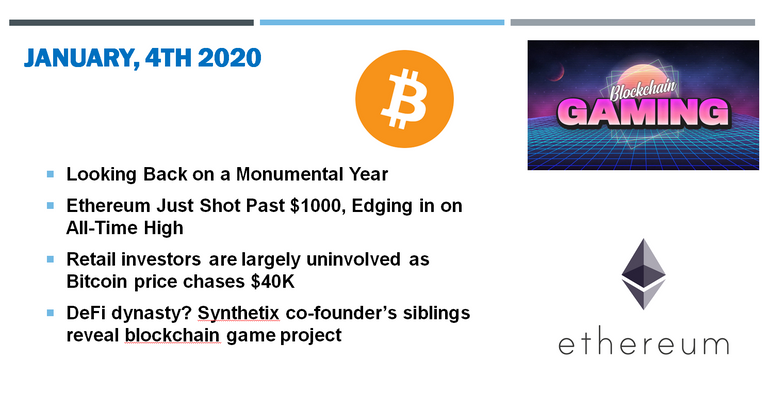 Video coming up very soon !
The March market crash will go down in history as one of the steepest and most rapid sell-offs to ever sweep cryptocurrency markets. Over the course of an hour, bitcoin (BTC, -6.73%)'s price plummeted thousands of dollars and order book liquidity all but evaporated. This chart shows the sum of all bids and asks placed on Coinbase's BTC-USD order book before, during and after the first price crash. We can observe that when the crash began around 10:30am, the quantity of orders surrounding the midprice plummeted, forcing a liquidity crisis that perpetuated the steep fall in price.
This chart is one of my favorites because it demonstrates the important role that market makers play in creating and maintaining liquidity in cryptocurrency markets. Ultimately, the March crash proved that the price of an asset is often less a reflection of the "true value at a point in time assigned through the process of market-based price discovery" and more a product of relentless feedback loops triggered by automatic liquidations and decimated order book depth. As cryptocurrency markets mature and order book liquidity improves, we can expect the magnitude and frequency of such price crashes to decrease.
In 2020, institutions finally embraced bitcoin but not always in the way one would expect. For instance, sophisticated investors such as hedge funds have been looking at capturing spreads by looking at the inefficiencies of this nascent market. This has translated in particular to leveraged funds positioning of CME bitcoin futures making new record shorts almost on a weekly basis in the last quarter of 2020.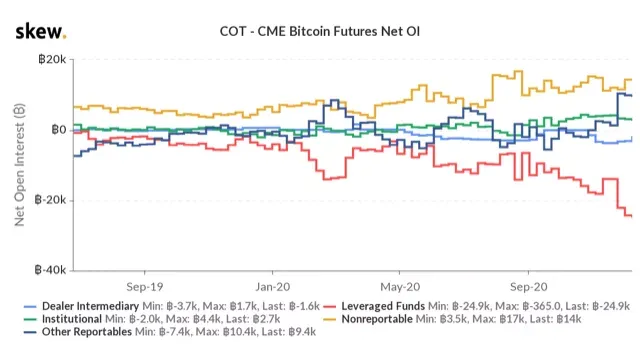 2021 prediction: DeFi derivatives platforms will see a more substantial growth, with stricter regulations on the centralized derivatives market leading traders to alternative markets.

Earlier this week, the Chicago Mercantile Exchange (CME) was briefly the largest bitcoin futures exchange by open interest, which reached $1.66 billion. TAKEAWAY: This is, in my view, the clearest signal that institutional interest in bitcoin is growing. At the beginning of 2020, the CME bitcoin futures open interest ranked fifth, well behind BitMEX, OKEx and Huobi. The daily volumes in the CME's bitcoin futures, however, are well below the exchange's Asian counterparts, which implies less trading and more strategic positioning than in crypto derivative exchanges outside the U.S.
The price of Ethereum, the second largest cryptocurrency by market cap, today hit $1,005 the culmination of a weekend bender that's added a few hundred dollars to its price. Coinbase showed that Eth briefly hit that price at 23:38 UTC, before dropping below $1,000.
While proselytizers and vultures alike have been circling BTC in droves since Christmas, Ethereum's strong performance puts it well on the way to surpassing its all time high of $1,432 set in January 2018. That was the last time ETH hit four figures on the dollar before it settled into a three-figure decline by the start of February 2018.
Ethereum's success today, and the success of most of the other major alt coins, is the result of Bitcoin's bull run. Altcoins often track Bitcoin's price, given Bitcoin's dominance over the market. Traders are "looking for 'the next BTC'," said Nimrod Lehavi, CEO and founder of crypto payments company Simplex, in an earlier conversation with Decrypt.
There are many investors feeling validated in the cryptocurrency market now that Bitcoin's price has established a new all-time high of $34,778.
The last time Bitcoin (BTC) traded anywhere near this level was during the bull run of 2017, when it reached a peak of about $19,783. Even the mainstream media took notice, including the New York Times, which observed that the current rally had "a very different feel to it than the last time around."
Many in the cryptocurrency community would agree. Therefore, it's essential to take a deeper look at the factors that are driving the current rally.
At that time, there were reportedly millions of retail investors in South Korea, Japan and China that became a force in the market. Back then, it was the "average Joe" powering Bitcoin's more-than-1,300% gain that year, as pointed out in the Wall Street Journal by IG Group chief market strategist Chris Weston.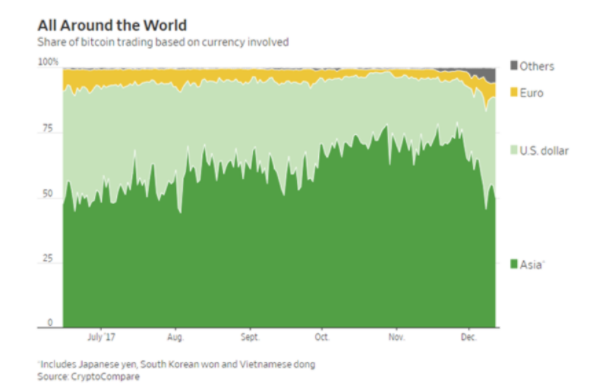 "Bitcoin has caught the attention and the imagination of many people. Still untested, pretty small market relative to other markets."
That was then, this is now
Another key difference is that Bitcoin's price started off the year in 2017, trading at about $1,000. In 2020, BTC's price began trading at $7,200. So, it's much more expensive today, and not all retail investors may realize that they don't have to buy an entire Bitcoin to gain exposure to the asset.
The fly in the ointment in 2020, however, was COVID-19. For individual investors, the economic slowdown might have thrown a wrench into any investment plans. U.S. unemployment, for instance, is hovering at 6.7%, which means that the economy still has a steep hill to climb if mom-and-pop investors are going to dig themselves out of the hole from the pandemic.
High unemployment translates to low disposable income, and Uncle Sam hasn't been too helpful. While BTC might be designed to be a great democratizing force, that control can't be harnessed by people who are struggling with the economic realities of 2020.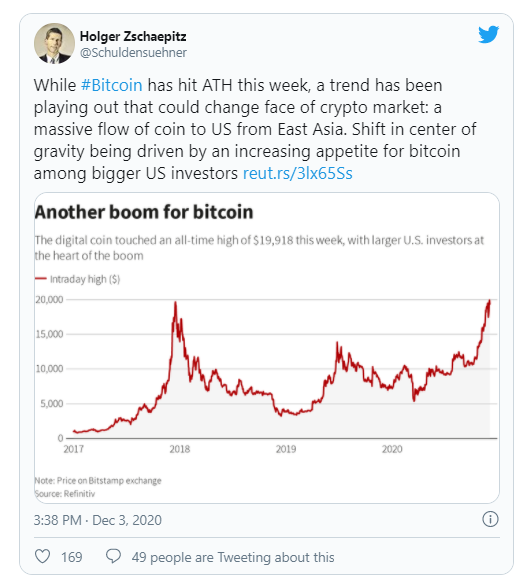 Bitcoin ATMs are out front
While the cryptocurrency market may remain in its early innings, it is more mature than it was in 2017. Much of the froth has been weeded out, and it is no longer considered to be the Wild West in many ways.
A fledgling blockchain-based game project called Illuvium has already managed to attract support from major industry backers — a development owed in part to the fact that Illuvium co-founders Kieran and Aaron Warwick are the brothers of Kain Warwick, the co-founder of decentralized finance (DeFi) platform Synthetix.
In a tweet on Friday, Kain announced that "after two years of pressure," his brothers were revealing to the world a blockchain-based game: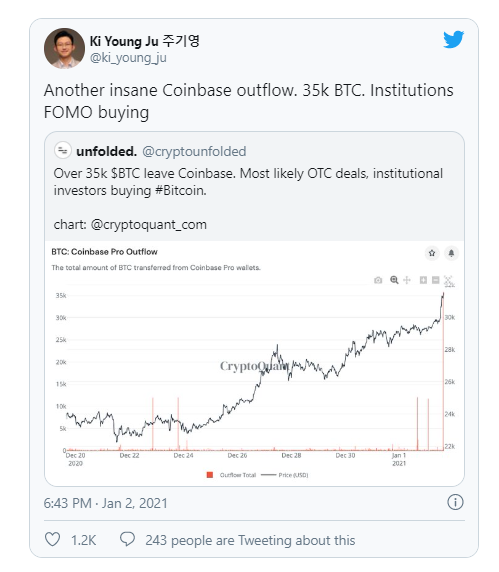 Massive outflows from Coinbase Pro usually end in Coinbase's cold wallets for custody, which is directly integrated with the exchange's over-the-counter (OTC) desk. Institutions typically transact over-the-counter in a bid to avoid influencing the spot market price, as discussed in December.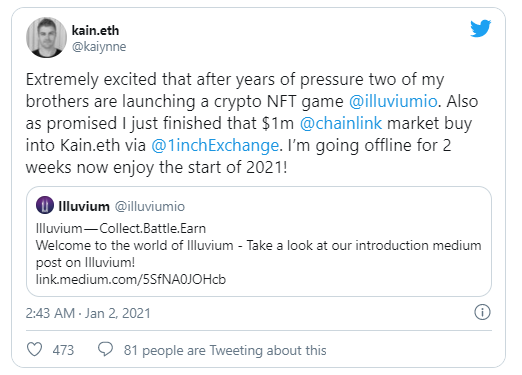 In an interview with Cointelegraph, Kieran Warwick clarified that development work has only been underway since September, and that the "two years" refers to the length of time Kain had been badgering Kieran to re-enter crypto full time.
In an interview with Cointelegraph, Kieran Warwick clarified that development work has only been underway since September, and that the "two years" refers to the length of time Kain had been badgering Kieran to re-enter crypto full time.
🗞 Daily Crypto Calendar, January, 4th💰

Stacks 2.0 Mainnet AMA.
"The [delegate] registration will start on January 4th and will last until the block 800,000. This period is 1-month long, to enable..."
"DeFi Game Aavegotchi Preps for Jan. 4 Mainnet Launch With NFT Auctions"
Team updates at 3:30 PM UTC/ 11:30 AM EDT: Engineering, Node network, Product/UX, Helpdesk, Legal, BD, Marketing, CEO Closing thoughts, AMA.
"... The major TV ad campaign in the United States has been moved forward from 28 December to 4 January..."


➡️ Youtube
➡️ Twitter
➡️ Hive
➡️ Publish0x
➡️ UpTrennd
➡️ Read.cash
➡️ LBRY
➡️ Spotify
➡️ Be paid daily to browse with Brave Internet Browser
➡️ A secure and easy wallet to use: Atomic Wallet
➡️ Invest and Trade on Binance and get a % of fees back
➡️ Check out my video on Unstoppable Domains and get 10$ off a 40$ domain purchase
➡️ Get 25$ free by ordering a free Visa Card on Crypto.com using this link or using this code qs4ha45pvh


20% of this article rewards wil go to the @hodl-fund account in order to support HODL Community Initiatives.
Find out more about HODL Community: Crypto Social Community and by following our community account @hodlcommunity

If you would like to delegate some HP to our community and support us; we give you back 90% of the curation rewards on a daily basis ! APR > 12% !
500 HP - 1000 HP - 2500 HP - 5000 HP
Make a good APR Curation by following our HIVE trail here