Ethereum Classic has never been among my selected altcoins to hodl since the whole attention is focused on the more modern ETHEREUM, however, ETC is still occupying the 40th place in the total Market Cap Rank and for sure it has a lot of followers and hodlers behind.
I have enjoyed so much trading this coin till August 2020 and I lost interest on it just after its correction from the named month.
Then, it stayed hesitant, rising and falling without conviction with low volume.
Today I found that this old glory is showing a nice setup for jumping up hardly.
This is the Daily Chart with my projections on:
Inverted Head and Shoulders (iHS) appearing as a reversal on the daily
Volume increasing on the right shoulder and accelerating at the neckline
1st and 2nd Waves completed (Black Count)
Apparently building the 3rd black wave in which the 1st and 2nd are completed (Pink Count) despite the 2nd was in the validity limit
The depth of the iHS projects a target price of 11 USD while the 1.618 FIBO of the Black count launches 13 USD for the 3rd black wave completion (without extension). In case the 3rd wave is deployed in extended manner, towards the 2.618 FIBO then the price points to 18 USD.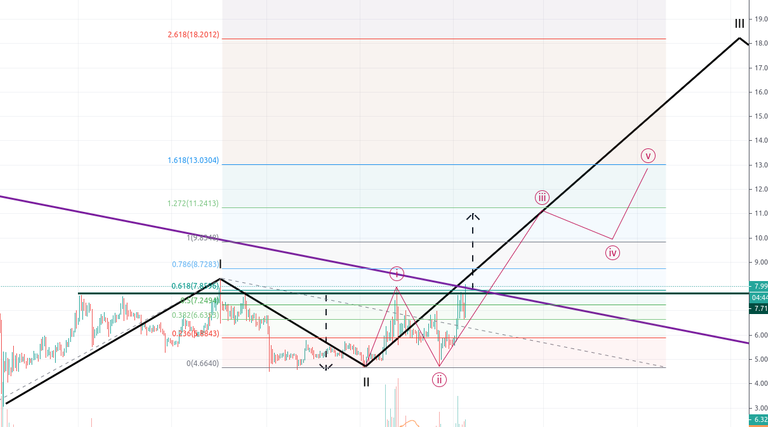 ---
There are many Mid-cap altcoins presenting nice trading setups nowadays. ETHEREUM CLASSIC looks to me as the typical currency that benefits from the general Bullish inertia and the money of small new investors who come to the market attracted by the success of BITCOIN and, of course, ETHEREUM but that find the low price attractive in comparison, so, for me it is a guaranteed bet.
Enjoy!
---
*Disclaimer: This is just my personal point of view, please, do your own assessment and act consequently. Neither this post nor myself is responsible of any of your profit/losses obtained as a result of this information.

---